BU Supports 2022 Boston Public Schools Graduates
Meet some of this year's Menino Scholars and Community Service Award recipients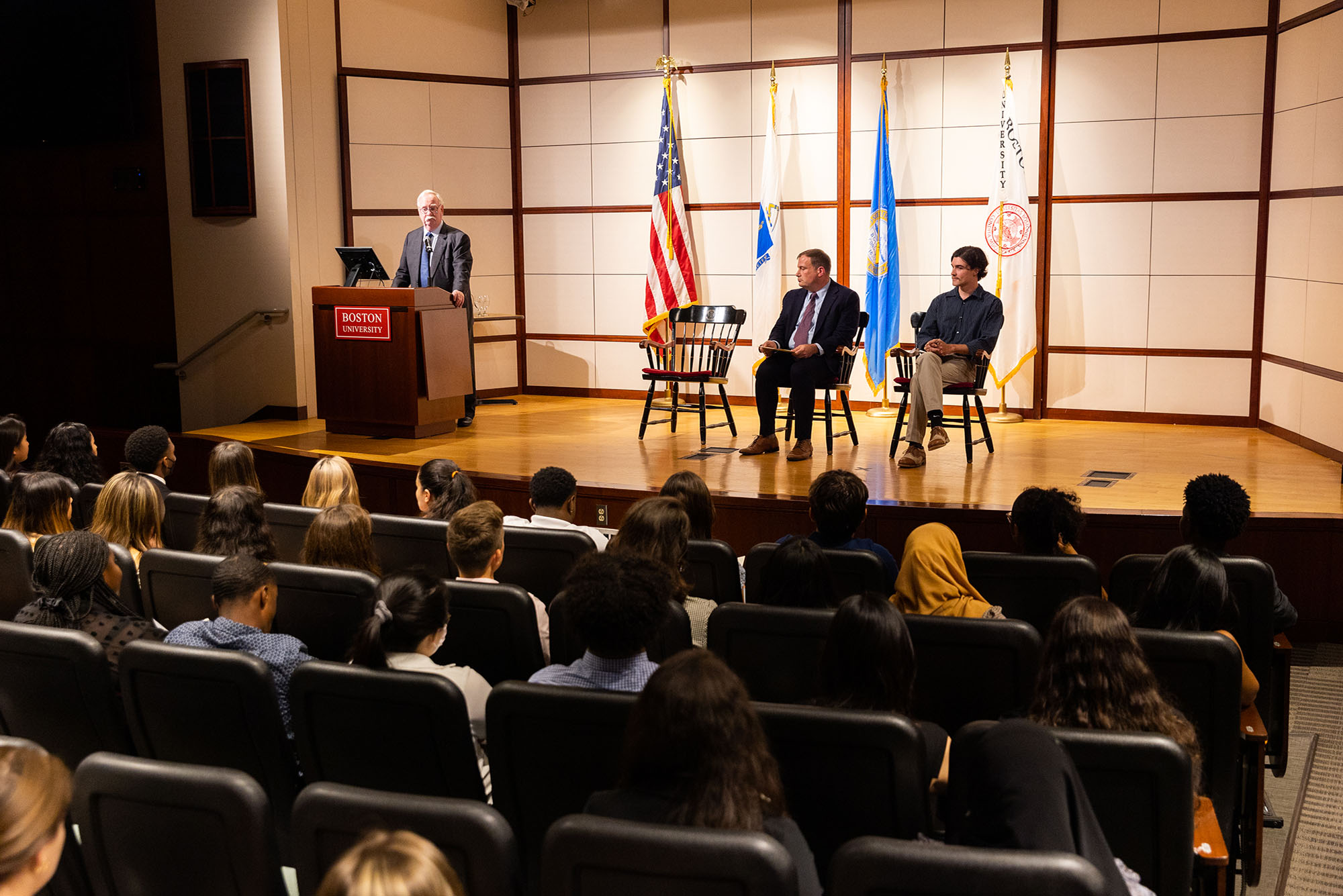 SCHOLARSHIPS
BU Supports 2022 Boston Public Schools Graduates
Meet some of this year's Menino Scholars and Community Service Award recipients
Jerry Semper survived a tough childhood, graduated from Boston Public Schools, and became a parent at a young age. Now, at 41, he enters BU as a junior and a Community Service Award recipient.
Earlier this month, as he and other city of Boston scholarship recipients gathered for a photo with Robert A. Brown, BU president, Semper clapped a hand over his mouth, choking up. "It was a very emotional moment," he says.
Semper stood out among the recent high school graduates making up most of this year's group of BU Community Service Award recipients and Thomas M. Menino Scholars. Both scholarships are given annually to Boston Public Schools (BPS) graduates, forming one of the University's most significant financial aid offerings and one of its most important links to the city of Boston. 
BU "is a big swimming pool—jump in," Brown told the recipients at the welcome reception at the Questrom School of Business. "BU is a big place with an enormous amount of opportunities. We know you have the academic credentials to succeed because of what you've done in high school. Now your job is to shape and seize the opportunity in front of you, so that four years from now, you're prepared for what you want to do."
Menino Scholars receive full-tuition merit scholarships to BU based on their academic record. They are also eligible for need-based aid for the cost of room and board. Over four years, this year's 35 recipients will receive more than $9 million in scholarships.
This year's 71 Community Service Award recipients receive their full calculated financial need, without loans, amounting to $15.8 million over four years. The recipients must also complete 25 hours of volunteer work each semester, starting with the spring 2023 semester.
"BU welcomes students from all over the world, but also recognizes that within our own city there is tremendous talent in the Boston Public Schools," Drew Echelson, BPS acting superintendent, said at the ceremony. "Programs like the Menino Scholarships and the Community Service Awards are just what I mean when I talk about partnership and the whole community coming together to support our students."
Older transfer students, like Semper, also qualify for the Community Service Award. Both scholarships support students for all four years of their undergraduate education, as long as they maintain at least a 2.0 GPA, while earning a minimum of 12 credits per semester. The programs have awarded more than $190 million in aid to more than 2,000 Boston schools graduates.
"This is incredible and demonstrates a deep investment in the Boston Public Schools and our graduates," Echelson said. "I can speak for everyone, most notably Mayor Wu, when I say thank you to BU."

BU Today spoke to four of this year's Menino and Community Service Award students.
Jerry Semper (COM'24)
"I am just so excited that he is enrolled at BU," says Rachel Boyle, associate director, undergraduate admissions. "I just think he's going to be that person in the classroom that is an absolute star and then graduates and is going to be on the cover of Bostonia."
That's not the prediction most people would have made for Semper, given what he faced when he was younger.
"My mother was a drug addict. My father was a drug addict," Semper says. He spent his early years living with his maternal grandparents in Atlanta, then bounced around between his parents in the Boston area during junior high and high school. He is forthright about his difficult past, but would rather not dredge up the details for public consumption. He does say that both of his parents were incarcerated at times and both are now deceased.
While in junior high school in Mission Hill, he was one of a group of students given jobs at Brigham & Women's Hospital, filing and delivering X-rays around the hospital campus, and he even met Mayor Thomas Menino (Hon.'01) at an awards ceremony. He kept the job and saved his wages, graduating from Fenway High School in 1999.
He got into Bentley College, planning a career in business. But by his sophomore year he had become a father, and his daughter was born deaf. He dropped out to support and care for her. His son was also born deaf, and Semper spent the next years driving both of them to special schools and doctor's appointments. He started a series of small businesses to give himself the flexibility to support his family, and bought a duplex in Lynn. His relationship with his children's mother didn't last, but they lived upstairs and downstairs in the duplex and co-parented.
Flash forward to a morning in April 2019. It looked like Boyle, the BU admissions official, was going to be late for work, so she summoned an Uber to take her from her apartment in the Fenway to campus. Semper, by then working as a rideshare driver, picked her up in his 2014 Toyota Camry.
This is Boston, so there was traffic and a lot of construction. They had time to talk.
"I'm not a morning person, usually," Boyle says. "I just zone out in Ubers, you know? I talk politely, but I don't really get into big conversations. He asked me if I was a student, which was very flattering. And I explained that I work at BU in the admissions office, and we just kind of started chatting about his educational journey."
He told her about Bentley, and why he left, but not about his parents. He also said that he was thinking about going back to school. She told him about BU's scholarships for Boston Public High School grads. She said that since he'd been out for so long, he might want to start with a few semesters of community college to strengthen his case.
By the time they got to campus, they had sketched out a plan, she says, and she gave him her card. The two kept in touch via email as Semper enrolled in North Shore Community College and did very, very well.
"He had amazing grades," she says.
"I am still reeling about that damn B+," he says.
Eventually he applied to BU. A pandemic-caused surge in applications thwarted him the first time, but he reapplied for fall 2022.
"And then I just got this email," Boyle says, grinning. "And the subject heading was 'I'm in,' with a bunch of exclamation marks. And I was just, like, this is so great."
"It was all him," Boyle says. "I just kind of gave him some pointers."
"She changed my life," Semper says. "She gave me all the game from the back seat of my car on the way to work, and she didn't have to do that."
Semper is studying advertising at the College of Communication. And he's not the only family member expecting to graduate in '24. His daughter, Amani, is studying social work in a combined bachelor's and master's degree program in social work at Simmons University. (She'll get her bachelor's degree next spring.) His son, Deonte, is a student at Lynn English High School.
"He just had his first job, at Lynn City Hall," the proud dad says. "You know, doing filing and so forth. He saved all of his money. He's great—they're great kids."
Chakaiya Harrison (CAS'26)
The salutatorian of her Charlestown High School class and a Menino Scholar, Dorchester resident Harrison was asked to give a speech at her school's commencement, even though it's usually only the valedictorian who speaks.
"I was just very energetic and outgoing," she says. "I didn't really have, like, a clique of friends. I just made everyone my friend, and I used my intelligence to help other students as well. People just came up to me from different grades, asking me for help on their schoolwork. A lot of people will come to me with their problems."
At her June outdoor graduation on the school's athletic field, gunfire nearby interrupted the ceremony. No one was wounded, but two vehicles were hit; a Brockton man was eventually charged in the case. The ceremony ended abruptly.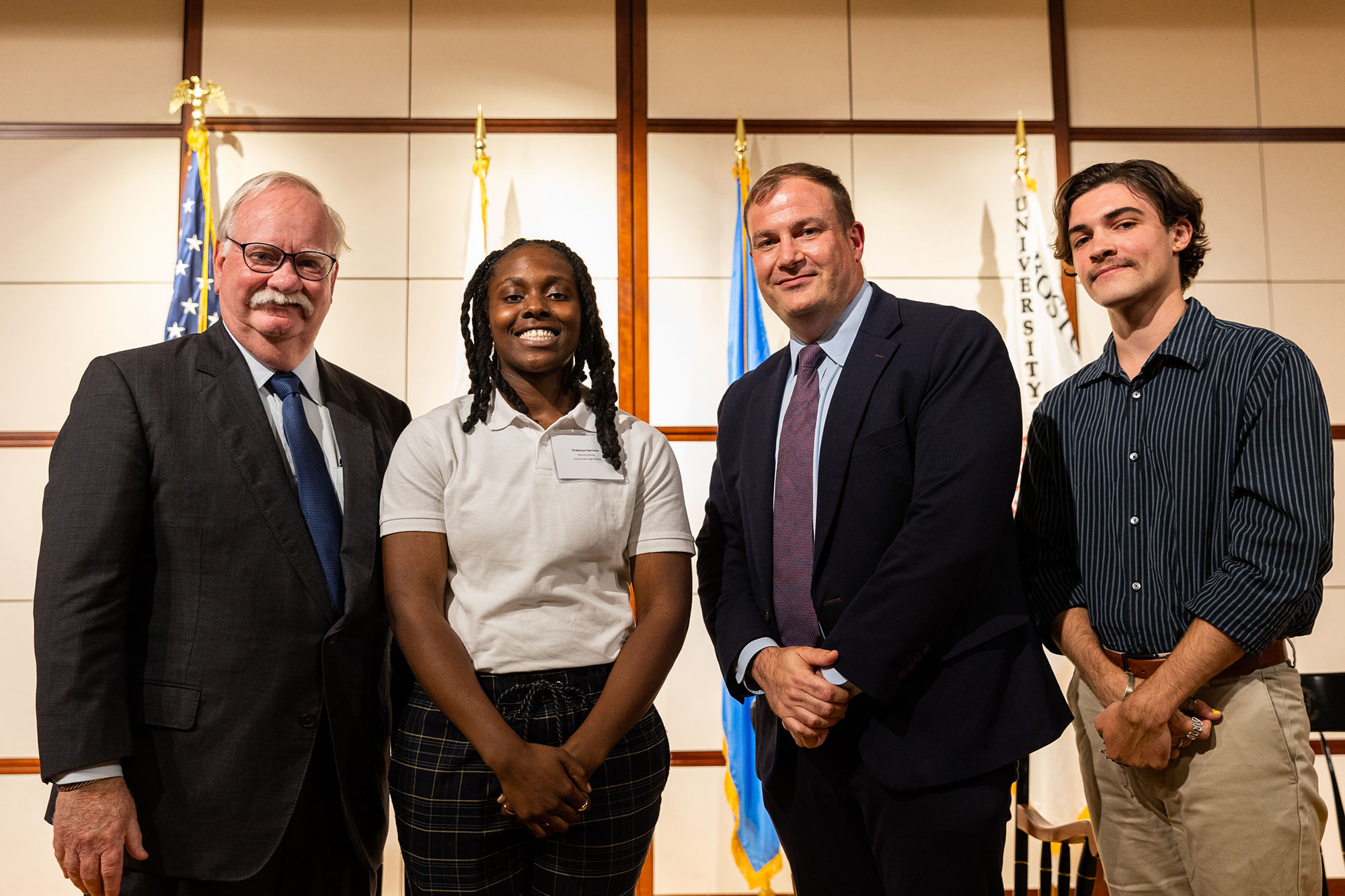 "It's a crazy story, because literally right after I did my speech, I went to sit down, and me and my friend were having a little chat during the ceremony, and I was like, 'I just feel like something's gonna happen,'" Harrison says. "And before you know it, we hear about six or seven shots go off, and everybody's running.
"It was kind of hard on me, because my family was there, and my grandmother's there, and my younger siblings were there," she says. "My grandmother's 80, and it was just hard to see her get up from the floor, and it was hard for me to see that she knows how to handle these types of situations. She's been through some stuff in her day.
"Where I come from, this is just like everyday life, so it wasn't really surprising to me. But it's just, like, why? Why during this moment? Where we spent all this time to get where we wanted to be, and people just had to ruin it."
They finished the ceremony a week later, at BU's Case Gymnasium. By then Harrison was on campus with the other 2022 Menino Scholars for Orientation.
She says one of the reasons she chose BU is because "it's very local. I'd rather be in a setting where it's more city life and things are more local to me, like food and health [care], and everything. It's easier to get home."
As a first-generation college student with a happy, but complicated extended family life—she names three moms and a "twin brother" she's not technically related to, a long story, she says—the scholarship was essential, Harrison says.
"I could break so many generational curses just going to this one school," she says, noting with pride that her brother is actually entering Brandeis this fall, also with a generous scholarship.
Angel Amaya (ENG'26)
Amaya, a Menino Scholar, will study computer engineering, planning to "use cybersecurity in an ethical way to benefit people, especially those that aren't that well informed in terms of security and your personal information being breached and the whole right to privacy."
He says he "fell in love with that whole movement," especially after seeing news and documentaries on the 2016 election, Cambridge Analytica, and related cyber scandals.
A graduate of Boston Latin, he says his COVID remote learning experience was "unreal…it was a lot." But in the same way he wants to protect folks in cyberspace, he also had people to look out for in the real world during COVID. He is a first-generation college student; his mother is from Mexico, his father from Honduras.
"When it comes to, you know, my parents, they don't speak English, they don't really know much of that," Amaya says, "so then I had to balance all their stuff too," helping them understand and follow all the pandemic rules and regulations, the masks and vaccines.
"It was extremely difficult," he says. "But now, coming out of it, I think it was definitely something that was important to me to become the person who I am today.
"It's a little funny: when I was filling out the Menino scholarship application, I had COVID during that week, so I'm like, oh, that's perfect," he says with a smile. "I was sick in bed, and then I got a text from my girlfriend, 'Hey, you need to fill this out,' so I was like, okay, whatever."
An essay question asked applicants, "Tell us about your neighborhood; what don't people know?"
"I see the prompt and I'm just staring at it, and I'm like, what do I even say? I'm coming from East Boston, and it's a very Hispanic community. You look at Boston as a whole, you know it's segregated. Let's be real here. So East Boston is a very tight-knit group of people that are just hard workers and want the best for their kids, right? They leave their country in order to provide a better future for their kids.
"So I submitted my essay that was about the restaurant culture and East Boston, and how it's changed, the gentrification that's going on in the entire city as a whole, but especially in East Boston."
After he submitted his application, Amaya put it out of his mind. He had lots of other things to think about. "I get to the end of the college process, and wow, I'm really staring down a ton of debt right now," he says, noting that he wasn't offered much financial aid from other schools where he was accepted.
"I would have had to either take a gap year or take a tremendous amount of loans, and I don't even know how the loan system works, and my parents know even less. So to see that I got the Menino Scholarship from BU was the most jaw-dropping thing.
"I remember just saying 'Mom, Mom, I got the scholarship, and then we were looking at the price that we had to pay, and we were so happy, we were so excited," Amaya says. "It just is breaking that cycle and being able to provide a better future for my own kids.
"I want to make the world better through this, and it's great to see that BU has given me such a great opportunity to do all this while not having to carry that tremendous amount of debt."
Catherine Hayes-Tierney (CGS'24)
A Dorchester resident, Boston Latin School grad, and Community Service Scholar, Hayes-Tierney likes history and plans to study political science at BU.
"Since I first started elementary school, I've just kind of always been good at it," she says. "I've always thought it was interesting, learning about the past, the different forms of governments, like all the different rulers, all the different places. Just seeing how the past compares to the present, what things are getting repeated, what things aren't."
One piece of history she shares with most of the other award recipients is having to attend high school remotely thanks to COVID.
"At the end of junior year, we had the option to go in person and do the Zoom meetings at school, but I decided to just stay home and continue doing my online learning," Hayes-Tierney says. "That was what was best for me and my family.
"I've always been more of an independent learner, like I don't mind teaching things to myself and doing my work myself, but at the same time, it also made it hard to connect with some of my friends," she says. "It's kind of a split, because there are some friends I grew apart from, and there are others I grew way closer to over quarantine lockdown. We grew so close because we were all trapped in our houses and we were the only people we were talking to, so it's hard to not grow close."
One of the main attractions of BU's College of General Studies was the chance to spend a semester abroad in London.
"I've always wanted to travel like that, it was one of my main things since I've been little, and this program was like the perfect opportunity for that," she says. "It'd be built directly into my curriculum, and it would just be like a perfect opportunity."
But that would not have been an option for the first-generation college student without the Community Service Award.
"Our mom didn't go to college, our grandparents didn't, so you know it's kind of a big thing to be able to go," Hayes-Tierney says. "As well as the fact that BU is such a great school! But it is also a very expensive school, and without the Community Service scholarship it just would not have been an option. Because of the loans I would have had to take out, I would have been in debt for the rest of my life."