BU Celebrates the 52nd Observance of Earth Day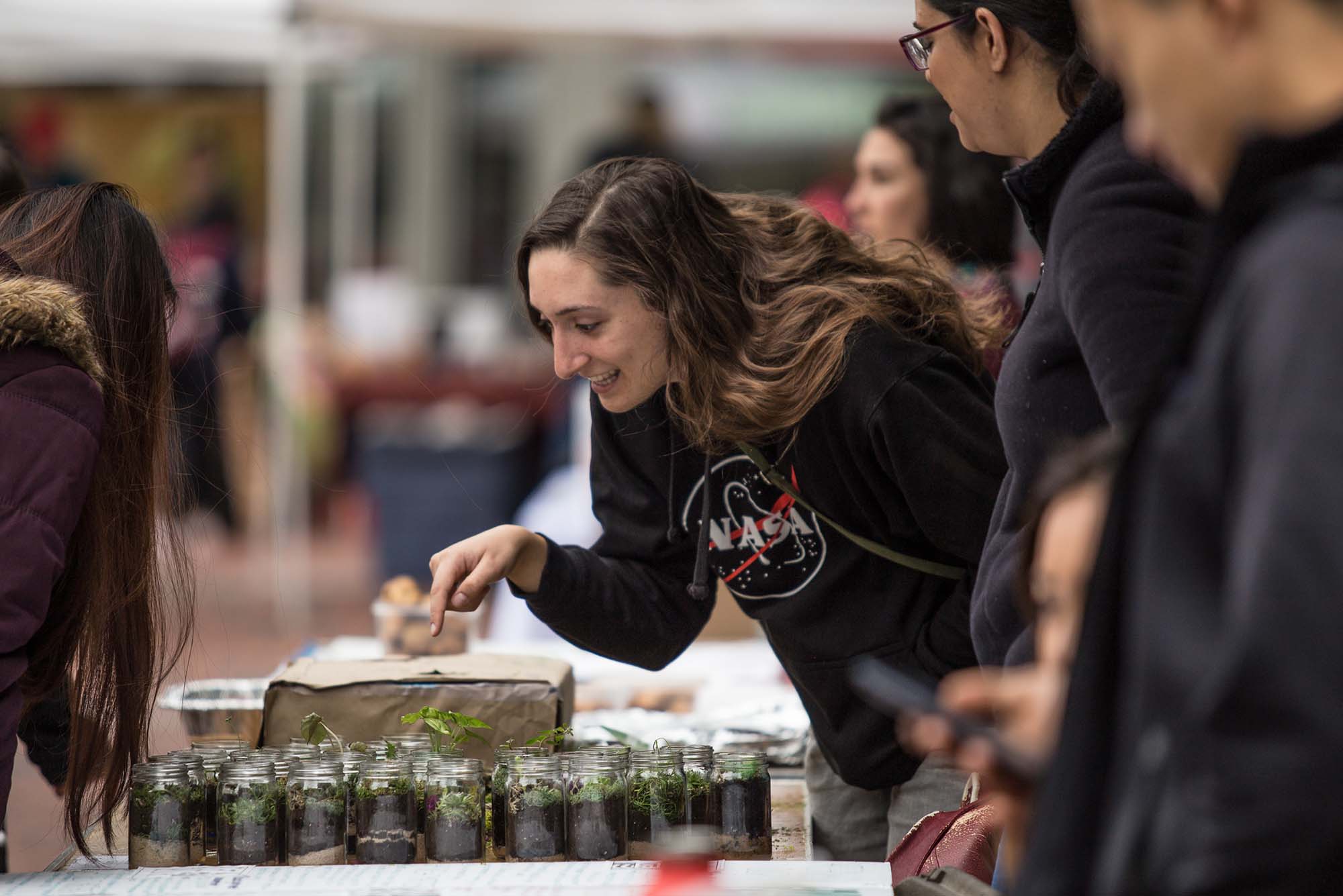 Earth Week
BU Celebrates the 52nd Observance of Earth Day
University's Earth Week festivities continue today and throughout next week
April 22 is the 52nd observance of Earth Day, designed to promote environmental protection and long-term ecological sustainability. The Charles River and Medical Campuses have been celebrating all week with the return of in-person Earth Day festivals, organized by BU Sustainability, after two years of virtual gatherings.
"Our theme for this year's Earth Week is celebrating environmental progress," says Lisa Tornatore (CAS'02), director of BU Sustainability. "We will be highlighting work that's already done or in progress to demonstrate to our community that our goals are within reach and we can make significant progress on climate change."
At Thursday's Earth Day festival on the Charles River Campus, attendees were met with interactive games, giveaways, and samples from on-campus organizations like FEAST, Dining Services, Student Health Services, and Information Services & Technology (IS&T), as well as local vendors like Mei Mei Dumplings, Supply Bulk Foods, the Happy Cactus, Iggy's Breads, and Just Hummus.
While Earth Week technically concludes today, April 22, events will spill over into next week. Today's events include an Earth Day Picnic along the Esplanade from 4 to 6 pm, hosted by BU Hillel (be sure to RSVP). Activities include a spikeball tournament, along with free food and picnic games. Dining Services will also feature local vendor Sid Wainer & Son at Marciano Commons, Warren Towers, and West Campus during today's lunch, which is focused on showcasing foods that meet BU's climate friendly designation.
"Climate friendly foods include all plant-based foods, as well as proteins such as fish and poultry," says Lynn Cody, Dining Services director of marketing. "Higher impact foods, like beef, pork, and some dairy products are excluded."
Students also have the chance to win some environmentally friendly prizes on today's final round of Dining Services giveaways on Instagram. Items like reusable silicone food savers, reusable bags, and beeswax wraps to keep food fresh have been given away so far.
Among next week's events are Goodwill, Not Landfill, hosted by BU Sustainability in partnership with Goodwill. Starting on Monday, April 25, and through Monday, May 23, donation bins will be in the lobbies of all residence halls. Participants are encouraged to donate their clean clothing, housewares, kitchenware, decor, and small appliances, as they pack up to return home for the summer. Goodwill has helped keep 97 million pounds of goods from entering landfills since 2012, the organization says.
From Tuesday, April 26, through Thursday, April 28, IS&T will host a Spring Shred & Recycle event for students, faculty, and staff. Items that can be destroyed and properly disposed of are all paperwork, hard drives, toner, cords, lightbulbs, batteries, and other electronics.
Several other Earth Day events are happening off campus. For those wanting to get their hands dirty, local Chelsea nonprofit GreenRoots is planting trees with the aim of offsetting carbon dioxide from the air on Friday, April 22. On Saturday, April 23, Tree Eastie is looking for volunteers to help plant 30 new trees throughout the area. The same day, GreenRoots is back at it with citywide cleanups in Chelsea and East Boston. Find more details on how to get involved in all of these events and how to register on the Earth Week+ website.
The University's commitment to the planet doesn't end with Earth Week: BU's Climate Action Plan is on track to have the University be carbon-neutral by 2040. 
"One of the ways it is doing this is with the BU Wind initiative, which matches 100 percent of the campus' electricity needs with clean energy, and adds to the renewable energy on the grid here in the United States," Tornatore says. "As well, the new Center for Computing & Data Sciences will be a fossil fuel–free building when complete. I hope that our community will get excited for these and other accomplishments and rededicate themselves to helping BU achieve its climate action targets."