Dream Role for Alum Michael Chiklis: Celtics Legend Red Auerbach
Alum
Dream Role for Alum Michael Chiklis: Celtics Legend Red Auerbach
Emmy-winning actor and CFA alum talks about new HBO series Winning Time, the Celtics-Lakers rivalry, and a childhood filled with sports
If you're an actor from Boston, of a certain generation (the 1980s), and a basketball junkie, it's fair to assume that landing the role of the short, crusty, cigar-smoking, gravelly voiced Boston Celtics legendary coach and executive Arnold "Red" Auerbach would be a dream role.
So, Michael Chiklis? "So much fun!" he told Bostonia in a Zoom interview.
Chiklis (CFA'85), the Emmy Award–winning actor and producer (The Shield, Fantastic Four, The Commish), who was born in Lowell and grew up in Andover, landed the role of Auerbach in the HBO series Winning Time: The Rise of the Lakers Dynasty. The series, based on Jeff Pearlman's book Showtime: Magic, Kareem, Riley, and the Los Angeles Lakers Dynasty of the 1980s, chronicles the Lakers franchise and its brash owner, Jerry Buss, before and after the 1979 NBA draft, when Los Angeles selected Earvin "Magic" Johnson and the Boston Celtics took Larry Bird (Hon.'09).
The two players helped turn around their teams—and the struggling National Basketball Association—with a championship rivalry that was not just about their skills on the court, but about their personalities, and their respective cities. Magic defined LA. Bird defined Boston. And just as Buss was responsible for the Lakers turnaround by drafting Johnson, it was Auerbach (Hon.'84), who died in 2006 after spending more than 50 years of his career with the Celtics, who drafted Bird and turned the Celtics into winners again.
For Chiklis, who remains a hard-core Boston sports fan even after living in Los Angeles for 30 years, playing Auerbach was like stepping back into his childhood living room, watching with his father the Celtics and Lakers battle on TV. He spoke to Bostonia via Zoom while promoting the series, which premieres Sunday, March 6, at 9 pm on HBO.
This interview has been condensed and edited for clarity.
Bostonia:
Michael, how much research did you do? Were you able to talk to any former Celtics about Red, or did you want to?
Michael Chiklis: I didn't want to do that. There is so much available. I could read Bill Russell's book without bothering the guy. We live in the computer age, so I was able to look at so much archival footage, interviews, get a sense of his voice. I read a couple of his books. I really felt armed.
Bostonia:
There is a scene in one trailer, where you, as Red, are having a meal with Lakers owner Jerry Buss. Even if that meal never actually took place, what was it like to imagine a conversation between those two back then?
Michael Chiklis: So much fun! That was the most fun. When I read that scene, that was what made me want to do this. Me and John C. Reilly [as Buss] get to play this seven-page, delicious scene. When you have [producer] Adam McKay come to you with the role of a lifetime, opposite John C. Reilly, yes, please! Pretty great.
Bostonia:
Was there one story you learned about Red or are excited to talk about that was part of the Red legend?
Well, there was that one story where he punched the coach of the other team in the face before the game even started. There was the first time he lit that cigar. Can you imagine that now, someone having the audacity to do that? If I am on the other team, and I see this guy with that loud, gaudy jacket light up a stogie in an arena, I'd be like, "What the…" He was outrageous, when you think of some of the things that he did.

But one of the favorite things I learned was how downright loving and kind and inclusive and wonderful he was to his players. This was one of the great parts of his genius. He gave his guys a sense of belonging and agency that created an atmosphere of champions. He was a progressive guy in many, many ways.
Bostonia:
Can you talk about being a Celtics fan growing up? What do you remember about the old Boston Garden and the atmosphere, and the series' contrast between the glitz of LA and the old Boston Garden?
There was just a shoddiness. There was a smell. You always saw rats when you were walking out of it. Cranky is the perfect word. You wanna a beer, heaya? The whole experience. It was real. Rustic. And grounded.

And then you had Bird and Magic reinvigorating the NBA. They represented two different sides of the spectrum, culture, and philosophy. Bird, there is this awkwardness to him, his work ethic—he stays late and comes early, shoots a thousand free throws after practice. And then Magic, just a natural athlete, the charisma, the smile, effortless and flash, and he loved the attention, and it's just really opposite ends of the spectrum.

When I first met Magic, I had just done the first Fantastic Four movie. There was an NBA tie-in and we spent a few days doing a commercial—the Fantastic Four versus Magic Johnson. He sat down and when he knew I was from Boston, he started to regale me about that time and playing against Bird.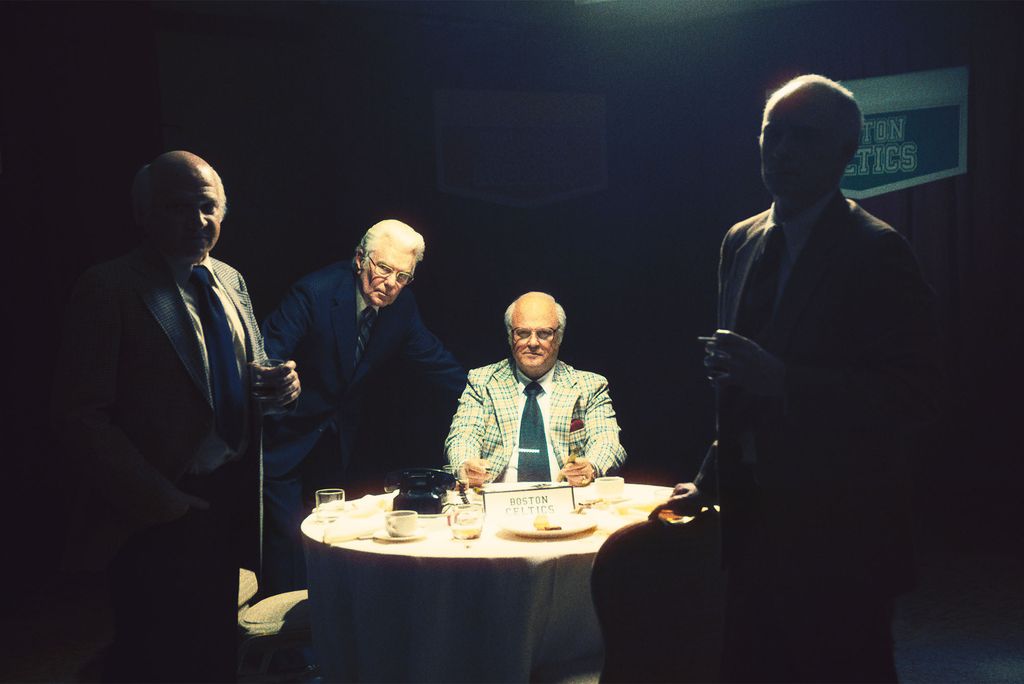 Bostonia:
Going back to Red, he has his own legend here, and a statue at Faneuil Hall…
His name is burnt into the parquet floor!
Bostonia:
What was the biggest challenge of playing him?
The hard part is understanding a person's point of view, what's important to them. You have to glean them from everything you read and watch. You want to get it right. Especially being from the Boston area, you want to be able to come home, so people don't go, "Turn around and get back on the plane!"

I've had experience playing real-life people. I had a real trial by fire playing [John] Belushi; I made a number of mistakes, I think. Little mistakes, things that you can't know. I learned a lot from that experience. If you come from a place of honor, respect, deference, and you are authentic and delve into people's lives and do your due diligence, and then throw yourself at it, then that's the best you can do.

My father used to say that to me. Did you do the best you can do? Really? And if I said, "Yeah, Dad," then that's the best you can do.
Bostonia:
Do you think it helped being a Boston guy playing Red, a Boston guy?
Remember, a Brooklyn guy! [Auerbach was born and raised in Brooklyn.] I had to research that, his upbringing. George Washington and then Columbia. A smart guy. When you get to play someone who is such an institution in the place you grew up, and a part of the fabric of your life through osmosis…

My father would have conversations in the room while we were watching a Celtics game. He would say, "This guy understands how to win, how to make these guys feel good." He would point these things out to me, how these guys like each other. Watch the guys in the locker room or dugout, and if they don't like each other, they're not winning championships. That was an observation from my father.
Bostonia:
What role did sports play in your life?
I was captain of the football team, I played hockey and baseball. I'll tell you what: I would rather be a good player on a championship team any day of the week and twice on Sunday than the franchise player of a lousy team that doesn't make the playoffs. It just feels great to win.
Bostonia:
Thanks for the time, Michael.
Go Terriers. Go BU. And we won the Beanpot! I watched it! I'm over here watching NESN!