Realizing MLK's Vision in Boston
STH alum Carrington Moore and nonprofit King Boston imagine a more just and equitable city
Visual Arts
Realizing MLK's Vision in Boston
STH alum Carrington Moore and nonprofit King Boston imagine a more just and equitable city
When Carrington Moore considers Martin Luther King, Jr.'s story, he sees in it a little of his own experience. "We think about Dr. King and his wife, Coretta Scott King, as these phenomenal superheroes," says Moore (STH'14). "But it's also important to notice that they were born from the Black community, the Black institutions, the churches that they attended and that molded them."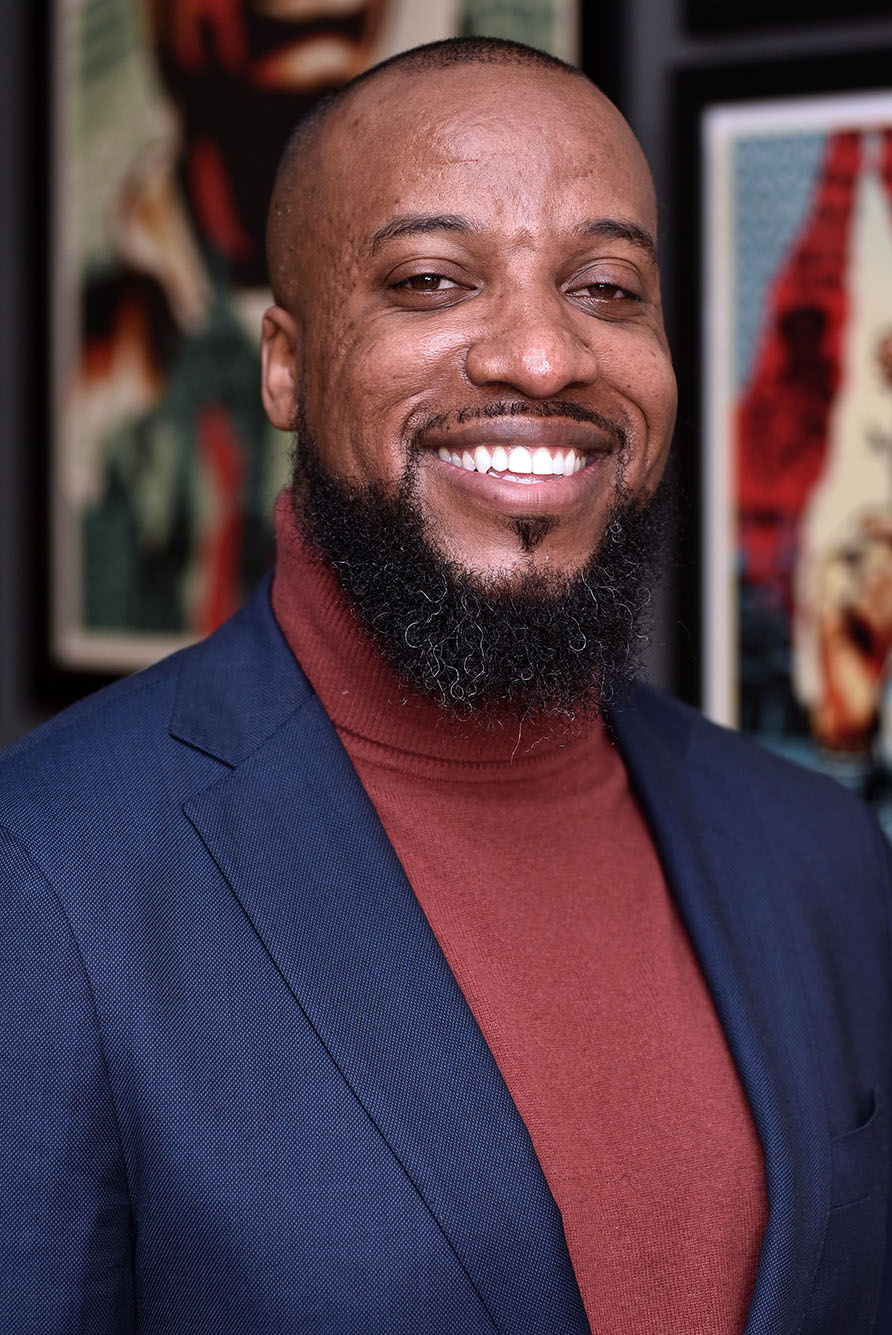 Moore was active in the church from a young age—his father was a pastor—and he was drawn to BU's School of Theology in part by an image of King (GRS'55, Hon.'59) in a University brochure. He's now an associate pastor at Bethel African Methodist Episcopal Church in Boston and, as of August 2021, he's carrying on a piece of the civil rights leader's legacy as director of community organizing for King Boston. The nonprofit behind the planned Boston Common memorial to King is devoted to creating an inclusive and equitable city.
The Embrace memorial, a 22-foot-high sculpture of the intertwined arms and hands of King and his wife, will be unveiled in fall 2022 near where King spoke at a 1965 march. (BU contributed $250,000 to the project.) King Boston is also creating the Center for Economic Justice in Roxbury, where the organization will focus on gathering data related to economic and social disparities.
Moore recently spoke with BU Today about his work and how King Boston hopes to create a more just and equitable city.
Bostonia:
What is King Boston?
Moore: King Boston is a phenomenal Black institution that is experimenting with a radical joy and prophetic love to bring about the liberation of Black, indigenous, and people of color (BIPOC) in the city of Boston. That's my answer. For a more formal answer, King Boston envisions a radically inclusive and equitable Boston where BIPOC people can thrive. Our aim is to dismantle structural racism, in partnership with diverse partners at the intersection of arts, culture, community organizing, and research.
Bostonia:
How does your role fit into that mission?
Moore: My role is to influence the transformation of institutional practices away from racialized and color-blind norms, regulations, and standard operating procedures that have generated racially biased outcomes. One goal is to engage and cultivate intergenerational BIPOC leadership. That's so important—being able to cultivate youth voices, persons who are millennials and young professionals, but also making sure that we have the wisdom of our elders. The other part is to organize public, private, and corporate institutions toward liberative systems change. We're interested in uplifting those voices, those ideas, those hopes, that can lead us to the new practices that center liberation and well-being. That's my job in a nutshell.
Bostonia:
What are some specific projects you've worked on so far?
Moore: We're building the New Boston Coalition, which is a multisector, multiracial, interfaith, intergenerational space where people can come together. It centers on BIPOC learning, BIPOC being, and BIPOC practices. We have over 500 members and over 75 institutions signed on. One initiative is centered on reparations. In the city of Boston, the average white family might have upwards of $150,000 to $200,000 in wealth and, in the Black community, the average household wealth is $8. And so we know that there's a system of plundering, sanctioned by the federal government, the state government, and also the local government, that has exploited the labor and resources of Black communities for hundreds of years. Boston has a responsibility to think about how we repair the exploitation of labor and resources from the Black community. If we can organize in Boston, the epicenter of freedom and liberation in this country, that will help build a political will for a federal mandate toward reparations.
Bostonia:
Have conversations about racism, sparked by the tragic events of 2020, including the murder of George Floyd, changed the receptiveness to ideas like reparations?
Moore: That's why I started out by saying that King Boston is experimenting with radical love and prophetic joy—but also trying to build power. And whether it be a political expediency or desire to build better organizations and institutions, people are responding in a real way. And King Boston is trying to share that love, share those resources, to help build up other organizations, as well. For so long, people thought some prophetic leader would come along and bring liberation to the masses—and we know that great leaders are important [for] advocacy and awareness—but, really, strong institutions are at the center of liberation.
Bostonia:
What does "liberation" mean to you?
Moore: Liberation is a space that is full of love and justice, that allows for the maximization of human flourishing. In some ways, that has existed for dominant society, meaning that if you're a white person living in America, if you work hard, you possibly can maximize your potential, because there is a social currency that comes with whiteness. But in the Black community, we're not always able to maximize our potential, because of the types of bigotry that we face. So, liberation is a tearing down of the caste system that we exist in, and allows for full human flourishing.
Bostonia:
You've been busy building coalitions. What actions do you hope emerge from this organizing?
Moore: We're hoping that particular policies around housing justice, economic repair, and education will be transformed. We're also thinking about changing the narrative of Boston, and that there will be greater spaces and greater opportunities and greater pathways created for Black people in the city. That could mean pathways from high school to college, and college to career, or just simple pathways of being able to spend time and enjoy yourself in the city. Boston has historically been segregated and there are certain parts of town where it feels like BIPOC people are unwelcome. We want to make sure that all of Boston belongs to the BIPOC community.
Bostonia:
How does The Embrace memorial fit into King Boston's broader plans?
Moore: Stories of Black liberation and the contributions to American society have been marginalized. They've been hidden. They've been oppressed. Because of anti-Black racism, we don't know the fullness of the true American story. We have to engage in counterstorytelling about what BIPOC people, and particularly Black people, have contributed to society. At the heart of the changing of minds has to be a changing of the story.
Bostonia:
What do you hope that visitors to the memorial will learn?
Moore: I hope it helps people uncover the deep, beautiful, sociopolitical history of Black contributions to the city. We're hoping that it will inspire people to rethink Boston—a space that has a deep history of racism, bigotry, exploitation of labor, and the plundering of the Black community—and imagine what racial equity can look like.
Bostonia:
At a time when controversial monuments are being removed, is there added significance in putting up a new monument?
Moore: I think the question you have to ask is why it took so long for this one to be erected. There's such a bevy of monuments that celebrate the Confederacy in the South. The erection of this particular monument is saying that there is a battle for the sharing of truth in this country. In this moment of racial reckoning, we think about George Floyd, Breonna Taylor, and so many beautiful Black melanated bodies that have been plundered by a dominant society and by the police. Witnessing the injustice of all that has happened is beginning to uncover stories of pain, but also resiliency and brilliance of Black people. This monument is a testament to that as we're coming to a cataclysmic confrontation for truth-telling.
Bostonia:
King spoke in Boston in 1965 about school segregation and economic disparities. What has or hasn't changed since then?
Moore: What has changed is public policy that brought a formal end to segregation. What hasn't changed is how we think about racism and the intersection with capitalism. People believe that we're competing against each other for resources, for social capital, for political power, and that uplifting the BIPOC community has to come at the expense of the dominant culture. We're saying that's not true and that, in this moment, diversity and solidarity, the liberation of BIPOC people, will lead to even greater human flourishing for all society.