Woosox Matthew Levin Bridges Baseball and Business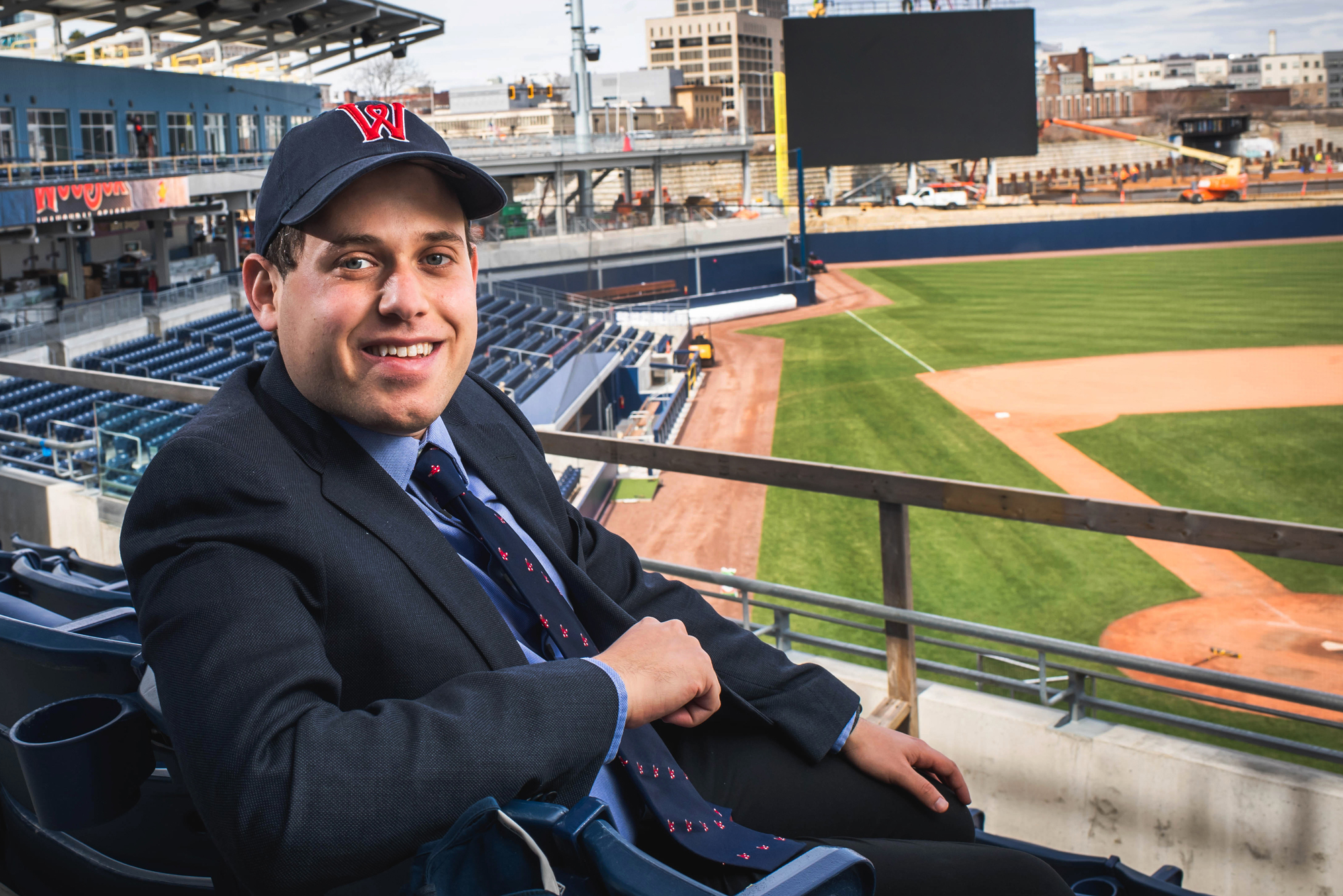 Business of Baseball
With the WooSox, Alum Matthew Levin Bridges Baseball and Business
Questrom alum has senior role with the new Red Sox Triple-A team in Worcester—and he can't wait for opening day
Matthew Levin's fondest childhood memories growing up near Chicago involve visiting different Major League Baseball stadiums with his father. From coast to coast, they visited 30 stadiums over a decade, starting when Levin was 10 years old.
All grown up now at 28, Levin still gets to watch a lot of baseball—only now it's from an office at a sparkling minor league ballpark in central Massachusetts whose opening day was for a brand-new team. Levin has gone from cheering in the stands with his dad to working for the Boston Red Sox, a career that bridges baseball and business, tradition and technology, history and the future. Levin (Questrom'14) is senior vice president/chief financial and technology officer of the Triple-A Worcester Red Sox, or the WooSox, as they are being called after relocating last year from Pawtucket, R.I., where for 50 years they were the beloved PawSox.
The team's move from Pawtucket to Worcester appeared to be going smoothly—until the chaos of 2020 hit.
Last season, says Levin, "COVID-19 threw us all a curveball." The entire minor league baseball season was canceled, while Major League Baseball played an abbreviated 60-game schedule. Levin kept working through the nonseason, helping the new Worcester Red Sox finish building Polar Park, where the team's home opener was scheduled for May 11. "It's really amazing that we built a new ballpark during a pandemic," he says. "We embraced the notion of community, and we've built Polar Park to be a communal space."
Baseball Dreams
Levin has always known he wanted to work for the Red Sox organization. And his mentors today include some Red Sox front office big names, including executives Larry Lucchino (Hon.'08), chair of the board of the Worcester Red Sox, Charles Steinberg, president of the Worcester Red Sox, and Jeff White, now executive vice president of operations for the New York Mets.
Levin's journey to Boston started when a Boston University admission's ambassador visited his Chicago-area high school. Levin remembers exactly what he told him: "My aspiration is an internship with the Boston Red Sox." The admission's ambassador chuckled, telling Levin he did not understand just how competitive that would be. Undeterred, Levin ultimately chose to attend BU (where he graduated summa cum laude) for two reasons: "Its proximity to Fenway and its high academic standards."

Levin wasted no time in pursuing his dream. During his freshman year, he reached out to BU Athletics and secured a marketing internship there, working on the Terrier Rewards program. "There was a lot of great professional expertise in the athletics department," says Levin, "including Jen Barsell, who had worked for the San Diego Padres as the director of marketing."
Levin applied three times to the Red Sox internship program, and sure enough, as the ambassador had warned him back in high school, it was competitive. Levin got rejected each time. So, like a player who sees his path to the big leagues blocked by a competitor, he looked for a new position that might create a clearer path forward. He decided that accounting would be his ticket to the show.
"I was planning to work for a Big Four accounting firm and maybe work on an audit of an MLB team," he says. During his sophomore year, he caught a break. "The Red Sox had a 'Road to the Show' recruiting event and I was able to meet the team's then director of business applications, who had formerly worked for [Big Four accounting firm] Deloitte." Levin asked her directly for a summer internship—and this time he got it.
His Big Break
And he would not waste his opportunity. He parlayed that summer internship into a permanent gig: "Information systems [what Levin was working on] is such a technical job, where it would've been time-consuming to train somebody new," he says. "So, I just kept coming in and doing the work after that summer. I would go to my BU classes across the street, then walk over to Fenway Park to work."
After four years with the Red Sox, Levin transitioned south to Rhode Island to join the PawSox in early 2016, working for Lucchino and Steinberg at the Triple-A club. His arrival coincided with the team's decision to move, which eventually resulted in the relocation from Pawtucket to Worcester. But before there could be baseball in Worcester, New England's second largest city, there needed to be a baseball park. A primary focus of Levin's work has been helping the WooSox build Polar Park, which has a capacity of approximately 10,000 fans.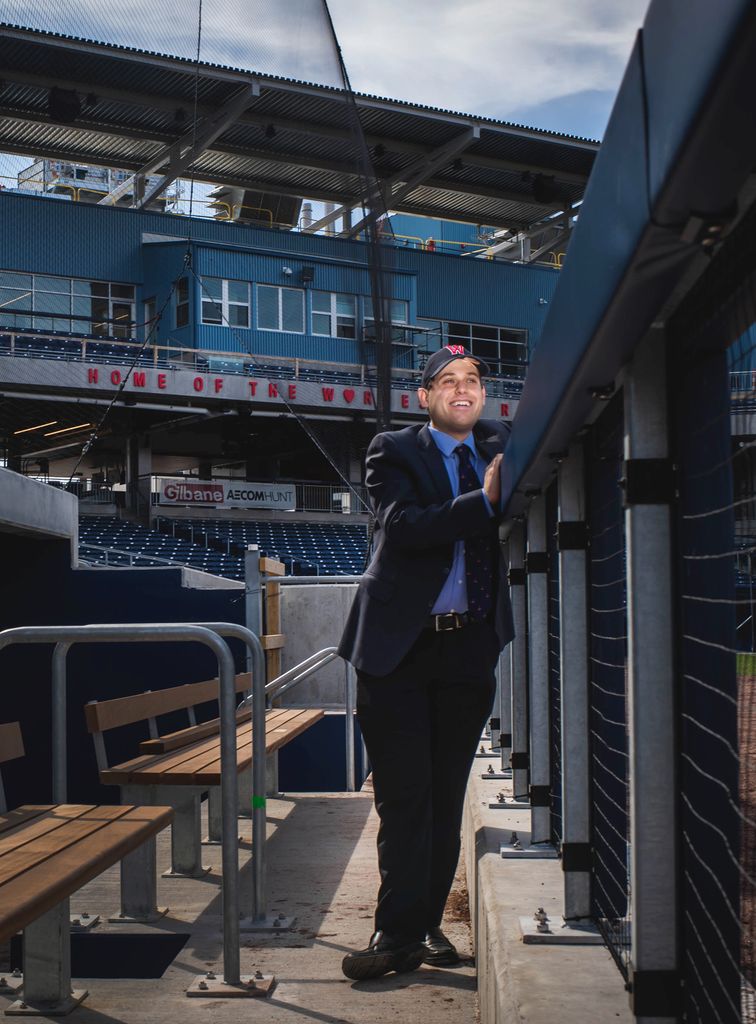 Levin feels fortunate to have Lucchino as a mentor in stadium-building. "I admire the work Larry did back when he built Camden Yards in Baltimore, Petco Park in San Diego, JetBlue Park in Fort Myers, and of course the renovations at Fenway," he says.
But even those temples to baseball can't claim Worcester's historical ties to America's pastime. The Worcester Ruby Legs—yes, that was their name—were part of the National League in the 19th century, and in 1880 a pitcher named Lee Raymond is said to have thrown the first perfect game in professional baseball history.
The Fan Experience
Levin prides himself on working across boundaries and disciplines to address challenges. "At BU, I was able to study in two fields: the more traditional accounting field and the more progressive field of information systems," he says. "That's also what baseball's about, looking back at traditions while figuring out how to look forward."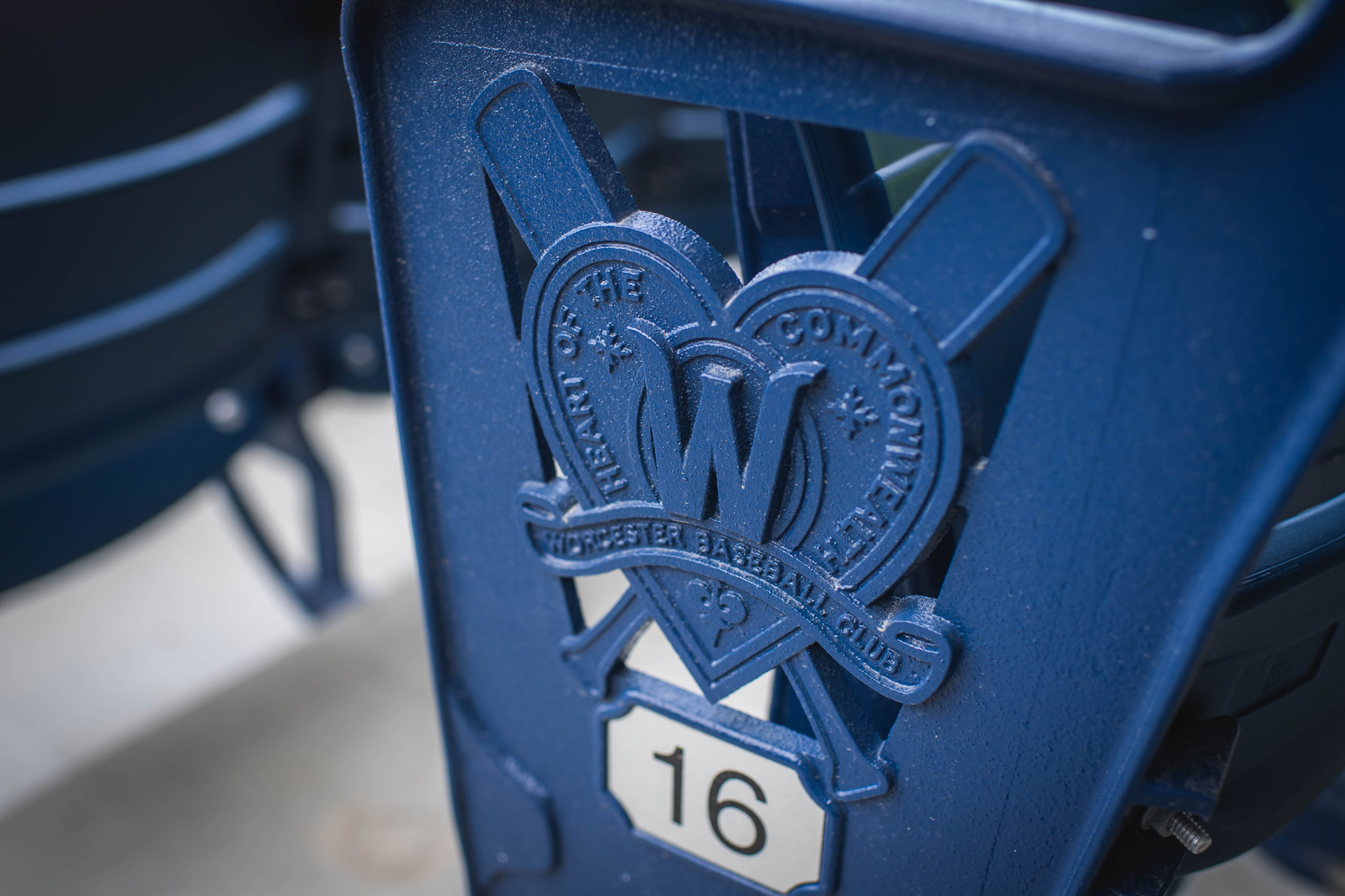 ---

I just kept coming in and doing the work after that summer. I would go to my BU classes across the street, then walk over to Fenway Park to work.

---
Levin has applied lessons in teamwork learned at BU to his work in baseball. "In the School of Management [now Questrom School of Business], we had a cross-functional core program my junior year where we built a product from scratch and wrote up a complete business plan," he says. "That was such a valuable exercise because of the teamwork involved. You always need to keep in mind that people come from many different backgrounds and perspectives."
Edward Riedl, Questrom's John F. Smith, Jr., Professor of Management and department chair of accounting, remembers Levin as a student. Riedl says "a big part of Questrom's overall education is not just the rudimentary topics—but applying frameworks to new and unexpected problems and situations."
Most businesses evolve rapidly, Riedl says, and Questrom students learn how to quickly evolve with them. "Matt is living that every day, as he and his colleagues work to develop and build a new ballpark in a new location, during a global pandemic no less," he says.
In working with Lucchino to build Polar Park, Levin became a driver of technological innovation. "We're the first professional sports team to announce an autonomous checkout for concessions," he says.
And because of these strange times, the technology also accommodates social distancing. "Among Larry's biggest pet peeves is fans waiting in line and missing the game," he says. As Levin describes it, fans download the app and check in, "then they walk into the concessions area and grab whatever they want and go. The app automatically knows what you've taken and handles payment."
Even before playing a single game, the WooSox were becoming pioneers in the digital fan experience. "It's been incredible how some of the forward-thinking technologies that we've built into Polar Park are now at the forefront of what other teams are planning as a result of COVID," Levin says.
While he clearly enjoys discussing technology, he recognizes that technology isn't a panacea. "You can miss absolutely everything if you rely on data without talking to people and understanding people," he says. While data analytics, for instance, might offer some insights on a player's potential, ultimately it takes more than number crunching to achieve on- and off-field success. "You need many people working cross-functionally to build a great team."
The BU Bridge Remains
Levin's passionate engagement with the BU community continues almost a decade after he graduated. "The faculty at BU was absolutely remarkable and those relationships remain important to me," says Levin. Before the pandemic, he'd go out for breakfast often with Riedl. "We've talked a lot about how the academic world can help inform the business world."
Levin also spoke (prepandemic) to Questrom lecturer John Kirks' strategy and innovation class. During COVID, Levin has remained in close contact with the BU community via virtual events and Zoom calls, which he says "are typically easier to arrange and attend than live meetings."
Levin's long-standing BU relationships are personal, as well. "My college roommate, with whom I remain very close today, actually set me up with my wife, who was attending Tufts," he says. "She and I live in Coolidge Corner now, close to BU and Fenway." Levin admits that the last year of pandemic has been challenging, but he's leaned into some childhood wisdom.
"Back when I was a six-year-old day camper in Chicago, the camp director used to tell us, 'It may be hard and it may take time, but stick with it and you'll be fine.'" That lesson, along with a few from his days at BU, stuck with Levin and now the result of his hard work and persistence has been a brand-new, technologically advanced ballpark that New England fans will be enjoying for years to come.
"I wish we could bottle Matt Levin's enthusiasm for life," says Riedl. "It's a lesson every BU student should see—especially now. Never give up hope, and approach each day, no matter how challenging, with a smile and commitment to doing your very best."
The baseball-loving kid from Chicago who came to Comm Ave hungry to work for the Red Sox hasn't moved very far from his friends or his baseball "Field of Dreams." During a supremely challenging year, he's built it—and now they are coming, starting May 11.