BU Construction Roundup: New Buildings, Updated Labs, and Bathroom Renovations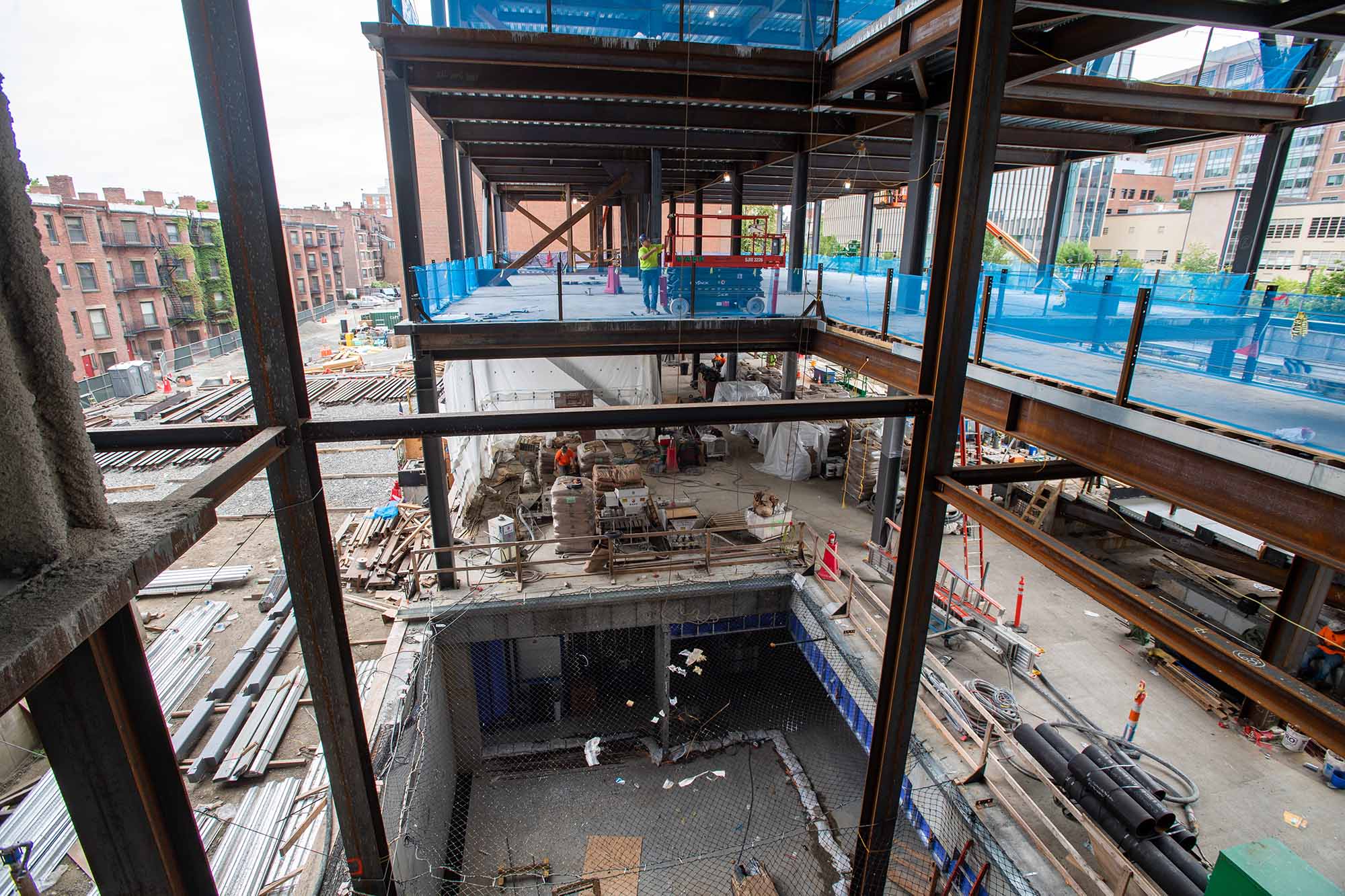 Campus & Facilities
From New Buildings to Updated Labs to Bathroom Renovations, a BU Construction Roundup
The total cost of summer projects exceeds $58 million
Last summer, Boston University Campus Planning & Operations was largely focused on projects that would allow for a safe reopening of campus amid the uncertain coronavirus pandemic. But this summer, with BU requiring students, faculty, and staff to be vaccinated against COVID-19, it was all about getting back to (a somewhat new) normal.
First up was returning classrooms to their pre-COVID iterations and converting event spaces that were used to hold classrooms last year. Another major project was the removal of 70,000 COVID-related signs (though many still remain). The ones taken down had to do mainly with Centers for Disease Control and Prevention guidance, gave directions, and marked social distancing spots on floors, in kitchens, and in bathrooms. Crews followed up by painting and repairing the walls, says Michael Donovan, vice president for campus planning and operations.
"We are returning to our normal rhythm of projects," Donovan says. "We're making improvements to academic, housing, residential, and research spaces." One of the projects Donovan finds most exciting is construction of the towering Center for Computing & Data Sciences on Comm Ave, which he describes as "a major, defining project for the center of campus."
Campus Planning and Operations was charged with overseeing 15 construction projects on the Charles River and Medical Campuses, ranging from labs for new faculty and campus apartment renovations to the Center for Computing & Data Sciences and LGBTQIA+ offices at 808 Comm Ave. The total cost of the summer projects is estimated at $58 million, according to Gregg Snyder, assistant vice president for informatics and strategic initiatives.
South Campus Kitchen and Bathroom Renovations

16 Arundel Street, 515 Park Drive
This year's summer construction projects are in addition to the daily upkeep required to maintain BU's more than 300 buildings and grounds, spread over three campuses.
Kitchen and bathroom renovations were made to apartments in South Campus, which included updating appliances and switching from gas to electric to enhance safety and reduce carbon emissions. Crews removed all carpet and installed new luxury vinyl flooring, updated electrical systems in the buildings, and painted all units.
Fisk House Move and Renovation

193 Bay State Road
Fisk House, named after the first president of BU's Women's Guild and today a subsidized residence for 16 female graduate students, is moving from its present building on Comm Ave to 193 Bay State Road. Crews installed all new electrical, plumbing, and heating and cooling systems, restored woodwork and some flooring, created nine bathrooms and one large group kitchen, added an electric fireplace, new storm windows, new hardware and doors, and more.
BU Medical Campus Human Resources Move

609 Albany Street
The BU Medical Campus human resources department is moving from 801 Mass Ave to 609 Albany Street to consolidate space.
Henry M. Goldman School of Dental Medicine

635 Albany Street
Work finished this summer on the expansion and renovation of the Henry M. Goldman School of Dental Medicine. The multiphase expansion and renovation project provides better quality spaces for the school's educational and clinical needs. The project expanded the existing 635 Albany Street facility with a 48,000-square-foot addition, dedicated to clinical education and practice. The addition will house patient waiting areas, and office, instructional, and student gathering spaces.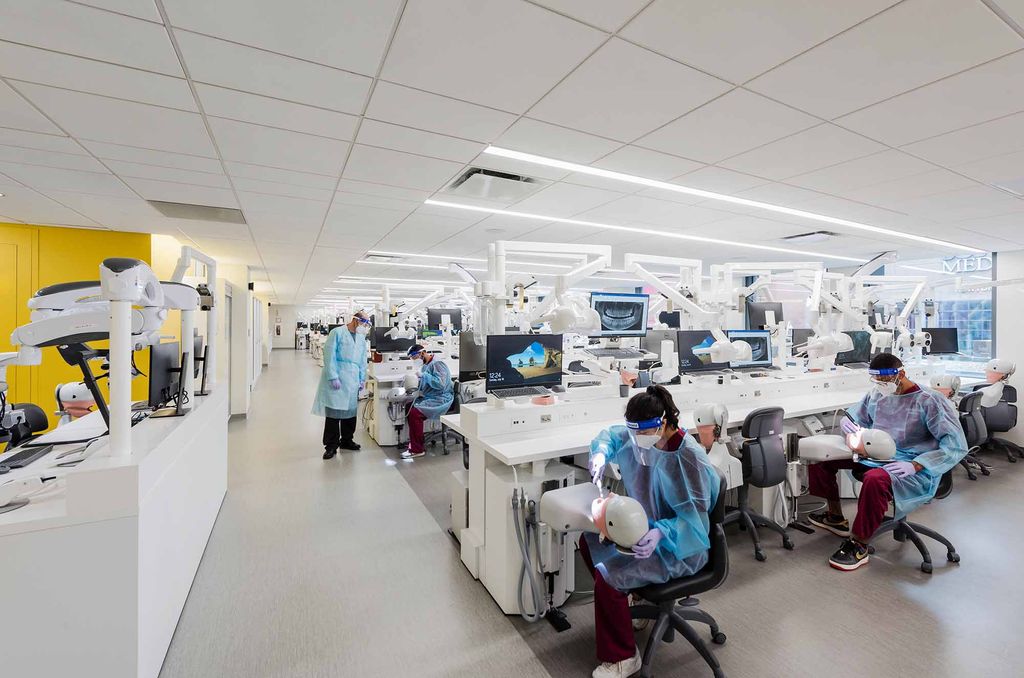 Microbiology Lab

650 Albany Street
Renovations on the second and third floor will bring all members of the School of Medicine microbiology department near the department of medicine's infectious diseases arm, and other core facilities, including the National Emerging Infectious Diseases Laboratories (NEIDL). Work included the creation of a central microbiology department office, a seminar room with space for up to 60 people, computational space, space for BSL-2 research, as well as tissue culture and equipment rooms.
New Terrier Card ID Office

650 Albany Street
The Medical Campus ID office moved from 710 Albany Street to 650 Albany Street.
Center for Computing & Data Sciences

665 Commonwealth Avenue
Scheduled to open in 2022, the center, designed like a stack of books and also referred to as "the Jenga building," will be state-of-the-art in every way: striking architecture, advanced resources, environmental sensitivity, and interior spaces designed to facilitate collaboration. Rising above the center of the Charles River Campus, the 19-story structure will house the College of Arts & Sciences departments of mathematics and statistics and of computer science and the newly created Faculty of Computing & Data Sciences, as well as the Rafik B. Hariri Institute for Computing and Computational Science & Engineering.
Coming this semester will be the building's structural steel erection and detailing and removal of the temporary shoring for the structural steel. One of the most significant upcoming milestones is that the unique and final massing of the building will start to become visible.
In September, the curtain wall will start to be installed at the podium, with the tower coming in December. There will also be roughing-in (meaning framing, insulation, sheathing, waterproofing, etc.) at the metal panel soffits on the underside of the cantilevered section of the building, and the roof will start to be built at the podium and terraces.
Gross Anatomy Lab

72 East Concord Street
Recent renovations to the Gross Anatomy Lab included new floors, walls, ceilings, ductwork, lighting, sinks, storage, and safety equipment and essential improvements to the interior spaces. A reconfigured layout better accommodates support services such as embalming, administration, waste handling, and storage, and allows for the creation of a dedicated classroom and prosection room (where dissections are done). State-of-the-art lighting and AV were also incorporated into the project.
Students will be able to work at adjustable tables with the aid of enhanced lighting, and teaching faculty can take advantage of ceiling-mounted LCD screens, smart boards, and an automated table—a high-resolution anatomy visualization system, in essence providing a 3-D cadaver. The renovations were made possible thanks to a gift from Albert and Debbie Rosenthaler.
The LGBTQIA+ Center for Faculty & Staff

808 Commonwealth Avenue
The Office of the Provost created a new LGBTQIA+ center for faculty and staff, which will be in 808 Comm Ave. It is meant to be a hub for colleagues across BU through programming, services, events, and shared gathering space.
Renovations to rooms 255-259 include the removal of existing shelving and built-in countertops, patching and painting, replacing carpet, and adding new millwork, a new AV system, and new markerboards. New furniture will also be installed.
Undergraduate Housing Upgrades

820 Beacon Street
This South Campus brownstone received more than 20 new windows, vinyl flooring, and fresh paint.
844 Beacon Street
Down the street, five units in this brownstone benefited from new kitchens and ceilings, updated electrical systems and bathrooms, new floors, and paint.
Student Health Services

881 Commonwealth Avenue
Behavioral Medicine moved from 930 to 881 Comm Ave, where the rest of Student Health Services is. The building's basement received a gut renovation for the move. The first floor also was renovated to accommodate growth in primary care, along with department administration and finance.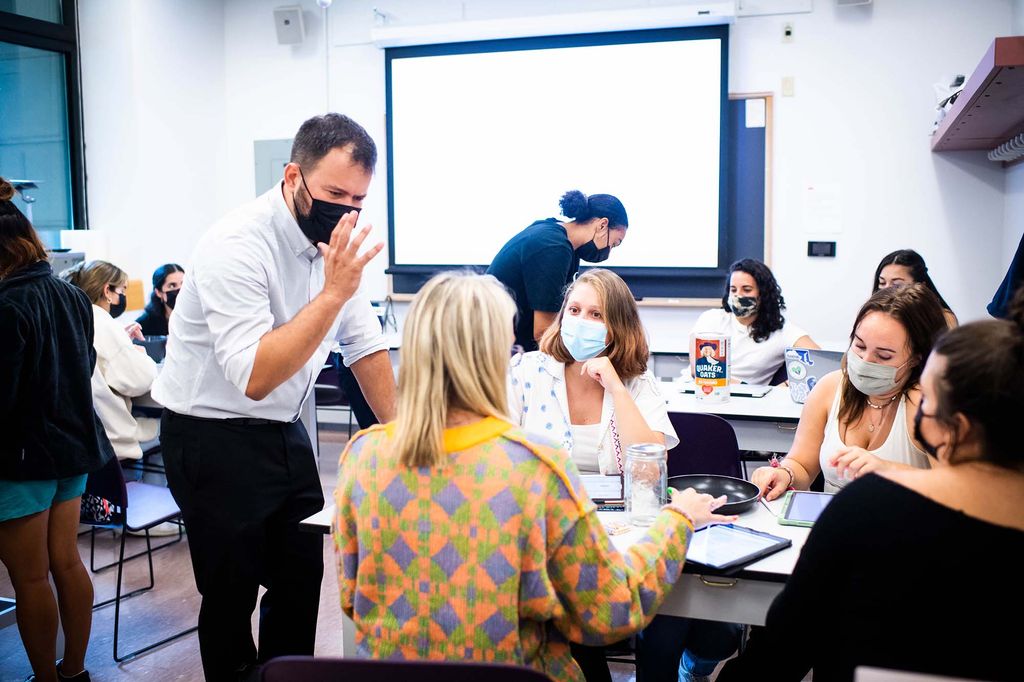 New Hires

Campuswide
Lab and office renovations across campus for new faculty.
Removal of COVID signs

Campuswide
Campus Planning & Operations staff and contractors removed over 70,000 COVID-related health, safety, and directional signs in anticipation of the fall semester start, and they continue to patch and paint. In addition, the team posted new "face coverings required" signs at the entrance of all BU facilities.
Return Classrooms to Pre-COVID Condition

Campuswide
Crews worked to return all classrooms to pre-COVID conditions, as well as to convert event spaces that were used for class instruction last year. Teams ensured that upgraded air quality enhancements were maintained for rooms used last year or upgraded for this year. In many cases HEPA units were added to rooms.