Oscar Winner, and BU Alum, Olympia Dukakis Dies at 89
Obituaries
Oscar Winner, and BU Alum, Olympia Dukakis Dies at 89
Actor was "a model for how to go out into the world and realize your dreams"
In a career that spanned more than six decades, actor Olympia Dukakis appeared in classic stage plays like Ibsen's Peer Gynt, Sophocles' Electra, and Eugene O'Neill's Long Day's Journey into Night, but it was her performance as Cher's sardonic mother, Rose Castorini, in the 1987 romantic comedy Moonstruck that brought her fame—and an Academy Award for best supporting actress.
Dukakis (Sargent'54, CFA'57, Hon.'00) died May 1, 2021, at her home in New York City. She was 89 and had been in hospice care, according to her brother, Apollo Dukakis.
For decades, Dukakis was known only to theater audiences. She won two Obie Awards for her off-Broadway work, and for many years operated a theater company—the Whole Theater—which she founded with Apollo and her husband, actor Louis Zorich, in 1973, in Montclair, N.J. She was involved in all aspects of the company, from acting and directing to grant writing and serving as artistic director.
Dukakis, who grew up in Lowell and Arlington, Mass.—former Massachusetts governor Michael Dukakis is her first cousin—began acting at a young age, playing in a World War II benefit for the American Red Cross at age 11. But when it came time to attend college, her parents, both Greek immigrants, urged her to pursue a more practical career. She attended BU's Sargent College of Health & Rehabilitation Sciences, where she majored in physical therapy. (She was also a New England fencing champion while a student). After graduation, she traveled across the country, working as a physical therapist during the height of the polio epidemic. 
But Dukakis never gave up her ambition to be an actor. She used her savings to return to BU, where she earned an MFA at the College of Fine Arts School of Theatre in 1957, a year after making her stage debut in summer stock in Maine. She helped to establish the Charles Playhouse, before moving to New York City in 1959.
She worked steadily on stage, but like many actors, struggled to make a living. She augmented her work in the theater with guest spots on TV shows, eventually landing small film roles, almost always as someone's mother. After her husband was severely injured in a car accident in 1977, Dukakis took a teaching position at New York University to help support her family, while also appearing in the TV soap opera Search for Tomorrow.
Harvey Young, dean of CFA, says Dukakis was an inspiration to young artists. "Within weeks of graduating from CFA, Olympia was performing in Boston at the Charles Playhouse, the theater company she cofounded," Young says. "She quickly became a role model to her classmates and generations of future alumni—a model of how to go out into the world and realize your dreams."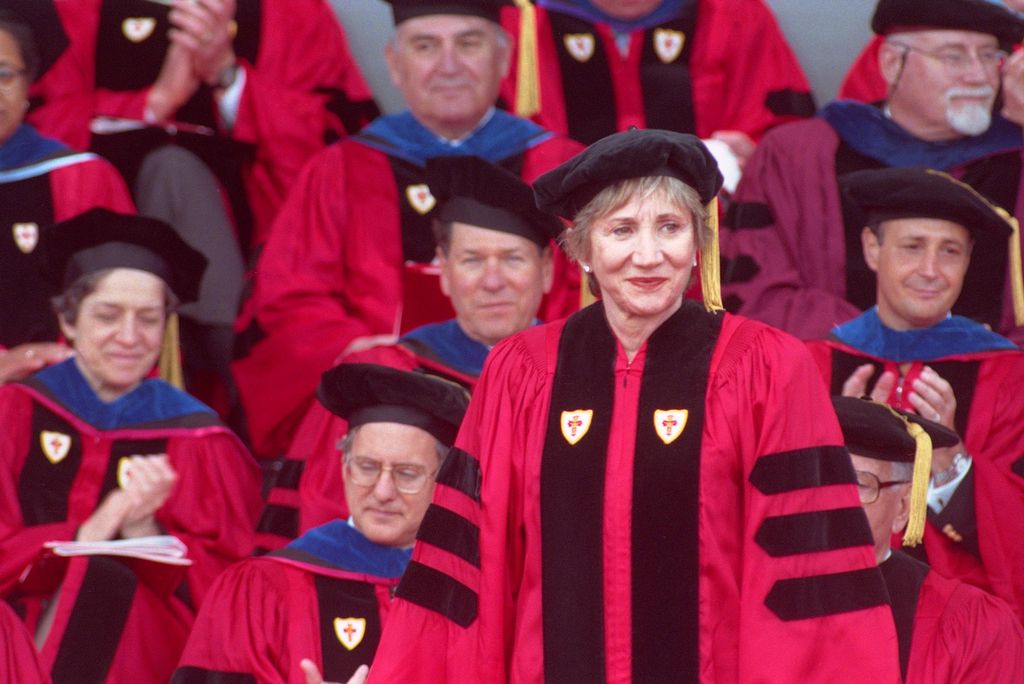 Young recalls with fondness meeting Dukakis at her home last year: "We ate popcorn. She smoked cigarettes. Her Oscar sat on a shelf in a neighboring room. She was kind and refreshingly direct. I thought she was wonderful."
A big break, long in the making
Dukakis was cast as Meryl Streep's mother in the 1986 Mike Nichols film Heartburn, but what was to have been her big breakout performance was cut from the final film. Later that year, Nichols cast her as Marlo Thomas' octogenarian mother in the Broadway comedy Social Security. Director Norman Jewison was so impressed by her performance that he cast her as Cher's mother in his film Moonstruck without a screen test. Her portrayal of the world-weary mother and wife whose husband is cheating on her was life-changing, earning her a Golden Globe Award, a Los Angeles Film Critics Award, and the Oscar—along with financial security.
In a 2011 interview with BU Today, Dukakis recalled her Oscar moment: "Norman Jewison had told me that I would be nominated and that I would win, so I actually wasn't surprised when it happened…. I thought I would win because all the oddsmakers in Vegas had me ahead!" She hadn't prepared a speech, but when her name was called and she stepped onstage to accept her award, she used the moment to offer some words of encouragement to her cousin Michael, who was then running for president: "OK, Michael, let's go!" (Michael Dukakis went on to win the Demcoratic nomination but lost to the vice president, George H. W. Bush, in the November 1988 election.)
Afterwards, Dukakis was much in demand as a character actor in Hollywood, appearing in such films as Working Girl, Steel Magnolias, Look Who's Talking, Mr. Holland's Opus, Dad, The Cemetery Club, Mighty Aphrodite, and Away from Her, and on television as the transgender landlord Mrs. Madrigal in several miniseries based on Armistead Maupin's Tales of the City stories, a role that earned her an Emmy nomination.
She was the subject of the 2018 documentary Olympia, and continued to act on stage, in film, and on television until shortly before her death. Her final performance was as a judge who sentences a self-centered millennial to care for his grandmother, who has Alzheimer's, in the drama Not to Forget, set for release later this year.
Following news of her death, Cher and Sally Field, who costarred with Dukakis in Steel Magnolias, took to social media to express their love and admiration for the versatile actor.
Olympia Dukakis Was an Amazing,Academy Award Winning Actress.Olympia Played My Mom In Moonstruck,& Even Though Her Part was
That Of a Suffering Wife, We😂ALL The Time.She Would Tell Me How MUCH She Loved Louis,Her"Handsome Talented,Husband".I Talked To Her 3Wks Ago. Rip Dear One pic.twitter.com/RcCZaeKFmz

— Cher (@cher) May 1, 2021
What can I say but I loved her? Everyone loved her. She was a gift..unique and talented and one of a kind. Rest in peace my friend Olympia.

— Sally Field (@sally_field) May 2, 2021
In the BU Today interview, Dukakis said she was unable to account for Moonstruck's enduring popularity. "I know that Italians love it for being authentic, and women love it. The movie hits a nerve."
Dukakis was predeceased by her husband, Louis Zorich, in 2018, and is survived by their three children, Christina, Peter, and Stefan, and four grandchildren.