Opening Doors: Ben Hires, Chief Executive Officer, Boston Chinatown Neighborhood Center
Ben Hires,
Chief Executive Officer, Boston Chinatown Neighborhood Center
They are determined to use their experience, influence, and positions to help make their business, organization, and world more inclusive. They are breaking barriers—and then reaching back to help those behind them overcome the same hurdles. They are BU alumni, faculty, and staff—of every race, ethnicity, age, and gender—and they are "Opening Doors" for the next generation.
---
Growing up in rural southern New Jersey, Ben Hires saw no other kids who looked like him. An orphan from South Korea, he was adopted at eight months by a white middle-class couple who later adopted a little girl, who is white. "It wasn't until high school that I met one other Asian student, so the idea of diversity and other Asians never really entered into my sphere in childhood," says Hires (CAS'00, STH'03, MET'08). "I did go to a school where there were Black kids, but my world was predominantly Caucasian."
It wasn't until he got to BU, Hires says, that he had a chance "to meet more people who looked like me, more Koreans, more Japanese." Even so, he felt different: "I wasn't actually Korean, right? You've got all these other people who look like you now, but their experience growing up with their parents was totally different. I still didn't feel like I fit in, even in that group."
Hires majored in philosophy and political science as an undergrad and later earned a Master of Theological Studies at the School of Theology and a master's in arts administration at Metropolitan College.
As an undergrad, he volunteered as a BU Initiative for Literacy Development (BUILD) tutor at Mission Hill School and Franciscan Children's in Brighton. Those experiences shaped the trajectory of his career, serving young people and their families, especially children in underrepresented communities.
He was a youth counselor at a therapeutic program and later became involved with the Boston Youth Symphony Orchestras' intensive community program, whose goal was to develop future generations of classic musicians from communities of color. "That was a good introduction to an area of inequity—classical music—and looking at what are the barriers and what are some solutions that could remedy that inequity," Hires says. 
From there, he landed at Boston Children's Chorus, founded by Hubie Jones (SSW'57), dean emeritus of BU's School of Social Work, where Hires held a series of leadership positions in programs, external relations, and strategy. "The chorus was a place that talked a lot about institutional and structural racism and personal prejudice and the history of Boston, which obviously has a long history of racial strife," Hires says. "I observed from the students their passion for diversity and equity and social justice."
He put that experience to good use in his next role, as director of strategic partnerships at the Boston Public Library (BPL), where he worked with other local organizations and businesses to help promote the BPL's mission of equity and inclusion, especially in Boston's many diverse neighborhoods.
Last June, Hires became CEO of the Boston Chinatown Neighborhood Center (BCNC), the largest Asian immigrant multiservice organization in Greater Boston.
Bostonia spoke with Hires about his new role, what sparked his lifelong interest in promoting equity and inclusion, and why it's important for the city to have more leaders of color.
Bostonia: What attracted you to your current position at BCNC?
Ben Hires: I had volunteered before at BCNC in its youth college access mentor program and was a member of a group formed to help advise the center's Pao Arts Center, so I was familiar with the organization and its work. It was a perfect opportunity for me, because I'm much more connected to Asian culture after marrying my wife, Tina Lin (MET'13), who is from Taiwan. We have a three-year-old who has all these multiple identities, and the idea of being part of an organization that could help me raise my son, recognizing and valuing his background, was important to me. I had worked previously with inspiring leaders at all these other wonderful organizations and I just felt that push—that it was time that I could do what they were doing and that I could give back in a different way and be a leader of an organization.
Can you talk about the organization's mission ?
BCNC has been around for 52 years, serving the Chinatown and wider Asian immigrant community. Its mission is to empower and build strong, healthy families through achieving economic success and being civically engaged in their community. We do that by supporting the educational enrichment of children. We have a childcare program, an afterschool program, and a youth leadership program. We're a family-centered organization: we're focused on children, and we have adult education and workforce development programs geared toward the parents and adults. So while the kids are being taken care of in our childcare program, the parents can be taking classes and thinking about their next steps in entering the workforce. We also provide family services and community engagement, through the Pao Arts Center, supporting and uplifting the Chinatown community, which has a history of land being taken away via urban renewal.

In terms of making Boston more diverse and equitable, we're helping the Chinese immigrant community and many other immigrant communities be successful. Asian, and in particular Chinese, immigrants are one of the fastest growing groups in Boston and New England. We're trying to help them land here, learn the language, help their children get integrated in the schools, and help them get into the workforce. Whether you're an immigrant from China or an immigrant from Ireland, I think each of these communities at different times has faced barriers, and our organization is helping to level that playing field as much as possible.
You started at BCNC in June, as the pandemic was increasing anti-Asian sentiment in the United States because COVID-19 first surfaced in China. Many Asian Americans were reporting more verbal and physical abuse—how did your organization address that?
Our staff have been supporting families worried about discrimination and fearful of racism since last year. Many families have been experiencing mental health stresses caused by the xenophobia that has been taking place. Some families have been subjected to remarks or stares while taking public transportation. Our youth in particular were feeling that way at school, and we had some young people who wrote an open letter to their school leaders in Boston, Quincy, and Malden early on in the pandemic asking them to take a stand against anti-Asian sentiment.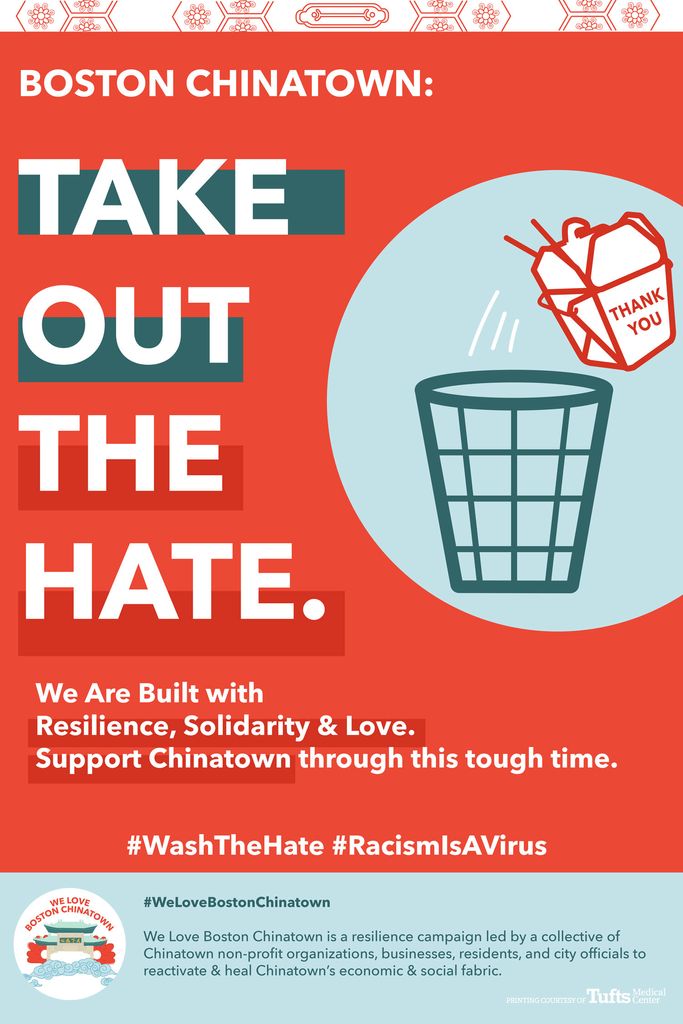 At the same time, the businesses where many of our families work were impacted. Early on, before the quarantine went into effect, many people stopped coming to Chinatown. There was a perception that all Asians were infected or that there was a virus going around in the Asian community in Boston in particular, and people stopped visiting restaurants and other businesses in Chinatown. So they were also stressed out about losing their jobs. And that obviously carried into the full pandemic. We launched a community-wide initiative named We Love Boston Chinatown: A Resiliency Campaign, which created a poster campaign against Asian prejudice and put public art in the windows of local restaurants to increase their visibility.
It must be incredibly rewarding when you see the difference you can make in an individual's life.
It's amazing for me to see the generations of families that have come through BCNC. You've got grandparents whose kids have gone through the organization and now their grandkids are here. That's really amazing and quite a testament to the work our team is doing. And I think about many of our first-generation students who are the first in their family to go to college and what that means to their families and themselves. It's amazing how hungry these folks are to do well, be successful, make a better life. It's all on them. We help, but it's incredible how much dedication and resilience they have.
You've devoted your career to helping others achieve equity. What fueled your interest?
If I had never been adopted, if I didn't have these two—at the time, strangers—take me home, I imagine my life would have been totally different, and for that I'm forever grateful for my parents. It's unlikely that I would have had the same opportunities and relationships and that I'd be where I am now. Whatever I can do to help—particularly young people who, through no fault of their own, might need an extra hand to reach their full potential, I want to be part of that. People are so appreciative of that extra hand. It's always nice to be a part of people's lives in this way. I've benefited so much from being adopted and being able to grow up here and have the parents I have.
Who opened doors for you in your life, aside from your parents?
At BU, I had thought about going to law school, but I had doubts about whether that made the most sense. I had a professor, Alan Olson [a College of Arts & Sciences professor emeritus of religion and philosophy], who suggested the idea of doing a master's in theological studies at the School of Theology. It was really because of him that I did that degree, and later on I audited a class at Metropolitan College called Arts World, taught by Rich Maloney, who was at the time the assistant director of the Arts Administration Program. I got to know him well and really liked his class. He encouraged me to enter the program. It's because of those two professors I'm a triple Terrier, and those pathways got me into my work in the youth arts.

I was hired by David Howse, then the executive director of Boston Children's Chorus, and worked with him for eight or nine years. He's been a friend and mentor to me ever since. He's now vice president of Emerson College and executive director of ArtsEmerson and is such a force around thinking about equity and the arts. I learned so much from him about being a leader and about understanding the issues of systemic racism and prejudice and how the arts can be a kind of connector in helping people try and understand these issues.
Boston has a history of not always being welcoming to immigrants. Do you see signs of improvement, and if so, where?
I've been in Boston for about 20 years and I've seen positive change, but at the same time we're still dealing with some of the same challenges. But for the first time in Boston we will have an acting mayor who is a woman of color and a mayoral race that currently has three women of color running. The fact that the next mayor of Boston could be both a woman and a person of color is pretty significant. And the conversations and the protests we've seen around equity and race, I don't remember them 20 years ago. So I definitely feel like there's a lot more awareness and people across different backgrounds who are concerned about issues of racism, issues of immigration, issues of whether our communities are welcoming to people. That's positive. At the same time, we know there are still highly segregated communities, there are still inequitable outcomes to the social determinants of health. We know there's not a level playing field for people of color and for immigrants. On one level, our work at BCNC is helping tell that story about why that shouldn't be the case.
You've said there needs to be more leaders of color not just in Boston, but throughout the country. How do we make that happen?
One of the things that I'm involved in, and I think a lot of people are doing now more than ever, is building a community among leaders of color in Boston. There have been a number of different coalitions and collaborations among organizations that are led by people of color that are talking and working together, and there wasn't as much of that 5 to 10 years ago.

David Howse inspired me in 2016 to organize a leadership group I've dubbed the "A Team" (it was one of my favorite shows growing up). The "A" stands for Asian. David had a Black men's leadership group and I said, "There should be one to support Asian leaders." So the former CEO of BCNC, Giles Li, and some others we knew started meeting. We are still getting together and expanding the circle.

It's important to build that network of leadership in Boston because we're regularly in spaces where there aren't people who look like us or there aren't people who understand the communities that we're working with and the issues that they're facing. Being able to support each other at a leadership level goes a long way, and it builds that foundation for organizations to work more closely together. Some of the issues that we're trying to tackle—it's not any one organization that is going to solve these things. It's going to be organizations in the same community working together, organizations across different neighborhoods working together, organizations from different sectors working together.
Do you know BU alumni, faculty, and staff who are opening doors or breaking barriers themselves? Email Cindy Buccini at cbuccini@bu.edu and recommend them for our series "Opening Doors."