Sculptor Nancy Schön Pays Tribute to the Public in Her New Book, Ducks on Parade!
Sculpture
Nancy Schön Pays Tribute to the People Who Decorate Her Make Way for Ducklings Sculpture
Alum compiles photographs of their handiwork in her new book, Ducks on Parade!
People have been decorating Nancy Schön's bronze Make Way for Ducklings sculptures in the Boston Public Garden for more than three decades. Now, Schön (DGE'48) has published a new book of photographs—taken by the public—of the decked-out ducks over the years. Here, she tells Bostonia about how Ducks on Parade! (Brandeis University Press, 2021) came to be and about the enduring popularity of her public art.
"In 1987, when I installed the bronze sculpture of Mrs. Mallard and her eight baby ducklings, based on the classic Make Way for Ducklings by Robert McCloskey, never in my wildest dreams did I think that they would become an iconic landmark of Boston. Only a year after they were installed, they began to appear all dressed up in many different outfits, reflecting Mother's Day, the Red Sox winning the World Series, the Women's March, Black Lives Matter. There is hardly a time now that the Boston ducks are bare, and the many different creative people who make the costumes remain anonymous.
"I marvel at the love and care that goes into each outfit, the unique way people express their feelings through decorating the ducks. I am in awe of the generous time dedicated by those who sew each stitch to make a perfect little costume for every duckling. There is a unique connection between the people of Boston and these sculptures that brings people together.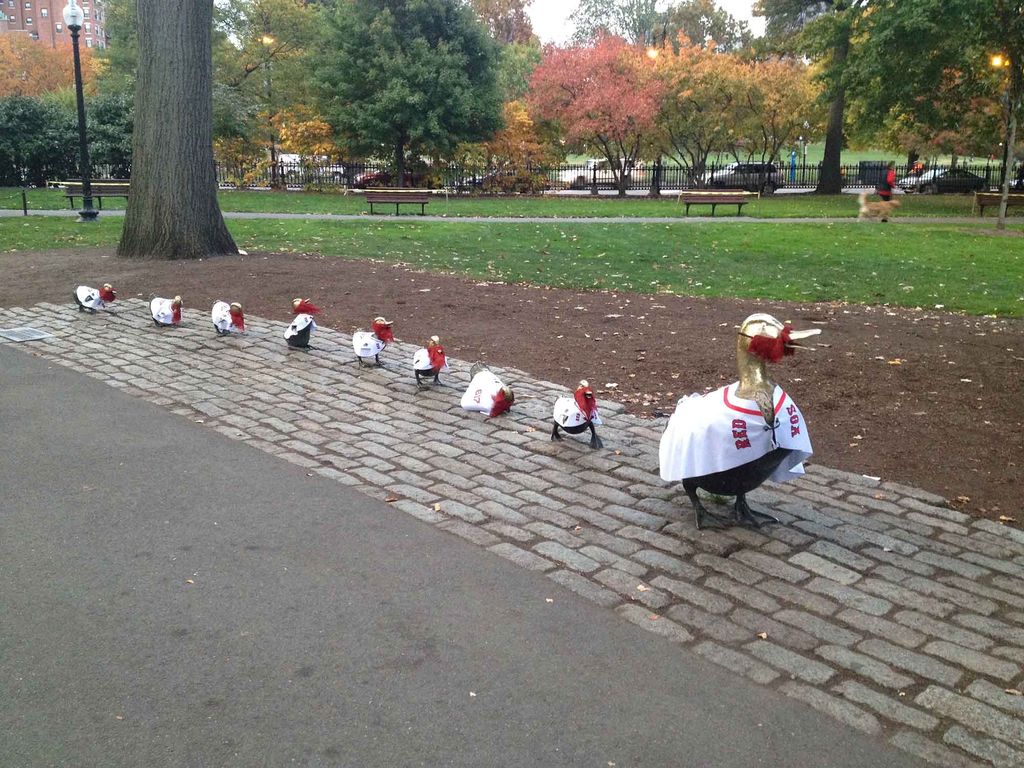 "These ducks have shown the history of events over decades, reflecting the life of the city. This book is a tribute to all Bostonians whose creativity and generosity have made this book possible. More than this, it is a revealing look at the lasting power of public art and how viewers can also be participants. Ducks on Parade! is a whimsical book for readers of any age, as it showcases some of the best and most original ducklings all dressed up!"
You can buy Nancy Schön's Ducks on Parade! and have her sign it at www.schon.com.