Reading List: New Fiction, Nonfiction, and Poetry by BU Alums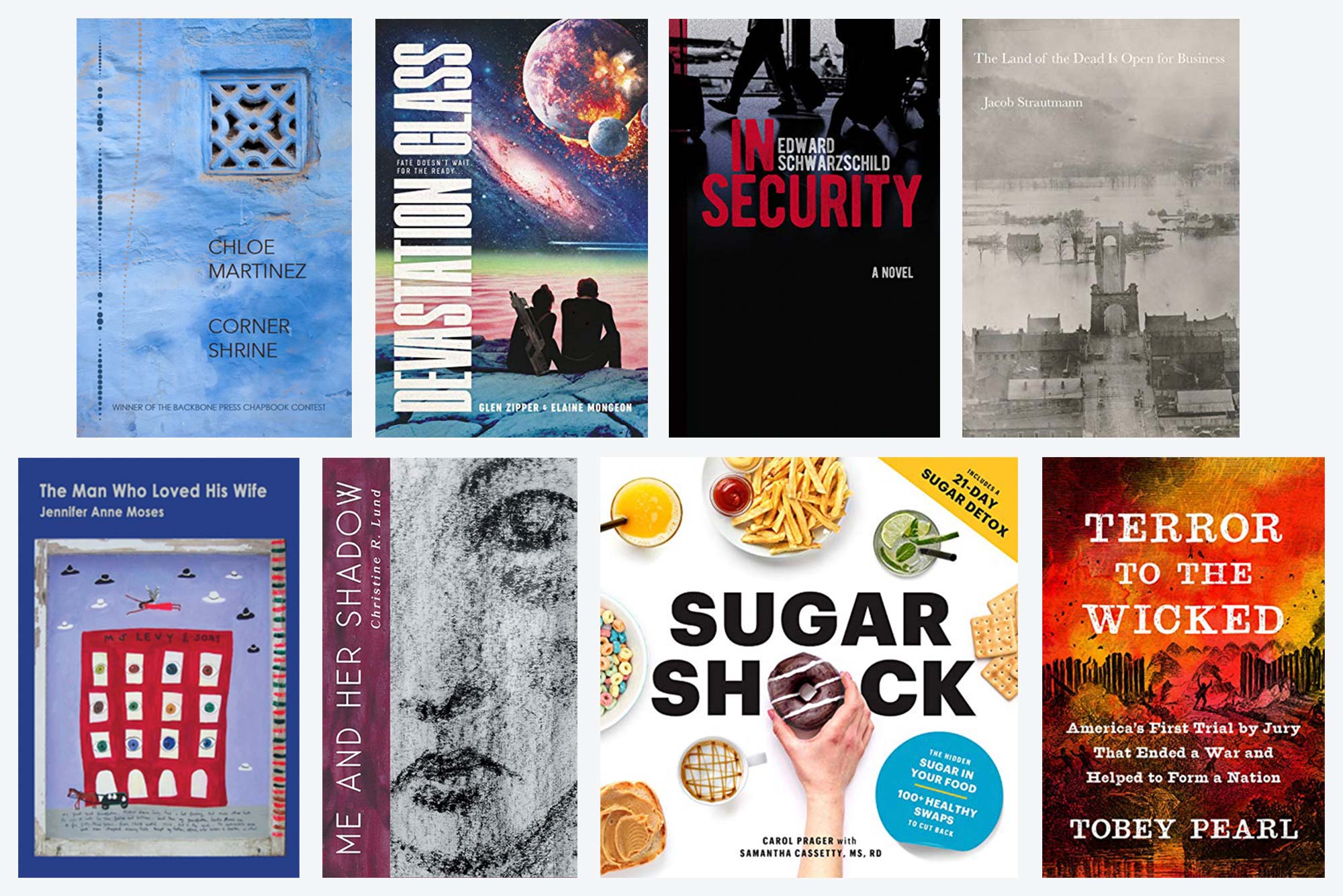 Books
Reading List
Alumni books that caught our eye
Corner Shrine
Backbone Press, 2020
By Chloe Martinez (GRS'07)
Martinez's poetry collection was the winner of the 2019 Backbone Press Chapbook Competition. Robert Pinsky, BU William Fairfield Warren Distinguished Professor and a College of Arts & Sciences professor of English, calls it "a masterful, intimate, and informed work of art about culture itself, and the boundless forms of identity."
Devastation Class
Blink, 2020
By Glen Zipper and Elaine Mongeon (COM'99)
Filmmaker Mongeon teamed with producer Zipper to pen this sci-fi action thriller for grade 8 and up, in which human existence is threatened by an alien race called the Kastazi. Teen protagonists JD and Viv are cadets on an Alliance Devastation Class starship who must find their own strengths to triumph over peril in a high-octane story.
In Security
Excelsior Editions, 2020
By Edward Schwarzschild (GRS'99)
The novel follows a single father and grieving widower on his new job as a TSA agent in upstate New York whose life is turned upside down again when he revives a traveler using CPR. The thriller is also the story of a decent man pushed to his limits. Schwarzschild worked for the TSA while writing the novel.
The Land of the Dead is Open for Business
Four Way Books, 2020
By Jacob Strautmann (GRS'00)
Strautmann's poems examine how the coal extraction industry has devastated West Virginia and its people: mountains leveled, waters polluted, economy in shambles, lives in ruin. One reviewer lauded the "mountain music" of the poems. A West Virginia native, Strautmann is CAS department manager of economics and also teaches playwriting.
The Man Who Loved His Wife
Mayapple Press, 2021
By Jennifer Anne Moses (GRS'83)
This Yiddish-accented story collection springs from the author's own deep dive into Yiddish literature and the Hebrew language. In Tel Aviv, the New Jersey suburbs, and the Deep South, the characters grapple with God, family, fate, death, hope, Hitler, and history.
Me and Her Shadow
Finishing Line Press, 2020
By Christine Lund (CAS'70)
In her debut poetry collection, Lund pays tribute to her daughter, Kaja (pronounced Kai-ya), who died of cancer just after turning 23, and shares her journey of healing afterward and the wisdom she earned through it.
Sugar Shock
Hearst Home, 2020
By Carol Prager with Samantha Cassetty (Sargent'98)
This practical guide aims to help readers take control over the added sugar they eat, which can easily reach 22 teaspoons a day, far exceeding the limits recommended by the American Heart Association. Prager and Cassetty's book explains how sugar puts your health at risk, identifies foods loaded with added sugar, and offers ways to detox from the sugar habit.
Ten Thousand Shells and Counting: A Memoir
Page Publishing, 2020
By Nadija Mujagic (MET'19)
Mujagic was 14 and growing up in Sarajevo when the Serbs began their bloody siege of that Bosnian city. Her account mingles tragic and terrifying incidents with mundane and even humorous everyday details of growing up amid the destruction. Now associate director of pre-award services in BU's Research Support office, she penned this memoir to exorcise her experiences and the PTSD that came with them.
Terror to the Wicked: America's First Trial by Jury that Ended a War and Helped to Form a Nation
Pantheon, 2021
By Tobey Pearl (LAW'04, Pardee'04)
Pearl's book is an account of justice in Plymouth Colony in 1638. Four white indentured servants attacked and killed an American Indian trader, Penowanyanquis, and were brought to trial after a manhunt. Amid war between colonists and American Indians, it seemed unlikely that 12 white jurors would convict the murderers, but they did just that.