Mindfulness: Why It Matters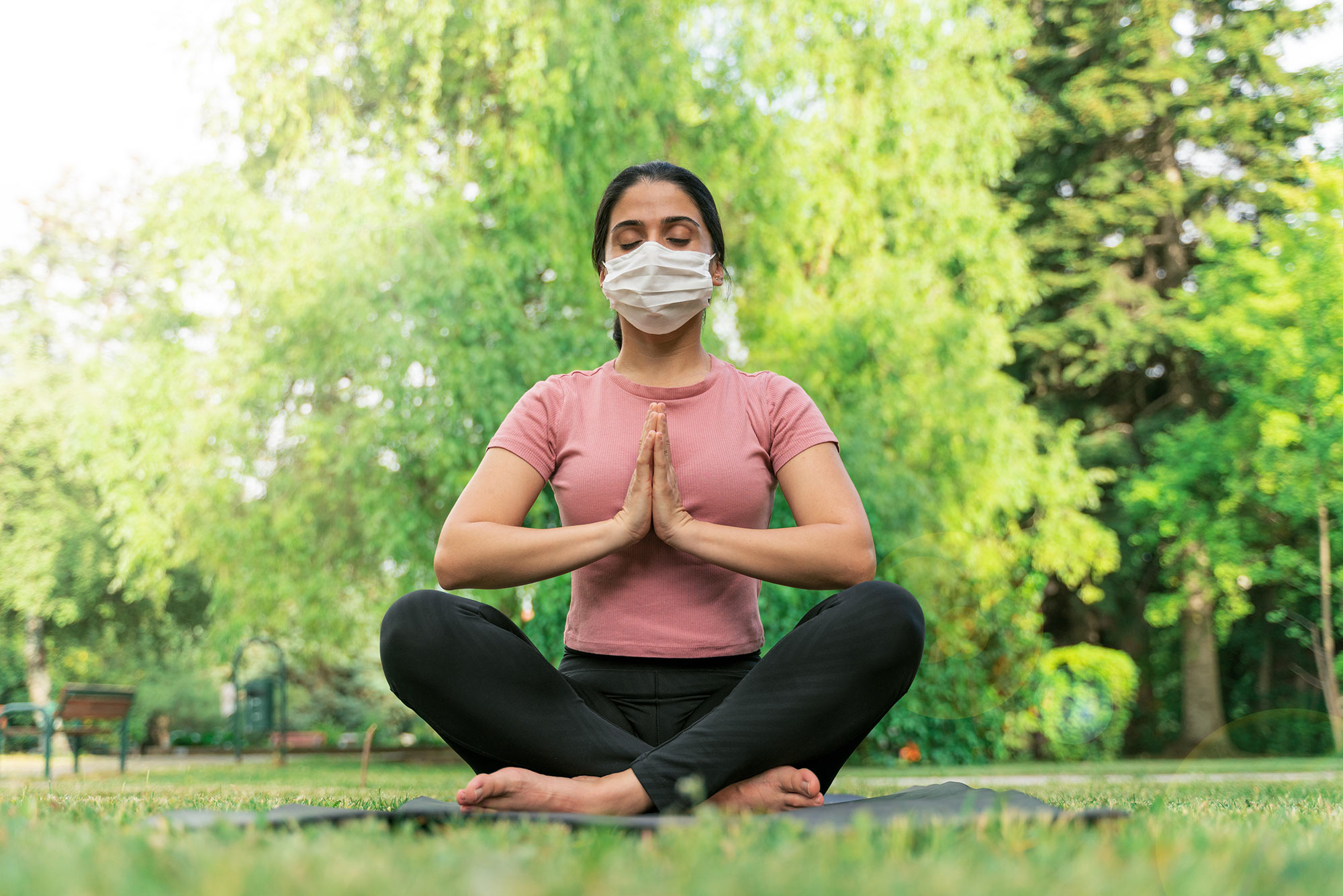 Wellness
Mindfulness: Why It Matters
Ways to incorporate the practice into your life
During today's wellness day—the second and last of the semester—take the opportunity to learn how to be mindful. One wellness day won't relieve the stress of the pandemic or anxiety over upcoming finals, but it's an important tool in helping to manage your well-being.
What is mindfulness?
Mindfulness introduces intention and awareness to otherwise mundane activities and sensations. Things as simple as noting the texture of the keyboard underneath your fingertips or paying attention to the cadence of your steps as you walk qualify as practicing mindfulness.
Mindfulness stems from centuries-old Buddhist teachings regarding the nature of the mind.
"You're not going to understand mindfulness unless you understand Buddhism," says Marjorie L. Jacobs, a BU Center for Psychiatric Rehabilitation (CPR) senior training associate and a lay dharma (Buddhist) teacher. If not, "you'll only get a piece of it, and it won't be accurate. You've got to really know the whole thing. It's a philosophy of mind. It's a way to lead your life."
Mindfulness manifests itself in various ways—tai chi, yoga, and meditation are all forms of mindfulness. It's most impactful, however, when practiced consistently and regularly.
Why should I be mindful?
Most pop culture articles treat mindfulness as a trend or buzzword, says Jacobs, and ignore its Buddist roots and the understanding that it comes only through practice.
"Mindfulness is so popular in our society because we have so many distractions and pressure on us. We have a lot of stress, and our minds are all over the place," she says, "and it's really distressing."
Stress is rooted in fear, which is "one of two core human emotions," explains Jacobs, the other being love. Strss is a physiological phenomenon that triggers a response from the nervous system, causing physical symptoms regardless of whether the stress/fear is real or perceived. Mindfulness comes in as a compassionate means of relaxing the body.
"You have to learn to relax your body," she says. "You need to go into relaxation response, but that's a learned response and not automatic. So you have to take action in certain ways to be able to relax yourself."
What forms does mindfulness take?
Essential components of mindfulness include elements of love—compassion for oneself and others. Practicing self-compassion in meditation, for example, may look like the mind wandering from the present moment with thoughts about the day or external pressures, and then gently reminding oneself to come back to focus without judgment for being distracted. Jacobs says this takes time and practice.
"I always start by focusing on my breath," says yoga instructor Grace Shaver (CGS'21). "It just brings my focus into the present moment, on my body and on myself, rather than on my to-do list for the day or what I'm going to be eating for breakfast or what I have to do tomorrow or that stupid thing I said in class yesterday."
Shaver began practicing yoga at age eight. Since then, she's incorporated meditation into her daily practice. She strives for consistency and tries to meditate each morning, sometimes on the T or on a walk. She says she notices a difference in her disposition when she meditates versus the days she doesn't.
Other components when training the mind to be mindful include acceptance, gratitude, and letting go of critical self-judgment and expectations, Jacobs explains. "Mindfulness is about paying attention to the present. So you have to forgive yourself, and forget about what's in the past," she says. "Then also, have no expectations about the future. The minute you hold an expectation, you're not being in acceptance, you're already into the future, and that's not helpful. All of these attitudes of the mind go with the practice."
With consistent practice, mindfulness can help relieve symptoms of anxiety and depression for some people. Chelsea Cobb, CPR senior training associate for college mental health programs, says she saw evidence of this when she was a Worcester Polytechnic Institute college counselor.
She began practicing mindfulness in graduate school, starting small with practices that lasted for a couple of minutes and slowly grew.
"I think meditation can feel really overwhelming for students who are going into the practice thinking, oh no, I'm going to have to sit and pay attention to my thoughts for an hour," Cobb says. "It doesn't have to be that long. It can be five minutes, it can be one minute. I think it's important to realize it looks really different for every person."
The app Headspace, free for BU students courtesy of BU's Wellbeing Project, a campus-wide initiative to support the health and wellness of the BU community, is helpful for students looking into practicing mindfulness and meditation.
"Just take a moment and not think about all the ways you're being pulled or all the relationships in which you're being asked to do things or the schoolwork that you have mounting up," Cobb says. "And just take a moment to be present in your own space, in your own body, however that looks for you. Just breathing can really make a difference."