BU Global Music Festival Returns Saturday, Outdoors, Louder and Poppier Than Ever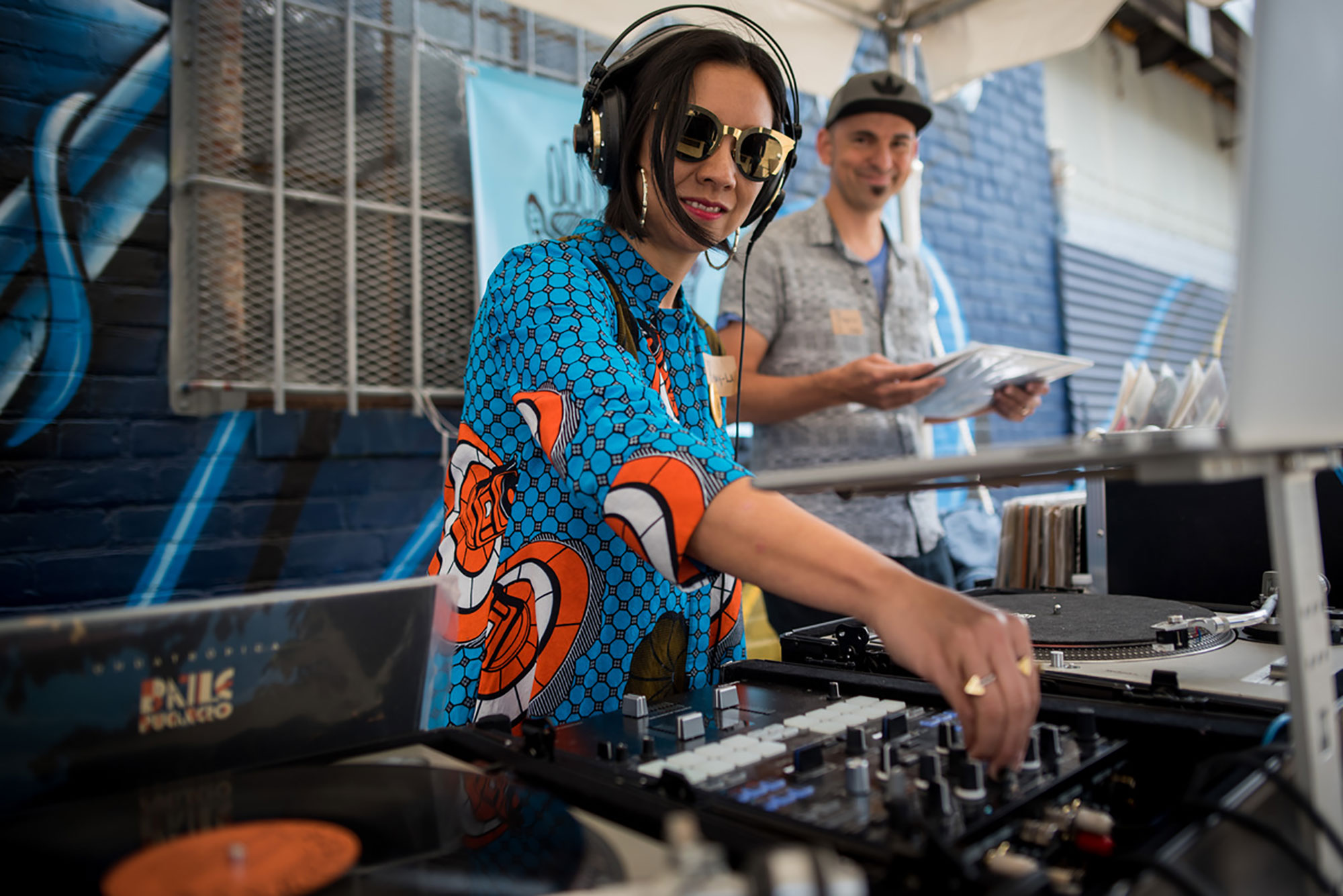 Arts on Campus
BU Global Music Festival Returns Saturday, Outdoors, Louder and Poppier Than Ever
BU Beach will welcome acts playing East African, Sufi, and psychedelic guacharaca (!) music
Saturday's fourth annual BU Global Music Festival will feature more fresh air and poppier sounds than usual.
"The silver lining of having to plan this in the second year of COVID is that it's happening outdoors," says festival artistic director Marié Abe. "So we'll have a big sonic presence reverberating across campus to get all the students who might hear it to come and join us!"
Highlights of this year's event, centered at the BU Beach, include multiple sets by the La Pelanga DJ collective from Oakland, Calif., East African retro-pop from Alsarah and the Nubatones, and what the Boston Globe calls "the ecstatic Sufi singing of Riyaaz Qawwali." The festival, which runs from noon to 9 pm, is open to the public and free for all ages; just register here or when you arrive.
Abe, a College of Fine Arts associate professor of music, musicology, and ethnomusicology, says she always tries to strike a balance between folkloric, traditional acts and more modern sounds, and she leaned a little more to the latter this year.
"I don't want people's understanding of global music, or so-called world music, to be all traditional, stuck in the past," she says. "There are so many exciting, experimental pop acts that are rooted in traditional sounds, and we have a lot of those."
Abe also tried to showcase female voices this year, including several all-female acts: "It's so easy, if you look at festivals across the United States, to find they're still almost always male-dominated, so we tried to consciously look for women's voices and women's presence."
The big difference, though, "is being on BU Beach," says Ty Furman, managing director of the BU Arts Initiative, which produces the event with Abe's CFA department. "We made the decision because of safety, but now there's just a lot of excitement about it."
COVID-19 made last year's Global Music Festival online-only; the event had been held in the George Sherman Union for the first two years. COVID travel restrictions mean all of this year's acts are based in the United States, although the lineup includes natives of many countries.
"Marie and Brian Keigher [an independent producer who works with the festival] really worked hard to find these artists, musicians, and bands who are global and represent their heritage, but are rooted in the United States," Furman says. "They found some phenomenal artists, and as usual, they have some really good local representation."
Some artists are Boston-based, including the Haitian-inspired, all-female Zili Misik. "It's a way of connecting to faraway places that are in the headlines, but you may not have personal understanding of or connections to," Abe says. "I was thinking about Haiti after all the disasters and the political turmoil there."
Besides the BU Beach, performances will be held on Marsh Plaza, with workshops inside Marsh Chapel. The plaza will also host a global bazaar from 1 to 4 pm.
As the festival is outside—where social distancing should be possible—masks are not required, but everyone should bring a mask. The workshops and available restrooms are inside BU buildings, and masks are required indoors. Festival organizers also strongly encourage that all visitors to campus be vaccinated.
Abe says all the artists are "super-accessible and friendly" and that the workshops with Combo Chimbita and Riyaaz Qawwali "will be chances for anyone to talk to them, ask them questions, and learn a little bit about their music practice."
Notes on the artists from Abe:
Combo Chimbita (noon workshop at Marsh Chapel, 2:30 pm, stage): A female-led avant garde guacharaca band with touches of psychedelia and punk. "They'll be shooting up the stardom ladder soon."
Eastern Medicine Singers (1 pm, in front of the stage): Honoring indigenous voices, this Algonquin troupe from Rhode Island "is really good at getting people to dance and sing along" with their Massachuset & Wampanoag dialect and rhythms. The Arts Initiative has indigenous voices as a theme this year.
Veronica Robles (2 pm, Marsh Plaza): East Boston–based all-female mariachi band.
Gund Kwok (3:30 pm, Marsh Plaza): All-female Asian lion and dragon dance troupe.
Zili Misik (4 pm, stage): Broadly Afro-disaporic music, including Haitian flavors, from this Boston-area band.
La Pelanga (5 pm, 6:30 pm, and 8 pm, stage): Afro-Colombian music is a focus of this DJ collective, "very versatile, part of a larger POC educator artist activist collective in Oakland and San Francisco. They do everything from African pop from the 70s to different styles of Latin American music. It seemed like they would be really good to connect all the acts—the connective tissue."
Riyaaz Qawwali (1:45 pm workshop at Marsh Chapel, 5:30 stage): "It's been my dream to have a Qawwali band come to BU. It's exhilarating and ecstatic Sufi devotional music." Band members are from several countries and spiritual backgrounds, now based in Texas.
Alsarah and the Nubatones (7 pm, stage): Creative, experimental pop band steeped in Sudanese/East African retro pop, "super hip."
The BU Global Music Festival is produced by the BU Arts Initiative—Office of the Provost, and the College of Fine Arts School of Music Department of Musicology & Ethnomusicology, with additional support from Boston University College of Fine Arts, Boston University Dean of Students Office, College of Arts and Sciences World Languages & Literatures Program, and BU Global House. It is also supported by the National Endowment for the Arts.