Communicating Conservation Under Biden Versus Trump
Climate Change
Communicating Conservation under Biden, versus Trump
The Nature Conservancy's Jesse Gallun (COM'01) on having the United States back in the fight against global climate change
During his time as president, Donald Trump questioned climate change science, scrubbed America's signature from the Paris Agreement and rolled back a bevy of environmental standards and protections. It was a tough time to be a conservationist.
Jesse Gallun, director of communications, global climate, at The Nature Conservancy, is used to being diplomatic when it comes to politics. He's worked with politicians on both sides of the aisle—and helps lead the environmental nonprofit's communications at the annual United Nations climate meetings—but he admits to feeling reenergized since the 2020 election. On day one of his presidency, Joe Biden signed an executive order confirming the United States would rejoin the Paris Agreement.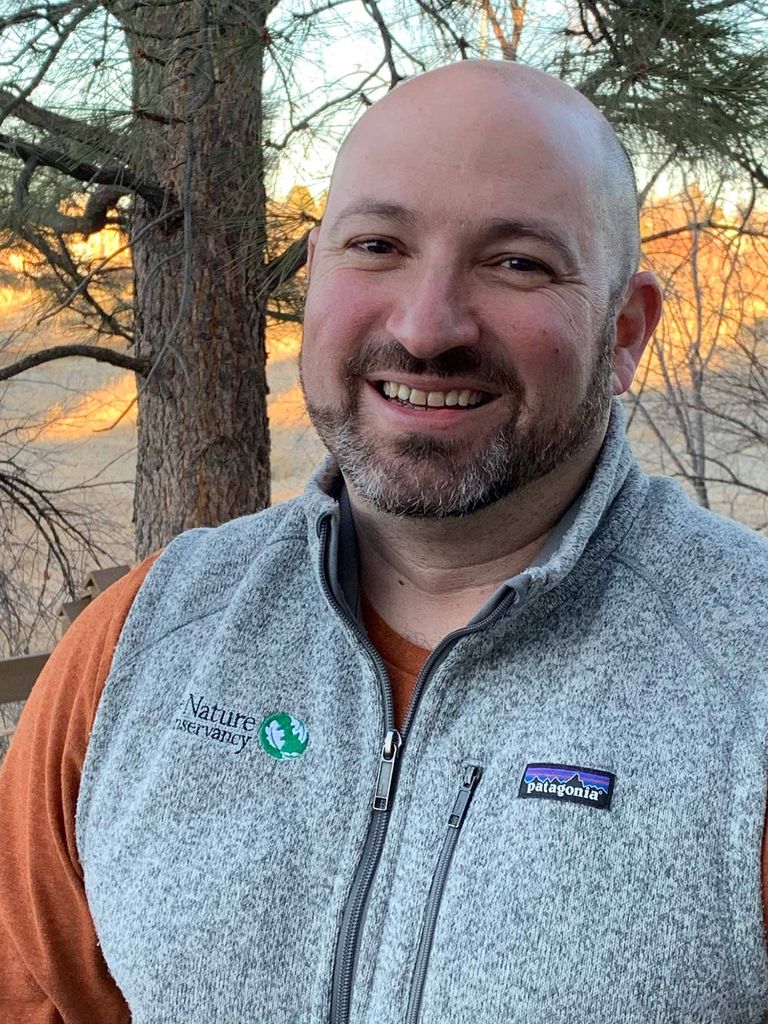 As one of those in the room when the Paris climate deal was adopted in 2015, Gallun (COM'01) has seen firsthand how useful it is having America pushing for positive change. When those negotiations edged toward failure, the US and a handful of other countries stepped in to help bring the gavel down on a deal.
"I didn't really know the job I had gotten myself into until that point," says Gallun, who joined The Nature Conservancy in 2011 and manages its international outreach and messaging. "At that moment, it was abundantly clear just how monumental an opportunity it would be. The general sense that the world could come together around some sort of substantive set of actions to provide a better future is tremendously motivational."
Gallun, who majored in broadcast journalism at COM, says his role is to help share stories—with corporations, policymakers and international leaders—that highlight the potential impact of The Nature Conservancy's work, from protecting the West Coast's Emerald Edge rainforest to safeguarding Hawaiian coral reefs.
"Our primary audience is what we call our changemakers: we're focused on what will create the largest scale change, hopefully in the fastest time possible," he says.
Gallun talked with Bostonia about conservation communications under President Biden versus President Trump, convincing climate skeptics, and keeping the environment on the agenda during a pandemic.
Bostonia:
How much did having a climate change denier in the White House for the past four years change your job?
Jesse Gallun: It changed a lot of my job. But at the same time, for better and for worse, the US is only one piece of a much larger global climate puzzle and US inaction and denial only made the need to help and encourage the rest of the world to stay engaged and stay focused more important. So the fact that we are a global organization with a global footprint made my job a little bit easier. The other encouraging piece is it allowed us to elevate state action here in the US that has been positive.
Bostonia:
It seems people are increasingly distrustful of experts, scientists and facts; how do you address and combat that in your communications?
Jesse Gallun: The Nature Conservancy is a science-based organization: we have more than 600 scientists on staff working on all parts of the environmental spectrum, including climate change. The pandemic, the last several years—not even just since Trump was elected, but probably before that, with the rise of that movement—have caused a real gap in what is viewed as an expert around the country.

We still rely on science mattering to most people: 7 in 10 Americans believe climate change is an issue and more than 6 in 10 want to see real action. So despite all those factors, there's still momentum there. But we've really started to work on engaging people where their influence base is, whether that's in their communities with faith-based leaders or local business leaders, where there's a trust base more locally that may not be the media.
Bostonia:
What do you say when you run up against climate change skeptics?
Jesse Gallun: I respond honestly and with facts: I bring up the science, I bring up the data points. The other thing I do is try to localize it, look for local impact. One of my favorite stories that we share a lot is the farmer in Minnesota who has had his crop season move by almost a full calendar month due to changes in climate and weather patterns. That matters to people.
Bostonia:
How difficult was it last year—with the pandemic, the presidential election, continued police brutality—to keep people's minds on climate change?
Jesse Gallun: I'd rather see people talking about things that encourage behavior change on many fronts, whether it's being aware of systemic racism or of biodiversity challenges. I'd rather have people looking at the world around them and asking questions, because that leads to them asking questions about climate change as well and what they can do. From a communication standpoint, there were times, especially last summer when here in the US there was so much unrest going on, that we did let other conversations play out, and appropriately so. We're also fortunate that probably for the first time in US election history, climate change was actually a topic. It showed up in all three debates, the Green New Deal was a subject of much conversation in the Democratic nomination process. It's a topic that's now embedded into the national dialogue in a way that wasn't true two years ago.
Bostonia:
During the pandemic, people have discussed the impact of less air travel on pollution and of deforestation's role in disease spread. Do you think COVID-19 changed how we might look at climate and conservation issues?
Jesse Gallun: People have realized that they can live relatively normal lives with less commuting, with less air travel, with just a smaller footprint overall. The understanding that we can live in a smaller bubble with a smaller footprint and not be as inconvenienced as one would have thought a year ago is encouraging to help motivate people to accept change. When you talk about personal activities that people can take, whether it's diversifying your diet, using less energy, using less water, they want to know how that's actually going to look in their weekly, monthly lives. Well, now we have a little bit of a model of what that starts to look like.

But I think the real opportunity is with things like an economic stimulus package: we're going to have to increase energy investments and other infrastructure investments to rebuild, to get back to life as we know it. We should put that money toward solutions that encourage green technologies, renewable energies, to prepare us for the next several decades rather than go back to business as usual.
Bostonia:
How do you expect your work, both domestically and globally, to change over the next four years under the Biden administration?
Jesse Gallun: Domestically, there's actually not that much difference in how The Nature Conservancy will work. It has always been a bipartisan organization: we have collaborators and friends on both sides of the aisle, we work in every state and at the federal level. And that's going to continue.

Internationally though, it will be a benefit to have the new administration on board. In the climate change space in particular, the US has ceded some of the responsibility and leadership the past couple of years—in the UN meetings and especially in the behind-the-scenes negotiations—to push for certain pieces of the agenda. And that's allowed countries like China, South Africa, Brazil to take a more influential role in shaping either what ends up in the final text or sometimes [causing a] stalemate. The US being back and motivated to pursue climate action brings one of the heavyweights back to the table. And that's encouraging for us because that means we may see a little bit more ambition put back in the proceedings.
Bostonia:
How do you make sure that you don't lose the motivation for this work, especially in the face of opposition?
Jesse Gallun: I have something to fight for: my daughter makes my cause very tangible to me, day to day. When I hear about things like more mercury in the water supply, regulations being lifted, it makes me angry. I don't want that world for her—same thing with systemic racism. Professionally, I would say the motivation comes from the small successes The Nature Conservancy has been able to make happen over the past five years. As a simple example, we worked with the island nation of the Seychelles to do what we call a debt swap for nature: we bought out the debt that nation owed other countries and paid it off for them in exchange for them protecting a giant swath of the marine area around their country. Now that model is something that's being explored by a lot of other island nations as a way to protect their area and ensure their economic stability. The wins matter, even if they're not always at the scale that we would love to see; eventually, they start to ladder up and they start to amplify themselves.

This interview has been edited and condensed for clarity. This article originally appeared in COMTalk.