Rebranding Boston: New Marketing Campaign Portrays a City That's More Than the Red Sox, Faneuil Hall, and Beer-Drinking White Bros
Rebranding Boston
Rebranding Boston: New Marketing Campaign Portrays a City That's More Than the Red Sox, Faneuil Hall, and Beer-Drinking White Bros
City leaders team up with Black-owned PR and advertising agencies to tell the story of a diverse, all-inclusive metropolis
Here's a story about Boston in 2021: three of the most powerful people in town are Black women—US Representative Ayanna Pressley (D-Mass. 7th) (Hon.'21), District Attorney Rachel Rollins, Acting Mayor Kim Janey. The nearly two-century-long uninterrupted reign of white male mayors is ending—the top candidates on the November ballot are all women of color. The face on the cover of Boston Magazine's annual 100 Most Influential Bostonians issue this year is Ibram X. Kendi, founding director of BU's Center for Antiracist Research. Boston may still be grappling with entrenched systemic racism—what American city isn't, one might ask—but a lot has changed.
And yet the narrative of Boston in the popular imagination—the Boston of Good Will Hunting, beer-drinking white bros and a lingering hostility to Black people—hasn't caught up. City leaders, and a creative team with BU connections, have set out to change that. This spring Janey, the first woman and the first Black person to run city hall, kicked off a $2.5 million marketing campaign to rebrand Boston, a majority-minority city, as diverse, welcoming, and "all-inclusive." The tagline: "Maybe you don't know Boston." Aimed at boosting the Hub's pandemic-battered tourism and hospitality industry, with a workforce that is 70 percent people of color, it's part of what Janey calls the city's equitable recovery plan.
So, how do you rebrand Boston?
First, with money that Martin J. Walsh, then city mayor, earmarked last fall from Boston's federal COVID-19 relief funds, the city formed a partnership with the Greater Boston Convention & Visitors Bureau and a creative team led by Colette Philips Communications, Inc., the first public relations firm in Boston owned by a woman and person of color, and Proverb, a Boston-based advertising and design agency whose founder and creative director, Daren Bascome, is Black. Both Bascome and Proverb's managing partner, Chris Needham (CAS'86), have small business entrepreneurship certificates from BU's Questrom School of Business.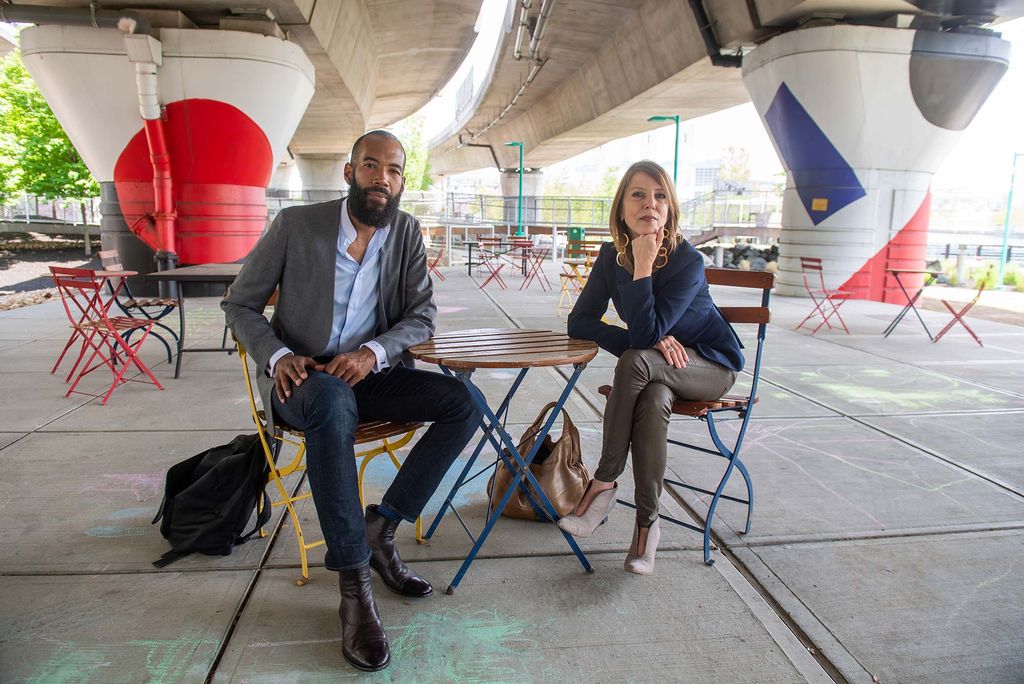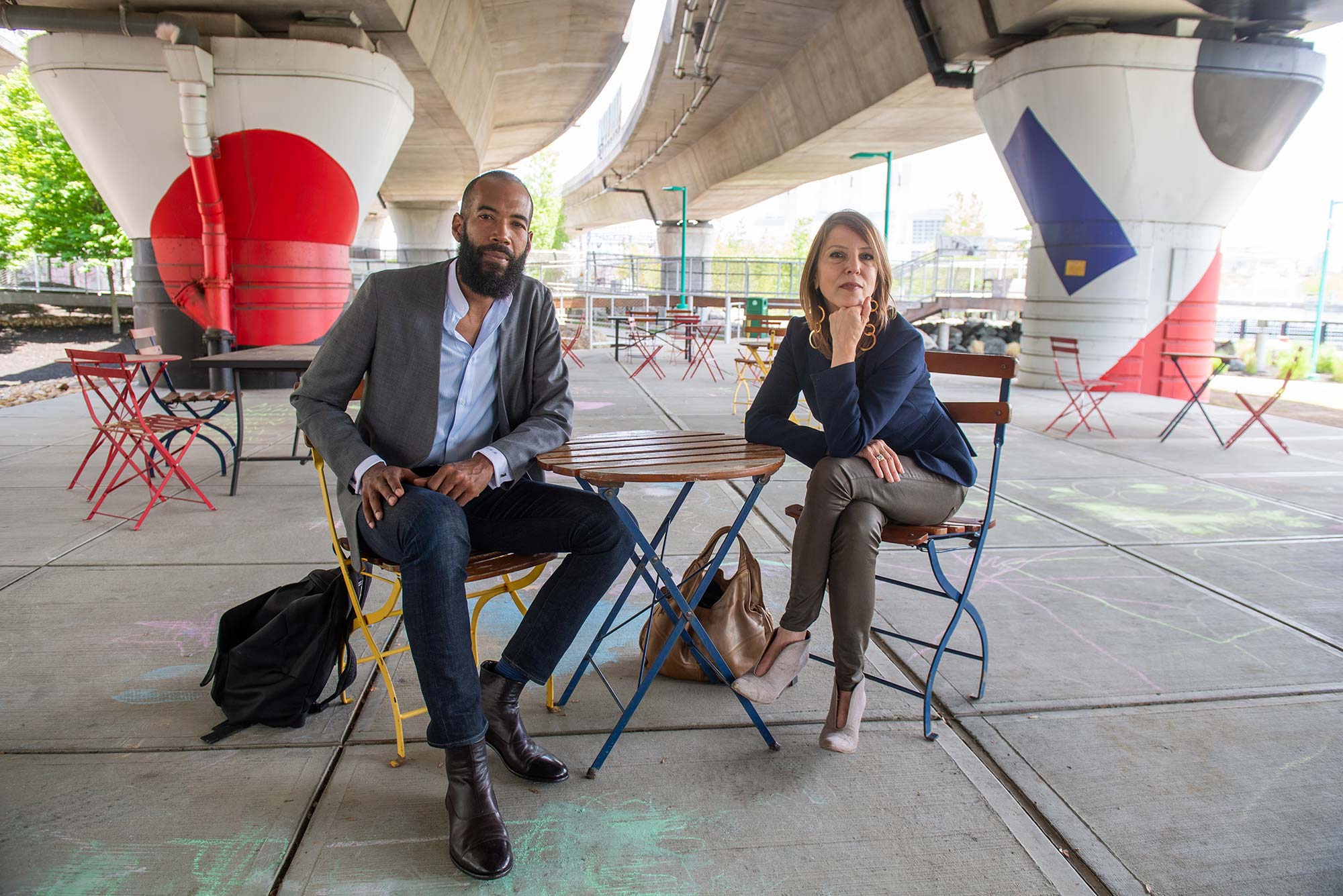 Whereas previous tourist campaigns trotted out familiar destinations such as Fenway Park and Faneuil Hall, the new partnership has conjured up a multimedia celebration of Boston's multicultural neighborhoods—Roxbury, Dorchester, Chinatown, East Boston, Jamaica Plain, the South End—and the Black, Latinx, Asian American, and immigrant artists, activists, storeowners, and restaurateurs who live and work there.
The centerpiece of the campaign is a 90-second Proverb-produced video tour of the city's neighborhoods narrated by Boston's Black poet laureate, Porsha Olayiwola. When Janey, a fourth-generation Roxbury resident, saw the video for the first time, she was overcome with emotion. Bascome says she told the creative team it was the first Boston marketing campaign that made her feel seen.
Accompanying the video is a website that guides visitors to the 19th-century Black Heritage Trail, on Beacon Hill; the Somalian Tawakal Halal Cafe, in East Boston; the Ethiopian Blue Nile restaurant, in Jamaica Plain; the Vietnamese bakery Ba Le, in Dorchester; and the Black-owned Frugal Bookstore, in Roxbury. The website also shows the mural Roxbury Love Story, by local artist Robb Gibbs (@problak), which depicts a young Martin Luther King, Jr. (GRS'55, Hon.'59) courting his future wife, Coretta Scott King, through a corded telephone. The mural is painted on an apartment building where the Twelfth Baptist Church once stood. In the early 1950s, Coretta Scott worshipped at Twelfth Baptist, and King was an assistant minister there.
Bascome, who grew up in Bermuda and came here three decades ago to attend the Massachusetts College of Art and Design, knows of Boston's old reputation. His parents warned him about it. They lived here in the mid 1970s, when whites opposed to court-ordered school desegregation hurled rocks and racial slurs at school buses bringing Black children into predominantly Irish-American South Boston and Charlestown (one of those children was Janey). Bascome's dad studied composition and arranging at Berklee College of Music, and his mom worked for Unity Bank, the city's first Black-owned bank.
"You hear all these horrible things about Boston and busing," Bascome says. "But for me and my family, Boston had become this rite of passage, a place you go to. Things are never all one thing. While the calls I had with my parents in college ended with them saying, 'I love you, stay out of South Boston,' it was also, 'Boston is this amazing place that you can go to to change your life.' And in the time I've been here, the city has become a great deal more diverse, more international, more sophisticated, hipper."
The goal of the PR campaign is to spread the word about all of that. "We think a lot of people really need to catch up to what the city has become and is becoming—and that isn't portrayed through film, TV, or advertising," he says. "That's not to say that we don't have this checkered history or that we can't do better or that we'll ever be as good as we can be without being more inclusive.
"Representation matters," he adds. "That's what this whole campaign is about. That's what the Boston Tea Party was about. It isn't just that you want tourists to go to East Boston or Nubian Square in Roxbury. We want residents of Mattapan to feel comfortable going to Fenway."
In market research surveys conducted for the rebranding campaign, visitors and residents alike brought up Boston's old reputation. They referred to Good Will Hunting as a touchstone, says Needham. The movie, set in an insular Irish male Southie that no longer exists, was released 24 years ago. "We're trying to flip the narrative, to start telling the story of the city as it really is."
The narrative of Boston—how the city is perceived by visitors of color, and how its reputation plays out in reality—matters not only for tourism, but also for businesses as well as for BU and other schools, which are all trying to attract diverse talent. Wayfair, LLC, with headquarters at Copley Place, is using the All Inclusive Boston video as part of its onboarding process for new employees, Needham says.
As BU's Center for Antiracist Research assistant director of narrative and a School of Social Work clinical assistant professor, Phillipe Copeland has to make the case for Boston when he's trying to recruit faculty of color to BU. "I always just try to be very honest. I try to tell the story about racist Boston and antiracist Boston—both those Bostons are true," he says. Copeland lives with his partner and two sons in Roslindale and describes himself as a Bostonian by choice. "I tell them, 'We need you to come and help us get there. And then you become part of the story of Boston.'"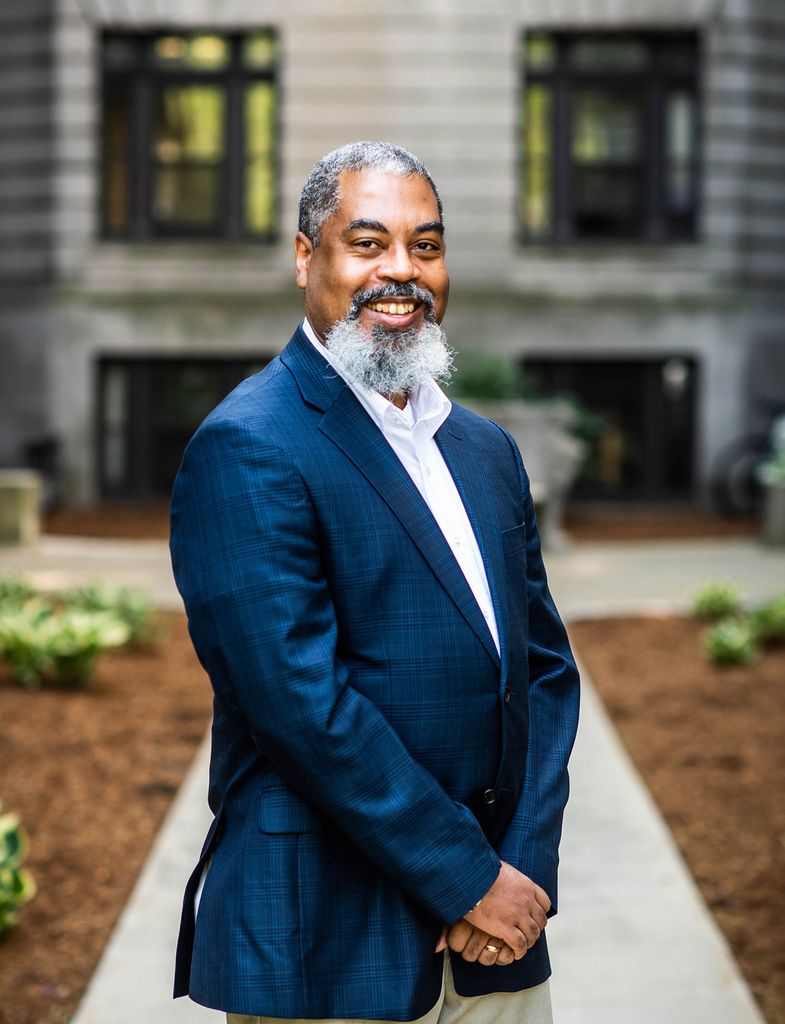 Copeland says he was initially skeptical about the campaign. "Antiracism is not a marketing campaign or a branding exercise," he says. "The best way to change the image of the city is for the city to change for the better. Actions speak louder than marketing."
And yet, he says, he found himself genuinely moved by the All Inclusive Boston video and the website. "Just hearing the people who created it talk about it, I felt their sincerity," he says.
He's lived in Boston for nearly 20 years, and worked in Roxbury, but he'd never been to the Frugal Bookstore. Now, he says, after watching a video interview with bookstore owner Leonard Egerton on the All Inclusive website, he plans to take his sons there. Egerton talks in the video about how important it is for young readers of color to see themselves reflected in books; he smiles when a small boy walks in, selects a book from the shelves, and sits down in an armchair to read.
"The image of the Black child going into the bookstore and finding a book—that just hit me in all the right ways as a parent," Copeland says. "And also, the bookstore owner described the heart behind it. Okay, this is about people trying to make a living. But this is also about people trying to make a contribution to the community and the well-being and vitality of the city. It made me want to meet some of these people in person."
Watch the All-Inclusive Boston video here.