Who Will Win an Oscar Sunday Night? See Who Our Panel of Experts Predict Will Take Home Gold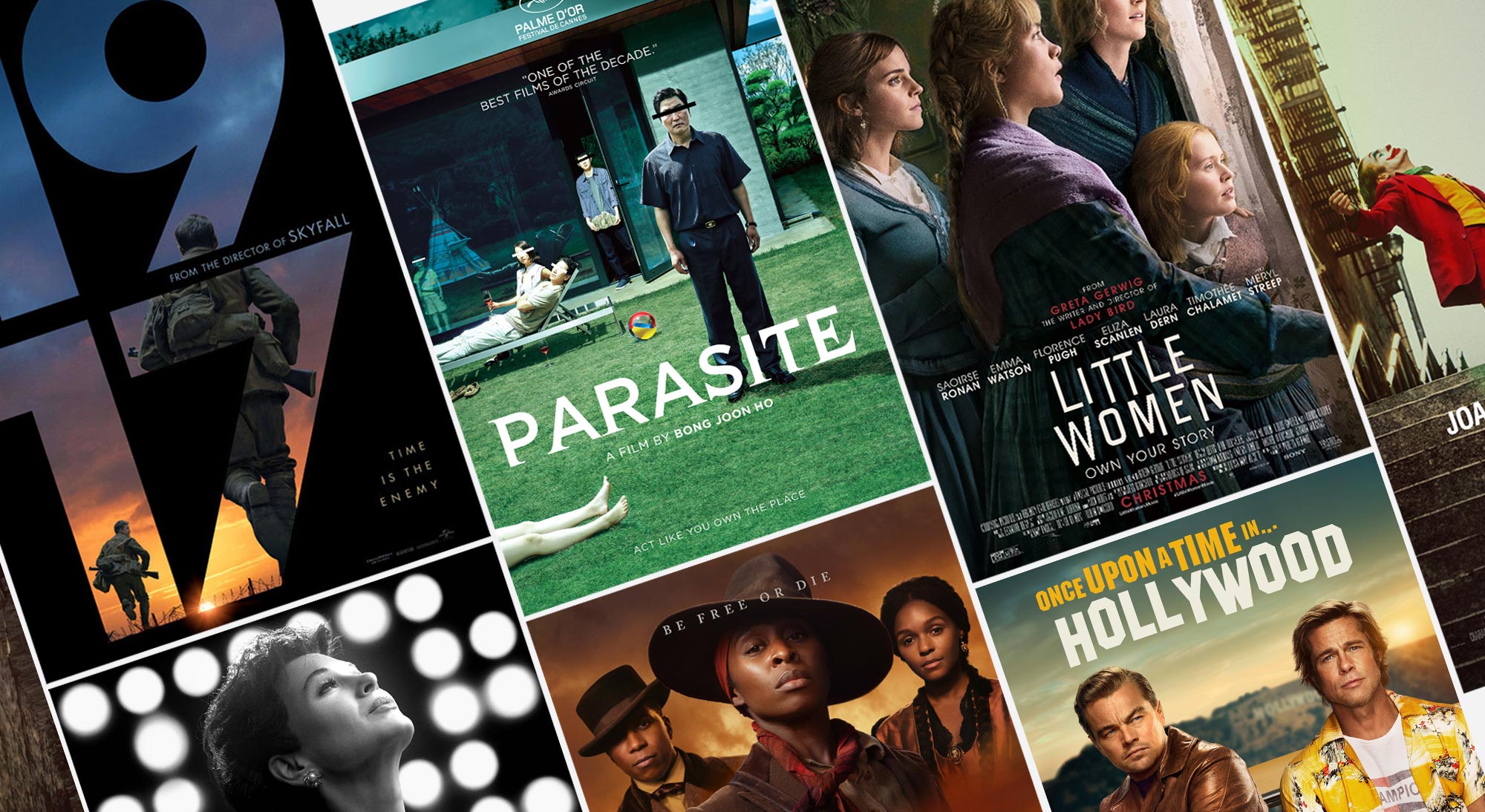 Arts & Culture
The Oscars: Who Will Win. Who Should Win. Who Got Robbed
From 1917 to Parasite to Harriet to Us to Little Women, our experts have lots to say before Sunday's Academy Awards
Sunday night is Hollywood's biggest night of the year—the 92nd Academy Awards ceremony. About 30 million people are expected to tune in to see who takes home the coveted Oscars. Once again, this year's telecast will have no host. Among the big questions leading up to the ceremony: will Sam Mendes' World War I epic 1917 win best picture, as widely anticipated, or could Bong Joon Ho's horror mash-up Parasite be the first foreign film to capture the top prize? Will Brad Pitt beat out four veteran Hollywood heavyweights, and former Oscar winners (Tom Hanks, Anthony Hopkins, Al Pacino, and Joe Pesci), for best supporting actor for his critically lauded performance as a middle-aged stuntman in Quentin Tarantino's Once Upon a Time…in Hollywood? And will Renée Zellweger take home her second Oscar for her performance as Hollywood legend Judy Garland?

We reached out to three BU experts and asked them to weigh in with their predictions: Harvey Young, dean of the College of Fine Arts, Leland Monk, a College of Arts & Sciences associate professor of English and director of the Cinema and Media Studies Program, and Lindsey Decker, a College of Communication master lecturer in film and television studies. Their responses have been edited for length and clarity.

Q
&

A
With Harvey Young, Leland Monk, and Lindsey Decker
BU Today: Let's begin by asking each of you what your favorite film of the year is, and why?
Harvey Young: My favorite film of the year was Parasite. I thought it was just brilliant. It was one of those films that just caught you by surprise every 15 minutes or so. It was truly captivating.

Leland Monk: Parasite. It kept going to surprising places you didn't expect.

Lindsey Decker: I love horror, so my favorite film was Jordan Peele's Us. But my favorite non–horror film was Bong Joon Ho's Parasite. Both are very much about class, are beautifully shot, and have stellar performances.
What surprised you most about this year's nominations? (Find a complete list here.)
Young: The biggest surprise was the lack of diversity among the acting categories. The Hollywood Foreign Press Association's Golden Globes Awards did a better job of capturing and reflecting racial diversity. The Oscars totally missed it, at least in the acting categories. I assumed that Greta Gerwig, the director of Little Women, would have been nominated, and that seems to me to be a massive oversight.

Monk: There were lots of good movies, but no real standout champion.

Decker: After so many years of the Oscars failing to recognize work by women directors and directors of color, I can't say I was surprised by this year's nominations—more disappointed….I think that there is is a significant part of the Academy membership that still largely sees men directors as having the potential to be great artists and women as telling small stories—women's stories—which can be well done, but not 'great art.' It's ridiculous though, because they nominated Gerwig's film for so many other awards. The film didn't direct itself.
Were there other snubs?
Young: Alfre Woodard (CFA'74, Hon.'04) should have been nominated for Best Actress for playing the role of the warden in Clemency. The standout performance in Parasite, among a very strong cast, was Park So-dam. She was just brilliant. I think she should have been recognized as well.

Monk: I thought Greta Gerwig deserved a nomination as best director and maybe Marielle Keller, the director of A Beautiful Day in the Neighborhood.

Decker: It's almost criminal that Lulu Wang's The Farewell, didn't garner a single nomination. It's a beautiful and moving film, and it tells the kind of story, with the sort of cinematic beauty, that awards shows normally drool over.
This year's contest is being billed as between old Hollywood (the studios) and new Hollywood (Netflix earned 24 nominations, more than any old-line studio). What does that say about the future of the film industry?
Young: Hollywood, increasingly, is existing as an idea rather than a location. What I mean by that is that fewer and fewer films are actually being made and produced in Hollywood, in LA, but there's still a mystique out there, an embrace of the classical Hollywood era, which changed the face of filmmaking in the United States and around the world.

But we're in a different business model right now. When we have someone like Martin Scorsese saying he could only make The Irishman because of Netflix, that's legitimizing these streaming services that were initially looked at with skepticism. Audiences want to see films streamable, they want to be able to watch films like Netflix's Marriage Story almost immediately. So I think the tide has turned and we're going to see more and more artists making deals and more films being distributed and premiering on Netflix, Amazon, and other services like Disney+.

Monk: It means that now, films which would otherwise not get made by the usual studios have a chance to reach an appreciative audience.

Decker: Huge franchises are really pushing mid-budget films out of Hollywood, but there are still many respected directors and stars who want to make those films. Streaming services are a natural fit for those films, particularly now that Netflix has purchased the Paris Theatre: being able to exhibit films in a theater allows those streaming services' films to quality for the same industry awards that Hollywood has seen as traditionally theirs.
Let's turn to the nominations. Nominees in the best picture category are 1917, Ford v. Ferrari, The Irishman, Jojo Rabbit, Joker, Little Women, Marriage Story, Once Upon a Time…in Hollywood, and Parasite. Which film do you think will, or should, win?
Young: Parasite should win, and if it doesn't win, maybe 1917.

Monk: I'd like to see Parasite or Once Upon a Time…in Hollywood win. I don't usually like Quentin Tarantino's movies because of the gratuitous violence, but the violence at the end of this film was so satisfying, and I loved the idea of trying to rewrite tragic history.

Decker: I think Once Upon a Time…in Hollywood will win. The Academy loves films about Hollywood. Little Women and Jojo Rabbit are both deserving, but I think Parasite ought to win. It's just on another level from any other film nominated in that category.
The best actor nominees are Antonio Banderas, Leonardo DiCaprio, Adam Driver, Joaquin Phoenix, and Jonathan Pryce. Phoenix has won most of the pre-Oscar awards for his title role in Joker. Will he win Sunday night?
Young: I think he has it. It's a demanding role, and I think his performance will stand the test of time.

Monk: Banderas was splendid in Pain and Glory, but Joaquin got all the hype. DiCaprio also gave one of his best performances (Once Upon a Time…).

Decker: I think it's really a toss-up between Phoenix and DiCaprio, because they gave the kind of performances the Academy has rewarded in past years. But I could also see Adam Driver winning as well.
Will Renée Zellweger win best actress, as expected?
Young: I haven't seen Judy, but I've read the reviews and it seems as though she will win, but I wouldn't be shocked if Saoirse Ronan wins for Little Women.

Monk: There's no clear standout here. I think Charlize Theron [nominated for her performance as former Fox News correspondent Megyn Kelly in Bombshell] deserves another Oscar for the range and courage of her roles.

Decker: All of the performances here are strong. I can see Zellweger winning, but I can also see Ronan or Cynthia Erivo [Harriet Tubman in Harriet] taking home the award.
Hollywood prognosticators are betting on Brad Pitt finally earning an acting Oscar, for his work in Once Upon a Time…in Hollywood. He gave a hilarious self-mocking speech after winning the Golden Globe, which seemed to endear him to many Academy voters. Do you expect him to win best supporting actor?
Young: Oh, it's Brad Pitt. He basically plays himself in Once Upon a Time…in Hollywood. If you look at Pitt's filmography, there's a lot of similarity across the roles he's played—he takes a similar tack in each of them. But there's something about this older, slightly more introverted version of Brad Pitt that aligns itself quite well with this character, written by Quentin Tarantino, and it seems to me it's a role that was meant for him.

Monk: Brad Pitt will/should win, no question. He does comedy very well.

Decker: People forget how good Tom Hanks is as Mr. Rogers in A Beautiful Day in the Neighborhood because he's always so good and makes acting look so easy, but he should win this category. He really took on the role, just melted into it. But I would guess it will go to either Pitt or Pacino.
In the best supporting actress category, previous Oscar winner Kathy Bates (Richard Jewell), Laura Dern (Marriage Story), Scarlett Johansson (Jojo Rabbit), Florence Pugh (Little Women), and Margot Robbie (Bombshell), Dern, with this year's Golden Globe, New York Film Critics, National Society of Film Critics, and BAFTA awards, seems to be the favorite. Can any of her fellow nominees beat her?
Young: Laura Dern was amazing in Marriage Story. For me, she was the standout role in the film. I think she's certainly deserving of the Oscar. It's worth noting that Scarlett Johansson is nominated both for best actress (Marriage Story) and best supporting actress for her work in Jojo Rabbit. I wouldn't be surprised if she is recognized for Jojo Rabbit. The real shocker might be Margot Robbie. She has been appearing in a variety of films, including Once Upon a Time…in Hollywood, which earned her a best supporting actress BAFTA nomination. I wouldn't be surprised if voters wanted to recognize her as an up-and-coming actress the same way they did for Lupita Nyong'o a few years ago for her work in 12 Years a Slave. But if I had to bet, I'd say Laura Dern will win best supporting actress.

Monk: It's hard to call this category. Laura Dern was hilarious in Marriage Story.

Decker: If the Academy is trying to be political, I think the Oscar will go to Margot Robbie. I'm guessing Laura Dern will win, less because of the role itself and more to reward her years of wonderful performances. Florence Pugh deserves the award, though, because of what was able to do with a character [Amy in Little Women] that has often been played as greedy and shallow or silly.
Turning to the best director category, you've got two veteran filmmakers, Martin Scorsese (The Irishman) and Quentin Tarantino, nominated alongside Bong Joon Ho, Sam Mendes, and Todd Phillips (Joker). Who will win?
Young: I'm rooting for Bong Joon Ho. I think he will win.

Leland: I'm betting Scorsese will win, and that's OK with me.

Decker: It's really hard to say. I would expect either Phillips or Tarantino to win—again, because the Academy loves films that are either about Hollywood or pay homage to Hollywood. But the Academy may want to show respect to Scorsese, as well as signal a desire for streaming services to get into the theater game, as increasing cinema audiences could benefit everyone. Of course, Bong Joon Ho deserves to win. Parasite is a tour de force.
The 92nd Academy Awards will be held on Sunday, February 9, at the Dolby Theatre in Los Angeles. The ceremony will be broadcast on ABC starting at 8 pm ET. Find a complete list of this year's Oscar nominees here.