Oscars Up Close
Academy Awards history on view at the Gotlieb Center
Those of us who aren't Brad Pitt or Meryl Streep and don't get an invite to the annual Academy Awards ceremony can still get a taste of experiencing the Oscars without leaving BU's Charles River Campus. Just stop by Mugar Memorial Library, where four Oscars, and much more Hollywood memorabilia, are on display. Those Oscars represent just a fragment of the Academy Award–related ephemera in the collections of the Howard Gotlieb Archival Research Center (HGARC).
The center itself, on the fifth floor of Mugar, includes a trove of letters, screenplays, photographs, and personal items from 36 Academy Award winners, making it one of the country's largest repositories of memorabilia of movie stars and other Hollywood celebrities. Many of those items, along with the aforementioned Oscars, are now on display on Mugar's first floor.
There is, for example, a ticket stub belonging to actor-comedian Robin Williams from his appearance at the 1989 Oscar ceremony, one of the years he served as host. Williams went on to win a Best Supporting Actor Academy Award in 1998 for his role as a sympathetic therapist in Good Will Hunting. It was Williams' fourth and final Oscar nomination, and his only win.
The center also holds a draft of actor Forest Whitaker's script for The Last King of Scotland, the film that earned Whitaker the 2007 Academy Award for Best Actor for his role as Ugandan dictator Idi Amin.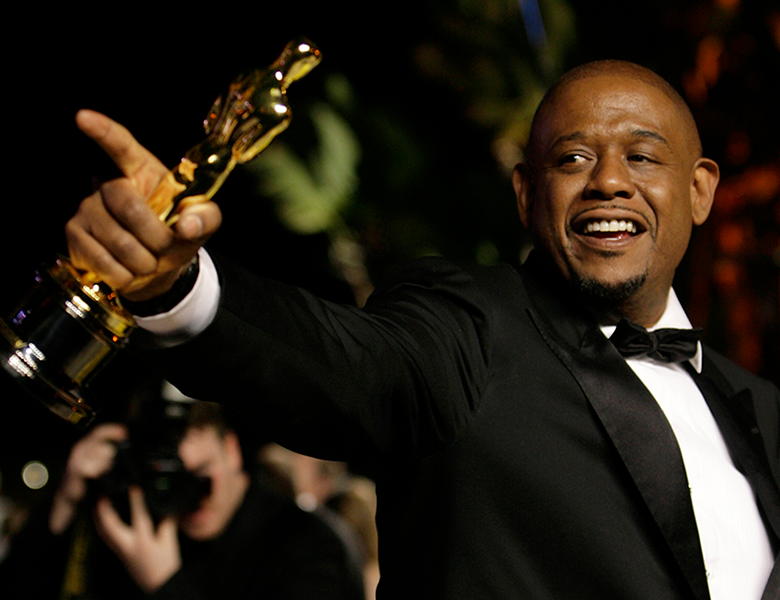 Then there is the HGARC's Bette Davis collection. The Lowell, Mass., native, who racked up an impressive 11 Oscar nominations over a lifetime, won twice for Best Actress—for Dangerous in 1936 and Jezebel in 1939.
But the star attraction is easily the center's four Oscars, those much-coveted 13.5-inch-tall gold-plated statuettes that were first handed out at a small private dinner at the Hollywood Roosevelt Hotel in May 1929.
Among the four is the Best Actor award given to Sir Reginald Carey "Rex" Harrison in 1964 for his performance in the musical My Fair Lady. Harrison reportedly claimed that when he sang "I've Grown Accustomed to Her Face," he was thinking about his third wife, Kay Kendall, who had died from leukemia five years earlier. He is one of the few actors who have been awarded an Oscar for a musical role.
The gold on Robert Carson's Oscar appears to be worn thin from handling. The screenwriter shared the award for Best Writing, Original Story, for 1937's A Star Is Born with director William A. Wellman. Carson was also nominated that year in the Best Writing, Screenplay, category for the same film, along with fellow New Yorker contributor Dorothy Parker and her husband, Alan Campbell, but they lost to The Life of Emile Zola. A Star Is Born was remade in 1954, in a musical version starring Judy Garland and James Mason, and again in 1976, with Barbra Streisand and singer-actor Kris Kristofferson as the leads.
Legendary dancer and actor Gene Kelly (Singin' in the Rain, An American in Paris) was nominated for Best Actor for Anchors Aweigh in 1946, but lost to Ray Milland (The Lost Weekend). Six years later, however, Kelly received an honorary Oscar in "appreciation of his versatility as an actor, singer, director, and dancer, and specifically, for his brilliant achievement in the art of choreography on film."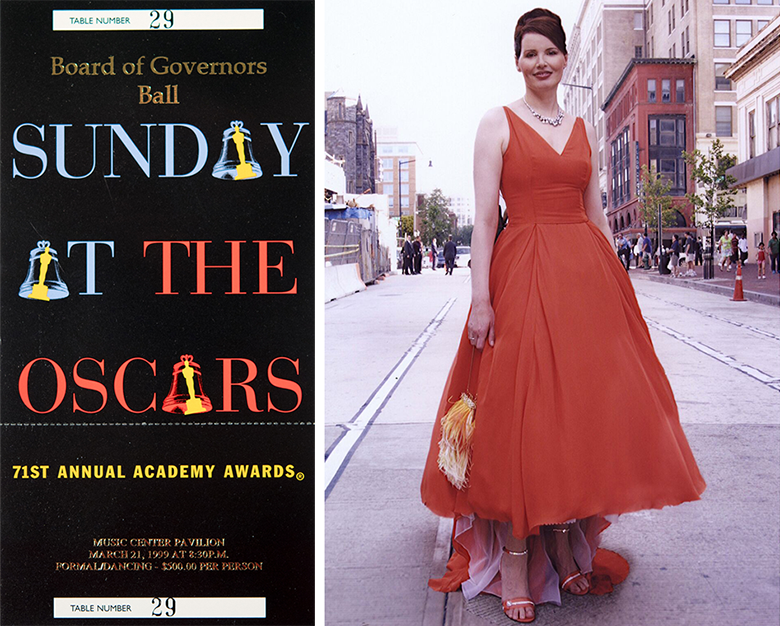 Myrna Loy, the legendary film star of the 1930s, '40s, and '50s (The Thin Man, The Best Years of Our Lives, Cheaper by the Dozen), was never nominated for an Oscar, despite appearing in more than 100 films, but in 1991, at age 86, she was presented with an honorary Oscar in recognition of her life's work onscreen an off, including her service in the Red Cross during World War II.
The fifth Oscar in the Gotlieb archives, and the only one not on public display, was a posthumous gift from actor Lauren Bacall. It arrived on the desk of HGARC director Vita Paladino (MET'79, SSW'93) in a brown box one day several weeks after Bacall died in 2014.
The statue, awarded to Bacall in 2009, was "in recognition of her central place in the Golden Age of motion pictures," starting with her 1944 screen debut with future husband Humphrey Bogart in To Have and Have Not. She starred in such classics as The Big Sleep, Key Largo, and Murder on the Orient Express.
Bacall had been nominated only once for an Oscar, for her role as Barbra Streisand's mother in the 1997 film The Mirror Has Two Faces. Despite her front-runner status that year, she lost to Juliette Binoche in The English Patient.
Upon receiving the lifetime achievement Oscar, Bacall held it up over her head, let out a hoot, and proclaimed, "A man at last!"
This Series
Also in
February 8, 2018

February 14, 2018

October 11, 2018