The BU Alum behind the NBA's High-Tech Fan Cheers, Chants, and Chatter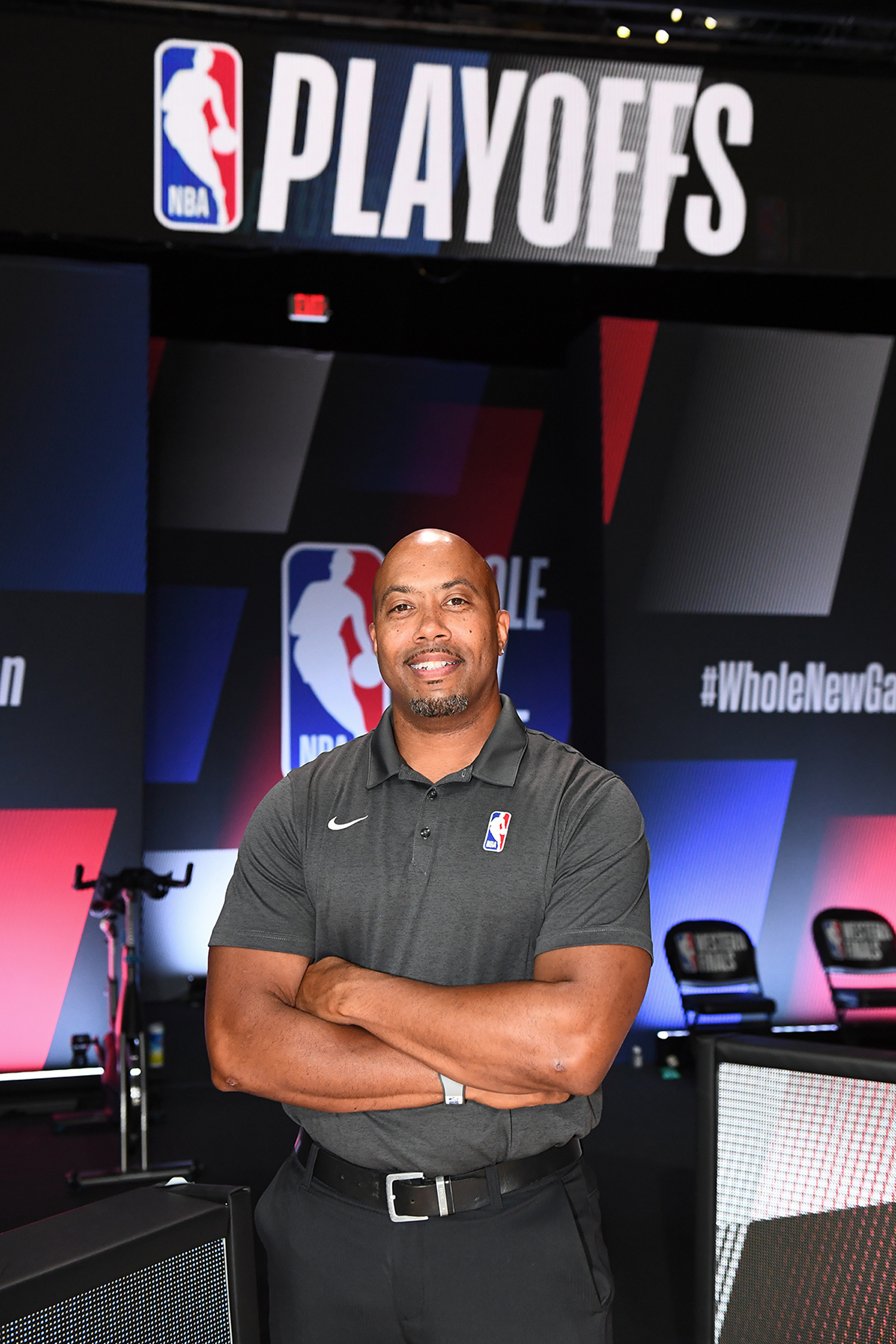 Sports
The BU Alum behind the NBA's High-Tech Fan Cheers, Chants, and Chatter
Carlton Myers (COM'94) helps bring "bubble games" to life
What's a basketball game without its soundtrack? The squeak of sneaker soles on polished hardwood. The crisp swish of the ball through the net. And perhaps most important, the roar of the crowd—the hoots, hollers, chatter, and cheers (DE-FENSE!! DE-FENSE!!) that keep teams motivated and fans connected—both to the players and to one another.
When the NBA took its final regular season and playoff games to "the bubble" in Orlando, Fla., in July—isolating 22 teams to keep them safe and able to play during the COVID-19 pandemic—one of the big challenges was making the games sound as live and real as possible. But how do you do that without stands full of actual fans?
Enter Carlton Myers (COM'94), vice president of live production and entertainment at NBA Entertainment, who leads the production team in charge of those simulated crowd sounds, as well as the "virtual fans" whose video-screen avatars watch gameplay in real time on their home devices and from giant LED screens in the arena.
"From the beginning, we really felt like the audio was going to be very, very important, for the players and also the broadcast," Myers says. "Without it, we thought it would be very noticeable, and we wouldn't get the same result from the players and even the fans that are watching on TV. A lot of players draw energy from the crowd and from the environment. Imagine you hit a big shot and nothing happens. It might not feel the same. We wanted to try to re-create that energy for them."
With the goal of giving players as realistic an environment as possible, he and his team reached out to partners, among them 2K Sports, which travels to arenas around the country to capture crowd sounds for its NBA 2K video game series, and another audio partner that had collected a huge amount of sound files from NBA All-Star games and other events.
---

Imagine you hit a big shot and nothing happens. It might not feel the same. We wanted to try to re-create that energy for them.

---
Myers' team started by creating a baseline "murmur" of voices that mimic the quiet cacophony you hear when you walk into an arena on game day.
"It's like the sound you have when you're in a full building, but people aren't cheering," Myers says. "It's just the din of the room, which you don't even realize is there until you turn it off. We've re-created that, and that's consistent all the time."
After that, the audio team began to isolate specific sounds—cheers, yells, grunts, gasps, boos—that could be triggered and amplified at the push of a button. At each game, a pair of "sound sweeteners" works in real time to swell the cheers after a particularly graceful layup, say, or cue the boos after a blatant foul. They use touch pads that allow for five different levels of intensity for each type of sound.
"It's almost like they're playing a piano and hitting different notes at different times to go with the flow of the game," he says. "It's not just a consistent crowd sound—they're really hitting certain 'notes' at certain times to reflect what you're seeing as part of the game action."
Most of those audio engineers are basketball fans by now, he says, but when they started, not all of them were. When the bubble games began, an NBA game director worked with the sound sweeteners during the action to keep them on their toes.
The game director "would give them certain cues to let them know when there was going to be a big moment—when they should expect a gasp, because this is going to be such a big play that this is what would happen in a normal arena," says Myers. "They were sort of dictating the game flow to them at the beginning, until they were able to adapt to it on their own."
Adding to the realism is that the sound clips are played through a 360-degree speaker system that can isolate sounds to a specific section of the arena—as if a certain cheer is coming from one group of fans. The NBA also collected team-specific sound clips from each of the bubble's 22 franchises that can be played at various points in a game: the Indiana Pacers' famous race-car sounds or Miami Heat announcer Michael Baiamonte's trademark "Dos minutos!" warning at the two-minute point.
"We know their players are used to hearing that, and their fans are used to hearing that as part of the broadcast," Myers says. "All the teams were really involved and fully excited to be able to offer us as much as possible, because they wanted the shows to reflect them as best as possible."
Myers has been with the NBA for 25 years. A communications major and football player at BU, his dream was to somehow combine his love of sports and entertainment into a satisfying career. He started out at the NBA in the 1990s, logging videotape game footage. His main responsibilities during nonpandemic years involve game presentation and entertainment for major NBA events such as NBA All-Star Weekend and the NBA Draft.
"There's one job like this—only one," he says. "So that makes it really special. Basketball has always been my favorite sport, and to be able to be around the sport and also the entertainment aspect of it that I love, it's been great."