Alum heads city's Housing Innovation Lab to support the "missing middle"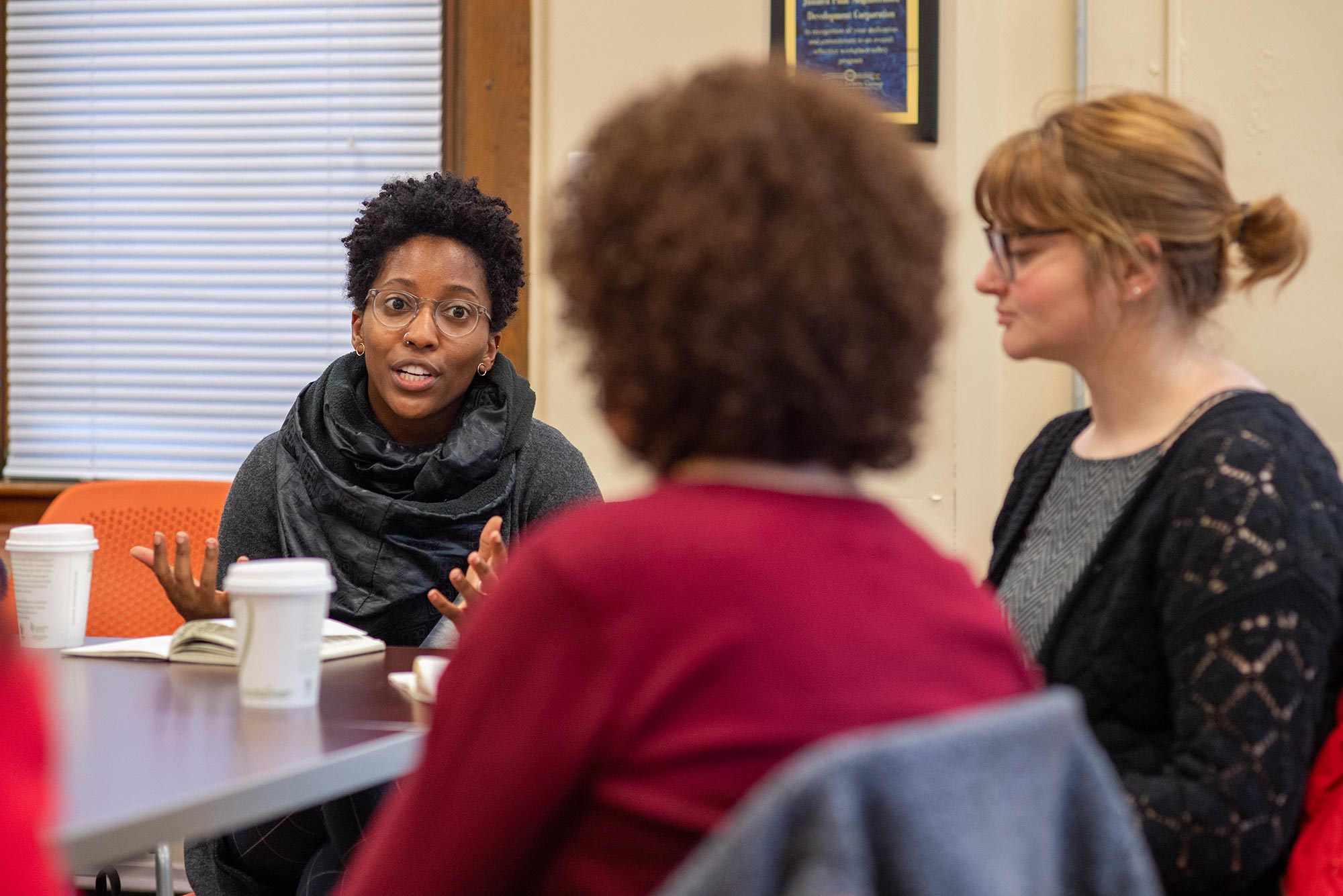 Housing
 Boston, You're Our Home. Taylor Cain Wants to Keep It That Way
Alum heads city's Housing Innovation Lab to support the "missing middle"
She's the test pilot for new housing ideas in Boston.

As director of the city's Housing Innovation Lab, Taylor Cain looks for ways to make sure one of the hottest housing markets in the country doesn't drive out residents who can't pay top dollar for a new condo in the Seaport or the South End.

"There is a recognition that we have to be bold as cities," says Cain (GRS'20). "Especially a city like Boston, which is a very high-cost housing market, but also has committed to making sure the growth that happens here is growth that is inclusive and equitable and meets the needs of its residents."

Making sure housing exists for everyone who wants to live here is a key goal for the city's mayor, Martin J. Walsh. In his State of the City speech in January, Walsh said housing is the "biggest economic challenge" facing city residents, and he committed to spending half a billion dollars on affordable housing over the next five years.

Back in 2014, Walsh released Housing a Changing City: Boston 2030, in part a blueprint for meeting the needs of the growing city, with its thriving housing market, and how it can serve those already here who want to stay and raise families without getting priced out. "Nestled into that plan," Cain says, "was this little nugget of an idea that we need to figure out how to be creative, how to infuse a sense of innovation in our housing sector. And from there, the lab was born."
Now Cain is reaching out to community groups to assess needs and possible answers, tracking developers with unusual projects, and eyeballing ideas that have worked elsewhere to see what might fit Boston's particular circumstances.

The city had 288,716 housing units in 2016, up 12.7 percent from 251,935 in 2000, according to the Boston Planning & Development Agency Research Division. The US Census Bureau says Boston had just over 685,000 residents in 2017, up from just under 600,000 in 2000. The question is, how many of those residents can afford to buy, or even rent, a home. Zillow.com puts the median price of homes currently listed in Boston at $769,000, with the median price of homes that sold at $638,600. The median rent in Boston is $2,900 a month.

---


When the Housing Innovation Lab started, the focus was really on: how do we solve [the problem] for this missing middle?

---
Cain earned a master's and a PhD in sociology at BU, training as an ethnographer and focusing on qualitative research methods. For her dissertation, she studied how residents in Boston neighborhoods reacted to gentrification: how did it feel to grow up in a neighborhood that as an adult you could no longer afford? She is putting her skills at interviewing and analysis to work finding answers, or more accurately, possible answers, that are worth trying out.

"The market is doing what it does in producing market-rate housing, and we know how to produce affordable housing that is often subsidized, whether public housing or some other structure," Cain says. "But what happens for people who don't qualify for subsidized housing and can't access housing on the private market? Where do they go? And who are these folks?

"When the Housing Innovation Lab started, the focus was really on: how do we solve [the problem] for this missing middle?" she says.

They discovered that the group includes lots of different types of people—teachers, nurses, nonprofit workers, grad students, and older adults on fixed incomes, to name just a few. They're the kind of people any city needs to be able to run day-to-day, regardless of how the top tier of the housing market is doing. And they want to stay, so how can the housing ecosystem accommodate them?

The Housing Innovation Lab was created through the Mayor's New Urban Mechanics office, which looks for new ways to tackle old problems, and it's embedded in the Neighborhood Development department. Cain started the job last summer. In November she was joined by architect Wandy Pascoal, a Housing Innovation design fellow whose role is jointly supported by the city and the Boston Society for Architecture. Pascoal hopes to someday bring what she is learning about affordable and ecologically sensitive housing back to her home country of Angola.

Their modest office in a building around the corner from City Hall has a whiteboard with the heading: Exploration, Experimentation, Evaluation. It's not a linear process, Cain cautions, but a number of ideas are in one or more of those stages, including:

The future decker, or reimagining the triple-decker: The classic Boston triple-decker launched many families into the middle class in the 20th century and remains a key part of the urban landscape. Pascoal is taking the lead in finding "the next housing type that will really stitch together our city," Cain says, exploring something new through something familiar.
ADU (additional dwelling units): Helping existing property owners turn a single-family into a two-family or a two-family into a three-family by using attics and basements, even an outbuilding like a garage. Finding ways to make this work within existing codes could help residents stay in their homes as they age or earn enough additional income to stay at any age. The home must be owner-occupied to qualify.

Housing on public property: Looking at city-owned properties like libraries and fire stations to see if there is a way to add housing, an approach that has been tried successfully in other cities. There's an exploratory study underway with the Fields Corner branch library, and Cain is also eyeing municipal parking lots in Roslindale.

Microlofts: Nothing to do with software—except programmers might want to live in them. Cain and Pascoal recently toured a private East Boston development's modem unit, a 300-square-foot loft space. Compact living requires a thoughtful approach to avoid the feeling of "warehousing" tenants, as in some Japanese cities. "You want someplace that feels like a home, as though it was intentionally designed for a human to live in and feel joy in," Cain says.

These are just some of the ideas being studied, and Cain emphasizes that in each case, they cannot consider just economics or architecture, but rather a holistic picture of what the lives of people who'd live there would be like. Where is the home located? What services will the residents have access to? How will they get to work? Are there schools, libraries, and parks nearby? How do residents feel about the neighborhood they live in?

"In government we are designed to manage the programs we have in the best way we can and there's not a lot of room to think outside the box, to be creative," says Marcy Ostberg, director of operations for the Neighborhood Development department and Cain's predecessor running the lab. "Something like the lab allows the city to take risks, to try things, to come up with better ways to solve problems."

Cain holds office hours every Tuesday, time for businesspeople, developers, and residents alike to come in and talk about solutions they've been thinking about. She also talks with many other city departments, such as Economic Development and Transportation, to learn what housing means for the residents they serve and the challenges it poses. "We're also interested in what is exciting to them," she says. "What do they see as the possibilities? What do they think about building the future of Boston together?

"I've met a lot of people in this building who want to be part of ensuring that Boston lives up to its ideas and values," she says, "holding it accountable as a city for all the commitments it made in planning initiatives over the years. That was really heartening to me."