Squad Rules, Three with BU Ties Reelected to Congress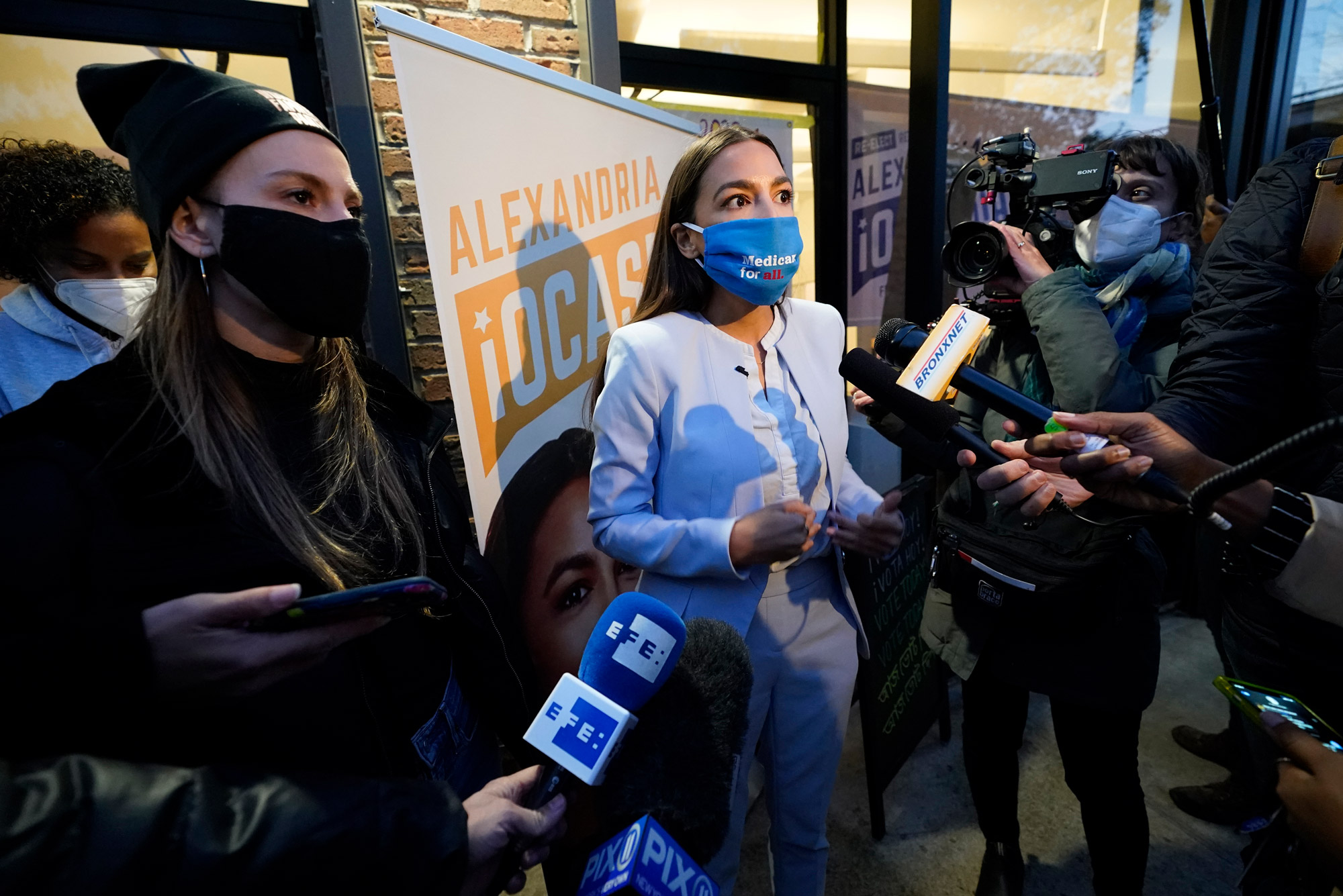 Politics
Squad Rules, Three with BU Ties Reelected to Congress
…while two hopefuls lost their races
Three Democratic women with Boston University ties won reelection to Congress on Tuesday, November 3, two of them members of the high-profile "Squad" of young progressive women who have been a frequent target of President Trump.
Squad member US Representative Alexandria Ocasio-Cortez (CAS'11) easily won a second term representing New York's 14th District. US Representative Ayanna Pressley, who attended BU's College of General Studies in the 1990s, won a second term representing the Massachusetts 7th District, which includes the Charles River and Medical Campuses. Ocasio-Cortez won nearly 70 percent of her district's vote, while Pressley's tally topped 85 percent. Their Democratic sisters on the Squad, Ilhan Omar of Minnesota and Rashida Tlaib of Michigan, also handily won reelection.
Ocasio-Cortez quickly spoke up against Trump's false claim of a presidential-race victory in the wee hours of Wednesday and his threat to use the Supreme Court to stay in office, tweeting that it was "illegitimate, dangerous, and authoritarian."
For her part, Pressley tweeted encouragement to fellow Democrats disheartened by Tuesday night's results and the unresolved White House race. "Together, we have fought for our shared humanity," she wrote. "We have organized. We have mobilized. We have legislated our values. I am so proud to be your Congresswoman & your partner in the work. I believe in the power of us. And we're just getting started."
Together, we have fought for our shared humanity. We have organized. We have mobilized. We have legislated our values.

I am so proud to be your Congresswoman & your partner in the work.

I believe in the power of us.

And we're just getting started. https://t.co/P0jPUK04wM

— Ayanna Pressley (@AyannaPressley) November 4, 2020
One alum who is more than getting started is veteran US Representative Lois Frankel (CAS'70). The Democrat won a third term representing Florida's 21st District, around West Palm Beach, garnering 59 percent of the vote over Republican and far-right activist Laura Loomer. Frankel had previously represented Florida's 22nd District for two terms, before redistricting.
Two other alums running for Congress were less fortunate.
Democrat and former Air Force intelligence officer Gina Ortiz Jones (Pardee'03, GRS'03) lost her second attempt to capture the seat in Texas' 23rd District, losing by roughly four percentage points to Republican newcomer Tony Gonzalez. Two years ago, Ortiz Jones lost by less than a single percentage point to incumbent Will Hurd, who did not run this year. She had been considered the Democrats' best chance to gain a seat in Texas.
"I want to thank each and every grassroots supporter, volunteer, and member of my staff who poured their heart into our campaign," Ortiz Jones said in a statement early Wednesday. "I am so proud of the race we ran, and it is our shared commitment to fighting for working families in South and West Texas that continues to give me hope.
"While we came up short," she wrote, "I will always remain dedicated to serving our country and my community in any way I can. I hope TX-23 is represented with all of her constituents in mind, and in a way in which she deserves."
The other alumni candidate, Republican John Paul Moran (Questrom'05), fell short in his attempt to unseat Representative Seth Moulton in the Massachusetts 6th District. Moulton won a third term, with 65 percent of the vote to 35 percent for Moran.
One other alum who came up a winner Tuesday night wasn't even in a race. NBC and MSNBC political correspondent Steve Kornacki (COM'01) made such an impression on viewers as he delved deep into the numbers on the election map that he became a Twitter hashtag. "#Kornacki is the most adorable stats nerd," tweeted Letitia Calderon, aka @LetitiaCalder13.
A message from @SteveKornacki. #TrackingKornacki pic.twitter.com/pY7hl6KAVc

— MSNBC (@MSNBC) November 4, 2020
Editor's note: Race calls and vote tallies are as reported by the AP near midday Wednesday and include the vast majority of votes, although final tallies were not yet in, except for the Florida race.