On the Art of Storytelling
Arts & Culture
On the Art of Storytelling
A conversation with podcasters Erika B. Hess, of I Like Your Work, and Erika Block, of Inside The Notes
Artist and curator Erika B. Hess sits among the paints, brushes, palettes, and canvases that fill her converted garage studio at her home in Ohio. But on the desk in front of her are some very different tools—a big microphone and a laptop. In this space, she not only paints; she interviews her peers from the visual arts world, from painters and illustrators to curators and gallerists, for her podcast, I Like Your Work. On this day, Hess (CFA'09) opens up Skype on her laptop and dials the Los Angeles-based abstract painter Tomory Dodge. The two launch into a discussion about Dodge's work—his use of color, his style of paint application—which eventually turns into a conversation about how taking up zen meditation has impacted his art.
Hess started I Like Your Work "to tell the stories of artists and create a dialogue that can lead to community. We see the work of artists and read their exhibition history, but when you hear about their lives, the day-to-day, you have a better understanding of their creations and can see yourself in their stories."
Her conversations tackle issues many artists face, including work/life balance and managing finances. Through her podcast, she also partners with curators and galleries to host her own juried art shows. During the summers, she takes time off from the podcast to work on her paintings.
Clarinetist Erika Block (BUTI'96, CFA'02,'04) also balances her art with podcasting. Block, a clarinet instructor at Western Washington University, hosts Inside the Notes, in which she interviews fellow musicians from around the world, among them famed guitar player Pepe Romero; Richard Roberts, concertmaster of the Montreal Symphony Orchestra; and award-winning mezzo-soprano Jamie Barton. She conducts all of her interviews in person, fitting them into a busy schedule of teaching and playing in numerous music groups.
Both Hess and Block are in the second seasons of their podcasts. The two chatted by phone about their podcasting journeys and how artists can help each other succeed. They immediately bonded over their shared name—especially when Block revealed she was named after a Swiss alpine skier named Erika Hess.
Erika B. Hess: I'm so excited to connect with a fellow Erika from CFA. And it's exciting to connect with somebody who is in the arts and also podcasting. I'm eager to hear about why you started your podcast.
Erika Block: It's been an interesting journey. I ended up playing in a festival with this gentleman who used to play in the New York Philharmonic for 30 years. Right away he was like, "Hi, I'm Joe. Here's a crazy story." He's an ultimate storyteller and just talked and talked. Then my husband and I went to dinner with him and he said the most insane things I've ever heard. It was amazing, eye-opening, and inspiring.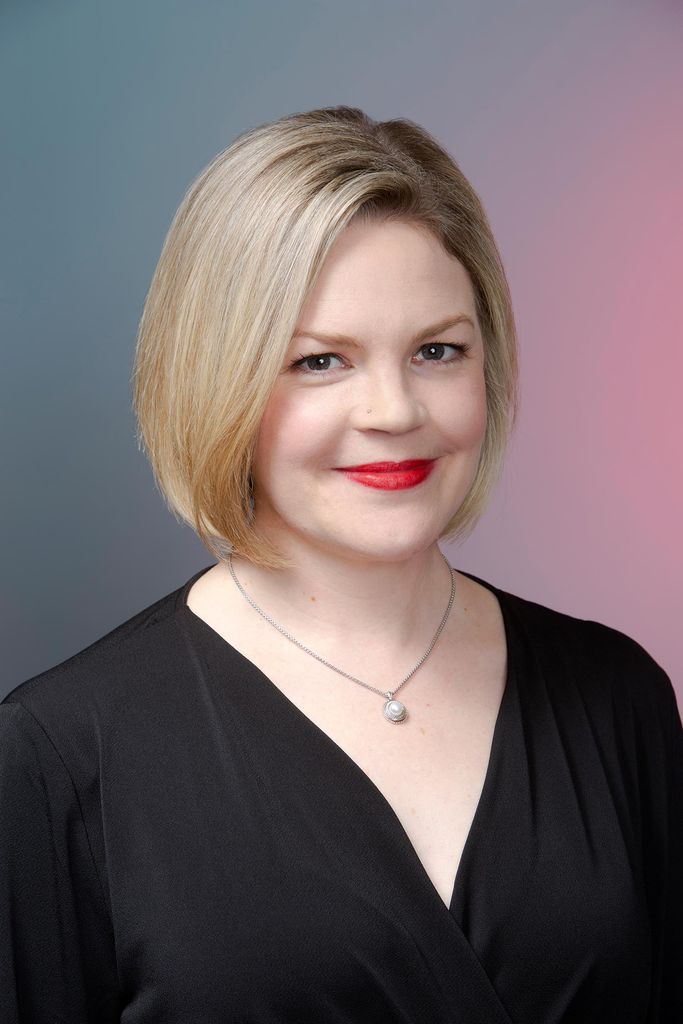 When we left, I said to my husband, "Somebody has got to start recording things like this. Because there are so many other musicians who have so much to say too." My husband said, "You should do it."
It kind of exploded from there. Now, I can't imagine not doing it. I love it so much. We did 17 episodes last year. The way I do them is I stockpile and then release every two weeks. Then summertime is the time to gather, travel, and collect for the next year so that I'm not freaking out all year long.
EH: I know, because so much time goes into it, right?
EB: Oh my God, yes.
EH: I do the same thing—taking the summer off. Or I travel, and I can go to artists' studios and talk to them and see their work. I've been releasing weekly. It's a lot of behind-the-scenes work, which is actually really enjoyable for me.
I come from a visual arts background, so I wasn't sure what it was going to be like working with sound and trying to weave the story together and introduce it to an audience. But it's been such a delight to do.
I think the other really interesting thing about podcasting—and I'm interested if you would agree or not—is how it puts you in contact with people who you've always wanted to meet, and how exciting it is to be able to ask the questions that you've been wanting to ask.
EB: It feels like when people say something like, "If you could have coffee with any two people in the world, who would it be?" It feels like that over and over again. I can't believe I'm getting to meet these people. First of all, I would be perfectly happy with a handshake and an autograph. And then it's, okay, now here's an hour I have to sit and talk with you. It's ridiculous. Then by the time you're done with the interview, you're friends, because you shared this journey of discussion. You exchange phone numbers and, eventually, you have a whole new network.
---

I can't believe I'm getting to meet these people. First of all, I would be perfectly happy with a handshake and an autograph. And then it's, okay, now here's an hour I have to sit and talk with you.

---
EH: That makes me think about something I think we're both interested in—this idea of building community in the arts. Podcasting is just such a wonderful way to connect with people.
There's a painter I've looked up to for a long time, Joanne Greenbaum. I ended up interviewing a curator who works with her and that's how I then got the introduction to Joanne. I traveled to New York and went to her studio and talked to her. This was during the polar vortex.
EB: That's crazy.
EH: I know, right? We were freezing.
It was just this moment of thinking, "Oh my gosh, I have studied your work. I have read interviews with you. And now I get to sit here and talk to you, look at your paintings, and hear your story." It was an incredible experience. Like you said, you continue to meet new people and connect them with each other as well and that's another cool thing, right?
EB: Absolutely, and I think you'll agree in all of the arts, the network is so small and the world really is so tiny that you realize that all of these different people are connected. So, I think it's important to boost community pride and the sense of here we are doing the same thing, with our whole hearts, as hard as we can.
EH: I think another reason I love podcasting is because it's a way to add to the dialogue and create opportunities for others. Even some of these really well-known artists are flattered that people want to hear their story, and that somebody is taking an interest in recording it and sharing it on a new platform.
Inside the Notes
Listen to Block Interview Richard Roberts, Concertmaster of The Montreal Symphony Orchestra
by Erika Block
Audio — 34 minutes 14 seconds
EB: Yes. It's a win-win for everyone. I'm hoping that by having it recorded, people have the opportunity to hear someone's story in their own voice, which to me makes a huge difference. You hear their voice inflections, their view from their experience, firsthand. We're getting the most honest possible version of stories that we can get when we record straight from the source.
I've found so many times after I've finished a recording, I'm so wrapped up with excitement and adrenaline. When I'm editing and listening to it, it's like I'm reliving it again; I can listen to it five times and get something different every time.
EH: I love hearing that you get totally jazzed after an interview.
EB: Oh man, yeah. I'm a mess. This past summer, I had the chance to come to Boston—it was this crazy adventure to get to the home of one of the most famous clarinet player soloists of all time, Richard Stoltzman [an adjunct professor of music at CFA]. He's a legend. The plan was that we were supposed to talk for an hour and a half, from 1 to 2:30, but he talked and talked, and it took him so long to jog his memory. He was like, "I hadn't thought about these things in years," and then all of a sudden, the memories started coming out.
We talked until five o'clock at night. And I was so tired and so excited from the wealth of information, the fact that it happened at all, the fact that I got some incredible stories. Editing that to one episode was so hard.
EH: You're inspiring me. I need to get out to some of the older artists who I love. I mean, these are people who I'd love to meet, so I'm going to make the leap.
EB: You've got to. For me, it's all about the younger students. Podcasting is something they will accept and try. They will put on Spotify, stick their headphones in their ears, and listen. If I can get them to learn about storytelling from hearing good storytelling, then I'm doing a service to their musicality. That's what music is. It's telling stories, learning how to play with detail, and learning how to lure your audience in.
I'm curious—does your audience go beyond North America into the rest of the world?
EH: It has been a revelation to see how many people outside of the US listen to the podcast. I have no idea how they discover me.
I Like Your Work
Listen To Hess Interview Artist Pia Pack
by Erika Hess
Audio — 54 minutes 38 seconds
I once got a message from a woman in Berlin. She said she was out walking her dog in the snow. She was listening to my podcast, and just started crying in the middle of a park because she had moved to Berlin to pursue her artistic career, and had given up on the idea of having children—she had just decided it couldn't happen. On the episode she was listening to, I was interviewing an artist who was talking about the decision to have kids. This artist has children and she's still showing work and has representation at three galleries. It was such a shock to this woman in Berlin. It was so wonderful to see the podcast had a positive impact on her. I was also thinking, "You're in Berlin in the snow listening to me?" You feel like yes, what I'm doing is actually helping people.
EB: Now, everybody I interview talks about two things: how somebody, either a teacher, a mentor, a parent, or grandparent, pushed them and guided them. They also talk about how they built a network and how it worked for them. You know, they stayed close with their college colleagues, met people at summer festivals, and the doors opened.
Is the art world similar? Does it have anything like that?
EH: Oh, yeah. I meet so many generous artists who have kept up their network and who are interested in supporting others' careers. You can't really move forward with the mentality of, "This is my career. I only focus on me."
I interviewed Lisa Congdon, an artist who started her career a little later in life. She said that the reason she tries to help so many younger artists now is because somebody helped her, and she would not be where she is today without that support.
EB: I think that's something that is beautiful about the arts in general. We owe it to the next generation to tell them what we've learned. It's leaving a painting or a piece of music, leaving what you have to say. Then they learn something from that and pass it down. It's built in a beautiful way. Podcasting just makes the perfect platform to continue broadening how that gets shared.
EH: I think you put that beautifully. We get to share those stories and make it a little bit more democratic in some ways. Not everybody can have these experiences and, through a podcast, a few more people can.