BU NEIDL Scientists Featured in NOVA's Special Coronavirus Episode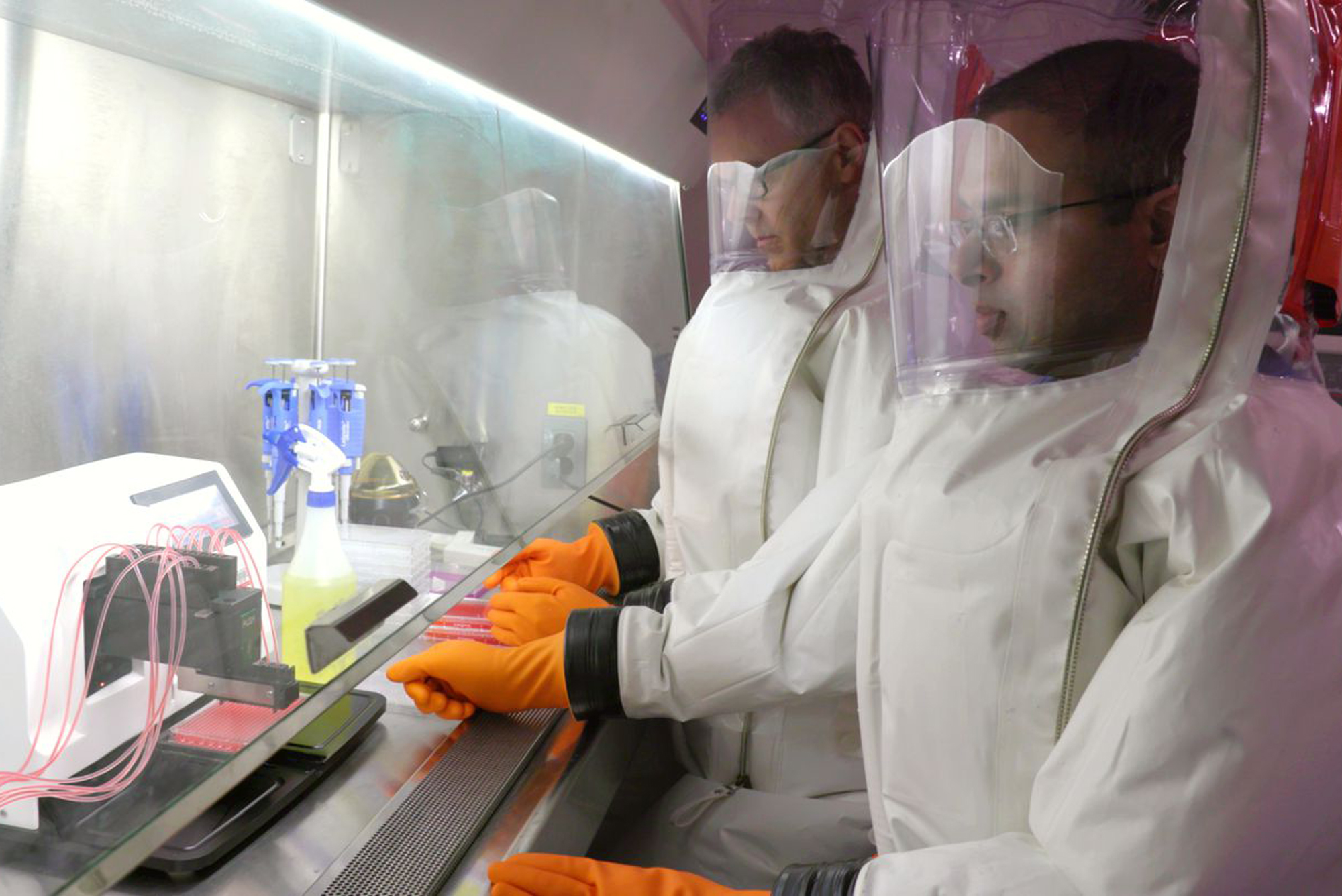 Decoding COVID-19
BU NEIDL Scientists Featured in NOVA's Special Coronavirus Episode
Nahid Bhadelia, Ronald Corley, and Robert Davey talk about COVID-19's spread, how they're studying it in the lab
An hour-long PBS NOVA episode—which aired May 13—about the coronavirus pandemic featured scientists from Boston University's National Emerging Infectious Diseases Laboratories (NEIDL), along with immunology and virus experts from across the United States, discussing the massive clinical and scientific response to the outbreak that has infected millions and killed more than 300,000 around the world.
"There are people who get this infection, shedding this virus before they get sick, and they may never have any symptoms," Nahid Bhadelia, director of infection control at BU's NEIDL, tells NOVA in its special "Decoding COVID-19" episode, which is now available to stream for free online. "This [pandemic] ends with most or all of us being immune to this virus, and ideally that's through a vaccine."
Bhadelia, who is also director of the Special Pathogens Unit at Boston Medical Center and was a frontline healthcare worker on the ground in West Africa during the 2014–2016 Ebola outbreak, says the research and medical community was worried about the novel coronavirus from the moment they first learned of the mysterious respiratory illness spreading in Wuhan, China. "I think all of us held our breath because the question was, could this be that combination of a virus that's both easy to transmit and perhaps maybe not as deadly as we might see with Ebola, but still have devastating impact on the resilience of our communities," Bhadelia tells NOVA.
---

Our ultimate goal is to have the designer molecule which will specifically attack the virus and do nothing to the rest of your body.

---
In March 2020, when there were only 125 confirmed cases of COVID-19 in the United States, Bhadelia and Ronald Corley, an immunologist and the director of BU's NEIDL, released a detailed primer on the new SARS-CoV-2 virus. Days earlier, Corley had warned: "In many respects, this is what the World Health Organization would call 'pathogen x,' a pathogen that spreads through [the air]. Many people who have this virus cannot distinguish it from a severe cold or weak case of the flu. …That's what makes this a fundamentally different virus than, for example, the Ebola virus [which is transmitted through direct contact with bodily fluids]. That's why it's spreading the way that it is, and poses such a significant risk to public health."
In the NOVA episode, another NEIDL researcher, microbiologist Robert Davey, takes viewers inside his lab at the NEIDL, where he and his team are racing to find a treatment or cure for the novel SARS-CoV-2 coronavirus.
Since his lab started its coronavirus research in March, they've already made progress, leveraging glowing antibodies to get eyes on the SARS-CoV-2 virus' whereabouts inside the cells it infects. Now, the team is screening the first group of drug compounds—of which they eventually plan to test more than 20,000 potential therapeutics—to see if they are able to halt or block COVID-19 infections.
"Our ultimate goal is to have the designer molecule which will specifically attack the virus and do nothing to the rest of your body," Davey tells NOVA. "Something that stops the virus dead in its tracks, and doesn't affect you whatsoever."
Typically, Davey's team handles Ebola, one of the world's most lethal viruses, inside one of the NEIDL's Biosafety Level 4 (BSL-4) laboratories, which have the highest possible level of biosafety containment used for infectious agents that pose especially high risk to humans.
"Biosafety Level 4 is when you're in a bubble—a suit that looks like what the Michelin Man has on," Davey explains, as camera footage shows him zipping into a giant white suit. "It's inflated by air, so this is the highest level of protection."
BSL-4 is a full step of containment above the required BSL-3 that the Centers for Disease Control and Prevention (CDC) has said is required for working with live copies of SARS-CoV-2. But the personal protection equipment that researchers must wear for BSL-3 work is the same gear that is in short supply for hospital clinicians.

So, at the NEIDL, one of the few research facilities in the United States to have both BSL-3 and BSL-4 laboratories, many researchers—like Davey's team—are choosing to handle the SARS-CoV-2 virus while each wearing full, airtight biocontainment suits connected to an air hose, taking the virus up to the BSL-4 level of containment. Just hours before the NOVA episode aired, The Brink reported that several BU scientists, largely bolstered by the NEIDL's unique research capabilities, had received $1.9 million in new funding from the Massachusetts Consortium on Pathogen Readiness (MassCPR) to accelerate their coronavirus studies.
"[The NEIDL] is probably the safest place in the country to be right now," says Corley. "Any laboratory facility that studies emerging pathogens is designed around safety and security."
Despite the rapid scientific progress that's underway, Bhadelia cautions viewers that the global coronavirus outbreak will continue to impact life as we know it for quite some time. "Lifting the lockdown is not the end, it doesn't mean we go back to normal, it means our lives are altered at least in the medium term, and potentially forever," she says.

The NOVA special also featured virologists at the National Institutes of Health, the Ragon Institute, and Stanford University.
Hear more from Bhadelia, Davey, Corley, and other experts, and go inside one of NEIDL's BSL-4 labs to see how Davey is conducting coronavirus research, by watching NOVA's "Decoding COVID-19" episode online while it's freely available, until mid-June 2020.