POV: It's Time to Eradicate White Nationalists from the Military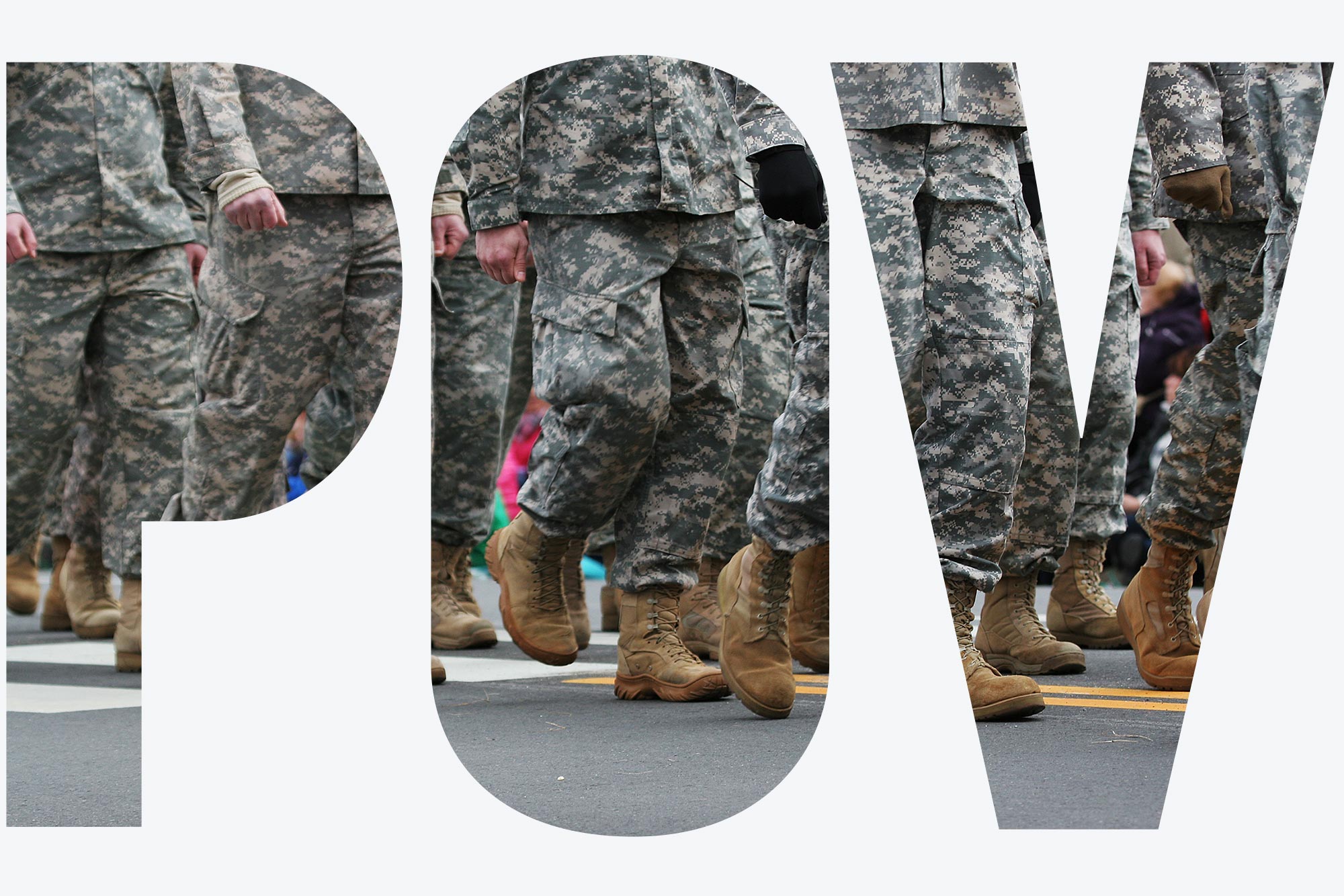 Voices & Opinion
POV: It's Time to Eradicate White Nationalists from the Military
Congress must direct an independent investigation now to determine the pervasiveness of the problem
It's about time.

After days of protests, retired senior officials, military service chiefs, and enlisted leaders have begun to speak out about racism in this country and in the US military. In a rare bipartisanship effort, Congress is now supportive of renaming military bases honoring Confederate generals. When President Truman took the bold step of abolishing racial discrimination in the Armed Forces in July 1948, racism didn't immediately end, but it was the beginning of treating everyone in uniform with respect and dignity. When President Obama repealed "Don't Ask, Don't Tell," reversing a 17-year-old policy that banned openly gay men, lesbians, and bisexuals from military service, discrimination didn't end on that day either, but it was a much-needed step to remove another archaic law. It is now time for the US military to take one more step and eradicate white nationalists from serving in our Armed Forces.
White nationalists, the military, and protests have a history together. For white nationalists that have infiltrated the military, protests are the perfect opportunity to incite a race war. Many groups view a race war as a way to destabilize and overthrow the US government and establish a white ethnostate. White nationalist groups encourage their members to join the military for weapons expertise and recruit military members for their access to weaponry.
During the 2017 Unite the Right Rally in Charlottesville, Va., a Marine assaulted multiple people, bragged about it online, and returned to duty. ProPublica made the Marine Corps aware of the video evidence, at which point the Marine faced the equivalent of a misdemeanor trial.
Prior to the January 2020 Gun Rights Rally in Richmond, Va., the FBI arrested three men who intended to start a race war at the protest. One of the men is a former Canadian reservist, another formerly served in the US Army.

Even though military leaders do not see white nationalism as a problem, a 2019 Military Times poll found that 36 percent of troops who responded had seen evidence of white supremacist and racist ideologies in the military, a significant rise from the year before, when only 22 percent—about 1 in 5—reported the same in the 2018 poll. The 2019 poll offers a troubling snapshot of military members' exposure to extremist views while serving, despite efforts from military leaders to promote diversity and respect for all races.
In the last three years, every military service publicly dealt with an active duty member with an extremist affiliation. Most cases are discovered, not by the military itself, but from media outlets, volunteer internet sleuths, and the FBI.
In September 2019, the FBI arrested an Army soldier for sharing IED bomb-making instructions with undercover agents over Facebook. The soldier originally spoke with an Army veteran and far-right militia recruiter in Ukraine about joining the far-right Right Sector. When joining that far-right militia took too long, he joined the US military, spoke of targeting former US Representative Beto O'Rourke (D-Tex.), and still planned to bring his newly acquired knowledge to other far-right extremists fighting in Ukraine. This Army soldier is not the first or last far-right violent extremist to join the military.
---

White nationalists do not belong in our Armed Forces. What is needed now is action to remove this cancer from the ranks.

---
In 2019, the Air Force demoted a master sergeant after the Office of Special Investigations (OSI) confirmed an anti-fascist group's claim that the master sergeant was a fundraiser for a white nationalist group. In one online post, he wrote, "We all applaud you. Colorado will be sieged relentlessly and become the capital of the ethnostate." During testimony before the House Armed Services Subcommittee on Personnel, an Air Force official explained that the OSI does not investigate "mere participation" in a white nationalist group, but "active participation," which includes attending rallies, fundraising, or taking part in the organization's activities. Only after nearly a full year and attention from the press and congress did the Air Force separate the active white nationalist from their ranks.

And this past March, the design, technology, science, and science fiction website Gizmodo used a neo-Nazi website data dump to expose a Navy sailor as a "prolific" recruiter for a US-based neo-Nazi group. The sailor began his neo-Nazi career when he was 15 years old and recruited individuals that are now cell leaders for the group. It wasn't the military that found this individual, but journalists, who linked the neo-Nazi activity to an identity this year.
While these are only some of the most recent public cases of white nationalism within the ranks of the US military, what is even more concerning is how little we know about the white nationalists operating within, or on the periphery of, the ranks. Heidi Beirich, of the Southern Poverty Law Center, testified before a congressional subcommittee that the best data on white nationalism within the ranks that exists is the imperfect, self-selecting Military Times poll. Therefore, it is imperative that Congress direct an independent investigation immediately to determine the pervasiveness of this problem. With the president removing inspector generals left and right, the House Armed Services Committee is the only avenue remaining that won't be bullied by the executive branch.
Despite each military service publicly denouncing discrimination and racism in its ranks, membership in a white supremacist or neo-Nazi group does not guarantee separation from the military. That should outrage and appall all of us. Membership in any of these groups must immediately disqualify anyone from military service and result in immediate removal from military service once they're exposed. In a system that gives so much discretion to commanders, minority troops cannot afford to have white nationalists exist freely in the military system.
Tweets and Facebook sessions denouncing discrimination and racism in the military are a positive step, but concrete action is long overdue. As far-right extremists flock to the Black Lives Matter protests, the most powerful military in the world has no way of detecting if its own members are involved in the attempts to incite a race war and overthrow the US government. Currently, if civilians, the media, or the FBI uncover members of the military committing extremist acts of violence, there is no guarantee the exposed white nationalists would be forced to leave the military.

White nationalists do not belong in our Armed Forces. What is needed now is action to remove this cancer from the ranks.

Jack Weinstein is a Frederick S. Pardee School of Global Studies professor of the practice of international security and a retired US Air Force lieutenant general; he can be reached at weinstej@bu.edu. Lauren LaBrique (Pardee'22) can be reached at labrique@bu.edu.