As MFA Asian Art Department Chair, Christina Yu Yu Oversees a Collection Spanning 6,000 Years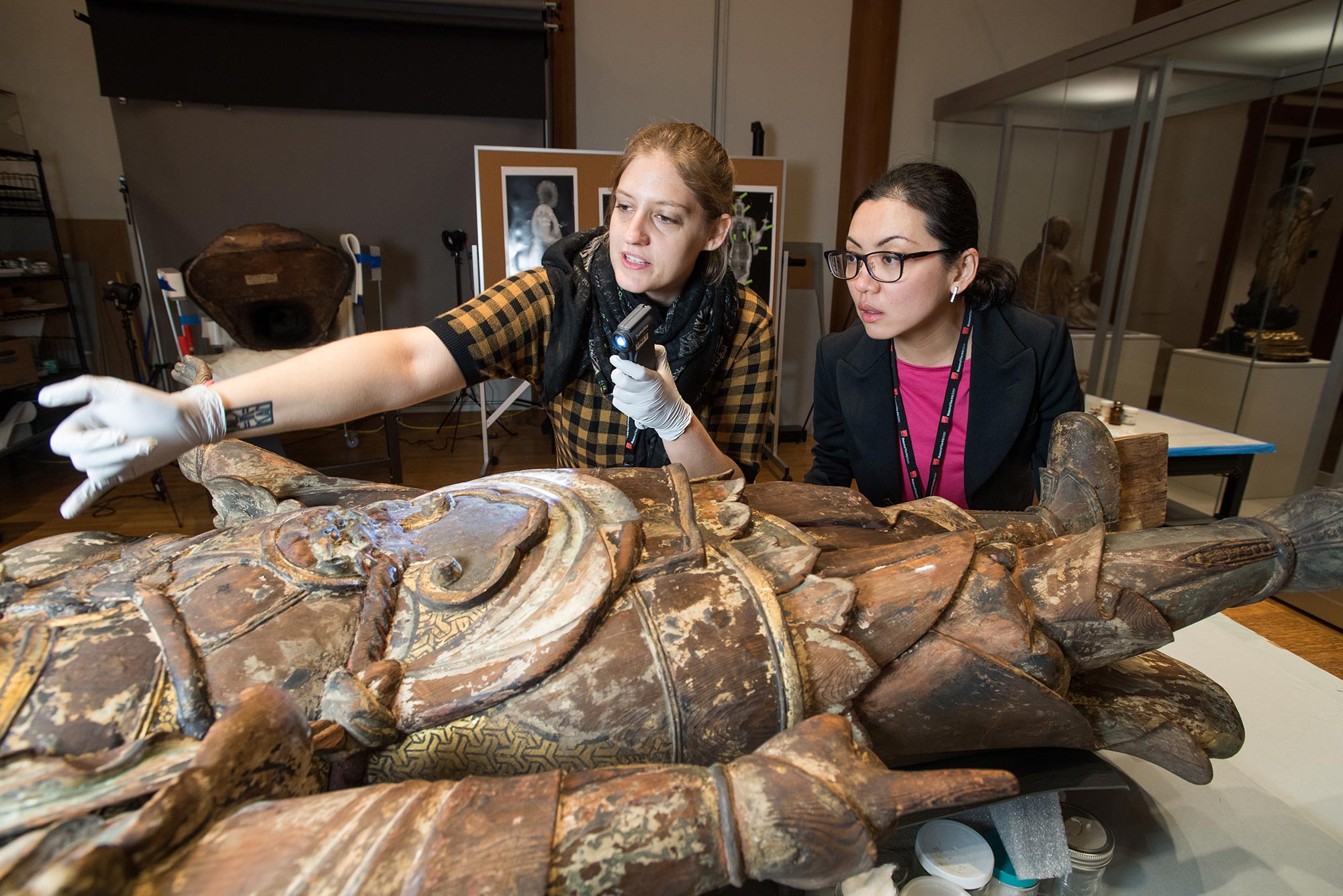 Arts & Culture
As MFA Asian Art Department Chair, Christina Yu Yu Oversees a Collection Spanning 6,000 Years
BU alum and noted scholar returns to the museum where she began her career
As a child growing up in Wuhan, China, Christina Yu Yu didn't visit many museums, and art was not a central part of her elementary and high school education. But as an undergrad at Wellesley College, one class captured her imagination, and it set the course for her career. "Art history opened a door to a very different world," Yu Yu says. "It became a window through which to look at history, civilization, human behavior."
Yu Yu (GRS'04) went on to study Asian art at BU and at the University of Chicago and to work in museums both in the United States and abroad.

Today, she has one of the most important jobs in the museum world: the Matsutaro Shoriki Chair of Asian Art at the Museum of Fine Arts, Boston (MFA). She oversees a collection of nearly 200,000 works—spanning some 6,000 years—from Japan, Korea, China, South and Southeast Asia, India, and the Islamic world.

The collection was launched shortly after the museum's founding 150 years ago, when few American museums had an interest in Asian art. At the time, a number of prominent Bostonians were traveling to Japan, where they fell in love with the culture and history. They collected calligraphy, wood block prints, paintings, vessels, ceramics, and sculpture, which they later gifted to the museum (the MFA has nearly 60,000 wood block prints).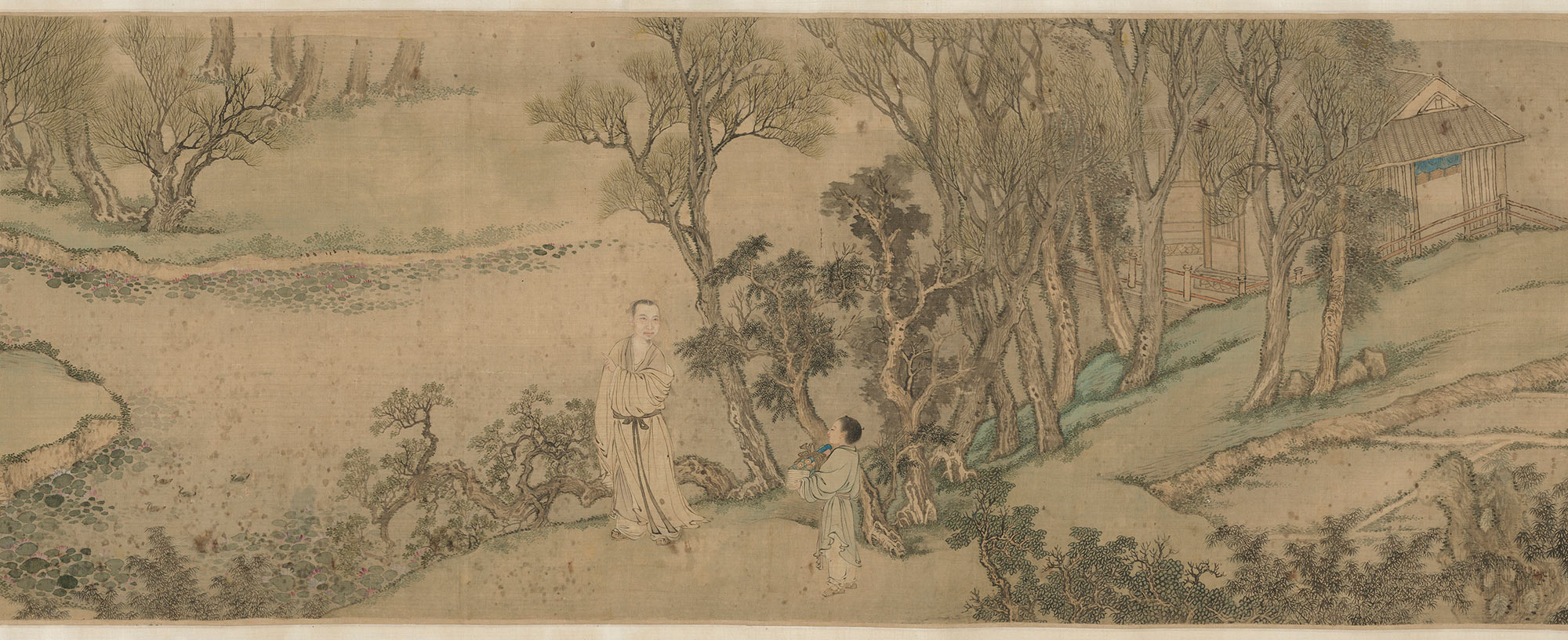 In December 2018, less than six months after Yu Yu became chair, the MFA announced the largest and most significant gift of Chinese paintings and calligraphy in its history. Wan-go H. C. Weng, a noted collector, gave the museum 183 artworks and artifacts spanning 13 centuries and five imperial dynasties. Weng, a longtime friend of the MFA, had already given the museum a number of important works.

Yu Yu says that what makes Weng's gift particularly special is that many of the works date from the Ming (1368-1644) and Qing (1644-1911) dynasties, including 10 paintings by Wang Hui, an early Qing dynasty artist famous for his formal court-commissioned paintings as well as his landscapes. The donated art complemented the MFA's strong holdings from the earlier Song and Yuan dynasties, she says. "It was a perfect match for what was already in the museum."
Visitors can now see a selection of Weng's extensive collection in a new exhibition, Weng Family Collection of Chinese Painting: Family and Friends, on view through August 9. It is the first of three back-to-back exhibitions designed to introduce the public to many of the nearly 200 paintings, ink rubbings, prints, calligraphy, and embroidery included in Weng's gift to the museum.
"Magical moments" at BU
After graduating from Wellesley, Yu Yu enrolled in BU's history of art and architecture graduate program so she could study with Qianshen Bai, a world-renowned scholar of Chinese calligraphy and a College of Arts & Sciences associate professor of Asian/Chinese art at the time. Bai, she says, routinely took his students to the MFA and other museums as well as on field trips to private collectors, one of whom happened to be Wan-go H. C. Weng.
"Those were really some of the most memorable moments of studying at BU," Yu Yu says. "Going to museums, you're looking at beautiful things and it's a fascinating experience, but you're still seeing them through glass, you still have a barrier. But when you visit a private collection, you have these beautiful works within a hand's reach. Those are such magical moments."

Another reason she was drawn to BU's program was its certificate in museum studies, which was a chance to gain hands-on experience working in a curatorial setting. She landed an internship in the MFA's Asian art department, an experience that proved invaluable. "I was very impressed by the curators," she says. "They were like walking encyclopedias of this collection. They knew the collection inside out and were so accessible and eager to help young students. That personal touch was very important in my deciding to go into this field."

Yu Yu was among the top students in the BU program, says Bai, a CAS associate professor emeritus, now dean of the Zhejiang University School of Art and Archaeology in China, where he is also director of its museum. "She didn't talk much, but worked very hard. She used her actions, rather than words, to win trust and respect."

Yu Yu earned a PhD at the University of Chicago, where she wrote her dissertation on paintings from China's Yuan dynasty. She later became assistant curator of Chinese and Korean art at the Los Angeles County Museum of Art, where she organized exhibitions and collection installations and helped launch new community outreach programs. In 2014, she became director of the University of Southern California (USC) Pacific Asia Museum. She arrived just as the museum was merging with USC, and was tasked with bringing the university community into the museum, broadening the museum's public programs, and extending community outreach.

A return to the MFA

In 2017, the MFA launched a national search for a new chair for its Asian art collection. Matthew Teitelbaum, Ann and Graham Gund Director of the Museum of Fine Arts, says Yu Yu was the natural choice. "Christina's breadth of experience, international outlook, and track record of leadership align with our ambitions for presenting and engaging with one of the world's greatest collections of Asian art," Teitelbaum says. "Her dynamic approach is inspiring, especially during a time when museums around the world are being challenged to think globally while also deepening ties within our existing communities."

Yu Yu says that what makes the MFA's Asia art collection so remarkable isn't simply its size, but its quality. "Some of the most important iconic masterpieces in Asian art are in our collection. We have experts from the other side of the world who come here to see our collection."

As chair, she oversees a team of nine curators and research associates who are working to preserve the collection and to "make something that's old relevant to an audience today," she says. Yu Yu and her staff are constantly thinking about which pieces to bring out of storage, how to display them, and what kind of story they want to tell about each one. In addition, her department mounts traveling exhibitions of works from the collection and loans pieces to museums from around the world.
One of the challenges she and her staff faced following the Weng gift was deciding how best to present such a large collection. "It's very hard to show more than 100 pieces at once," she says. So, the first show, organized by Nancy Berliner, the museum's senior curator of Chinese art, includes only about two dozen paintings and works of calligraphy. The exhibition's title, Weng Family Collection of Chinese Painting: Family and Friends, is a nod both to the Weng family's long ties to these objects (Weng's great-great-grandfather, Weng Tonghe, began amassing the collection in 1865) and to Weng's friendship with other art scholars and with the MFA itself, a relationship of nearly five decades. Among the works currently on display is a painting by Weng himself, Elegant Gathering at the Laixiju Residence (1986-90), which depicts him with a group of scholars of Chinese art at his New England home.
The second exhibition is scheduled for fall 2020, and the third will be mounted next year, with each show built around different themes.
The challenges ahead
Like all museums, the MFA is wrestling with how to win over new generations of visitors. "We live in a time where people have limited spare time, where there are so many things they can do, whether it's watching a movie or going to Fenway Park to watch a Red Sox game," Yu Yu says. "Our challenge is how to make the museum, the collection, our exhibitions, relevant to society today, and what new ideas to introduce."

In an effort to engage people more intimately with the art on display, the museum has begun allowing visitors to watch conservators as they restore works of art that are sometimes thousands of years old, such as Dainichi, the Buddha of Infinite Illumination, a 12th-century statue that's part of the Asian art collection. The MFA has also added more programming in its galleries, whether it's contemporary artists talking about their work or creating art.

"Right now, we're rethinking the installation of Asian art in the museum and rethinking our galleries and the kind of experience we can provide our audience," Yu Yu says. "This will require a new understanding of what today's audience understanding of Asia is, knowing what they want to learn more about, and figuring out how our collection can help them do that."
Weng Family Collection of Chinese Painting: Friends & Family, the first of a series of three exhibitions celebrating the donation made by Wan-go H. C. Weng, is on view at the Museum of Fine Arts, Boston, 465 Huntington Ave., Boston, through August 9, 2020. Find directions here. Find hours and admission prices here. Admission is free to BU students, faculty, and staff with a valid ID.