New Illustrated Book by CAS Alum Introduces Young Readers to LGBTQ+ History
LGBTQ+ Literature
New Illustrated Book by CAS Alum Introduces Young Readers to LGBTQ+ History
Rainbow Revolutionaries features stories about an Angolan queen, an Olympic athlete, a Civil War soldier, and other notable people
When Sarah Prager came out at the age of 14, she knew nothing about LBTQ+ history. She found LGBTQ+ historical figures to read about—and make a connection with—on her own, but none of the books were written for teenagers, she says.

Now, Prager (CAS'08), a lecturer and writer focused on raising awareness of LGBTQ+ history, has written the kind of book for middle grade readers she wishes she'd had in junior high school. Rainbow Revolutionaries: 50 LGBTQ+ People Who Made History (HarperCollins Children's Books, 2020) takes them on a journey through time, introducing them to dozens of influential LGBTQ+ people representing a wide range of fields and ethnicities.

Those leaders include a second-century BC Chinese emperor, Wen of Han, who, although married, openly loved a man, and Albert Cashier, a transgender Civil War soldier who fought in the Union army and was captured by Confederate soldiers, but escaped. Then there's 20th-century Dutch musician Frieda Belinfante, who helped Jews to escape when the Nazis invaded the Netherlands, and Nzinga, a 17th-century Angolan queen.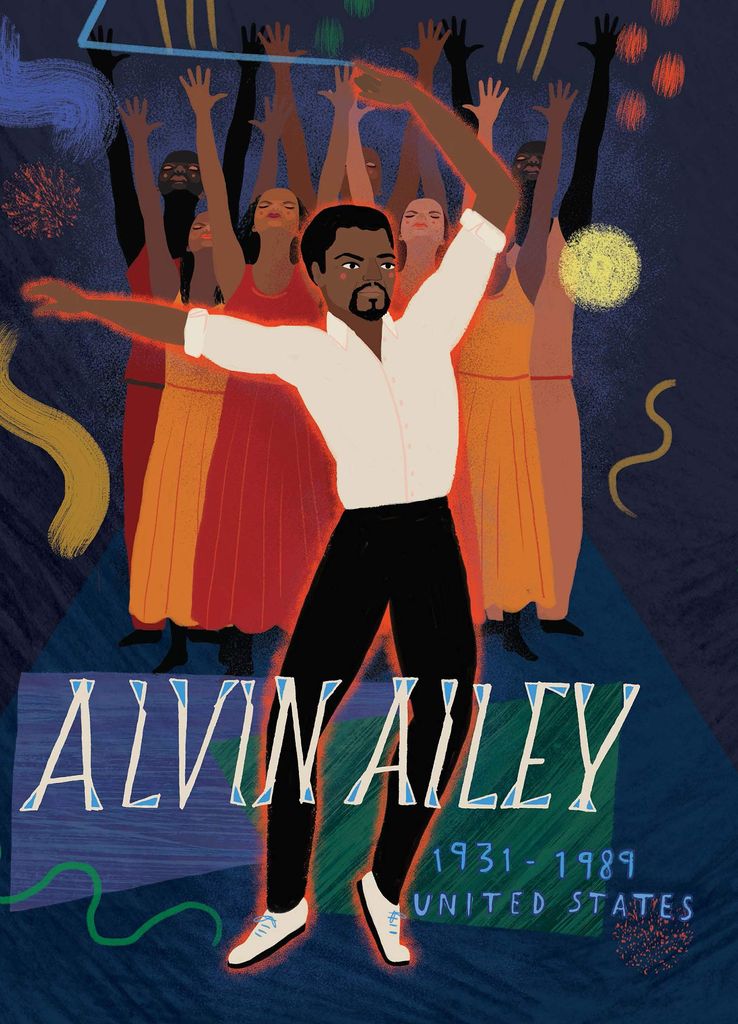 The lavishly illustrated book (with drawings by Sarah Papworth) jumps back and forth in time, from ancient Greece to today. And while many of the subjects won't be well known to middle school readers, there are plenty of names they'll recognize: comedian Ellen Degeneres, former figure skater Adam Rippon, who won bronze at the 2018 Winter Olympics, and astronaut Sally Ride. There are stories about doctors, painters, choreographers, civil rights and LGBTQ+ activists, and athletes, many who were not openly gay during their lifetime, but in their own way, proved to be revolutionary.
Rainbow Revolutionaries was inspired by an earlier book Prager wrote for a YA audience—Queer, There, and Everywhere (HarperCollins Children's Books, 2017)—that introduced teens to 23 people from queer history. When that book was published, she says, many readers told her they wished they had known about LGBTQ+ history earlier.

"I wrote this book for a younger audience so that youth could go into their adolescence already knowing about the incredible LGBTQ+ people who have shaped our world," she says.
Bostonia spoke with Prager about her new book, what she hopes middle grade students will take away from these stories, and how she went about selecting the 50 people profiled in Rainbow Revolutionaries.
Bostonia:
Why did you feel it was important to create a collection of biographies of LGBTQ+ people for a younger audience?
Sarah Prager: When young people see themselves reflected in the books they read, it shapes their ideas of what they could grow up to be. To see out and proud people who were successful in politics, activism, the arts and sciences, medicine, sports, tech, and other fields expands their minds to know they can do that, too.
Bostonia:
How did you come up with the people whose stories you tell here?
Sarah Prager: I looked for a diversity in the collection of the 50 people, from era to field to race to gender. There are many more than 50 stories I could have told, but I didn't want 25 of 50 to be about 20th-century athletes, so I chose just a few of those and made sure others were represented.
Bostonia:
You made a point of including LGBTQ+ people from a variety of cultures.
Sarah Prager: Absolutely. LGBTQ+ history did not just take place in the last 50 years in the United States. It's so much more. It goes back through all of human history, across every inhabited land. Our history has a rich diversity that I tried to showcase in this book.
Bostonia:
Are there a couple of stories that stand out?
Sarah Prager: One that's close to my heart is Christina of Sweden (1626-1689), a queen who gave up the throne to live authentically. Christina refused to marry a man and abdicated at the age of 26 so that they wouldn't be forced to do so. They lived out a long and happy life in Rome, sometimes dating men and sometimes dating women, sometimes dressing as a man and sometimes as a woman, always themself. Christina was only able to be true to themself because of their privilege as royalty.

Another person who lived at the same time, but was raised poor in Mexico was Juana Inés de la Cruz (1648–1695). She had to find another way to live authentically. Juana cared deeply about becoming educated, as Christina did, and was able to, even though girls were not allowed an education in her time and place. Juana became a nun as a way to live without having to marry a man and was able to use her time in the convent to study and become perhaps the most educated woman in Mexico (then New Spain) in her time. She was a prolific poet and wrote romantic poems to another woman.
Bostonia:
What was your goal in writing the book and what do you hope readers take away from it?
Sarah Prager: Connecting with the stories of people from LGBTQ+ history gave me so much as a young person. I learned I wasn't alone and I wasn't the first to feel this way. I felt a connection with these people from the past. I didn't have many out people to connect with in person. Their stories gave me a sense of community and ancestry and meaning and belonging. I hope these stories bring some of that to today's youth.
Bostonia:
What have you heard from readers so far?
Sarah Prager: I have heard from many readers that the representation has meant a lot to them. I even heard about one young reader falling asleep hugging the book and sleeping with it. One adult said on Instagram that they cried when they discovered that someone they had researched as a young student was in this book because none of their research then ever mentioned that that person was LGBTQ+.