Former Terrier Men's Hockey Coach Jack Kelley Dies at 93
Obituaries
Former Terrier Men's Hockey Coach Jack Kelley Dies at 93
Took the team to its first two NCAA championships, in 1971 and 1972
The Boston University Athletics community is mourning the passing of one of its all-time greats, hockey standout and coach John H. (Jack) Kelley, who led the Terriers to their first two national titles. Kelley died on September 16 at the age of 93.
The architect of BU's first two national championships, in 1971 and 1972, Kelley (Wheelock'52) set a standard of excellence for the Terrier men's ice hockey program during his 10 years as head coach, a standard that was continued by his 1967–68 captain, Jack Parker (Questrom'68, Hon.'97), who went on to lead the team for 40 years.
Kelley was a talented defenseman on three BU hockey teams—from 1949 to 1952—that compiled an overall record of 50-13-1 and advanced to two NCAA final fours under the direction of coach Harry Cleverly. He finished his playing career by being named First-Team All-New England and All-East and team MVP, and he graduated as the program's career leader in points by a defenseman.
"We've lost an incredible man who meant so much to this University," says Parker. "He established BU hockey as a national entity, and beyond his impressive record as a coach, his legacy and impact on his former players is hard to match. I've always heard so many of the guys who played in my era say that outside of their parents, Jack was the most important person in their lives. That definitely was the case for me. He got the absolute best out of his players and turned us all into men."
"BU hockey is what it is today because of Jack Kelley," says Drew Marrochello, director of Athletics. "It was an incredible honor to know him, and his legacy will be as lasting as anyone who has been a part of this department. Hearing our alumni from the '60s and '70s talk about what Jack meant to them is simply heartwarming. Our sincere thoughts are with his family and loved ones."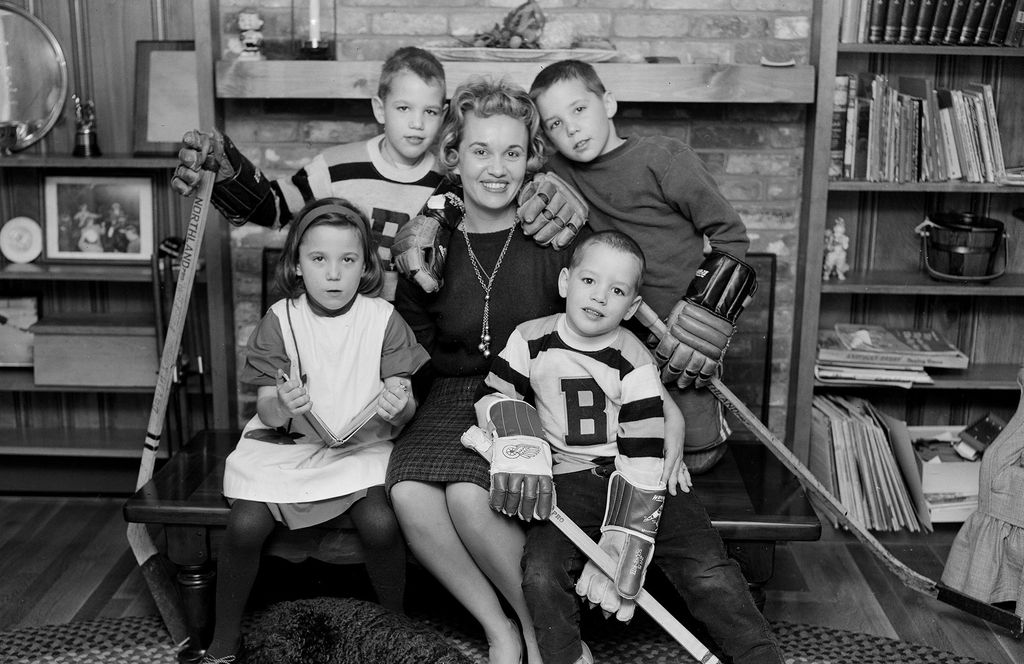 Kelley's career as a college hockey coach began at Colby College in Waterville, Maine, where he coached for seven years, capped off by NCAA Coach of the Year honors in 1962 after leading the White Mules to the semifinals of the first ECAC Hockey Tournament at Boston Arena.
In spring 1962, after the resignation of Cleverly, Kelley returned to his alma mater. He immediately went to work founding the Friends of BU Hockey, an organization that took the initiative toward building the first campus home of the Terriers: Walter Brown Arena.
On the ice, Kelley proceeded to mold the Terrier program in his own sharply focused, keenly disciplined image, advocating a relentless forechecking, up-tempo style of play that would culminate in the first back-to-back national titles by an Eastern school. It took 31 years before another Division I men's hockey title was successfully defended, when Minnesota pulled off the feat in 2002 and 2003.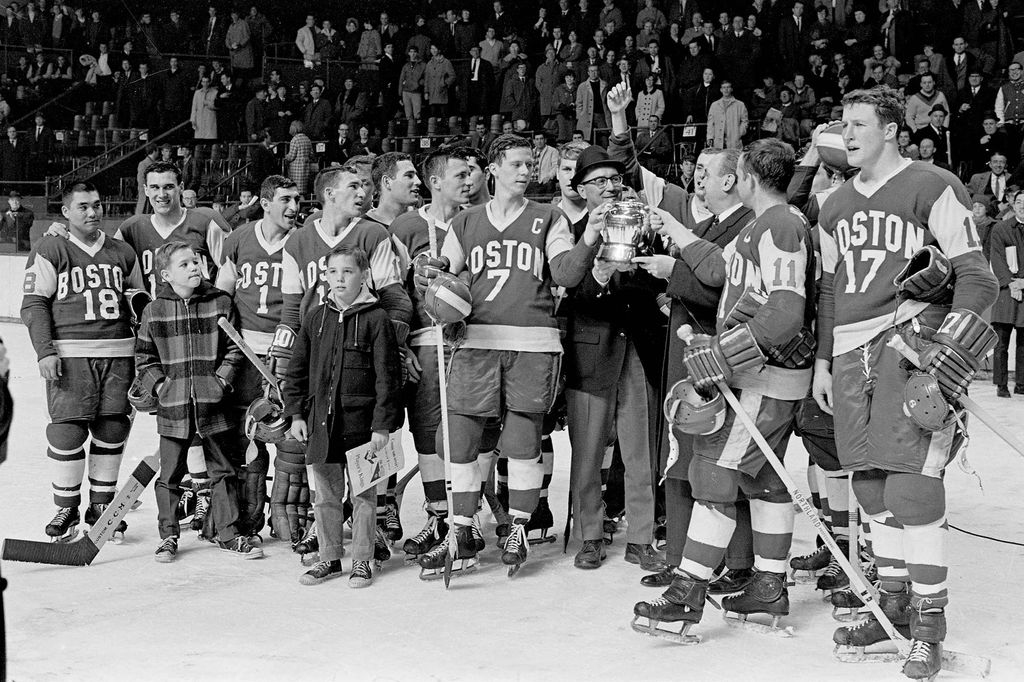 "If you bought into what Jack was selling, you undoubtedly became a better person, a better player, and for several of us, a better coach," says Steve Stirling (Wheelock'71,'81), captain of the 1970–71 squad and the first Terrier to become a head coach in the NHL, in 2003. "I always looked forward to our yearly phone call to catch up on life and talk hockey.
"He was way ahead of his time in terms of paying attention to detail, and he was so focused on play in all three zones," Stirling adds. "Jack was great at finding both American and Canadian talent and then meshing us all together to create a winning culture."
Guided by Kelley's firm, steady hand, the Terriers captured six Beanpots and the 1972 ECAC championship, part of that year's unprecedented "Triple Crown" championship (Beanpot, ECAC, NCAA) campaign, and advanced to four NCAA semifinals.
Kelley's clubs featured 14 First Team All-America selections and 14 future BU Hall of Famers. His overall coaching mark of 206 wins, 80 losses, and 8 ties resulted in a winning percentage of .720. During his 13 years associated with the program as a player and coach, the Terriers qualified for the then-four-team NCAA tournament on six occasions, winning two titles and finishing as national runner-up twice.
Kelley went on to be coach and general manager of the New England Whalers, becoming the first US-born general manager to lead a professional hockey team to a title in 1973. He later served as the director of player personnel for the Detroit Red Wings AHL franchise before becoming president of the Pittsburgh Penguins in 1993, a position he held until his retirement in 2001.
Before Kelley ever put on a BU jersey, he won a medal on the world stage. The Medford, Mass., native was selected to the 1948–49 US National Team as a 21-year-old and helped the squad capture a bronze medal at the 1949 World Championship in Sweden. 
Just one year after leaving BU to join the New England Whalers, Kelley was inducted into the BU Athletic Hall of Fame, in 1973. In 1993, he earned a spot in the US Hockey Hall of Fame.
Kelley and his late wife, Ginny, split their time between their winter home in Florida and summer getaway in their beloved Maine, enjoying the company of their four children and nine grandchildren. Two of his grandsons, Andy Saucier (CAS'08) and Sam Kelley (COM'17), were video coordinators for the men's ice hockey team while students at BU.