Alumni Weekend 2020: Eight Events to Check Out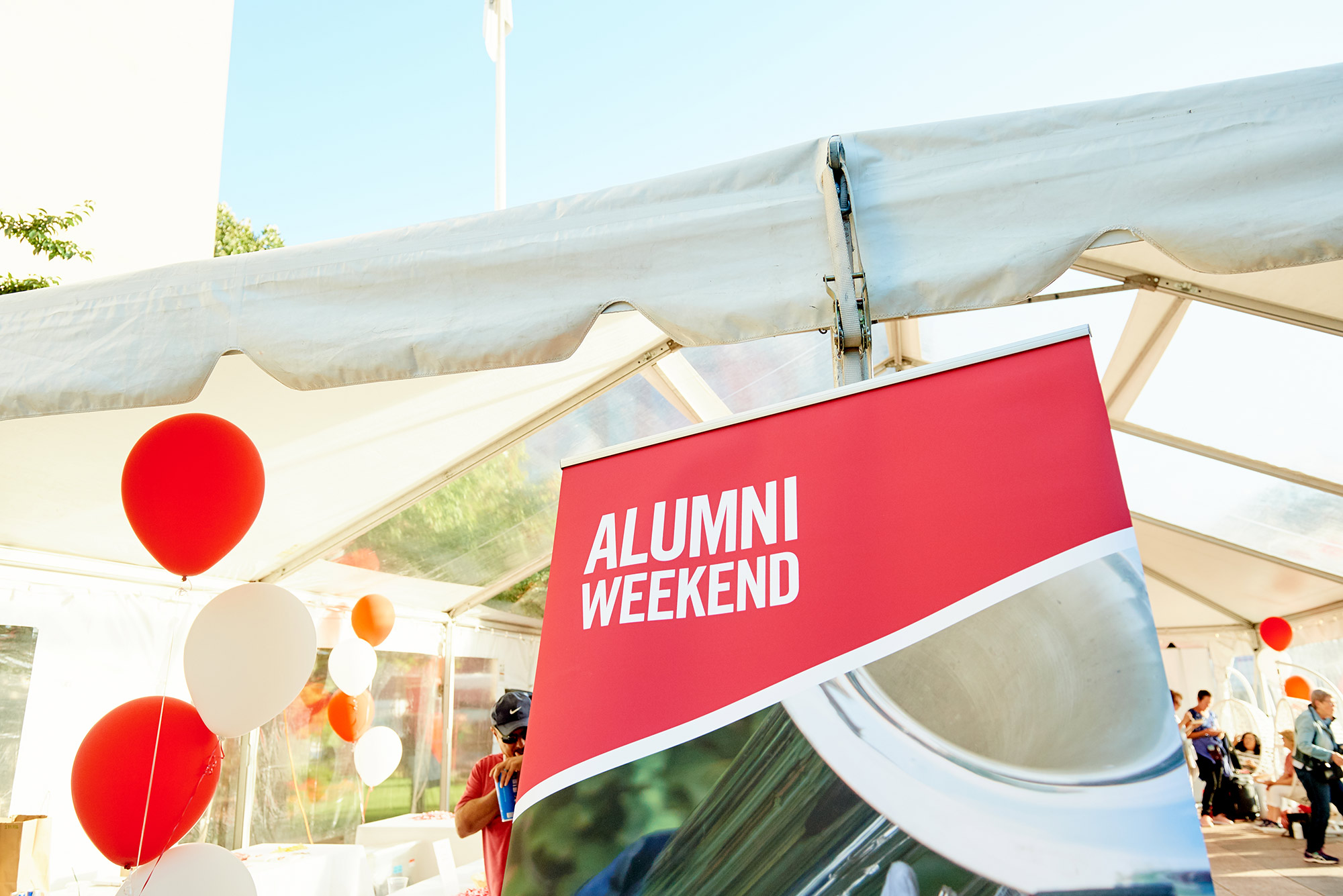 Alumni Weekend
Alumni Weekend 2020: Eight Events to Check Out
Your guide to free online offerings open to the BU community
Boston University's Alumni Weekend typically draws thousands of people to campus for a slew of activities. Alumni Weekend 2020 will look a little bit different. Responding to the pandemic, the BU Alumni Association reimagined the annual event, offering all-online programming over six days, from Tuesday, September 29, through Sunday, October 4. Most activities are free to students, faculty, and staff in addition to alumni, but registration is required. We've picked eight highlights.
1.
Support alumni-owned food businesses
In the mood for a banh mi sandwich? Craving wood-fired pizza? You may want to participate in Tastes of BU: Around the World. Check out a list of alumni-owned food businesses, place an order at one of them between Tuesday, September 29, and Sunday, October 4, and snap a pic of the food or drink you purchased. Make sure to follow @bualumni on Instagram, then post your photo with #TastesofBU. You'll be entered to win a prize.
All Week
In February 2020, former BU hockey players Mike Eruzione (Wheelock'77), Jim Craig (Wheelock'80, MET'09), Jack O'Callahan (CAS'79), and Dave Silk (CAS'80, MET'92, Questrom'94) came to campus to discuss their roles in the 1980 "Miracle on Ice" Olympic hockey game, when the United States upset the four-time defending gold medalists, the Soviet Union. If you missed the chance to hear them speak or would like to catch it again, you're in luck. Sign up to receive a link to a page where the event will be streaming for the duration of Alumni Weekend.
All Week
3.
Get your COVID-19 questions answered
In Ask the Experts: Living with COVID, Sandro Galea, a physician and epidemiologist and dean of the School of Public Health, will moderate a discussion with SPH faculty members, covering topics such as current epidemiology, special considerations for individuals above the age of 60, and mental health issues tied to the pandemic.
Tuesday, September 29, 3 to 4 pm
4.
Hear from acclaimed actors
In Black in the Entertainment Industry: Reflections on Courage, Challenge, and Creativity, Harvey Young, dean of the College of Fine Arts, will moderate a conversation with Alfre Woodard (CFA'74, Hon.'04), Russell Hornsby (CFA'96), and Uzo Aduba (CFA'05) about their experiences as Black actors in Hollywood. Emmy-winner Woodard is known for her roles in television shows, including Hill Street Blues and Desperate Housewives, while Hornsby is known for his role in Grimm and recently starred in the NBC series Lincoln Rhyme: Hunt for the Bone Collector. Aduba won her third Emmy at the 72nd Emmy Awards on September 20 for playing Shirley Chisholm in FX's Mrs. America.
Thursday, October 1, 3:30 to 4:30 pm
5.
Learn about engineering and technology innovations impacting the COVID-19 pandemic
Kenneth Lutchen, dean of the College of Engineering, will lead a panel discussion that tackles topics such as the testing technologies that have emerged during the pandemic and new treatments. He'll be joined by Catherine Klapperich, an ENG professor of biomedical engineering and the director of the BU Precision Diagnostics Center, Manuel Mendez (ENG'91), senior vice president and chief commercial officer of Quest Diagnostics, John Ngo, an ENG assistant professor of biomedical engineering, and Avrum Spira (ENG'02), a School of Medicine professor of medicine, pathology, and bioinformatics, and the global head of the Lung Cancer Initiative at Johnson & Johnson.

Friday, October 2, 4 to 5 pm
6.
Find out what it's like to serve in Congress
Lois Frankel (CAS'70) will discuss her path from student activist at BU to representative in Congress. Frankel was in the Florida state legislature for 14 years before serving as mayor of West Palm Beach, Fla., from 2003 to 2011. Now, she is the representative of Florida's 21st congressional district. Fellow activist Andrea L. Taylor (COM'68), BU's newly appointed senior diversity officer, will moderate the conversation.

Friday, October 2, 5 to 6 pm
Sandy Block, an instructor in Metropolitan College's Programs in Food & Wine and one of only 409 certified masters of wine in the world, will lead a virtual rosé tasting. Block will explore four wines: Caves d'Esclans "Whispering Angel," Provence, 2019; Le Roi des Pierres Sancerre Rosé, Loire Valley, 2018; Chateau d'Aqueria Tavel Rosé, Rhone Valley, 2018; and Pedroncelli Rosé of Zinfandel, Dry Creek Valley, 2018. For those over 21 in the Boston area, the wines will all be available at Gordon's Fine Wines and Liquors at 894 Main St., Waltham, Mass. You are also welcome to just tune in and watch.

Saturday, October 3, 5 to 6 pm
8.
Listen to a poet laureate
The School of Theology 2020 Lowell Lecture will feature Joy Harjo, the first Native American US poet laureate. Harjo is also a writer, performer, and saxophone player. The lecture will combine a talk, poetry readings, and a musical performance.
Sunday, October 4, 4 to 5:30 pm