Your Guide to Move-In 2019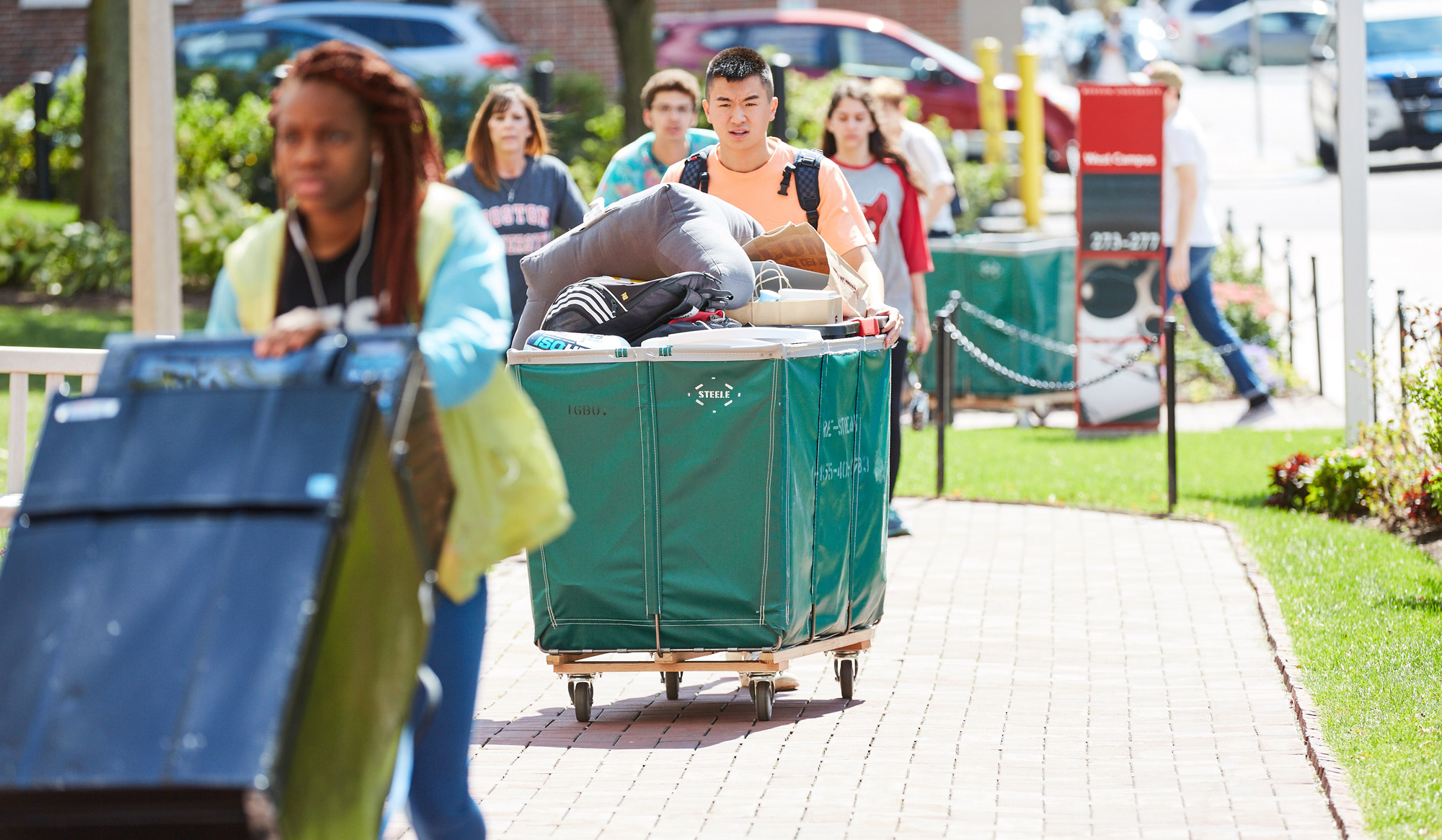 Student Life
Move-in 2019 Is Here
All you need to know about parking restrictions, navigating street closures, and best times to arrive
BU's annual migration known as Move-in week has begun. Nearly 12,000 students will arrive on campus between Monday, August 26, and Labor Day, September 2, to start the new academic year.

And although University officials expect a smooth process, Paul Riel, associate vice president for Auxiliary Services, says that students and their families may want to try to avoid peak congestion times.

For example, the Warren Towers parking garage will probably be full by early afternoon on Saturday, August 31. And there may be wait times for those looking to unload their cars on Saturday afternoon on streets near Claflin, Rich, and Sleeper Halls.

Also important to know: the busiest day of Move-in week is not Saturday, August 31, as one might expect, but Wednesday, August 28, when approximately 3,000 students are expected to arrive for early move-in, according to Riel.

"Patience is important," he advises. "Even though this is very well organized, with plenty of parking and people to help, it's still a lot of people coming into areas that are constrained. So don't be too anxious."

One bright spot for everyone arriving on campus: the Red Sox are out of town all week, which should ease traffic in the neighborhood. Also, there are no expected traffic impacts from the ongoing Kenmore Square redevelopment project or the work now wrapping up to improve Comm Ave west of the BU Bridge.

Riel and Robert Molloy, BU Police Department deputy chief, say that this year sidewalk reconstruction is underway on the east side of Babcock Street, so the usual unloading zone for students in Claflin, Rich, and Sleeper Halls won't be accessible. The University has bought out parking meters along Gardner, Ashford, and Alcorn streets to create an ad hoc unloading zone, and will have student volunteers in the area to help families unload their cars, fill carts, and guide them to the dorms.

Molloy also says the BUPD "will be vigilant about bike lane safety" for both riders and arriving students and their families. That means officers will be enforcing rules against cars and trucks blocking bike lanes, especially in the critical areas in front of Warren Towers (700 Comm Ave) and the George Sherman Union (775 Comm Ave).

Police officers will be positioned at numerous locations around campus to help keep things moving, including on Pilgrim Road on the Fenway Campus Friday through Sunday, where a state trooper will be keeping an eye on the Riverway.

The first 1,300 students are expected to arrive Monday, August 26, Riel says. Among that initial influx are freshmen and transfer students checking in for this year's First-Year Student Outreach Project (FYSOP), the Community Service Center program that brings new students to campus a week early to volunteer for community service projects across the city.

Early move-in follows on Wednesday, Thursday, and Friday between 10 am and 4 pm.

Freshman and new student move-in is Saturday and Sunday from 9 am to 5:30 pm, although it's recommended that new students arrive by noon on Sunday so they can participate in the Matriculation procession.

The BU Shuttle (the BUS) will provide 20-minute (peak) and 30-minute (off-peak) service to the 12 regular weekday stops between the Charles River Campus and the Medical Campus during Move-in week, including Labor Day, Monday, September 2. Additionally, a Fenway Campus shuttle will provide service to five stops along its regular weekday route, including its Brookline Avenue at Pilgrim Road stop and 766 Commonwealth Avenue stop (directly across from the George Sherman Union) beginning Wednesday, August 28, and continuing through Monday, September 2.

During Move-in weekend, the Saturday daytime BU Shuttle will travel between the Charles River Campus and the Medical Campus. On the Charles River Campus, additional shuttles will run on Saturday and Sunday, stopping at 13 signed locations between Kenmore Square and Agganis Arena, from 9 am to 7 pm. (See map below.)

The annual Matriculation ceremony—the official welcome for the nearly 3,200 members of the Class of 2023—is at 2 pm on Sunday, September 1, at Agganis Arena, preceded by a procession along Comm Ave by freshmen emerging from their new residence halls. The procession kicks off at 12:45 pm at Myles Standish Hall.

Have a question about Move-in week? Leave it in the Comment section below, and we'll try to answer it quickly.