Alum's Book Exploring Female Desire and Sex Takes Off
Books
Alum's Book Exploring Female Desire and Sex Takes Off
For Three Women, Lisa Taddeo crisscrossed the country six times, getting women to share their most intimate thoughts
Just two years after leaving BU's Creative Writing Program with an MFA in fiction, Lisa Taddeo is on a hot streak. Her first book, a narrative nonfiction exploration of the private lives and desires of three women, debuted in July at number one on the New York Times best-seller list.
Katie Couric (Hon.'11) interviewed Taddeo (GRS'17) onstage at the book launch for Three Women, and rapturous reviews followed. "An extraordinary study of female desire," the Washington Post opined, comparing Taddeo's exhaustive reporting and elegant writing to Katherine Boo's Behind the Beautiful Forevers and Adrian Nicole LeBlanc's Random Family.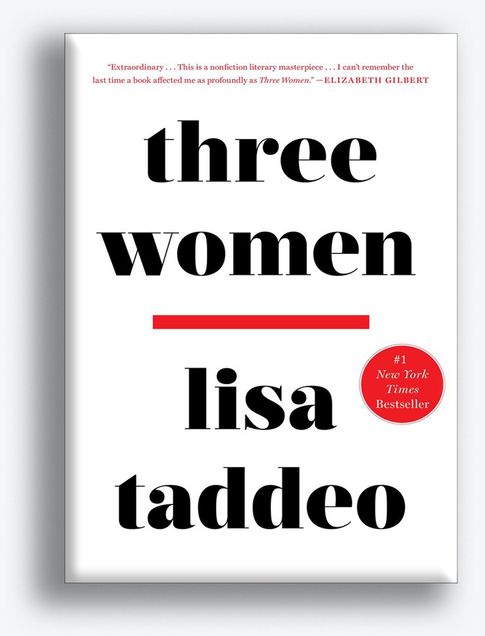 That was only the beginning. In August, following an intense bidding war, Showtime announced it had committed to a series based on the book—with Taddeo as executive producer and writer. "Lisa Taddeo has written the book of the moment," says Jane Winograde, Showtime Networks copresident of entertainment.
A journalist and contributor to New York magazine and Esquire as well as a fiction writer, Taddeo has won two Pushcart Prizes for her short stories. She spent a decade working on Three Women (Avid Reader Press), crisscrossing the country six times, posting signs in bars, restaurants, and casinos, seeking women—and men, too, until she decided that the women's stories were more interesting—who would talk openly with her about their sex lives and desires.

Single when she began her project, Taddeo, 39, stayed for a stretch in a rundown motel in Indiana, with only her affectionate chocolate lab Roo for company (in the course of her reporting, she met and married her husband, a filmmaker and writer, and gave birth to their daughter, who is now four).
Of the hundreds of women who spoke with her, Taddeo chose three for her book:

Maggie, a woman from Fargo, N.D., who at 23 brought criminal charges against the married high school English teacher who allegedly initiated a consensual sexual relationship with her when she was 17. (Maggie, whose court case was highly publicized, is the only one of the three identified by her real name.)
Lina, an Indiana stay-at-home mother who was raped in high school, falls into a loveless, sexless marriage and leaves her husband to find thrilling solace with her married former high school boyfriend in the back of his truck.
Sloane, a thin (and formerly bulimic), beautiful, happily married onetime Upper East Sider who runs a chic Rhode Island restaurant with the chef, her husband, who likes to watch her have sex with other people.
Taddeo followed the three women for years, moving to each of their towns for a period so she could immerse herself in their lives.

"It just made me feel so much more empathy than I'd ever felt before, towards other women, towards myself," she says.

Bostonia spoke with Taddeo, who lives in Litchfield, Conn., with her family, just as she was wrapping up a whirlwind book tour and media blitz. She spoke about what it was like to spend 10 years working on a book that her friends didn't even believe she was writing, why she wanted to examine the desires of the three women, and why those women entrusted her with their stories.

Bostonia: What's it like to be caught in this tsunami of attention?
Taddeo: I am overwhelmed. I just thought I was writing a quiet book. It was meditative. I wasn't trying to write a feminist tome. I was just someone who wanted to write about the human experience. I think that's what I did.

I've wanted to write since I was five. I wanted to be a short story writer, a teacher, and live in the Cotswolds or something. But that doesn't pay the bills.
During the years you were working on the book, were people starting to wonder what you were up to?
My friends stopped thinking I had a book contract. I didn't speak to my editor for one-year stretches at a time because I was ashamed that I hadn't done enough. I'd moved to all these different places, but to what end? My friends stopped asking about it—"Okay, she's in Indiana, whatever." They probably thought I was operating some Breaking Bad type of drug operation.
After your mother died, you've said, you were literally unable to leave your Manhattan apartment for days on end. But to report this book, you drove across the country several times, walked into strange bars looking for people to talk to about desire, moved to towns where you didn't know anyone. How did you do it?
It was very difficult, and at the same time, because I feel so nervous in general, sometimes the best thing I can do for myself is to not be inside my own head. Listening to other people helps me. It helped them to know I was going through things, too. We feel better when we feel that someone else has either been in our position or lived through it.
You write in your prologue that your Italian mother, who had a fifth-grade education and was very beautiful, told you that as she walked to and from work at a fruit-and-vegetable stand in Bologna, a man in his 60s began following her each day and masturbating. And how shocked you were by the matter-of-fact way she told you this.
It was much like Lina, when she told the support group of women [Taddeo ran the group as part of her work for the book] about being raped in high school, she said, "I didn't get a disease from it or get pregnant," and so it was like, that's okay… All these things add up. That's what I was exploring in my own life: these little dominoes—it's like you can't stop them, but you can explore which domino hits which domino.
You also write that you didn't ask your mother about her story—about her own desires. Was your book motivated in part by wanting to make up for that—to learn her story, in a way, by talking to these other women?
Yes, 100 percent, especially hearing about their moms, seeing what they did vis-à-vis what their mothers taught them. I started thinking about the things I did…about how much of it came from my mother—not only things I didn't hear from her, things that I did, things I osmotically absorbed…

I identify with Lina so much. She also spent the most time talking to me, giving me everything, beat by beat… From the moment when she walked into the room [for the support group]…and the way she did not care what the other women thought. She was like, "You don't know me until you've lived my life." That was so powerful to me. Her parents thought she should just accept what she had in life. I think some people just have an interior fire and I think Lina's one of them. That was one of the reasons I was attracted to her and her story.
How did you find Lina?
On one of my trips across the country, I went to the Kinsey Institute, in Indiana—it's a nucleus of sexuality. I met a couple of doctors. One of them told me he had a group of women he was performing hormone treatments on. They were losing weight and talking about their husbands, their partners, the way that they felt in their new bodies. He said, "I can probably ask some of them if they want to talk to you." Lina was one of them. We spoke by telephone when I was still living in New York. She didn't tell me what was going on with her, she just said she was willing to talk, she had a lot to say.
You seem to have found a way to channel your pain and anxiety into your work. People obviously trust you and tell you things—why do you think that is?
I'm incredibly nonjudgmental. I don't know why, because I can be a real [—]hole in other ways, especially with my family. But when it comes to people out in the world…it's not for me to judge another human being.

The same thing happens with desire, which is what Lina said: "Until you've lived in my brain, having been raped, then my husband not touching me for a decade, until you've felt those things, why do you get to say, 'Don't sleep with a married man,' unless it's your husband that she's sleeping with?" Talking to Lina, I wasn't thinking, oh, this woman is going to go across the world sleeping with men. She was just a hurt woman, having her own experience. Good or bad, it was hers. That was my point.
Was it hard for Lina to read about herself? The scenes in the truck were so detailed and intimate.
I gave them each the book with enough time to make changes or ask for omissions or additions. I told them—and anyone I interviewed—"If at any point you want to stop talking to me, or you don't want me to include x y, and z, then that's fine, I will obviously stop, I'm not writing an exposé about a political candidate." I think that's one of the reasons, beyond the fact that I was showing myself to be nonjudgmental, that made people comfortable.

With Lina, she said, "Thank you, but I don't think I can go back to that place in my heart because it really hurt. I'm happy it's in the book, and I hope it helps someone."

With Maggie it's been the exact opposite—she said it had given her closure… She's blown away—by people just listening to her… Women, mostly young women, have been writing to her, from across the world, from South Africa, from all these far-flung places, and many in North Dakota who at first said they didn't believe her…[now saying] that they always believed her.
Do you feel protective of Maggie?
Yes, I'm protective of all three of them. I'm very concerned about the other two women being discovered… Can't we just learn from what this person has told us, accept that as a nonpublic figure, they don't need to tell you who they are, they don't want to? They were brave enough to go out there with this story.
Was it hard to write the sex scenes—like the ones with Lina and Aidan in the truck?
The consideration was, I don't want it to be clinical, I also don't want it to be like I'm writing erotica. I wanted to sort of find an in-between. I didn't want to use the word [c–k]—I think I did use "penis." I want it to be beautiful.

I love talking about sex, clearly, but I don't want to write about sex that's going to seem like just sex. Which, specifically for Lina, it wasn't. She was finding herself in these moments. I wasn't asking her the specific questions. She was volunteering them because they were important to her. She had not found that kind of sex. She had not found her body in that way. She'd been raped and then abandoned by her husband. For her to feel sexy, to feel all these feelings that it was making her feel, it was just really important. I'm pretty sure I included an entire [narrative] she sent me, where she literally went thrust by thrust. I couldn't have written it better.

That's another thing with Lina. She was exact and precise, in the same way you would want a diary to so perfectly record an experience and what it made you feel, that when you're 80 years old, and you're sitting on the porch, and your grandchildren haven't visited for three weeks, you can remember, wow, that was something I did that made me feel alive. That was my point with that.
This interview was condensed and edited for clarity.
Read another interview with Lisa Taddeo on the Creative Writing program website.