Black Girl Baking Brings Healthier Twists to Cookies, Cakes, and More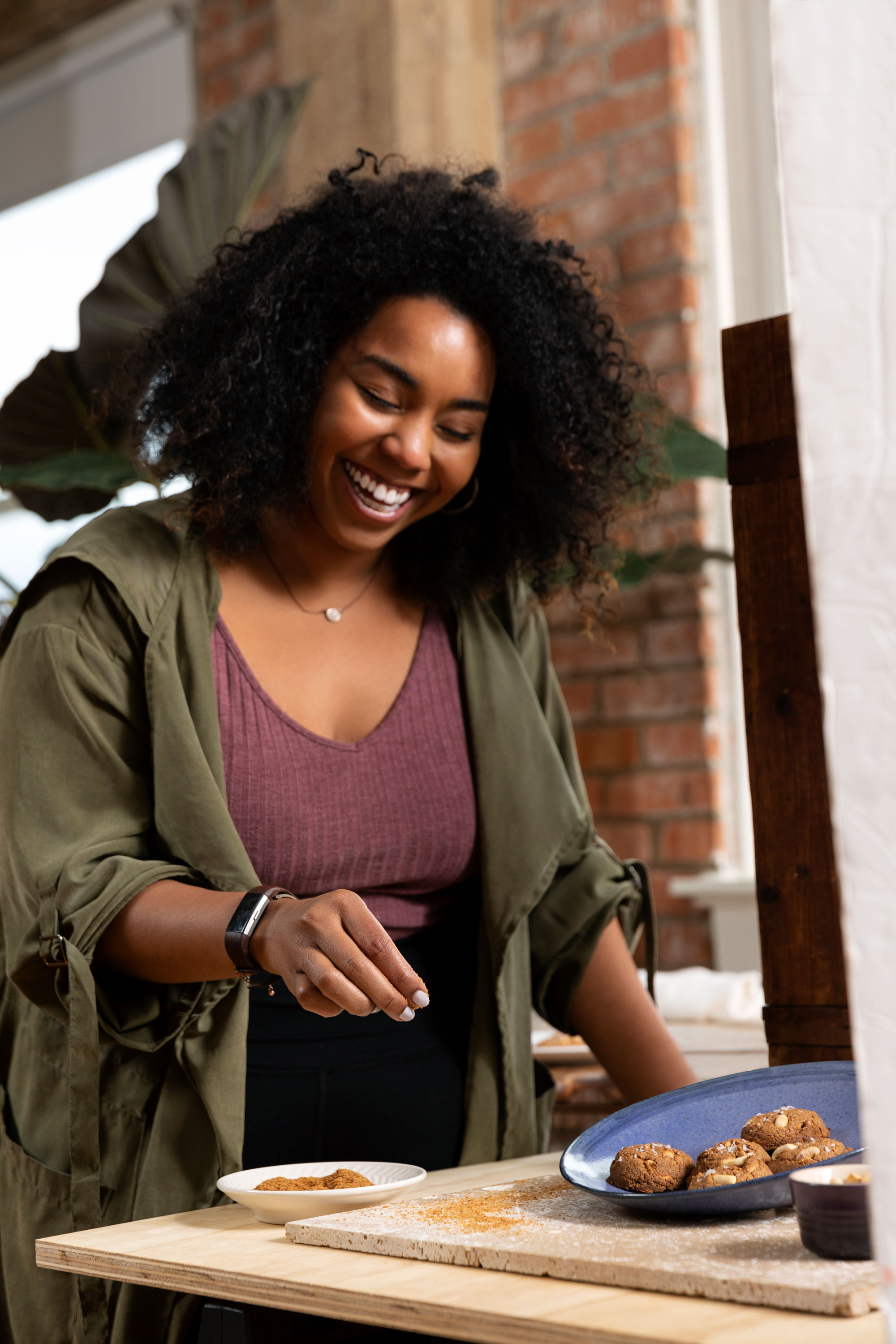 Food
Black Girl Baking Brings Healthier Twists to Cookies, Cakes, and More
Jerrelle Guy's recipes are inspired by the flavors and memories of her childhood
Jerrelle Guy's first culinary memory is vivid: she and her older sister concocted an everything-but-the-kitchen-sink parfait for their mom on Mother's Day. She was five or six years old at the time, and the two girls stuffed all of the sweets they could find in the house—Oreos, candies, crushed-up chocolate bars—into a glass. "There was some milk in there too, I think," says Guy (MET'18). "Who knows what else was in there, but we put so much thought into the layers of that cup. I felt pretty proud."

It was the start of Guy's lifelong love of cooking and baking. Over the years she's launched a baking blog and worked in food photography, then earned a master's in gastronomy at Metropolitan College. In 2018, she published her debut cookbook, Black Girl Baking: Wholesome Recipes Inspired by a Soulful Upbringing (Page Street Publishing). Besides being nominated for a 2019 James Beard Book Award, Black Girl Baking won praise from celebrity chef Carla Hall, who says the book has a "rhythm and a realness to it," and from Self magazine, which named it one of the "16 Best Healthy Cookbooks of 2018," citing Guy's use of whole grain flours and less-refined sweeteners. The success of the cookbook also landed Guy a gig contributing recipes to the New York Times.

She was inspired to write the book by the Black Girl Magic movement, started as an online hashtag in 2013, which aims to celebrate the achievements of black women. "Baking is my favorite way to make sense of the world and to empower and recenter myself," she says.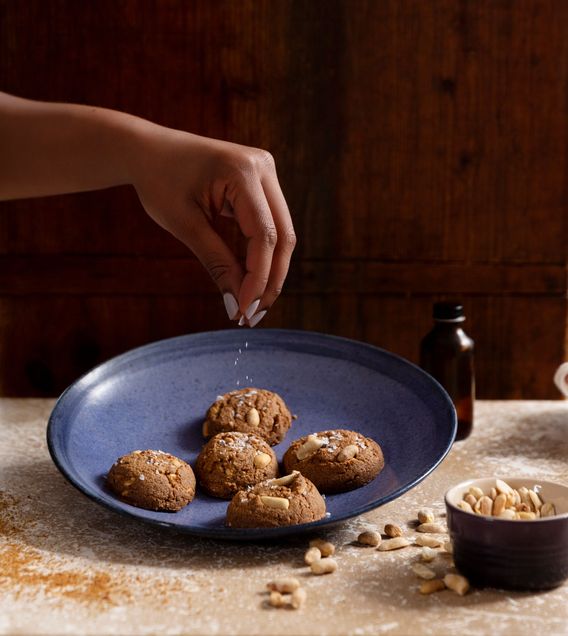 Guy grew up in Lantana, Fla., a small town in Palm Beach County, the daughter of a Guamanian mother and a Southern-born father. The flavors and memories of the foods she ate growing up—catfish dinners, buttermilk biscuits, and hearty stews kicked up with soy sauce and white vinegar—inform the food she makes today and the recipes in her cookbook, like Chestnut Skillet Cornbread, Five-Spice Coconut Rice Pudding, and Smoked Okra Dip. Still, she stresses that "none of the recipes in the book are passed down from multiple generations—all of them were inspired by past moments that I then reimagined into something entirely new that fit where I was at the time."

In that sense, Black Girl Baking is as much about Guy's food journey as it is about the 80 delectable recipes she has created. She has filled the book with stories about her childhood, and she describes her ever-changing relationship with food and cooking. As a child, she writes, she was classified as overweight, and as a teenager she started eating a vegan diet that she maintained for years. Most of the recipes in the book are vegan.
"My diet is constantly evolving. I'm always learning about what my body likes and doesn't like, what I like and don't like," Guy says. "When I wrote Black Girl Baking back in 2017, I only occasionally baked with eggs, so a lot of its recipes call for a flax egg slurry instead, which is just ground flaxseeds mixed with water. But I've been eating lots of eggs lately—the New York Times asks me to test with actual eggs for the sake of accessibility and consistency. And shockingly, I also always bake with a scale now. I am a strong scale supporter. I still keep a free spirit in the kitchen, but I wanted to work on being a better translator of my experience, too, so I can share my food more effectively with people, and the scale definitely helps me with that goal."

While most of her diet is plant-based these days, Guy does develop recipes that have dairy, refined sugars, and white flour, like her Sheet-Pan Chocolate Chip Pancakes, which she created for the New York Times. "I happily sample my tests, and then some," she says.

Guy had amassed a sizable following through her food blog, Chocolate for Basil, and the Instagram account associated with it. She studied illustration at the Rhode Island School of Design and had dabbled in photography. After graduating, she got a job as an assistant to a food photographer in Dallas. (She took all of the photos in Black Girl Baking.) Shortly after, she applied to MET's gastronomy program: "I wanted to understand why I was so in love with food."

Guy recently moved back to Dallas and has launched a food photography business, EJC Studio, with her partner, Eric Harrison. She has photographed other cookbooks, including Jubilee: Recipes from Two Centuries of African American Cooking (Clarkson Potter, 2019) by Toni Tipton-Martin. And she continues to develop new recipes.

She hopes Black Girl Baking inspires readers to get creative in the kitchen. "There is value to gain in finding your own voice in the kitchen, to not only use recipes, but to try to invent things of your own. I wanted to show the beauty of the process—it's less about the finished product—which was something that was drilled into me throughout art school, and it's how I can't help but approach cooking now. I think it's how you get the most growth out of any experience, and I hope readers learn some or all of those things."

Jerrelle Guy's recipes for A Poet's Peanut Butter Cookie and Cocoa Gingersnap Cookies.
---
A Poet's Peanut Butter Cookie
Vegan, Whole Wheat
Makes 24 cookies
Ingredients:
1 cup (180 g) creamy all-natural unsalted peanut butter
½ cup (120 g) room temperature virgin coconut oil
2 cups (190 g) coconut sugar
2 tsp (4 ml) vanilla extract
¼ cup (60 ml) flax eggs, at room temperature (see below)
1 ½ cups (145 g) white whole wheat flour
½ tsp baking soda
½ tsp salt
⅔ cup (120 g) roasted unsalted peanuts
Sea salt flakes, for sprinkling (optional)

Directions:
Preheat the oven to 375℉ (190℃ or gas mark 5). Have 2 lined baking sheets nearby.

In a bowl with a handheld mixer or in a stand mixer, cream the peanut butter, coconut oil, sugar, and vanilla until smooth. Add the flax egg slowly, beating until combined.

In a separate bowl, combine the flour, baking soda, and salt. Slowly add the dry ingredients to the wet, mixing until just combined. Fold in the roasted peanuts, if using, then using an ice cream scoop, drop spoonfuls of the dough onto the prepared baking sheets, leaving 1 to 2 inches (2.5 to 5 cm) of space between each cookie. Sprinkle with the sea salt flakes, and bake for 12 to 15 minutes, or until just browned and puffed. Remove from the oven, allow to cool for 5 minutes before serving.
Notes:
For any natural peanut butter you're using, be sure to stir it well before measuring, because the oil separates as it sits
Add ½ cup (87g) of chocolate chips if desired when folding the peanuts
Oat flour can be used in place of white whole wheat flour
To make the flax egg, combine one part ground flax to three parts water; allow to thicken
---
Cocoa Gingersnap Cookies
Egg-Free, Vegan Option
Ingredients:
6 tbsp (84 g) softened butter or virgin coconut oil
1 cup (200 g) granulated sugar
2 tsp (10 ml) vanilla extract
1 tsp packed fresh grated ginger
1 tsp packed orange zest
⅓ cup (80 ml) flax eggs
3 tbsp (60 g) unsulfured molasses
1½ cups (180 g) white whole wheat flour
½ cup (60 g) cacao powder or cocoa powder
2 tsp (5 g) baking soda
2 tbsp (12 g) ground ginger
1 tbsp (8 g) ground cinnamon
1 tsp salt
Sugar in the raw, for rolling
Directions:
Preheat the oven to 375℉ (190℃ or gas mark 5). Position 2 oven racks in the center of the oven, and have 2 baking sheets lined with parchment nearby.

In a large mixing bowl with a hand mixer or in a stand mixer with a paddle attachment, cream the butter, granulated sugar, vanilla, grated ginger, and orange zest until very fluffy, about 3 minutes. Then slowly add the flax egg and molasses and continue to beat until creamy. Sift in the flour, cacao powder, baking soda, ground ginger, cinnamon, and salt and continue to beat until just combined. Let the batter sit for 10 minutes.

Roll 1-inch (2.5-cm) balls of dough in your palms, and then into the raw sugar to coat. Place the cookies on the baking sheet with about 2 to 3 inches (5 to 7.5 cm) between each one, and bake for 15 to 20 minutes, or until cooked and crispy. Remove from the oven and allow to cool for 5 minutes and then transfer to a wire rack to cool completely, at least 1 hour, best overnight uncovered, before eating so they make a snap.

Notes:
It's important to let these cookies cool for a while, or overnight if you can, to amplify the sound of its break
To make the flax egg, combine one part ground flax to three parts water; allow to thicken
Oat flour can be used in place of white whole wheat flour
The cookie dough can be chilled after mixing to make them easier to roll into the sugar