Author Elizabeth McCracken Hates Elves, Loves Fortune Cookies
Inside a writing workshop led by alum, whose new novel Bowlaway is as beautiful as it is strange
"You have to think: I am a genius with much to learn. This is a little motto I always give writers on the first day of workshop," Elizabeth McCracken tells me and the five other short story writers gathered around the table.
McCracken (CAS'88, GRS'88) is one of three authors invited to teach at the 2019 Tin House Winter Writers Workshop, hosted at the famous Sylvia Beach Hotel in Newport, Ore. We're gathered in the hotel's Tables of Content restaurant, with windows overlooking the Pacific Ocean.
Throughout her 30-year teaching career, McCracken has developed a workshop style that puts emerging writers at ease. She takes our stories seriously, but not herself.
"I hate elves," she tells us, provoking surprised laughter. "I'm glad none of you wrote about them. Even still, your stories are all very strange. That's my highest compliment."
That is high praise from a writer whose own work is staggeringly strange. In her debut novel, 1996's The Giant's House, short-listed for the National Book Award, a taciturn librarian falls in love with a boy who can't stop growing. In the short story "Something Amazing," from her collection Thunderstruck (long-listed for the National Book Award), a mother grieving the loss of her daughter kidnaps and bathes a neglected child. And in her sixth book, the novel Bowlaway (Ecco Press, 2019), "jowly, bosomy, bottomy, odd" Bertha Truitt opens a candlepin bowling alley that becomes the backdrop of a sweeping multigenerational family drama. (McCracken grew up in Brighton, Mass., playing candlepin bowling—poorly—in a league.)
McCracken, who holds the James A. Michener Chair in Fiction at the University of Texas at Austin, laces her work with distinctive humor; in her stories, the fantastical exists side by side with—and reveals the often tragic absurdities of—everyday life. At Tin House, less than a month before the launch of Bowlaway, she welcomes the opportunity to focus on other writers' work for a while.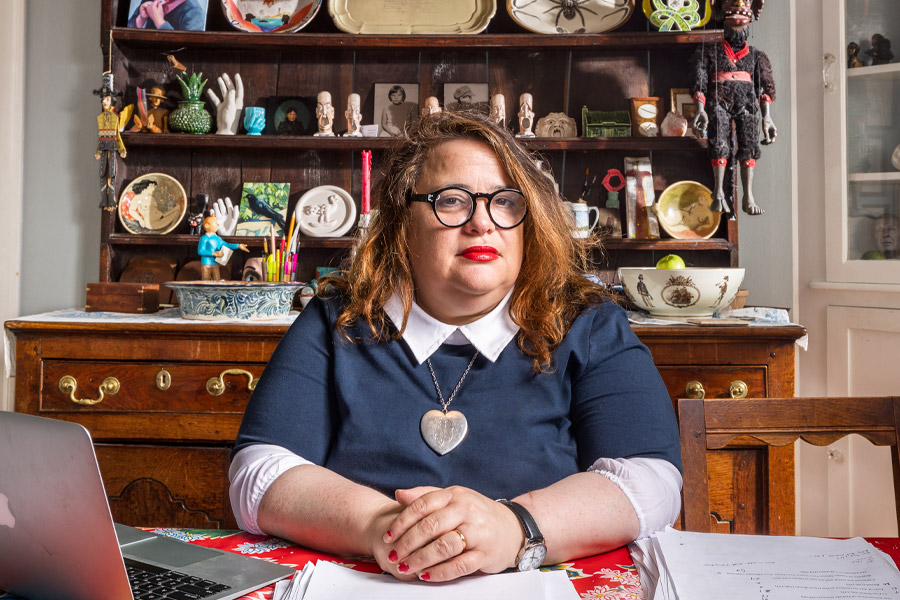 Finding the Cow in the Butter
McCracken establishes her rules for the workshop: following the traditional MFA format, the writer whose work is discussed will remain silent; as the leader, she will speak last, and the writer will have an opportunity to ask questions at the end. That's the practice she experienced on the opposite side of the workshop table as a student at BU, where she earned a BA and an MA and studied with poets Derek Walcott (Hon.'93) and George Starbuck, thinking she might be a poet. (Her father taught in the English department and later was an assistant to the late John Silber [Hon.'95], a BU president emeritus; her mother worked in BU's development and communications offices.) McCracken committed to fiction when accepted into the Iowa Writers' Workshop.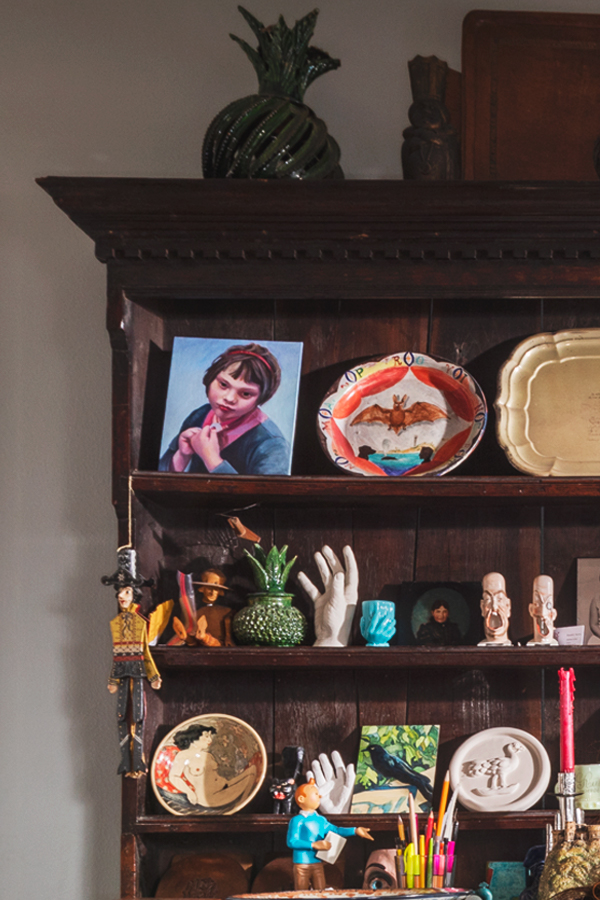 At Tin House—as at UT Austin—she leads a critical but genial workshop, interjecting only to clarify points and keep the discussion on track. When offering her own feedback, she refers to her notes on a Kindle. (It's a lifesaver during admission season at UT, when she reads hundreds of applications. Reading for pleasure or research, however, the former librarian prefers physical books, which she organizes in her home alphabetically and by genre.) She offers us positive feedback first, noting each writer's particular strengths, then hones in on key points that blow our stories open for revision.
That expertise is hard won. In workshop, McCracken draws upon her own strategies for plotting, pacing, characterization—story elements she still contends with when writing and revising a piece. "In early drafts, sometimes the characters' bad habits become the story's bad habits," she says. In late drafts of Bowlaway, for example, the character LuEtta Mood was still "submerged," which made the narrative around her fuzzy.
McCracken devoted a whole revision to developing LuEtta, "really thinking about things from her perspective. I wanted her to start bowling as more than just a hobby, but as something she needed to survive." She decided that LuEtta should have lost a baby, which brought her character into focus.
Allowing a character to skate through a story conflict-free is "a side effect of deep sympathy with your character" in early drafting, McCracken says. "In later drafts, we have to go from loving parents to unforgiving gods. Revision is the process of letting worse and worse things happen to your characters."
A self-proclaimed fan of metaphors and aphorisms, McCracken likens herself to Norma "Duffy" Lyon, known as the Butter Cow Lady, the first woman to carve cows out of butter at the Iowa State Fair. "I am a writer who in a first draft has to churn my own butter, then find the cow in it," she says.
To find that cow faster, she's learned to make decisions off the page, particularly when it comes to plot. "If I try to make a decision about plot while I'm writing sentences, I seize up. When I was younger, I spent a lot more time trying to make the right choice about who the character is going to be, about what happens next. As I've gotten older, I've gotten to the point where I make a decision and follow it."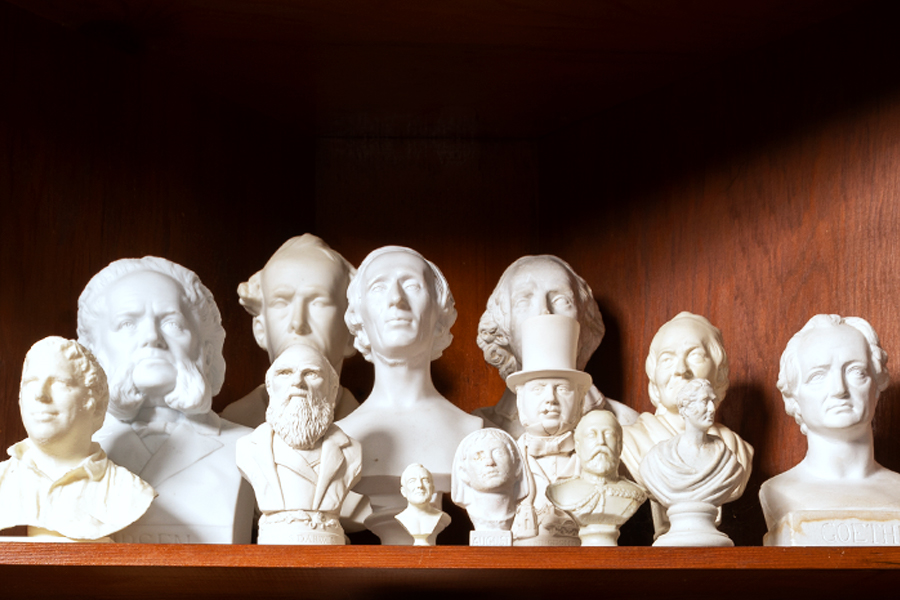 A Magical Artistry
This weekend on the Oregon coast is a rarified time of restfulness for the author and teacher. Within a month, Bowlaway will launch, reviews will pour in, and McCracken will embark on an eight-city promotional tour. For now, though, she sinks into the dreamlike atmosphere of the Sylvia Beach Hotel, where each room has a literary theme. She is staying in the Colette suite, whose décor is inspired by the author's French Provincial retreat. It is beautiful, dangerous, absurd, not unlike McCracken's work; French doors open to a private deck overlooking the ocean, there's a tsunami evacuation map taped to the bathroom door, and "a concrete cat under a nightstand that startles me three times a day," she tweets.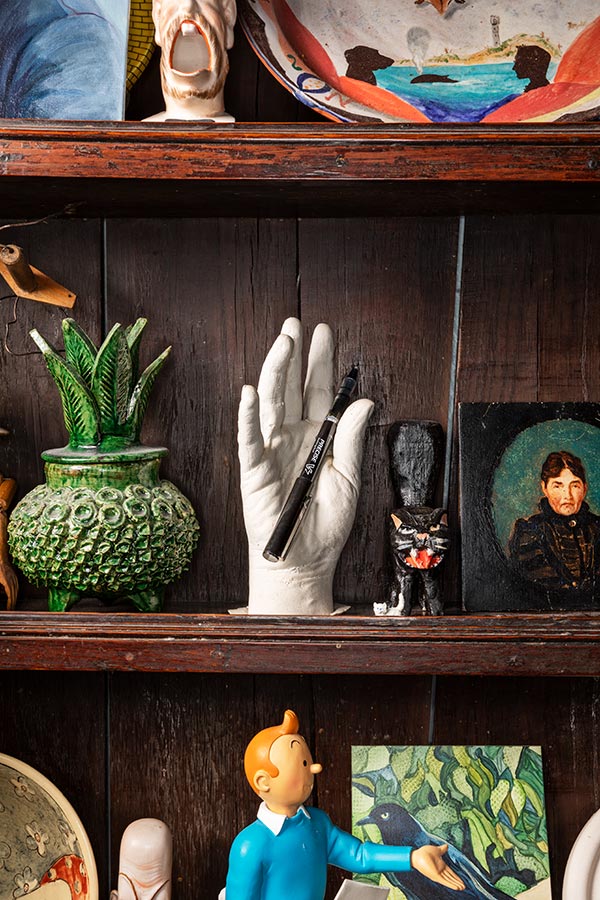 "A room all by oneself is kind of a magical experience," says the mother of two young children (she lost a third in the ninth month of pregnancy, the inspiration for her 2008 memoir An Exact Replica of a Figment of My Imagination). She and her family—her husband is playwright and novelist Edward Carey—live in a Texas bungalow packed with artifacts both personal and patently strange. Among them: a doll handmade by Carey that features McCracken's hair and served as a prototype for a doll of Bertha Truitt that haunts the bowling alley in Bowlaway.
Between workshops, lectures, and reading UT applications, McCracken strolls on the beach and through the seaside town, cutting a figure out of one of her own novels, in her bright red lipstick and signature kraken necklace. (McCracken leans into the whimsy of her name; the legendary sea monster peers over the top banner of her website too.) She tweets her observations, including during an outing to the Newport Ripley's Believe It or Not Museum. ("I would probably go anywhere with the promise of a really good run-down tourist museum, I love them so.")
She enjoys Twitter, she says, because "I like the short form. I like the zing, the one-liner. I like fortune cookies. I like aphorisms, which is why I say things like, 'Sometimes the characters' bad habits become the story's bad habits'—little pieces of wisdom that sound right, even if they're not."
McCracken's love of a perfect playful line translates to the broader canvas of her stories. She's obsessive about her sentences and will rewrite them until they achieve a magical artistry. Bowlaway is full of them:
"The eyelashes of the dozing are always full of meaning and beauty, telegraph wires for dreams, and hers were no different."
"Beer turned on the lights, warmed the furniture."
"He had that knack for pointless devotion; his body was built on bowling angles."
During the Tin House faculty reading at Canyon Way Bookstore, McCracken reads from a galley of Bowlaway for the first time. She shares the chapter where a character is killed in Boston's Great Molasses Flood of 1919, a real-life tragedy that occurred when a molasses tank exploded, sending a 40-foot wave through the city's North End, killing 21 people. The flood is one example of McCracken's literary obsession with bizarre history.
Other obsessions veining her work include mothers grieving the loss of a child, women who don't play by the rules (Bertha Truitt casts off her corset), dioramas, absurd and tragic deaths (a case of spontaneous combustion), the uncanny (that doll), and seemingly mismatched couples, a preoccupation she traces back to her own parents: "My father was six-foot-three and more than 300 pounds, and my mother was four-eleven. He was Presbyterian; she was Jewish. He was shy; she was very outgoing."
Obsessions run deep in the McCracken family. The seed that became Bowlaway was inspired by her grandfather's love of genealogy. As the editor of The American Genealogist journal, he "drove around in his little car," visiting city halls throughout the country to research family records, a pastime McCracken likens to code-breaking. She inherited his bound genealogies and became intrigued by the fact that "more people are born and die in 10 pages of a genealogy than in any other kind of book." They also inspired her "to try to compress generations into a single novel."
McCracken's own inspirations and obsessions are impossible to categorize—her books defy description. Even the New York Times struggles to classify the latest novel in a rave review: "Bowlaway is a large and caterwauling sort of opera buffa, packed with outsize characters—some with recherché talents—and wild, often dreamlike events. If this novel were a bar, it would be the kind of joint where the Christmas lights are left on all year long."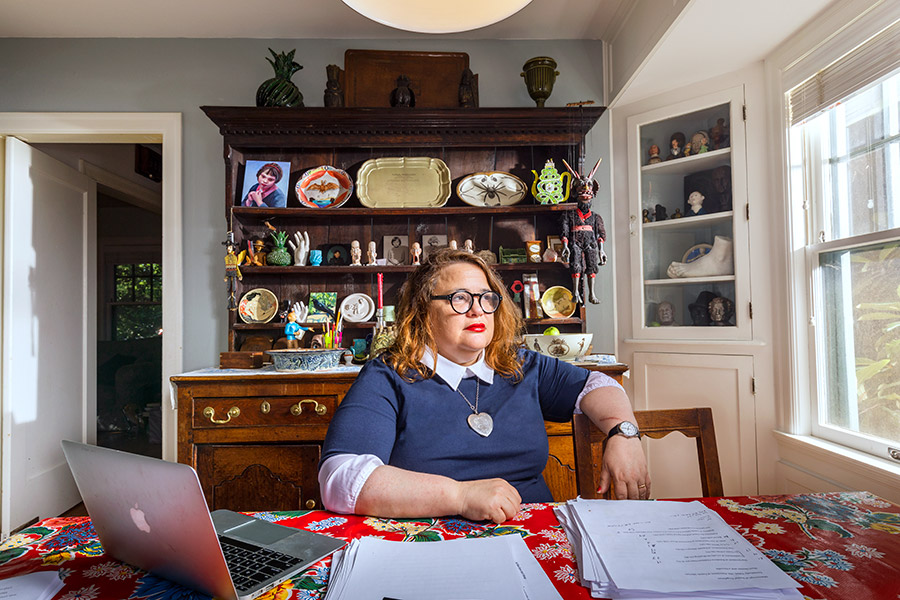 On Failure
Although McCracken's work is wildly successful—earning starred reviews in major publications, two National Book Award nominations, the Story Prize, grants and fellowships from the Guggenheim Foundation, the National Endowment for the Arts, and other awards—critical acclaim is never a sure thing, and she tries not to think about publishing when writing.
"In the writing part of your life, you have to be an obnoxious monster with huge faith and interest in your work—and in your publishing life, you have to be a Buddhist monk," she says. "It's incredibly hard." Especially when failure is intrinsic to her craft.
McCracken has set aside three complete novels and dozens of false starts. She's turned down dead-end roads in pursuit of plot. She still agonizes over sentences. "To do something, get better at it, enjoy it, you have to have a stomach for failing at it," she tells us on the last day of workshop, in a lecture titled "On Failure."
"You have to be full of hubris and ambition to write, but you also need to cede control to the reader and be willing to fail in multiple living rooms," she says.
Failure is as fundamental to McCracken's life and work as language, love, and all things uncanny. When talking about writing, she is practical and self-effacing, almost mystified by her own process. A Twitter follower asked her when a writer knows they're finished with a story. Her reply: "The problem is, I don't!"