Biologist and Lego collector Cynthia Bradham finds inspiration in the tiny building blocks of life
Biologist and Lego collector Cynthia Bradham finds inspiration in the tiny building blocks of life

Biologist and Lego collector Cynthia Bradham finds inspiration in the tiny building blocks of life
Cynthia Bradham
flips the light switch in the basement of her suburban home, illuminating a Lilliputian city filled with people, trains, cars, and trucks. A red monorail zips above the streets. A bright blue river, heavy with boats and edged by harbor cranes, cuts through the center. A towering wind turbine turns. An amusement park thrums with the spinning, swooshing sounds of a roller coaster, a Ferris wheel, and a carousel.
Bradham's face radiates with joy as she surveys the city it took her 10 years to build—using only Lego. Even in the dim subterranean light of her basement, it's astonishing. Built on waist-high tables, this private Legoland—made from more than 100 sets and tens of thousands of plastic bricks—stretches from one end of a 150-square-foot room to the other, leaving just about enough space for visitors to squeeze by its sides. Bradham also has a fleet of pirate ships, a galaxy of Star Wars models, and dozens of buckets filled with Lego trees, doors, wheels, and more.
"I'm a Lego black hole," says Bradham, who has three basement rooms dedicated to the plastic bricks. "Lego can come in, but it cannot leave."
It's rare to find a midcareer professional with a toy collection most kids would die for. But that's only half the story. Bradham is also among the top scientific minds in her field.
Her hobby spills over into her office at BU, where she displays 23 carefully placed, exquisitely detailed Lego models: a blue crane with a working grabber, a roaring, stomping dinosaur, the Beatles' yellow submarine, a Sopwith Camel biplane. The toys share shelf space with dense volumes on gene expression and human anatomy and framed copies of the journals—Science , Development , Developmental Biology—that have showcased her research.
Bradham, a College of Arts & Sciences associate professor of biology, studies the larvae of the sea urchin Lytechinus variegatus. As adults, the sea urchins look like spiny, globular pin cushions, but at 48 hours old, they're visually arresting: ethereally transparent and shaped a bit like a badminton shuttlecock, they shimmer in a rainbow of colors. She is on a mission to figure out the plans nature uses to create these microscopic jewels and apply that knowledge to improving our understanding of a wide range of issues related to human development, including cancer, birth defects, regenerative medicine, and the growth of new organs.
The way she describes her love of Lego echoes the way she talks about her research. Just as with Lego, she's fascinated by the design of the sea urchin, how its constituent parts come together to form the whole: "I see a lot of commonality between designing structures you would build with Lego and biological structures," Bradham says. Just as with Lego, she's entranced by the visual beauty of the newborn urchins.
"I could sit and watch them swim all day and be happy; it looks like they're made of blown glass with diamonds inside," she says of the sea urchin larvae. "The skeleton is crystal—it's made of calcium carbonate—and crystals have a property called birefringence, so when you shine polarized light on them, they bend the light twice and the light interferes with itself and makes these gorgeous rainbow colors."
That's one of the things that strikes you most about Bradham: her combination of a child's delight in the beauty of the world and a scientist's inquisitiveness about how it came to be.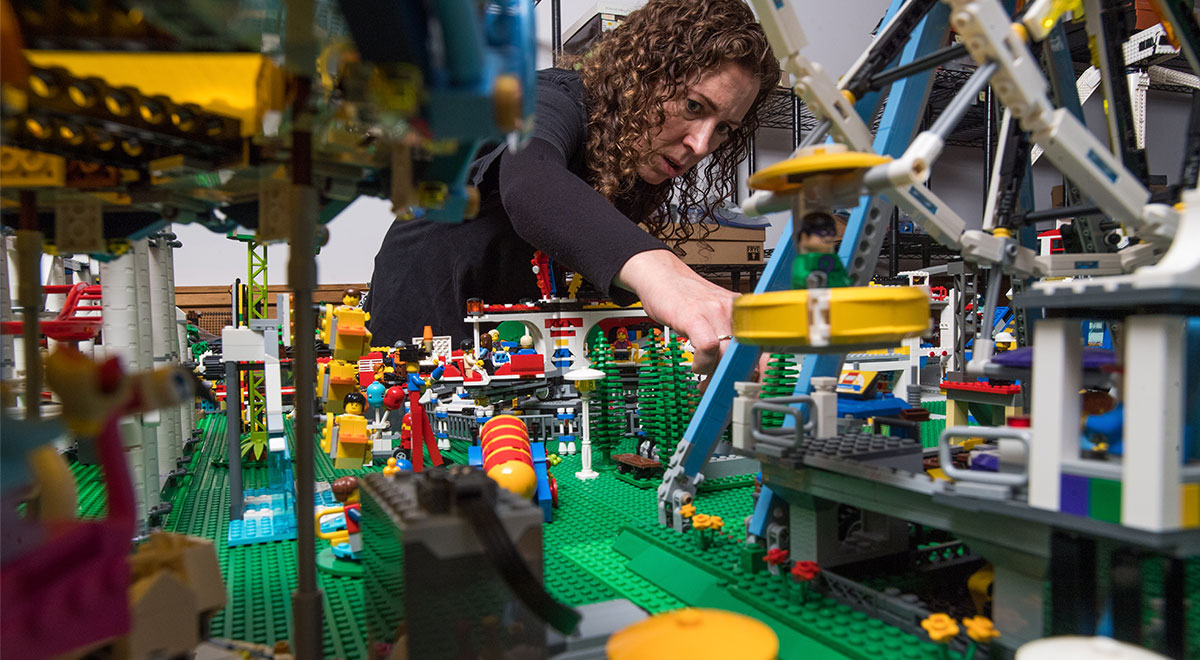 CITY OF A TRILLION BRICKS
The more than 100 sets that make up Bradham's Lego city took her 10 years to acquire and assemble—all while becoming a leading developmental biologist.
Set 760-2: London Bus
Bradham clicked her first Lego bricks as a Wisconsin fifth grader in the mid-1970s with a 42-piece helicopter and ambulance set—officially her younger brother's, unofficially requisitioned—then a 110-piece red London bus that she didn't have to share. She still has the bus—and its original 1975 box.
"I loved all the little pieces coming together and the satisfaction of that disorder, that chaos, becoming this orderly thing," she says.
Back then, there were flashes of what would come: Bradham kept every tiny piece, memorized the instructions, and catalogued her growing collection. "I was a junior scientist for sure," she says. She filled notebooks with sketches of entire worlds made from Lego.
"When I was a little girl, my fantasy was to build all my sets and have them in one integrated display," says Bradham. "This has been a concept in my head forever."
Bradham continued adding new Lego sets every year, even as she pursued her other dream: a PhD in biochemistry and biophysics and a career studying developmental biology. When she started earning a monthly check as a postdoctoral fellow, first at the University of North Carolina at Chapel Hill, then at Duke University, her collecting went into a higher gear.
"I had two storage rooms rented to house my collection because our house was too small," she says. When she bought her current home two years ago, "it was an absolute requirement that there be a decent basement for my Lego."
Now, she has more than 1,000 Lego sets and around a quarter-million individual bricks and parts. It's one of the biggest private Lego collections, probably among the top 800, in the world. Sometimes, she'll go down to the basement to tinker, sometimes to build, and sometimes just to look.
"This is where she can relax and be at peace with herself," says Bradham's wife, Evangeline Reynolds.
Bradham isn't the only big kid playing with Lego: David Beckham, Mark Wahlberg, Britney Spears, and Ed Sheeran admit they still love the toy. The Danish company now caters to its adult enthusiasts—who call themselves AFOLs, adult fans of Lego—with fiendishly complex, premium kits: a 5,923-piece Taj Mahal ($369.99), a 4,295-piece Tower Bridge ($239.99). There's also an expansive community of master builders, Lego fans ignoring the instructions and making their own creations, which they share at conventions, online, and in art galleries. Bradham has designed and built a resort cabin, a castle, an observatory, and (fittingly) a laboratory; her castle and observatory won design awards at national Lego conventions.
"Lego is interesting because it's a child's toy, but it's become an adult art form," says Dave Schefcik, news editor at the Brothers Brick, a news and resource site for Lego's grown-up fans. Schefcik says Lego's journey from toy to cultural phenomenon—the three pre-2019 Lego movies took a combined $1 billion at the global box office—has helped take the adult market into the mainstream.
Many adult fans gave up on Lego during their teenage years, then got back into it when they had kids. Bradham never let it go. And she's not embarrassed about her hobby.
"When I got to college, I decided I wasn't going to care what people thought," she says. It's an attitude that stretches beyond Lego. She dropped out of high school in 1981, her junior year. "They wouldn't let me graduate early, so I said, 'Fine, I quit, I'll take the GED and go to college next year instead of senior year.'" She also talks about her relationship with her wife—they've been together for 24 years—in similar terms. "We fell in love before it was cool to be gay," she says.
"I'm willing to not be what you're supposed to be," Bradham says. "I'm going to live the life that makes me happy and fulfilled; I'm not trying to please everybody else."
From One Cell to Trillions
Bradham's building skills aren't restricted to Lego. In the corner of the Bradham Lab, on the sixth floor of BU's Life Science and Engineering Building, are three lidless, barrel-size plastic tanks steadily gurgling with water. Bradham built the bright blue tank system to house adult sea urchins. Dozens of the spiny, clementine-size echinoderms—the same family as sea cucumbers and starfish—inch around each tank, a few lurking on the bottom, but most clinging to the sides with their tiny tube feet. The adults aren't used in her research, but their offspring are. Female sea urchins can spawn millions, even billions, of eggs at once, producing a vast stock of embryos to study.
Their focus is on the first 48 hours of life.
Sea urchins start life as one cell, just as humans do. That one cell becomes 2, then 4, then 8, and after two days, about 2,000. By the end of its larval stage, the sea urchin might have around 50 times that number; newborn humans will have about two trillion.
It's the magic of that journey from one to trillions that fascinates Bradham, how a cell knows to start making a lung or to begin the cascade of division that will give someone five fingers on each hand. "That single cell becomes you," she says. "Doesn't that just blow your mind?" Biologists call this process, where the cells that make up organs and tissues organize into structures, pattern formation.
"I see a lot of commonality between designing structures you would build with Lego and biological structures."
Although it's difficult to study in humans, pattern formation is comparatively easy to watch in sea urchins. For a start, sea urchin larvae are transparent. They're also simple creatures: even adults have only about 15 to 20 different types of cells; humans have at least 200. But what's important is that the steps they're taking in the first days of life—cells dividing and diversifying—are remarkably similar to the processes we go through.
"Developmental mechanisms are very highly conserved in evolution, so the way you develop and the way a fruit fly develops is surprisingly not very different in terms of what's going on molecularly and cellularly," says Bradham. That means lessons learned from sea urchins can be applied to the study of human development and misdevelopment, such as birth defects and cancer metastasis.
When she joined BU's faculty in 2008, Bradham started a project to identify many of the genes responsible for patterning the sea urchin skeleton using systems biology, where math and computer science help decode how organisms are structured and how they work. One of her early discoveries was that those same patterning genes "are implicated in some aspect of metastatic progression," she says. When cancer cells travel around the body, they're acting in the same way—albeit with more menace—as those cells that help an embryo develop. Bradham, whose work is primarily funded by the National Science Foundation, hopes that with a better understanding of why, for instance, lung cancer cells invade the brain, we might be able to block them.
According to Dave McClay, a Duke University professor of biology and Bradham's postdoctoral advisor, Bradham is increasingly seen as one of the leaders in her field. He says her thoroughness in scrutinizing all the signals being thrown out by molecules in cells is unusual. "Her work sets her apart from anyone else," McClay says.
Instructions for Life
Today, Bradham uses the gene information she uncovers to mess with the cell specification process. By injecting a molecule known as a morpholino oligomer into the fertilized sea urchin egg, she can turn off certain genes—those she thinks have a role in telling a cell where to go or what to be—and then watch what happens. It's a process she and her team of nine graduate and undergraduate students repeat, slowly building a picture of how the skeleton, symmetrical like the human skeleton, develops and what might cause defects.
"It's the reverse of Lego," Bradham says. "With the Legos, you start with an instruction book and you build the thing. Here, I'm starting with the built thing and I want to figure out the instruction book."
She mostly uses Lego as an escape from the pressures of her day job—the push to make breakthroughs, the scramble for research funding—but she has a plan to combine them both: a Lego model of a sea urchin skeleton.
"I want to make mosaics of the skeleton," says Bradham. She already knows what parts—colored, transparent tiles—she'll need. "Then I'll light it from behind and it'll look spectacular."
First though, she'll need to figure out the instructions.