New Film by the City of Boston about the Markers Commemorating Lives Lost in the 2013 Boston Marathon Bombings
Film & TV
New Film by the City of Boston about the Markers Commemorating Lives Lost in the 2013 Boston Marathon Bombings
Documentary focuses on the Copley Square memorial paying tribute to BU student and two others
Most people know the details of the 2013 Boston Marathon bombings that killed 23-year-old BU grad student Lu Lingzi (GRS'13) and two other spectators, 8-year-old Martin Richard and 29-year-old Krystle Campbell. Now, more than six years later, there are two ways to reflect on one of Boston's darkest days.

You can visit the two separate memorials recently installed near the marathon finish line, by the Boston Public Library on Boylston Street in Copley Square, just feet away from where the two blasts occurred. And you can watch the city of Boston's newly released, powerful eight-minute documentary about the making of the memorials, Re-Marking the Boston Marathon.

The film opens with the voice of President Barack Obama solemnly describing the city's reaction to the events of April 15, 2013, and the manhunt for the bombers, brothers Tamerlan and Dzhokhar Tsarnaev, that followed. "On this Patriots Day, in an instant, a celebration became a tragedy," the president says in a speech he delivered at an interfaith prayer service for the victims at Holy Cross Cathedral in Boston three days after the bombings. The documentary goes on to include interviews with Boston Mayor Martin Walsh, Pablo Eduardo, the artist behind the memorial, and others. Eduardo talks about the inspiration for the designs, the work involved, the input from the victims' families, and ultimately, the installation, completed in August 2019, more than a year after it was scheduled to be finished. He describes the project as "the biggest honor I've had," adding: "As an immigrant to the city, as a sculptor, Boston has become my home. I'm very thankful I can give something back to it."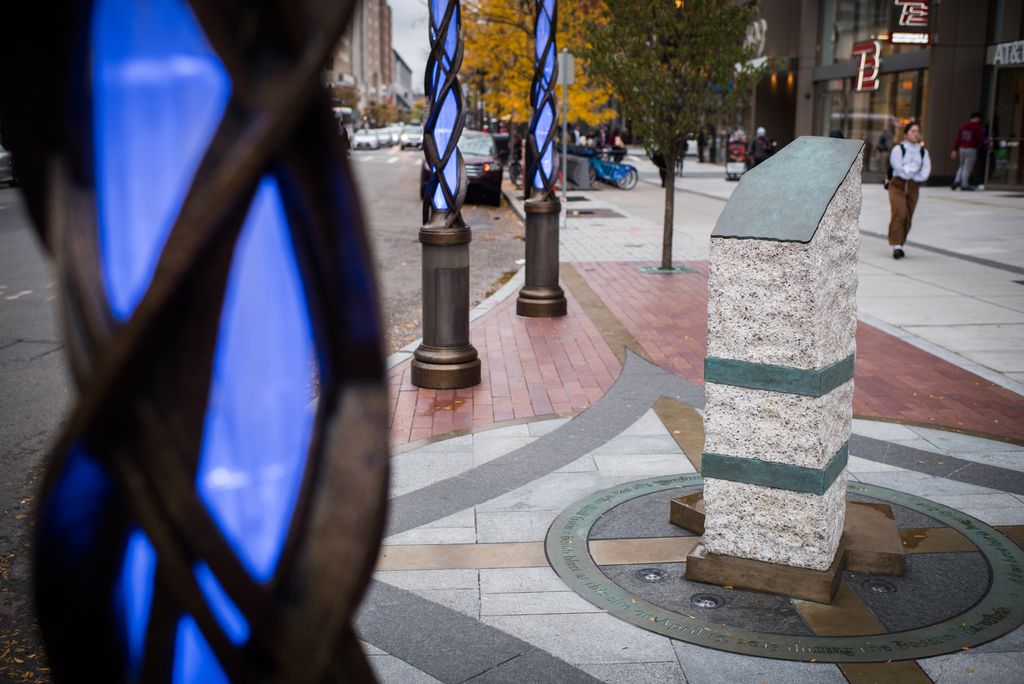 The city's website describes the markers in detail: "There are two marker sites, one at the finish line and one further down Boylston Street. The finish line marker site holds one stone and the second site holds two stones, which together represent the three victims of the attack." Each of the three stones came from a site significant to the three victims: the stone for Lingzi, who was earning a master's degree in mathematics and statistics at the time of her death, came from Boston University, the one for Richard from Franklin Park, and Campbell's from Spectacle Island in Boston Harbor. The memorial includes four bronze and glass pillars, which are illuminated at night, and bronzed bricks bearing the names of MIT police officer Sean Collier, killed following the bombings, and Boston Police officer Dennis Simonds, who died later from injuries received during a shoot-out with the bombers.

Read more about the markers here. Watch Re-Marking the Boston Marathon here.