BU Says Good-bye to Lu Lingzi
Hundreds mourn a gifted student and a good friend
Beneath her formidable intellect—juggling four courses while studying the piano and getting excellent grades—Lu Lingzi was a woman who could be endearingly silly, her burnt breakfasts often setting off a smoke detector, her fear of kitchen mice requiring roommate Jing Li to become, in Jing's words, her "brave warrior." And beneath all lay the dreams of a woman who, at 23, should have had an adult lifetime to fulfill them.
"We felt sad that we were too busy to go out to meet some nice boys," Jing (SED'14) told mourners, including Lu's family from China, at a tear-tinged tribute last night to Lu (GRS'13), one of three who died in the Boston Marathon bombings. Others spoke of Lu's love of blueberry pancakes, green tea ice cream, and violinist Itzhak Perlman, and of her hopes: ultimately for a financial analyst's career, more immediately for an internship and fine meals during this summer's Restaurant Week in Boston.
"Her dream was very simple," friend Zheng Minhui (GRS'15) told 1,200 people in the George Sherman Union, which was filled with students and staff, including all the University chaplains, as well as the general public and Massachusetts Governor Deval Patrick and Lieutenant Governor Timothy Murray. "She wanted a not necessarily rich life, but a peaceful life, with a stable job, a happy family, and a lovely dog."
Zhong Ruiming, deputy consul general from China's New York consulate, offered condolences from the speaker's podium, where an enlarged photo of Lu beamed at the crowd. Musical selections threaded the memorial, including one of Lu's favorite pieces, Chopin's Op. 48, No. 1, performed by her piano teacher, Son Han Nah (CFA'17). A horseshoe table in the rear of the GSU's Metcalf Ballroom was laden with white bouquets and two teddy bears in BU sweaters, while a gong was placed at the entrance doors, which were draped in white.
"We know that a memorial service cannot bring closure to the grief that parents who lose a child must endure," University President Robert A. Brown said. "Nothing can be as it was before; the grief is too immense. We hope tonight in our words and prayers to show our understanding of the magnitude of the grief. We also hope to assure Lingzi's family that she was very much a cherished member of our community.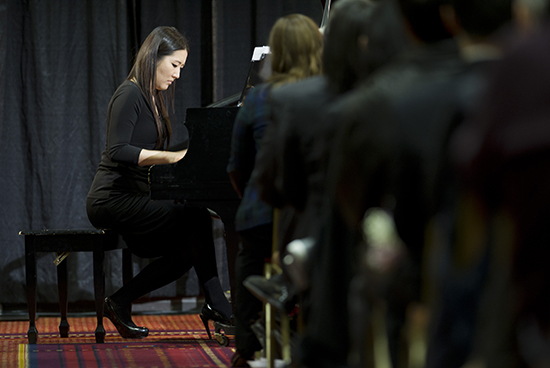 "Astronomers tell us that when a star dies somewhere out there in the universe, its light continues to travel across time to reach us," the president said. "One way in which the light of Lingzi's life will continue to shine is in the scholarship in her name," created and endowed by the University trustees last week.
Lu was studying statistics at BU. "She was doing very well in all aspects of her courses and had finished taking her qualifying exams just two days before she died," said Eric Kolaczyk, a College of Arts & Sciences professor and director of the program in statistics. "In fact, she passed those exams with flying colors, although she did not live long enough to hear the final results." Rare for a master's student, she coupled her course work with statistical research, he said.
Besides displaying talent, Kolaczyk said, Lu had "a smile that could look both bemused and serious" and a "bubbly personality" that even came across in email messages filled with exclamation marks.
The memorial came one week to the day after the bombings, which also injured almost 200. Suspect Dzhokhar Tsarnaev is hospitalized with wounds incurred while trying to escape police; his brother and fellow suspect, Tamerlan Tsarnaev, died after a gunfight with officers.
Lu Jun, Lingzi's father, recalled a confident, fun-loving little girl who had been "the family's Shirley Temple," in a eulogy delivered in Chinese and translated for the audience by Willis Wang, a BU vice president and associate provost for global programs. As she grew, her father said, her work ethic and love of music developed; before leaving for Boston, she asked her parents to care for her large CD collection, "and told us that she would come back to enjoy them later on."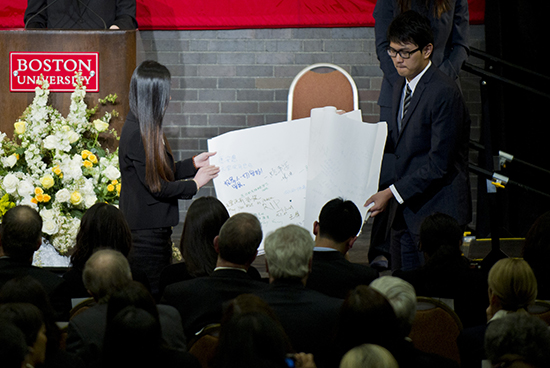 She'd relax during school breaks by reading romance novels and love stories, her father recalled. He cited a Chinese proverb: "'Every child is actually a little Buddha that helps their parents mature and grow up.'…We as parents admire and appreciate her kindness, courage, and her yearning for a beautiful life." At the memorial's end, the family stood in the front row and bowed to the audience.
Zheng recalled a woman with the wisdom to live a balanced life, weaving happiness out of labors. "One of the things I learned from her was how to make difficult work more enjoyable," she said in her remarks, remembering how Lu took diligent notes in class, only to rewrite them later neatly in colors. "She told me that by doing this, she can do the review and keep herself in a happy mood at the same time…She was a role model for leading a healthy life, in which she would go to bed early, wake up early, and be the first to arrive at class."
After their last exam together, Lu offered to treat Zheng to lunch as a thank-you for her test-prep help. In truth, she said, "I received as much help from her as she thought she did from me."
As much as the speakers lauded what Lu had been, they spoke of what she had hoped to do. "Your sign is Leo and mine is Cancer," Jing said of her roommate. "Your sign ruler is sun and mine is moon. We believed that we could co-fight for the beautiful future together as we combined the lights from both the sun and the moon."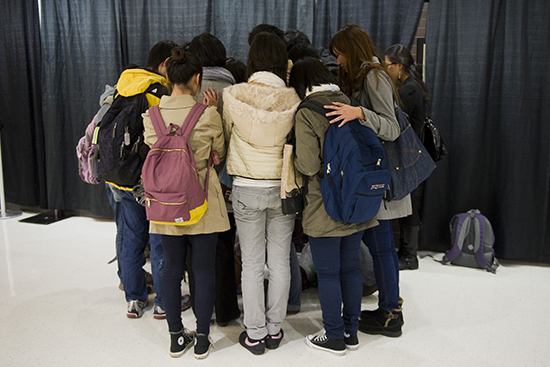 "Thank you for bringing us so much sweetness and happiness," said Zheng. "Your lovely stories and beautiful smiles will never fade in our heart."
After the service, guests flowed out of the ballroom, many of them reaching for tissues and wiping away tears. Among them was Hedieh Mehrtash (SAR'13), an international student from Dubai who didn't know Lu, but came for closure after a long, emotional week. "I feel like a brother or sister has been lost," she said.
Susan Hwang (GRS'15) once audited a statistics class, sitting a couple rows from Lu. She came to learn more about her fellow graduate student and to assuage the regret that she "never even said hello to her."
Wu Hanwen (CAS'19) didn't know Lu either, but having come from the same hometown in China, Shenyang, he felt a connection. "It's a time to remember those who lost their life," he said. "People really need to slow down their steps and to think" about what's important.
Leslie Friday contributed to this story.