Book Reviews
A young adult novel, a children's book, poetry
Brightly Burning
ALEXA DONNE (COM'06)
HMH Books for Young Readers
Jane Eyre meets outer space in Donne's debut YA novel, a retelling of the classic Charlotte Brontë tale. Stella Ainsley, an 18-year-old orphan, lives in a future where Earth has been rendered uninhabitable after another ice age. With no other habitable planets to be found, society has taken to living in a fleet of ships orbiting in space.
Stella lives and works as an engineer and a teacher aboard the impoverished and decrepit Stalwart, but is desperate to start a new life. After applying to off-ship job after job, she finally lands a position as a governess aboard a lavish, privately owned vessel called the Rochester.
Stella quickly discovers that despite the ship's upgraded accommodations, the Rochester is host to a slew of mysteries—laughing that seems to echo out of nowhere, wards blocked off with no explanation, and an attractive and moody young captain, Hugo. She is determined to investigate. But when her curiosity leads her to stumble upon a government conspiracy that threatens her friends back on the Stalwart, she must figure out a way to stop imminent disaster.
Donne displays a knack for building tension as Stella and Hugo grow closer—even as bizarre occurrences multiply. What ultimately makes the novel successful is Donne's painstaking attention to the details—how farming and sustaining a supply of food work in space—that make Stella's futuristic world convincing. — Mara Sassoon
---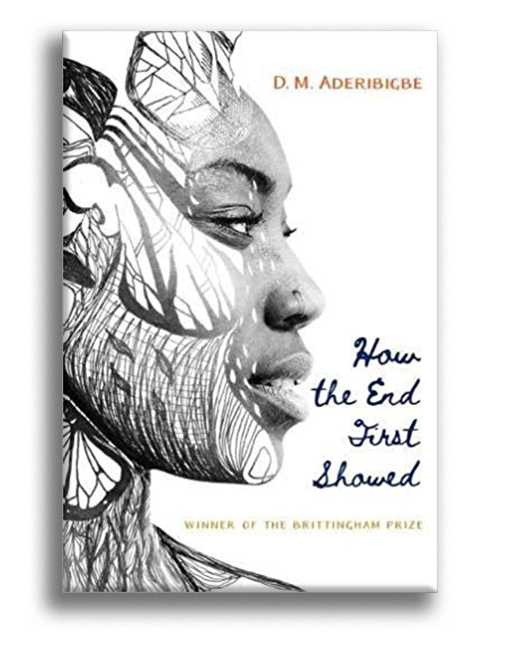 How the End First Showed
D. M. Aderibigbe (GRS'17)
University of Wisconsin Press
Aderibigbe grapples with the domestic violence that reverberates through generations of Nigerian families, including his own. It's an inheritance he strives to cast off in this soul-searching debut collection. The poet—who also published the chapbook In Praise of Our Absent Father (Akashic, 2016)—connects his family's history of abuse to his country's deep-rooted and systemic patriarchal violence. In "Olumo's Face," he draws upon his grandmother's memory of witnessing a man on a bridge who "pressed / a woman's head into the water, / because of her dead womb." And in "New Hell," he describes how "Guns and truncheons lay / on the road, casualties in a war- / torn country."
Aderibigbe's grandfather, father, and uncle all raged at, and apologized to, and cheated on, and struck, and abandoned their families. And in reckoning with their legacies, Aderibigbe challenges the Nigerian tradition of writing worship songs for fathers. "I was ten, / but I knew what it took / to be my father was to cause / a woman's pain." ("To Be My Father")
Instead, he honors the strength of women—his mother, grandmother, sister, aunt—who endured harm in many forms. In "Elegy for My Mothers," his grandmother lost a son; in "Easter Night," she lost a daughter; in "Last Supper," she lost a husband: "You rise, walk in the ruins / of my happiness / toward the door."
Throughout this collection, Aderibigbe strives to shape his identity: "could there ever be a boy's childhood / built outside his father's / shadow?" ("Colors of My Childhood") He remakes family stories handed down through generations and across continents into poems with jagged edges that rip at his cultural and familial patrimony. "Lord, how do I tear / my future out of these veins / running across my life?" ("Separating from My Future") — Lara Ehrlich
---
Book Briefs
A thriller, a memoir, and an award-winning children's book
Sorboni Banerjee (COM'02) Hide with Me (Razorbill, 2018) When a boy finds an injured girl on his family's farm, both begin to plot an escape from their broken pasts. Critical view: "Hide with Me is a gripping story of friendship and first love in a dangerous world." Tampa Bay Times

Ed Fuller (Questrom'68) and Gary Grossman Red Hotel (Beaufort Books, 2019) Former Army intelligence officer Dan Reilly tracks down a wanted terrorist in this political thriller. Critical view: "A terrific, fast-paced, stylish, eye-opening spy thriller, with a knowing, insider's look at the intersects of terrorism, the CIA, and world politics." Bruce Feirstein (COM'75), journalist and screenwriter
Deborah Gold (a pseudonym) (CAS'82) Counting Down: A Memoir of Foster Parenting and Beyond (Ohio University Press, 2018) A foster parent's perspective on building a family in a rural mountain community. Critical view: "A beautiful and poignant story of love, commitment, strength, and understanding." Growing Intentional Families Together newsletter
Sarah Marie A. Jette (Sargent'06) What the Wind Can Tell You (Islandport Press, 2018) Middle-schooler Isabelle Perez and her brother soar beyond his physical disability to a magical world in this 2018 Moonbeam Children's Book Award silver medal winner. Critical view: "A heartwarming, magical middle-grade novel." Foreword Reviews
Jamie McDonald (COM'92) No Access New York City: The City's Hidden Treasures, Haunts, and Forgotten Places (Globe Pequot Press, 2018) An overlooked train station, a rooftop World War I fighter plane, and a gold vault all feature in this guide to a city's secrets. Critical view: "Mr. McDonald, who writes, directs and hosts the PBS series 'New York Originals,' invites readers on an eclectic sightseeing tour." New York Times
Lara Salahi (COM'07) and Pardis Sabeti Outbreak Culture: The Ebola Crisis and the Next Epidemic (Harvard University Press, 2018) Journalist Salahi joins with computational geneticist Sabeti to uncover the catalogue of failures that let a virus run amok. Critical view: "A forceful and instructive account, as passionate and heartfelt as it is learned." Paul Farmer, cofounder, Partners In Health
Nell Stevens (GRS'13) The Victorian and the Romantic: A Memoir, a Love Story, and a Friendship Across Time (Doubleday, 2018) As Stevens faces crises of love and career, she finds an ally in 19th-century author and biographer Elizabeth Gaskell. Critical view: "Stevens is a very artful writer—the structure she chooses is inspired—and the book builds to a surprising, and surprisingly moving, ending." New Yorker
Dariel Suarez (GRS'12) A Kind of Solitude (Willow Springs Books, 2018) A collection of 11 stories on navigating oppression and poverty in Cuba after the fall of the USSR. Critical view: "We get to know these Cuban men and women intimately: their pain, suffering, anger, loneliness, and above all their hopes. This book announces the significant beginning of a new talent." Ha Jin (GRS'93), poet, author, and director of the BU Creative Writing Program
— Andrew Thurston