Here's our guide to the area's best outdoor dining
Food & Dining
The Best Outdoor Dining in Boston and Cambridge
Enjoy sushi, burgers, and more on beautiful patios throughout the area
In the mood to dine al fresco? On warm summer nights there's no better place to grab a bite than a patio, a roof deck, or a tucked-away gem with shade and trees. We rounded up our top picks for outdoor dining in Boston and Cambridge—from burgers and bocce ball to poolside sushi, we've got you covered.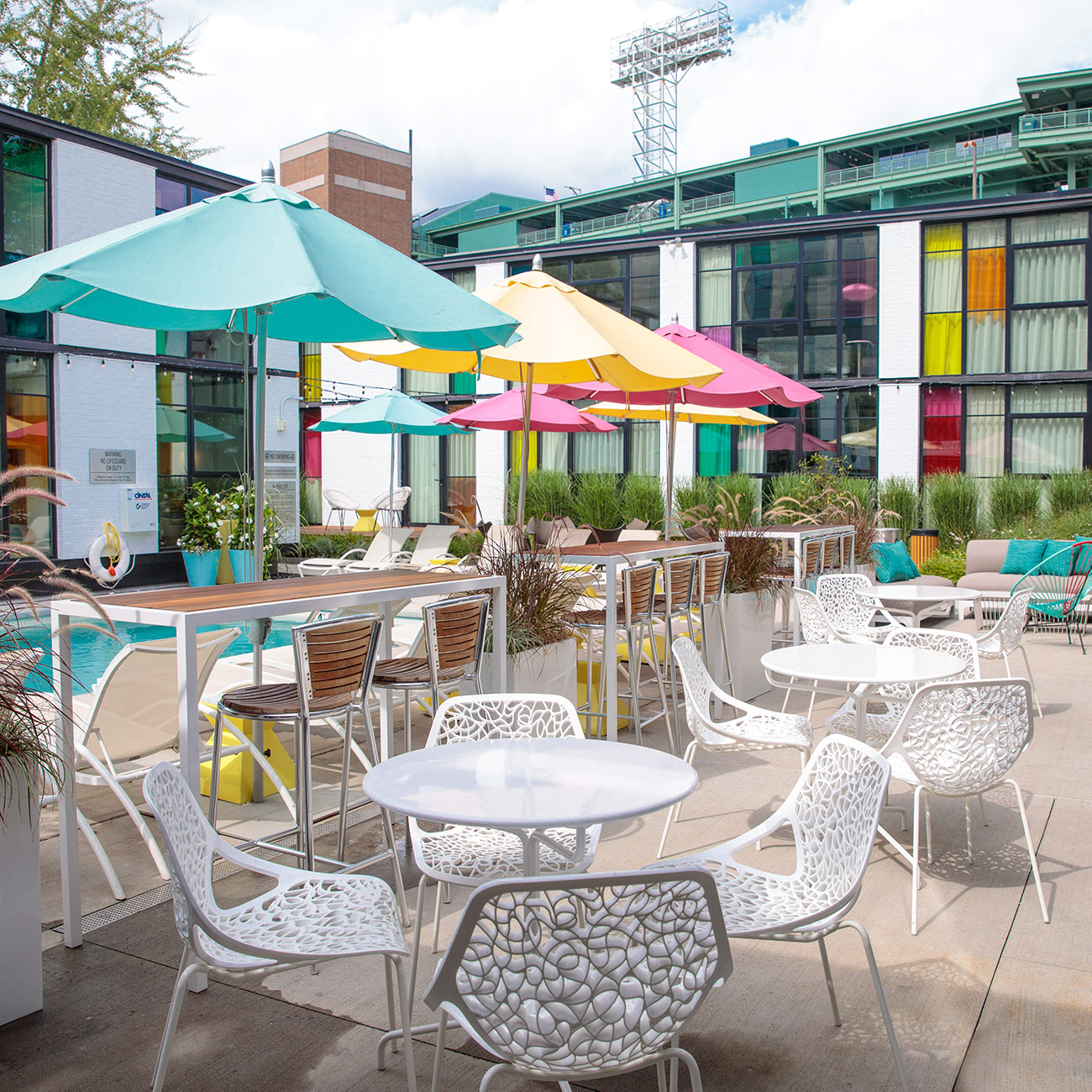 Hojoko is a little taste of LA life in the heart of Fenway. It's in the Verb Hotel and its outdoor patio is next to the hotel pool. Chefs Tim and Nancy Cushman, who also own well-known Japanese restaurant O ya, are the minds behind Hojoko, which opened in 2015. Although both restaurants serve Japanese cuisine, Hojoko has more of an "izakaya," or tavern, vibe and a more popular appeal, with a menu that includes ramen, sashimi, and even burgers. You can also step inside to a bar that's a homage to the underground Tokyo music scene, with retro decor and live DJs and music.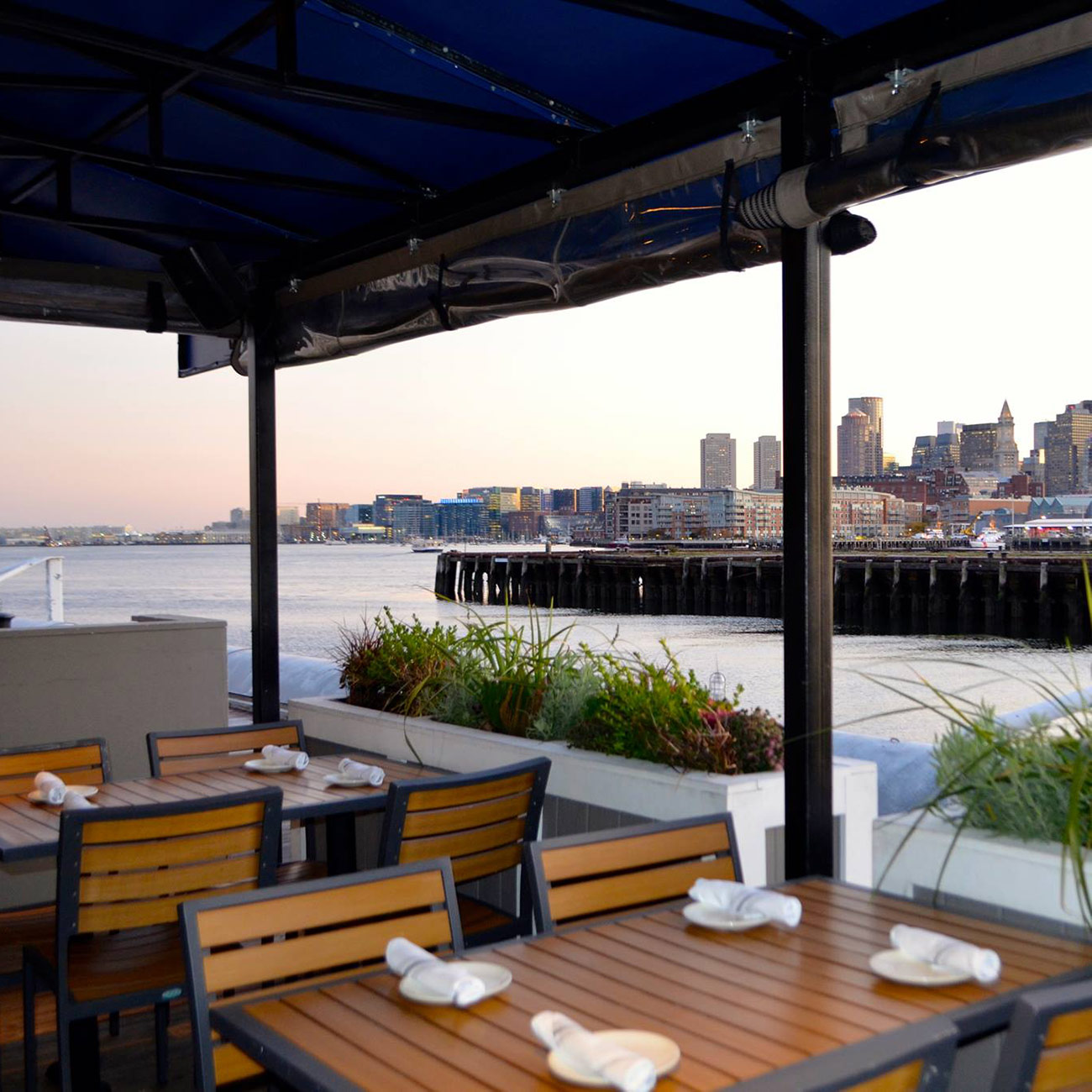 Pier 6 offers food, drinks, and a great view of downtown Boston. The restaurant has ample outdoor seating on the pier, as well as a smaller rooftop patio. On summer days, it's a great place to escape, with awnings and fans to keep you cool, as well as a selection of frozen alcoholic beverages, like the "Creamsicle," a concoction of Deep Eddy Orange Vodka, orange juice, and ice cream. Plus, the restaurant has a free water shuttle to and from ReelHouse, its sister restaurant across the harbor in East Boston, with its own beautiful patio space.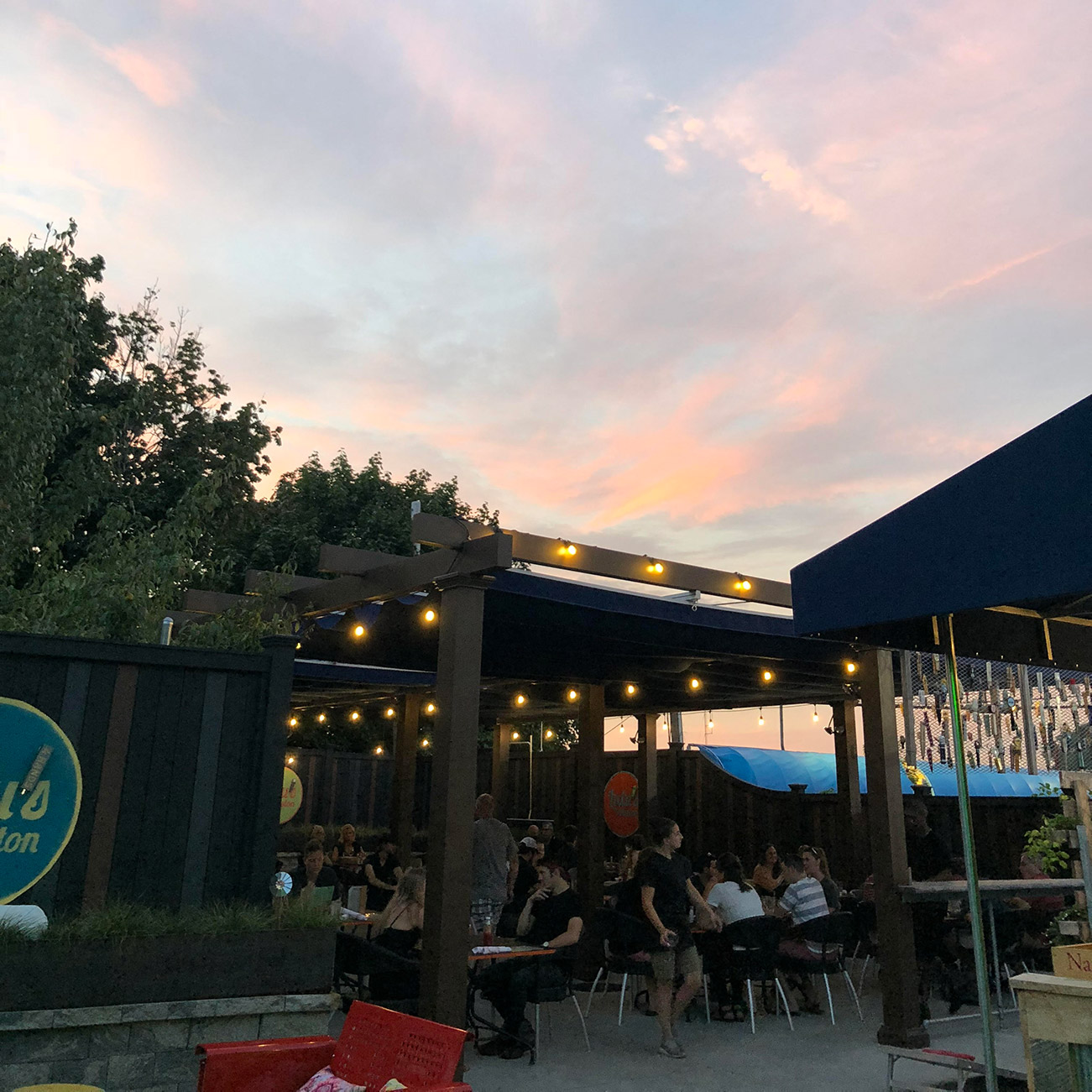 A bocce ball court and great burgers are just the beginning of what Lulu's Allston serves up. Lulu's has been praised across the board for its brunch and craft beers. Recently, Lulu's burger was named one of 25 essential Boston-area burgers by Eater Boston. It features Vermont cheddar, the restaurant's "secret sauce," lettuce, tomato, and onion, all on a brioche roll, with a side of hand-cut fries. Lulu's also has vegetarian, vegan, and gluten-free options, including a quinoa burger and vegetable ravioli.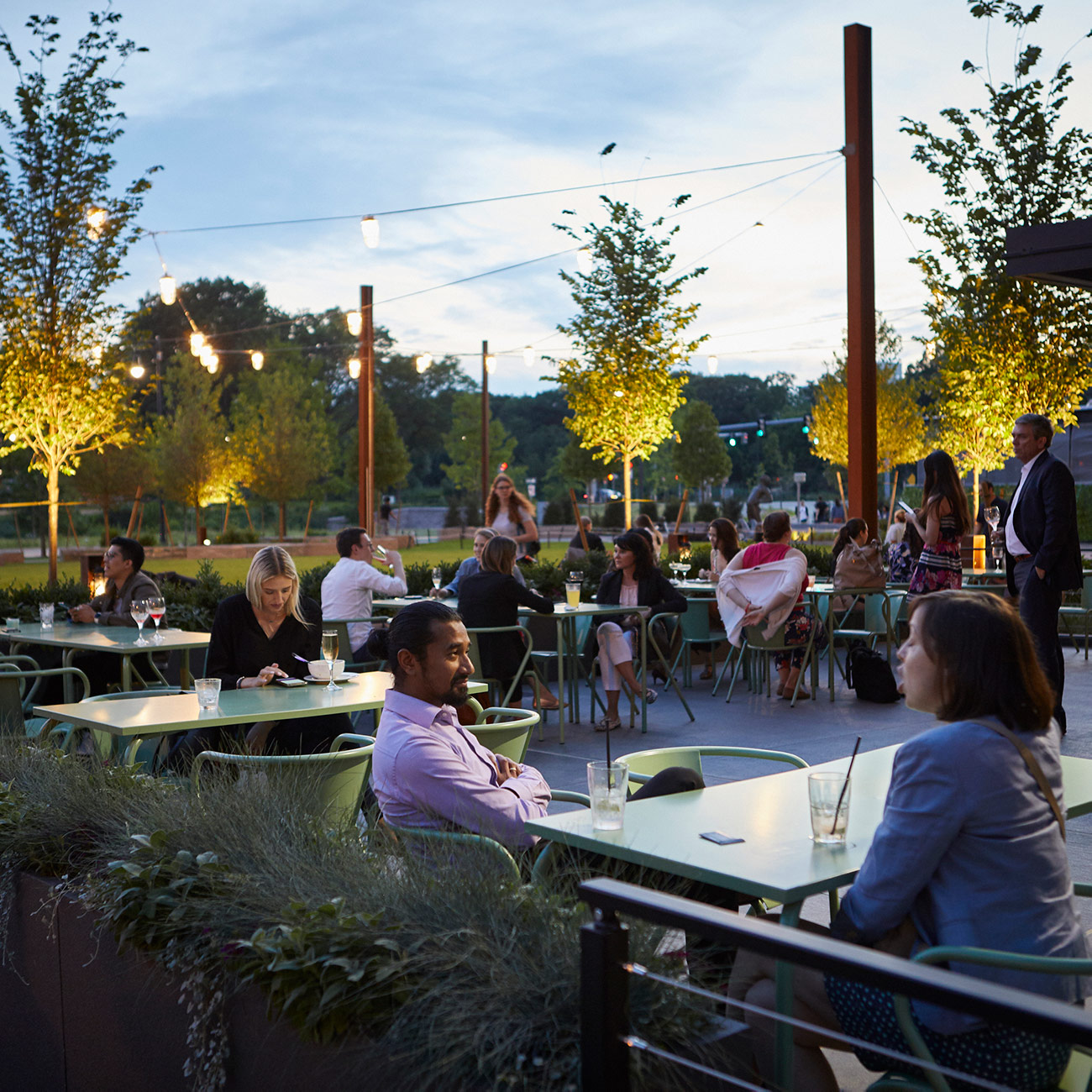 Time Out Market, a new addition to the Fenway neighborhood, houses 15 individual restaurants and 2 bars, all within the Landmark Center, now known as 401 Park Drive, which was built in 1929 as a Sears warehouse. With menus ranging from seafood to burgers, vegan fare to gelato, there's truly something for everyone. Not only does Time Out house a curated selection representing some of the best Boston restaurants and chefs, it also has a fantastic outdoor dining space, with shaded tables just outside the market's garage door entrances and a grassy park in front, if you order food to go.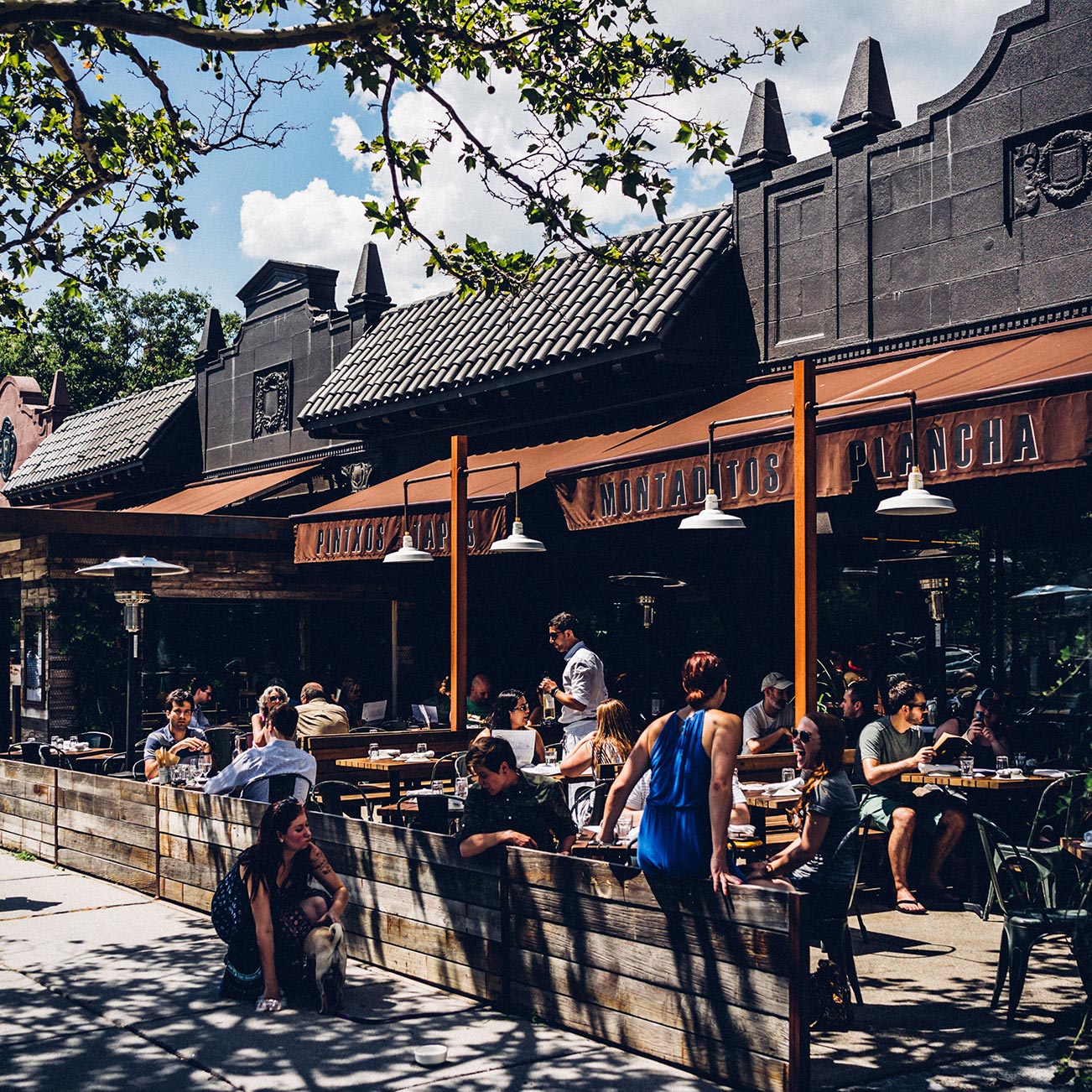 There may be no better place to share a plate with some friends than Barcelona. The wine bar is known for its tapas—small, savory Spanish dishes typically served alongside drinks and designed to share. The restaurant also serves a separate weekend brunch. Barcelona Wine Bar has roots in Connecticut, and the Brookline location, which opened in 2013, was its first in Massachusetts. The patio, in front of the bar, is partially covered by awnings and has ample seating at wooden tables.
Fuller's BU Pub has typical pub grub right on campus, making it a great place to meet friends for a drink and bite to eat after a long day at work or in classes. One special feature of Fuller's is the Knight's Quest, which involves drinking 50 different types of beer over no fewer than 12 weeks. If you complete the quest, you are knighted at the restaurant. Fuller's menu includes burgers and sandwiches, salads, loaded nachos, and vegetarian options, including a portobello Reuben. The patio faces the river, giving patrons a nice view of crew and sailing boats.
The Back Bay's Parish Cafe houses the best of Boston in a small restaurant. Rather than having one chef create the menu, the cafe asked chefs from around the city to come up with a special sandwich it could serve. The result is an array of options, from sandwiches inspired by Japanese cuisine to smoke shop tofu and even a German hot dog. Find the menu here. Parish Cafe's location in the heart of downtown Boston, just minutes from Boston Common, makes its patio a prime spot for people-watching. Pull up a seat, shaded by one of the restaurant's umbrellas, kick back, and enjoy the hustle and bustle along Boylston.
If you spend time on Newbury Street near Mass Ave, you've probably seen the Naco Taco Food Truck. But the taco specialists also have a permanent location in Cambridge, with a vibrant outdoor patio, illuminated by string bulb lights. Naco Taco offers reasonably priced food, with most tacos ringing in at $5 apiece. Don't miss the pressed pavo torta—braised turkey leg with jalapeño jam, avocado, and chipotle aioli served on a telera, the smaller cousin of French bread that's served throughout Mexico; it has a soft inside with a crispy crust.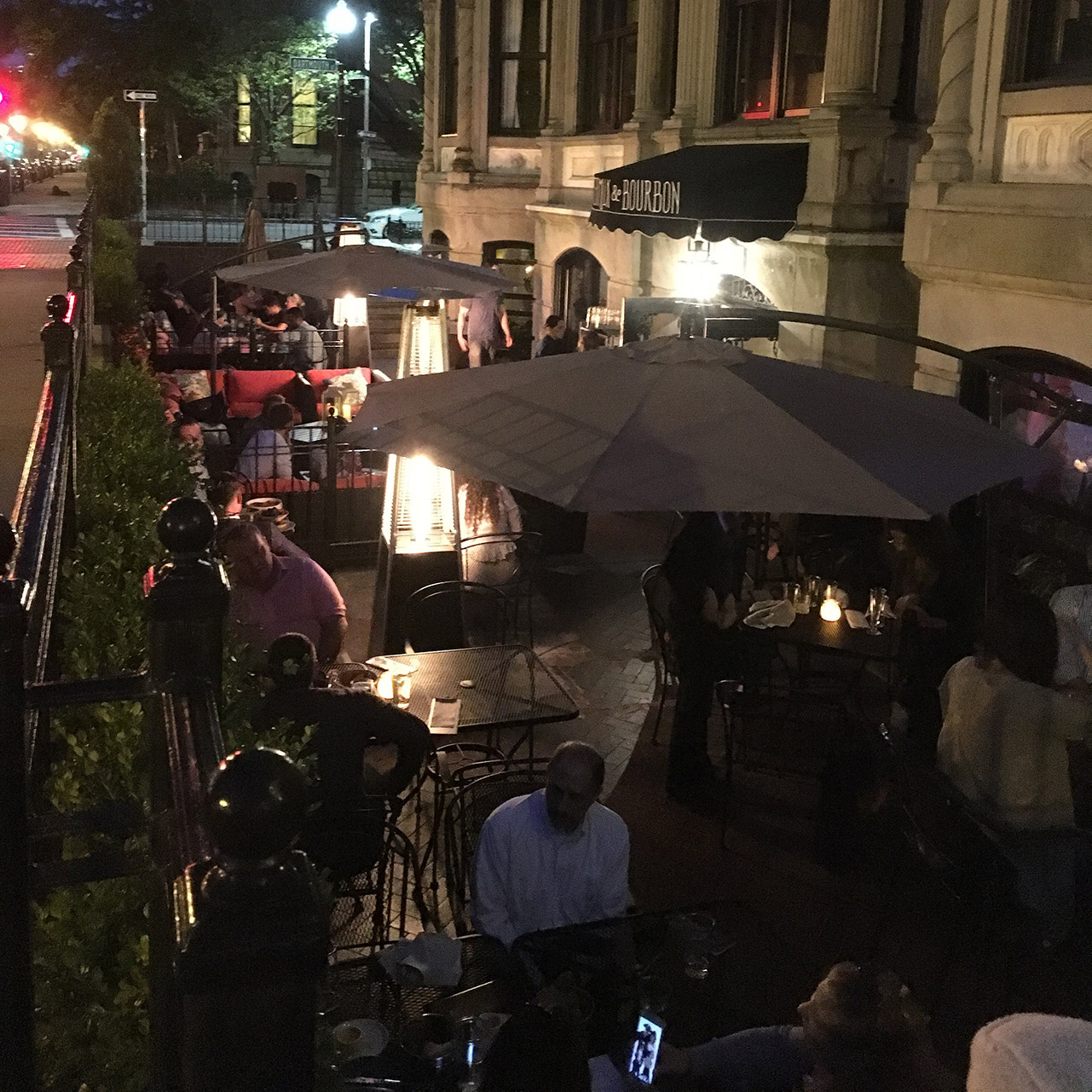 Chef Jason Santos became inspired on a trip to New Orleans by the food, passion, and all-around hospitality, and a few years later, opened Buttermilk and Bourbon, his homage to the Big Easy. The Back Bay restaurant serves up a fresh, Southern experience, from murals and decor inspired by NOLA to warm beignets and even soft-serve mimosas. The outdoor patio keeps the restaurant's underground vibe, as it's slightly below street level.
Henrietta's Table is a local and tourist dining favorite that's been a staple in Harvard Square for 20 years. Since its inception, the restaurant has emphasized farm-to-table food by sourcing ingredients from local farmers and artisans. The cinnamon cranberry French toast even received a shout-out from the Today show's Al Roker. The patio offers a shaded, quiet area and provides a great vantage point for one of Berklee's Summer in the City Concerts, which are performed in the adjacent courtyard.