Lunch, Anyone? Gre.Co
Authentic Greek fast food arrives on Newbury
In a city where Greek fast food is becoming increasingly popular (as indicated by the arrival of restaurants like Saloniki Greek in the Fenway and Kava Neo-Taverna in the South End), Newbury Street newbie Gre.Co hopes to stand out by offering a "truly Greek" dining experience designed to accommodate the fast-paced life of modern Bostonians.
Manager Stefanos Ougrinis, who spent many years in the restaurant business in his native Greece before moving to Boston two years ago, wants to redefine fast food with his latest venture. The eatery prides itself on authenticity, serving up slow-cooked recipes from Ougrinis' family. And while relying on local farms wherever possible, a number of products are imported directly from Greece, some available for sale.
Open less than a year, Gre.Co has proven to be a hit among locals, who flock there for dishes like the classic pork gyro ($9) (the most popular item)—a pita wrap filled with pork, tomatoes, onions, and hand-cut potato fries, served with tzatziki sauce—or the loukoumades ($5 to 6.50), Greek street food–style doughnuts available in five flavors, including the classic ($5), with Greek honey, walnuts, and cinnamon. There's also a "make your own" option ($1 each topping).
In addition to the handful of preconstructed classic gyros, the menu's staple is build your own. First you choose either a pita ($8.50), salad ($9.50), or plate ($10.50), add a protein (pork, lamb, chicken, beef, called bifteki, or veggie), and top with tzatziki, spiced whipped feta, charred eggplant, florina pepper paprika, or yogurt sauce. A plate comes with an additional side: Greco fries, zucchini chips, Greek slaw, or mixed beans.
There is also a small selection of traditional Greek salads ($6.50 to $8), soups, sides, and beverages ($2.50 to $4).
We were among the few customers in the small 18-seat restaurant at about 11:30 a.m. on a recent Friday. A half hour later, though, all the bar-style seats were taken and customers filled the place. (A cozy outdoor patio offers additional seating during warm weather months.)
We ordered the pork pita with spicy whipped feta ($9), a veggie plate with tzatziki and zucchini chips ($10.50), and two different loukoumades. After a few minutes, our food came out on sleek white trays with blue trim and we took a seat at one of the pillow-lined wooden benches along the wall.
The pork pita was delicious and filling—the spicy whipped feta added a fiery kick to the juicy meat, and the fries (yes, they are in the pita, not a side dish) were a surprising but yummy addition. The pita was soft and—most important—stayed intact throughout the meal. That said, it's still difficult to eat this dish with any semblance of grace. Be sure to have plenty of napkins on hand.
The veggie plate was less of a hit. The seasonal squash fritter had wonderful texture and flavor, especially the unexpected hint of mint. But the zucchini chips, while tasty, were too thin for our taste and the zucchini was overwhelmed by the fried coating. We also found the tzatziki sauce to be rather plain, tasting more of yogurt than anything else.
The meal's real star was the dessert. The loukoumades, traditional fried dough balls, couldn't have been cooked better, with a crispy shell surrounding the soft dough. The first, Yaya's (Greek for grandmother), was absolutely decadent, drizzled with hazelnut praline and sprinkled with oreo cookie crumble and powdered sugar. The other, Papou's, was a different taste experience, but still delicious. Topped with pistachios and mastiha creme, it was lighter than the Yaya's, and the mastiha (a liqueur seasoned with resin from the mastic tree) gave it a distinctly woodsy flavor. We will certainly be back for more of these mouthwatering bites.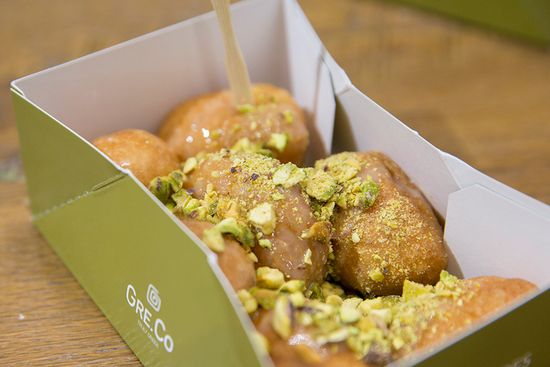 Gre.Co's commitment to serving up authentic Greek food using fresh farm-raised ingredients redefines fast food and makes it a standout among other Newbury Street eateries, where lines can be long. The atmosphere is modern and comfortable, and the food is full of flavor and color. While the prices aren't as low as conventional fast food joints, the quality is well worth it.
Gre.Co, 225 Newbury St., Back Bay, Boston, is open daily, 11 a.m. to 10 p.m.; phone: 617-572-3300. Order online or the mobile app for pickup. The restaurant takes all major credit cards. Take an MBTA Green Line trolley to Copley.
This is part of a weekly series featuring Boston lunch and brunch spots of interest to the BU community. If you have any suggestions for places we should feature, leave them in the Comment section below.
Madeleine O'Keefe can be reached at mokeefe@bu.edu.
This Series
Also in
May 10, 2018

April 26, 2018

April 18, 2018