International Students Need to Know Their Rights
How to avoid immigration hassles following new travel ban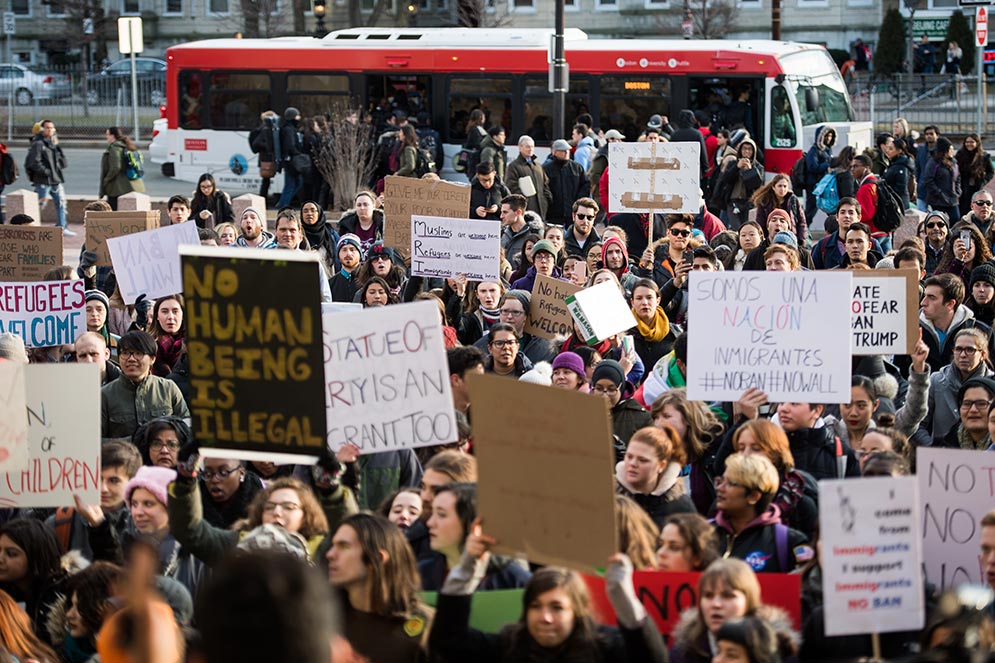 President Trump's revised executive immigration order drops Iraq from the original list of seven predominantly Muslim countries whose citizens will be banned from entering the United States for 90 days.
The order, signed last week, also excludes refugees from all countries from entering the country for 120 days.
The new order, scheduled to take effect March 16, seeks to rectify legal shortcomings that led federal judges to temporarily halt Trump's January executive order on immigration. The revised order retains the original 90-day ban on travelers from Iran, Libya, Syria, Somalia, Sudan, and Yemen. It excludes from the ban green card holders, people with dual nationalities, and those already granted asylum or refugee status.
Trump says the restrictions will keep potential terrorists out of the country while his administration seeks to tighten vetting procedures; critics note that no residents of the six nations have committed a terrorist act on US soil since the 9/11 attacks. Hawaii, Massachusetts, Washington, and Minnesota are suing to block the order, with Massachusetts Attorney General Maura Healey calling it "a discriminatory and unconstitutional attempt to make good on his campaign promise to implement a Muslim ban."
Willis Wang, a BU vice president and associate provost for global programs, says that while the new order offers some helpful clarifications, "it unfortunately goes beyond merely being a travel ban for a few countries.
"Like the first executive order," he says, "it sends the same message that a certain group of people is not welcome, and this type of message goes against our fundamental values as a country, as an institution of higher education, and as a pluralistic society."
A town hall–style forum with experts answering student and staff questions, similar to ones held previously, has been scheduled for Tuesday, March 21, at noon at the College of General Studies, Room 505.
BU has 92 undergraduate and graduate students and 16 scholars from the six countries temporarily banned in the revised order. "We've been counseling all of them on what their options are," says Jeanne Kelley, managing director of the International Students & Scholars Office, which has compiled a detailed page listing the executive order's impacts for various types of travelers. "The situation keeps changing every day," says Kelley.
In response to the original executive order, President Robert A. Brown issued an open letter in January, calling it morally wrong, adding, "I believe the United States must offer international students a heartfelt, unequivocal welcome—backed up by consistent and thoughtful immigration policies based on American values of fairness and objectivity." In addition, the University joined seven other area schools in an amici curiae, or friends of the court, brief to support a federal lawsuit challenging the initial order.
The University has also held several town hall meetings and workshops on both campuses to help students adjust to the confusing and fast-changing situation, with more planned in the coming weeks. For those who haven't been able to attend any of the town hall sessions or who would like a reminder, some of the key advice is compiled below.
Students from the six countries, as well all other international students, need to know their rights under the US Constitution, and need to be prepared. "There are Fifth Amendment and due process and Constitutional rights that all persons, including noncitizens, in the United States have, and that can't change no matter who the president is," says Sarah Sherman-Stokes, a School of Law clinical instructor in the Immigrants' Rights Clinic.
Sherman-Stokes has put together a list of legal rights and strategies for those encountering Immigration and Customs Enforcement (ICE) agents and other law enforcement. The key points are:
You have the right to remain silent, and you may refuse to speak to immigration officers.
You have the right to speak to a lawyer.
Talk to your lawyer before signing anything.
Always carry your valid US immigration documents, such as a work permit or green card, but leave documents from other countries at home.
Create a safety plan, including memorizing emergency phone numbers and making contingency arrangements for children or others in your care.
Students from the affected countries need to think carefully about their travel plans, even if they have a valid visa or green card. People considering traveling to one of the six countries need to stay aware of breaking developments. The ISSO has a web page posting the latest information about the new executive order and the latest travel advisories issued by NAFSA: Association of International Educators.
If you are coping with stress and strong emotions, as many are, remember you are not alone at BU. The past two months have been emotionally difficult for many international students, whether or not they're from the seven countries mentioned in the original executive order. But as Kenneth Elmore (SED'87), associate provost and dean of students, emphasized at the first town hall meeting, there are plenty of people at BU to talk to, and even shoulders to cry on.
Available resources include the Dean of Students office (617-353-4126), Student Health Services Behavioral Medicine (617-353-3569), and Marsh Chapel, where Jessica Chicka (STH'07,'11,'17) is the chaplain for international students (617-358-3560).
Behavioral Medicine has also posted a list of tips for those coping with sociopolitical stress, which the staff recognizes includes a lot of people these days, not just international students. The strategies range from limiting the intake of news and social media to practicing relaxing activities, among them exercise and meditation.
"While the challenges our country is facing around immigration are not issues about mental illness or psychopathology, they are about community, a sense of belonging, and safety, issues that greatly impact one's mental health and wellness," says Carrie Landa, Behavioral Medicine director. "BU has a number of offices that foster community and support students in the struggles they may encounter." Landa says that for those students whose struggles to belong or anxieties about safety are negatively impacting their social, academic, or general functioning, "Behavioral Medicine is available to help."
Last, be wary about immigration scams. Kelley says she has heard anecdotal reports of people trying to take advantage of concerned immigrants with inappropriate or fraudulent schemes intended to exploit fears, including either offering false immigrant status changes or threatening false enforcement action.
"We will occasionally hear from a student or scholar who has been approached by someone representing themselves falsely as a federal agent"—such as the FBI, ICE, the Internal Revenue Service, or Homeland Security—"asking them for money to resolve a fake immigration matter, but not at all in relation to the recent executive orders," Kelley says.
Find information on some common scams here.
Joel Brown can be reached at jbnbpt@bu.edu.