BU Temporarily Prohibits Hoverboards
Fire danger prompts ban nationwide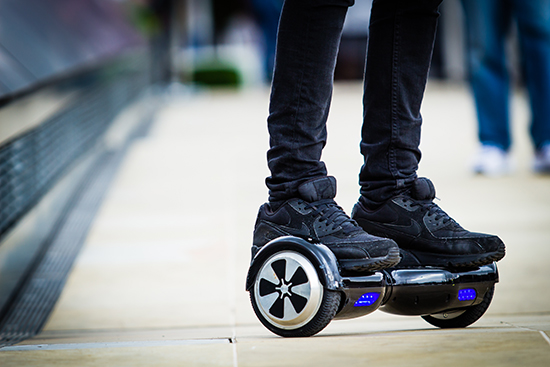 BU has banned hoverboards temporarily from all campus buildings following a spate of fires ignited nationally by the self-balancing scooters.
The prohibition will stay in effect indefinitely until the US Consumer Product Safety Commission (CPSC) and other agencies complete current investigations of the devices. The commission is investigating a minimum of 22 hoverboard fires in 17 states. BU joins at least 20 other schools that have enacted full or building-specific bans, the Chronicle of Higher Education reports.
Meanwhile, New York City has banned the devices in public places. All major US airlines, as well as dozens of international carriers, have banned them as well.
"While the likelihood of an incident is small, the consequences of a fire are serious," especially in BU's populous dormitories, says Gary Nicksa, senior vice president for operations.
He and Jean Morrison, Uiversity provost, approved the prohibition and emailed all faculty, staff, and students about it earlier this week.
For students who already have hoverboards on campus, Nicksa says, BU's Environmental Health and Safety office "is making arrangements to safely store hoverboards until students can arrange to have them sent home."
Two nearby schools, Emerson College and Boston College, have enacted bans. Other schools with full or building-specific prohibitions include George Washington University, American University, the University of Illinois at Urbana-Champaign, Kean University, and the University of South Carolina, according to the Chronicle.
Hoverboards were a hot-selling Christmas gift. The reported fires have been blamed on "counterfeit lithium-ion batteries sold in knock-off brands," USA Today reports. In one New Jersey case, the battery pack exploded and burst into flames while the hoverboard was charging in a living room, spraying some of the batteries into the nearby kitchen.
The brand involved in that case, Smart Balance Wheel, reportedly has been involved in other fires; otherwise, federal officials have not identified the brands they're investigating. The New Jersey hoverboard was purchased on Amazon, which has discontinued some brands and advised some British customers who bought devices with faulty plugs to discard the machines for a refund.
In other accidents, flames from a hoverboard destroyed a Louisiana home and another machine erupted as an Alabama man was piloting his hoverboard on a sidewalk. The CPSC has received 70 reports of injuries requiring trips to the emergency room, including falls unrelated to fires.
"While the fire hazard has generated significant attention, I do not want to downplay the fall hazard," Elliot F. Kaye, CPSC chairman, said in a statement.
"CPSC has received dozens of reports of injuries from hospital ERs that we have contracts with.…Some of these injuries have been serious, including concussions, fractures, contusions/abrasions, and internal organ injuries. Always wear a proper helmet and padding while using this product," cautioned Kaye.