One Class, One Day: The Experimental Photograph
New CFA course's unique collaboration marries old, new technology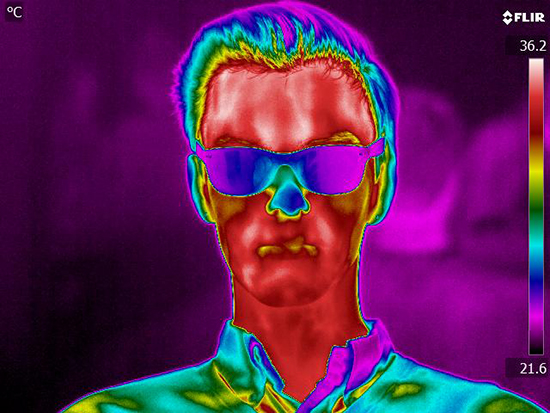 Class by class, lecture by lecture, question asked by question answered, an education is built. This is one of a series of visits to one class, on one day, in search of those building blocks at BU.
The syllabus includes 3-D printing, thermal imaging, digital photography—even flying a drone. But on a recent afternoon, College of Fine Arts lecturer Toni Pepe Dan is teaching the students in her new course, the Experimental Photograph, an old-time skill, too.
"I'm getting good at whittling," Nisa Ibrahim (CAS'15) says with a smile.
In a room atop 808 Commonwealth Avenue, Ibrahim scrapes away with scissors at the innards of a simple pinhole camera, trying to get a stubborn part to fit.
Each member of the class had made a plastic pinhole camera on a 3-D printer at the nearby EPIC (Engineering Product Innovation Center) lab, combining cutting-edge technology with the oldest form of photography. But before they could take pictures, they had to use duct tape, spray paint, and occasionally scissors to assemble their cameras' components and make them lightproof.
The course brings together the STEM (science, technology, engineering, and math) disciplines and the art of photography through hands-on experiments connected to neuroscience, engineering, and new media. Students work with technologies from the oldest to the newest to gain a new perspective on the medium. Their final projects will be exhibited in CFA's Gallery 5 in late April.
"I want them to think about how the medium of photography mediates the way we see the world," Dan says.
Students built pinhole cameras the traditional way as well as on a 3-D printer. They "were really shocked that you could get this image with a cardboard box, a pinhole, and duct tape," Dan says, adding that the ugliest camera, almost mummified in tape, turned out to produce the best images.
The group's pinhole pictures have a hazy, ethereal, almost ghostly quality, redolent of the past. "It's showing them the origins of their Instagram filter," she says. "It says something very different than what you would snap with your iPhone."
The students had earlier experimented with a thermal camera, an ultra high-speed camera, and a microscope lens in the Interfacial Fluid Dynamics Laboratory of James Bird, a College of Engineering assistant professor of mechanical engineering. "He was really generous with his time and space," says Dan. "He let us go in there and really just play with them and experiment. There's trial, there's error, there's failure, all wrapped up in that process. Then we go back with a concept in mind and explore it in a more structured way, as artists."
Lena Lewenstein (COM'17) spins her laptop around to show a vividly colored, nearly abstract video that looks like something from a psychedelic light show at a 1960s rock concert. Taken with a thermal camera, it's actually popcorn kernels on a hot plate, reddish-yellow coals that pop and turn into a sort of tiny blue flower.
"I'm learning the very basics of photography, which is something I never expected to learn. I just wanted to learn how to make pretty pictures," Lewenstein says with cheerful self-mockery. "We're learning how our eye actually sees images and how it translates into the digital world.…We're seeing how science plays a role in it.
"In science, you learn the fundamentals of something and then you experiment to discover new theories or new ways of thinking," she says. "That's what we're doing here with our cameras. I think that's really interesting."
Dan notes that the 11 students in the class range from freshmen to seniors and come not just from CFA, but also from the College of Communication, the School of Management, and the College of Arts & Sciences, and most have relatively little photo experience. The class' interdisciplinary approach comes straight from the instructor. "In my own work, I infuse it with literature and cinema and science and astronomy and family album," she says. "All of that bleeds into the way I make my own imagery. So I just wanted to bring that to the classroom in some way.
"Looking at BU, the resources we have here are pretty unique," she adds. "Seeing something like EPIC, being able to use those facilities—I just thought if we could design a course where we could take advantage of those resources, that would be really beneficial to the students."
With iPhones and digital cameras and Photoshop, everyone has the power to create a beautiful image now, Dan says, but the class is not about that, or not just about that: "It's about visual literacy. Creating a language. Understanding that language. Being able to talk about images and discuss how they have this really huge impact on the way we see ourselves, the way we see our world, the way we remember things, the way history is made."
The class also explores how the camera and lens can affect our view. Melissa Kibbe, a CAS assistant professor of psychological and brain sciences, "came to class the other day and gave a lecture on perception and illusion and how the eye is like a camera. It was interesting," Dan says with a laugh, "because the whole blue/black dress thing came out right after that."
In their pursuit of new perspectives, before the end of the course class members will attach GoPro cameras to an unmanned aerial vehicle (UAV), more commonly called a drone, and then to a weather balloon headed for the highest reaches of the atmosphere. The drone and weather balloon GoPro projects will be built and operated with guidance from the BU UAV Team, "drone guru" Frank Cost, a Rochester Institute of Technology professor, Nicolas Plazas (ENG'17), and others.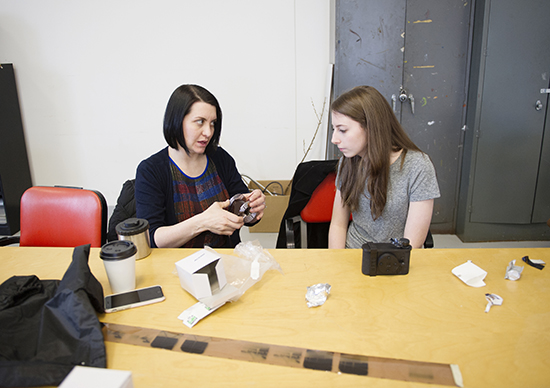 "The drone and the balloon sort of work together," Dan says, "in this exploration of aerial photography and perspective—this other perspective that the camera can give us and new technology can give us."
Dan and Bird received funding from the BU Arts Initiative, ENG, and the CFA School of Visual Arts for an exchange program of sorts involving two students from outside the class. Aska Mukuti (CFA'16) will spend time in Bird's lab for the rest of the semester, making artwork using the equipment there and inspired by the creative environment of the lab. And Dan's class will have a sort of embedded engineer—Plazas—also until the semester ends. He will create a project for the photo students and help them with the various technologies they're using.
The course "would be nothing without the collaborators," says Dan, who plans to offer it again next year.
Joel Brown can be reached at jbnbpt@bu.edu.
This Series
Also in
November 30, 2018

October 31, 2018

August 3, 2018