Breaking Bad Director Gives CAS Class the Inside Dope
Talks about the Walter White family and directing actors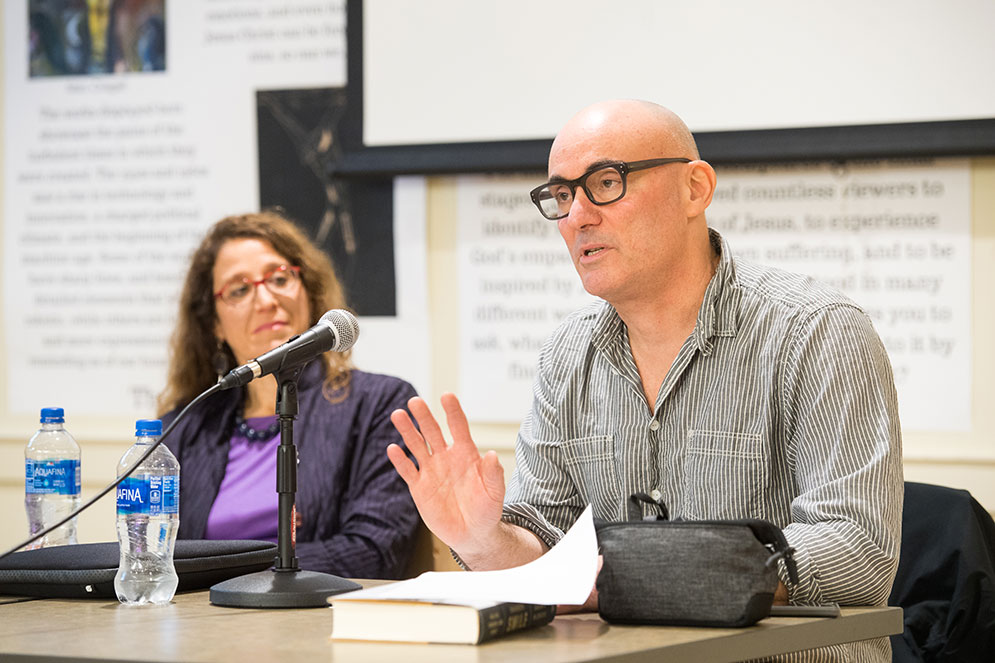 Class by class, lecture by lecture, question asked by question answered, an education is built. This is one of a series of visits to one class, on one day, in search of those building blocks at BU.
The chemistry involved in dissolving a corpse is nowhere mentioned in the syllabus for The Myth of the Family in Classical American Literature, Film, and TV. But it was on the agenda when Breaking Bad director Adam Bernstein visited the class just before Thanksgiving. He screened a gruesome scene he directed, where school-teacher-turned-drug-kingpin Walter White teaches his surrogate son a lesson about the importance of science in disposing of a body.
Susan Mizruchi, a College of Arts & Sciences professor of English and director of the BU Center for the Humanities, invited Bernstein to her class, which focuses on depictions of the American family in Breaking Bad and another binge-worthy TV classic, The Wire, as contrasted with films (The Godfather, Boys Don't Cry) and canonical novels (The Adventures of Huckleberry Finn, The Bluest Eye).
Two hours later, the students had learned some of the complexities of Breaking Bad's main characters and themes and the behind-the-scenes realities of how they were brought to the screen.
"When I was a kid, TV was just junk," says Mizruchi, the William Arrowsmith Professor in the Humanities. "The premise of this course is that these TV serials are the leading cultural form of our historical moment. If Henry James were around now, I am convinced that he would not be writing novels, he would be making TV serials, because he would recognize that this is where all the most innovative, formal creativity is."
Bernstein directed eight episodes of Breaking Bad, the now-classic AMC series created by Vince Gilligan, and he has gone on to helm four episodes of the hit prequel Better Call Saul. In the beginning of Breaking Bad, (warning for those who have yet to stream Breaking Bad: spoilers ahead), Walter (played by Emmy winner Bryan Cranston) has thrown away a tech-industry job that could have made him rich, settling for an unsatisfying career in the classroom. He's facing money woes and his wife is pregnant. As if that's not enough, Walt is diagnosed with lung cancer and given just months to live. The weight of the world is on the shoulders of this American husband and father.
And then, on a ride-along with his Drug Enforcement Administration agent brother-in-law, he learns just how lucrative the crystal methamphetamine business can be. Maybe, Walter muses, he can make enough to leave something for his family when he's gone…
The show goes on to become both a wild thriller and an examination of American manhood and ego in the 21st century. "Walt is doing everything for his family, and he says it again and again and again," Mizruchi notes. "The irony there is that his violent, destructive criminal activities end up destroying his family. And his family is so outraged that they refuse to take his money."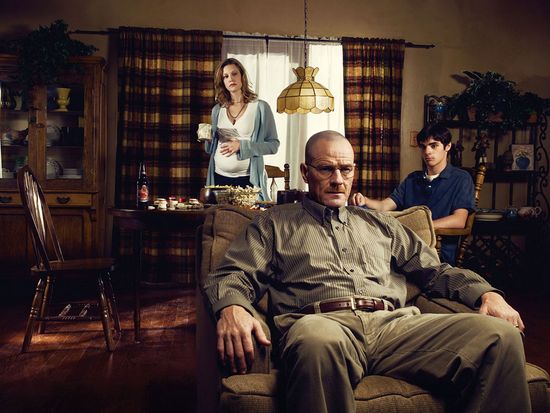 What you get in American literature (and this course) is family dysfunction, she says, from Huck Finn, the son of an abusive alcoholic, to the murderous Corleones of The Godfather. "Every single work in the course represents the family as kind of an imperiled place, at the same time family is also the ideal people believe in most," Mizruchi says.
But the 60 or so students listening to Bernstein—many of them would-be filmmakers—are most interested in the nuts-and-bolts of making TV. Praising the Breaking Bad cast and crew to the skies, Bernstein, who has helmed numerous series, describes his Hollywood experience in ways both sardonic and candid.
"Every TV show is dysfunctional in its own way," he tells them. "There are several types of repeating dysfunction: late scripts, crazy lead actor, mean director of photography. As the director, you're walking into that situation and trying to figure out how it works."
"Like a substitute teacher," Mizruchi says, and Bernstein agrees.
"As a student, I enjoyed listening to all the things he went through before getting where he is now," Beatriz Vianna Martins Da Costa (COM'21) said after class. "I also liked the way he gave us a real-life experience whenever he was answering a question—it made the answers much more personal and interesting."
Bernstein directs both dramas (Fargo) and comedies (Scrubs), winning an Emmy for an episode of 30 Rock: "I like dramas that have some humor in them, and I like comedies that are dark." That aesthetic fit perfectly the script for episode two of Breaking Bad's first season, "Cat's in the Bag…" Series creator Vince Gilligan didn't like the lack of real-life consequences for killings that happen on too many TV shows, Bernstein says, so he devoted an entire episode to getting rid of the body.
The script required Walter and his former-student-turned-partner-in-crime Jesse Pinkman (Emmy winner Aaron Paul) to dispose of the body of a drug gang heavy named Emilio. Walter tells Jesse to buy a large plastic bin so they can dissolve the body in hydrofluoric acid—chemistry teacher, remember? The acid won't harm the plastic. But Jesse just puts the late Emilio and the acid into an upstairs bathtub. Cue Walt's horrified look as the acid eats through the ceramic tub and a gory mess crashes through the ceiling to the first floor, courtesy of the show's special effects team.
"We did two takes, and you can see parts of both of them. On the first take, Emilio mostly just looked like a Duraflame log," Bernstein says, to a combination of groans and chuckles from the class. "On the second take, Emilio was more…diffuse."
Jesse was supposed to be a short-lived character, Bernstein says, but Paul's performance won Gilligan over. Jesse develops such a complicated relationship with Walt—partners in crime, surrogate father and son, each both teacher and student—that Mizruchi compares them to Ahab and Ishmael, Batman and Robin. "It fascinates me that Vince Gilligan didn't have that in mind from the outset," she says. "It's such an American cultural trope."
Bernstein is married to Breaking Bad actress Jessica Hecht, whose sister is a friend of Mizruchi's, which is how the visit came about. Hecht was also planning to be in the class, but had to work, so she will come on December 6.
Hecht's role came about when Bernstein was on location in Albuquerque directing "Cat's in the Bag…" and she went there for a weekend visit. At the same time, a deal fell through with an actor cast as one of Walter's former tech-industry partners. Stuck for a replacement, Gilligan said he'd rewrite the part for a woman, which meant that on the next episode, "…And the Bag's in the River," Bernstein found himself directing his wife for the first time.
"It was really stressful," he says, possibly kidding. "Every time I had suggestions, she'd just look at me and go, 'Uh huh.'"
Filming the episode also provided one behind-the-scenes highlight from Cranston.
"You have to remember that before Breaking Bad, he spent a few years as the dad on Malcolm in the Middle. He's a really funny guy," Bernstein says. "In the episode, Walt's got a guy in the basement and he knows he's got to kill the guy and he's in the kitchen looking for some type of murder weapon, pulling knives out of drawers. And then there's one take when Cranston just grabs a banana."
Greeted with silence, Bernstein adds, "Well, it was funny to me at the time."
The Myth of the Family in Classical American Literature, Film, and TV will be taught next semester as a graduate seminar, EN 754, and again in the fall as a BU Hub course, EN 355.
This Series
Also in
February 27, 2019

December 17, 2018

August 3, 2018