BU Observes Sexual Assault Awareness Week
Events culminate in Take Back the Night Rally Friday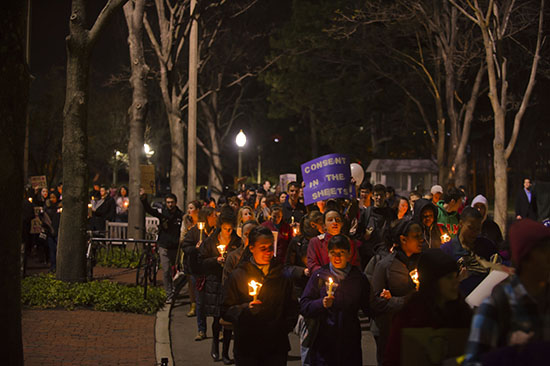 This week the BU community is observing Sexual Assault Awareness Week, an annual nationwide campaign that highlights the importance of public awareness of sexual assault and prevention. Campus events include discussions, performances, and a screening of Hunting Ground, a powerful documentary about sexual assault on college campuses. The weeklong observance concludes with the Take Back the Night Rally on Friday evening.
A sexual assault happens every 107 seconds in this country, according to the Rape, Abuse, & Incest National Network.
"We hope the week will raise awareness that sexual assault is an issue on campuses across the country," says Maureen Mahoney, director of the Sexual Assault Response & Prevention (SARP) Center and a BU crisis intervention counselor. "We hope the week will open up a dialogue, give people the confidence to help a friend, make students aware of the culture and things that might be triggering it."
Last spring, the US Department of Education Office of Civil Rights announced that 55 colleges and universities—including BU—were being investigated for possible violations of Title IX regarding how they dealt with sexual violence and harassment complaints (that number has subsequently grown to 104 colleges and universities). Title IX of the US Educational Amendments Act of 1972 prohibits discrimination "on the basis of sex" and requires schools to investigate all reports of sexual assault. BU students were recently asked in a confidential survey to weigh in on issues surrounding sexual assault. The survey ended March 31, and in the coming months, the results will guide University efforts to improve its response to the issue.
This week's events were organized largely by the student-run Center for Gender, Sexuality, and Activism (CGSA), with assistance from SARP and Wellness and Prevention Services at Student Health Services. CGSA health resources coordinator Jessica Klein (CAS'16), who was involved in much of the week's planning, says that in some communities, "survivors are questioned about their experiences and doubted in a lot of ways. At BU, we can jump-start conversations on how to best support survivors." She hopes the week will educate students about how sexual assault affects specific communities, inform them about survivors' rights, and finally, highlight resources provided by SARP and CGSA, such as bystander training.
As part of the Clothesline Project, a nonprofit dedicated to ending violence against women, members of the BU community were invited to decorate T-shirts with personal testimonies about sexual assault or words of encouragement and then hang them on a clothesline for others to see. Those T-shirts  will be on display across campus this week.
Following is a list of this week's Sexual Assault Awareness Week events on campus:
Monday, April 6
Sexual Assault in Queer and Trans Communities
Representatives from Boston-based Fenway Health, which provides counseling, advocacy, and referral services to LGBTQ+ victims of bias crime, sexual assault, and domestic violence, will bring their knowledge and expertise to the BU community in a discussion and question-and-answer session. A study done by the School of Public Health found that lesbian and bisexual women may be up to 3 times as likely as heterosexual women to report having been sexually assaulted in their lifetime, and that gay men are approximately 15 times as likely as heterosexual men to experience sexual assault.
The discussion on sexual assault in queer and trans communities is Monday, April 6, at the CGSA, George Sherman Union, 775 Commonwealth Ave., lower level, at 5 p.m.
Tuesday, April 7
Sexual Assault in Communities of Color
The Black Women's Blueprint, a civil and human rights organization, reports that 60 percent of black women report "coercive contact of a sexual nature" by the time they are 18. Similarly, a 2010 National Intimate Partner Survey found that one in 7 Latin American women will experience rape in her lifetime. At this event, members of Alianza Latina Boston University and Umoja BU will talk about how sexual assault impacts their campus communities and what steps can be taken to address the issue.
The discussion on sexual assault in communities of color is Tuesday, April 7, at the Howard Thurman Center for Common Ground, George Sherman Union, 775 Commonwealth Ave., lower level, at 7 p.m.
Self-Defense and Empowerment Class
BU's Jiu Jitsu club will run a short self-defense and self-empowerment class, which is open to all.
The self-defense class is Tuesday, April 7, at FitRec, 915 Commonwealth Ave., Room L137, from 8 to 9:30 p.m.
Wednesday, April 8
Phallacies Comedy Troupe
SARP, Wellness and Prevention Services, and the BU Arts Initiative have partnered to bring the male comedy troupe Phallacies to BU. The troupe, made up of UMass Amherst students and professors, performs vignettes that comment on our culture's idea of what it means to be a "real man," and how these "stereotypes of gender norms affect health, relationships, and violence," says Wellness and Prevention Services director Katharine Mooney (SPH'12). Skits are based on the men's everyday experiences: past topics have ranged from more lighthearted material (the awkwardness of using the middle urinal in a men's room) to more serious issues (calling out a friend who is abusing his girlfriend).
The Phallacies Comedy Troupe performance is Wednesday, April 8, at Jacob Sleeper Auditorium, 871 Commonwealth Ave., at 7 p.m.  
Thursday, April 9
Screening of Hunting Ground
Hunting Ground, Kirby Dick's acclaimed documentary focusing on the prevalence of sexual assault on college campuses and following survivors as they stay in school and fight for justice, will be screened at COM. After the film, a panel of SARP staff, a Title IX deputy, and a BUPD detective will discuss how sexual assault is handled on the BU campus and answer questions. Anonymous questions may be submitted in advance here or by texting SARPBU425 to 22333 to join the Poll Everywhere session.
The screening of Hunting Ground is Thursday, April 9, at the College of Communication, Room 101, at 6 p.m. BU Today will have a story on the screening with more information later this week.
Friday, April 10
Take Back the Night Rally
Sexual Assault Awareness Week culminates in the Take Back the Night Rally, where the BU community is invited to gather to support survivors of sexual assault and their allies. Klein says the evening will be the "biggest, most empowering, and most emotional" event of the week. Organized by the Feminist Collective (FemCo), a student group within CGSA, "it's essentially a rally for survivors of sexual assault, and it's about creating a safe environment where survivors can share their stories," says Klein, who runs FemCo. "It's about us coming together and taking back BU."
Author, feminist, and activist Jaclyn Friedman will kick of the event with a discussion about rape culture and how sexual assault survivors are seen on campuses. Klein says Friedman's observations should be both empowering and uplifting and that she will discuss how the University can provide a safer environment for survivors and how they can move forward. A speak-out after Friedman's remarks will provide an opportunity for survivors to share their stories.
Take Back the Night Rally marchers will travel through campus, down Commonwealth Avenue, Bay State Road, and end on Marsh Plaza, where the community "will feel the empowerment that the march creates, and reflect on the overall week" with a celebration, Klein says.
The Take Back the Night Rally is Friday, April 10, starting at the Photonics Center Colloquium Room, 8 St. Mary's Street, ninth floor, at 4 p.m.