Lunch, Anyone? Viga Italian Eatery
A hot lunch on a tight budget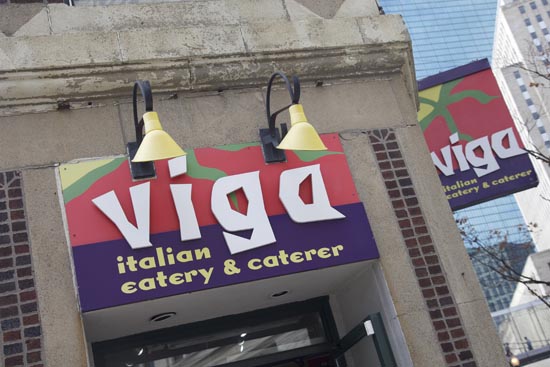 If you're searching for Viga Italian Eatery & Catering at lunchtime, it's best to follow your nose. Chances are you'll smell the food and notice the line before you see the colorful twin signs hanging over the sidewalk. The sweet smell of sautéed garlic beckons to passersby on Stuart Street. Viga serves up hot Italian food to go at its three Boston locations, making it a favorite lunch haunt for anyone looking for something a little heartier than a simple sandwich.
Viga offers items from pizza and calzones to pasta, soups, and yes, sandwiches, all at astounding speed. We arrived on a recent Friday to find a line out onto the sidewalk, but we were in the door and out again with our food in less time than it would take to get seated at many other places. A word of advice for those new to Viga: given the eatery's small space and rapid counter service, there really isn't room—or time—to browse the menu once you're inside, so it's best to take a moment to consult one of the menus posted outside.
When customers enter, they join one of several lines depending on the type of food they're ordering. Despite the crowds, Viga's servers are dependably friendly. This is a place that prides itself on customer service, and it clearly draws a loyal clientele. Many of the servers are on a first-name basis with patrons and have their orders memorized.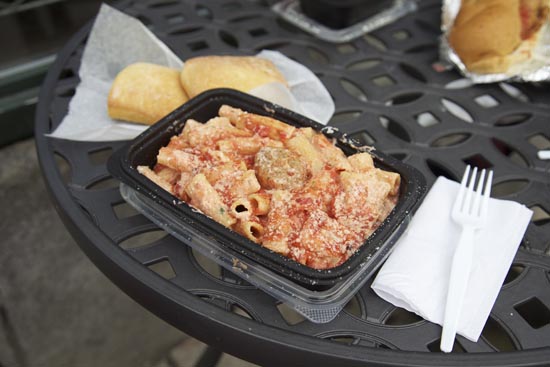 We ordered the baked ziti ($3.49 for small, $5.59 for large) and the daily special—ziti with chicken, broccoli, and cream sauce ($3.99 and $5.99). The small is a good size for lunch and a great value, but the sauces in each dish were flat. The broccoli was cooked perfectly, and had the right amount of crunch; however, the sauces kept the two dishes from being great. Because it was marked as a customer favorite on the menu, we also decided to try the chicken parmesan sandwich ($6.39). Served hot, the sandwich was, unfortunately, light on both sauce and cheese. While that reduced the likelihood of spilling, we'd have happily taken the risk in the interest of more of both. After all, what's a chicken parm sandwich if it isn't smothered in sauce and melted cheese?
If Viga's hot pasta dishes fall short, its fresh salads and cold sandwiches do not. All breads and pastries are baked fresh daily, and all of the ingredients are fresh. Salads ($2.49 to $5.99 depending on size) include Cobb, garden, Greek, and Caesar. Among the cold sandwiches ($5.59 to $6.59) are Prato (goat cheese, roasted peppers, grilled eggplant, and a pesto sauce) and Pavarotti (prosciutto, salami, imported ham, provolone, roasted peppers, lettuce, tomatoes, and oil and vinegar). Despite the shortcomings of the hot dishes, the fare at Viga is better than you'll find at most food court cafés. It's a good spot to go if you're on a budget and have a limited time for a lunch break. But best to go expecting good fast food, not the kind of Italian cuisine you'll find in the North End.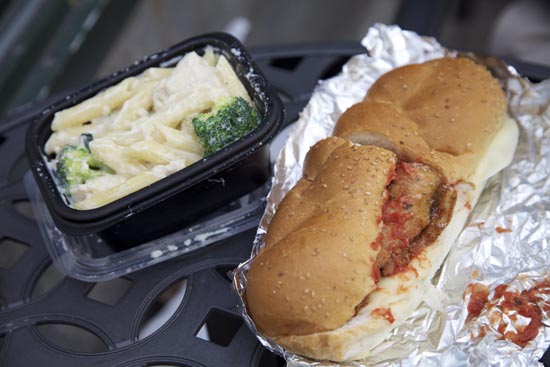 Viga Italian Eatery & Caterer, 304 Stuart St., Boston, is open Monday to Friday, 7 a.m. to 7:30 p.m.; phone: 617-542-7200. The restaurant takes all major credit cards. By public transportation, take any MBTA Green Line trolley to Arlington. Other locations are at 275 Washington St., near Faneuil Hall, and 291 Devonshire St., near the Financial District.
This is part of a weekly series featuring Boston lunch spots of interest to the BU community. If you have a suggestion for places we should feature, leave them in the comments section below. Check out our list of lunchtime tips on Foursquare.
Frank Brogie can be reached at brogief@bu.edu.
This Series
Also in
April 18, 2018

April 11, 2018

March 29, 2018