Lunch, Anyone? Saus
Belgian-style frites and waffles, but condiment is king
The menu at Saus is deceptively simple—sandwiches, salads, fries, desserts. Such fare can be found almost everywhere in Boston. But this small eatery, tucked into a little spot near Government Center, has taken these items and given them an unforgettable kick. How? The secret lies in the restaurant's focus on Belgian street food and its numerous homemade dipping sauces—hence the name.
Saus was founded by two BU alums—Renee Eliah (SMG'08) and Chin Kuo (SMG'08)—and their friend Tanya Kropinicki, after they were laid off from a start-up software company. "We had always talked about food during work, and we joked around about opening a stand that sold French fries," says Eliah. "We were laid off together when the recession happened, and we could either find marketing jobs somewhere else or we could find restaurant jobs." With help from Greg Collier, a School of Management lecturer in strategy and innovation, they opened Saus in 2011.
What they created is a place that celebrates Belgian-style pommes frites and waffles, enhancing both with more than 15 dipping sauces ($.75 each), as well as complimentary homemade ketchup, mayo, and hot sauce, to slather on top of anything and everything. It's a condiment lover's dream.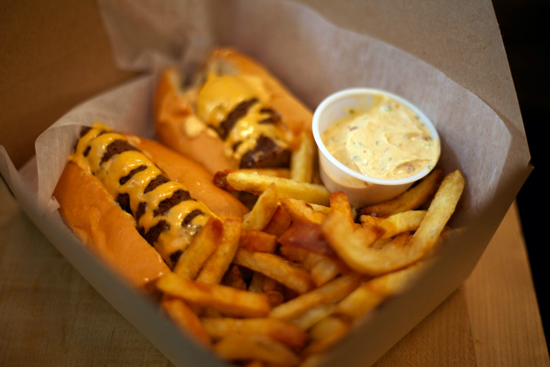 Saus' inviting chalkboard menu includes the aforementioned hand-cut frites ($4.25-$7), double-fried and served in paper cones, and liège waffles ($3.75), made from dough, not batter, with pearl sugar. Either is delectable on its own, but add a unique sauce and it becomes downright irresistible (for the waffles, there are sweet sauces like salted caramel, nutella, and lemon cream). "We try to utilize our sauces and sandwich spreads to enhance flavor," Eliah says. "Every item has a sauce component to it that really makes it what it is."
To gauge the range of distinctive sauces available, we recommend starting with the three most popular—the vampire slayer, the olé chipotle, and the bacon parm. True to its name, the vampire slayer is packed with garlic, the olé chipotle has delightful hints of lime and cilantro, and the bacon parm—our personal favorite—offers just the right balance of bacon and cheese. You can also take home any eight-ounce sauce for $5.
The menu has more substantial lunch options as well. We ordered two entrées, the Frik and the veggie croquette pita. The Frik ($8), beef and pork, dill pickles, sharp cheddar, and andalouse sauce, is Saus' hand-rolled take on Belgian street food. The ingredients complemented one another perfectly. The veggie croquettes ($6.95), made with potato cauliflower mash, were a fresh and flavorful vegetarian option, packed with subtle flavors enhanced by vinaigrette and samurai sauce.
Saus is deservedly famous for its carefully selected crafted beer list, which features a number of excellent Belgian and American craft beers. Among those currently on draft are Weyerbacher Imperial Pumpkin, Ayinger Ocktoberfest, and Green Flash Green Bullet. We passed on the enticing beer float (choice of beer and two scoops of vanilla ice cream for $2.50 plus the cost of the beer), but we plan to return to try it out.
Patrons order counter-style and can sit at one of the few narrowly spaced tables. Deep wood accents and bright blue chairs give Saus a sleek and modern look, and the framed cartoon strips of Belgium's boy reporter-turned-detective Tintin give the place a playful vibe.
Saus, 33 Union St., Boston, is open Monday to Wednesday, 11:30 a.m. to 10 p.m., Thursday, 11:30 a.m. to midnight, Friday, 11:30 a.m. to 2 a.m., Saturday, noon to 2 a.m., and Sunday, noon to 8 p.m.; phone: 617-248-8835. By public transportation, take an MBTA Green Line trolley to Government Center.
This is part of a weekly series featuring Boston lunch spots of interest to the BU community. If you have any suggestions for places we should feature, leave them in the comments section below. Check out our list of lunchtime tips on Foursquare.
Irene Berman-Vaporis can be reached at imbv@bu.edu.
This Series
Also in
April 18, 2018

April 11, 2018

March 29, 2018