Lunch, Anyone? Crispy Crepes Café
A taste of France in the heart of BU's South Campus
Mention the word "crepe" and you'll find it conjures up different images for people. For many, a crepe is a classic mix of vegetables and/or meat and cheese, while others picture sweet confections with bananas, strawberries, and confectioners' sugar. Crispy Crepes Café offers both—and everything in between. Conveniently located in BU's South Campus, just across the St. Mary's Street Bridge, this café is a great getaway for a tasty and affordable lunch.
We stopped by on a recent weekday afternoon to find a number of BU students enjoying a leisurely meal. The café has a casual, cozy décor with exposed brick walls and an eclectic mix of ethnic artwork. The large windows give patrons a perfect perch for people-watching. In keeping with the casual vibe, customers order at the counter, and the food is delivered by the café's friendly staff.
Seating is plentiful, and because of its proximity to the University, BU Wi-Fi is available, making it especially popular for students looking to check email or study while eating. There is a television in the back for watching soccer and other sports.
But enough about the setting. Let's talk about the real draw here—the crepes. They are organized on the menu into several categories—savory (six cheeses to choose from), sweet (dessert crepes), vegetarian, super, and signature. The latter offers contemporary takes on classic French fare. The Manhattan crepe ($7.95) has smoked salmon, diced tomato, onion, chopped egg, and cream cheese. Another, billed as the sizzling Saigon, has shrimp, chicken, mushrooms, and scallions in a Vietnamese sauce.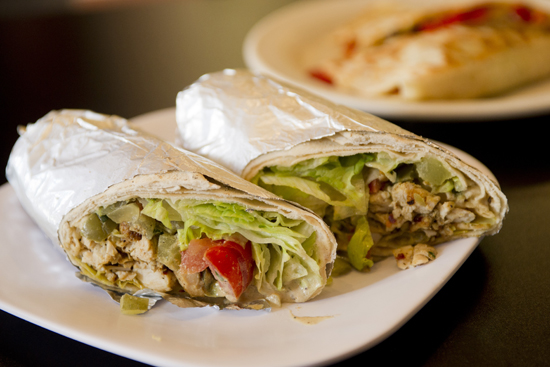 We ordered two savory crepes, a roll-up, and a dessert crepe to finish off the meal. One of the two lunch crepes was a mix of Roma tomatoes, basil, and spinach with Brie ($5.25), the other a roasted pepper, onion, and mushroom crepe with cheddar cheese ($5.75). Both were soft, but crispy on the outside, with melted cheese blended with vegetables inside. The savory gourmet crepes range from $3.95 to $5.75.
Some of the café's other popular crepe offerings are a California crepe ($6.50): turkey, tomato, cucumber, avocado, spinach, and jack cheese. Another favorite is the Tuscany crepe ($6.70), filled with pesto-scented chicken, Roma tomatoes, spinach, sundried tomatoes, and buffalo mozzarella.
While crepes are the main draw here, the café also serves a wide range of vegetarian and meat roll-ups, salads, grilled paninis, pasta entrees, breakfast foods (omelets, pancakes, French toast, and more), and dinner plates (kabobs, shawarma, and more, which come with generous sides). We ordered the falafel roll-up ($5.50), filled with ground chickpeas, garlic, lettuce, tomato, onion, and tahini sauce, which had just the right amount of tangy bite.
If you want to end your meal with something sweet, you've come to the right place. Crispy Crepes offers several dessert crepes. We had a delicious strawberry and Nutella crepe ($6.25), sprinkled with powdered sugar. Nutella is a popular ingredient in the café's sweet crepes, but they can also be ordered with shaved coconut, banana, and chocolate ($5.95), ricotta cheese and choice of jam ($4.95), and apple, brown sugar, cinnamon, and caramel ($6.25).
Satisfying food at satisfying prices can be hard to come by near campus, but Crispy Crepes Café hits the spot on both counts. It's the place for either a quick stop between classes or a more leisurely meal with friends.
Crispy Crepes is at 512-A Park Drive, Boston. To get there from Commonwealth Avenue, cross the St. Mary's Street Bridge (directly across from Marsh Plaza), turn left onto Mountfort Street and then right onto Park Drive. Crispy Crepes is open Monday through Saturday from 9 a.m. to 11 p.m. and Sunday from 9 a.m. to 10 p.m. and accepts cash and major credit cards.
This is part of a weekly series featuring Boston lunch spots of interest to the BU community. If you have any suggestions for places we should feature, leave them in the comments section below. Check out our list of lunchtime tips on Foursquare.
Andreia DeVries can be reached at adevries@bu.edu; follow her on Twitter at @andreia_dev.
This Series
Also in
April 18, 2018

April 11, 2018

March 29, 2018