Sneakers on Ice
Broomball: most popular intramural sport at BU
Boston is a city rich in sports history. Fenway Park, at 100, is baseball's oldest major league ballpark, and the Celtics are the winningest NBA team in history. College hockey grips the city like nowhere else in the country, and over the past decade, the Patriots have fired up their fans by winning three Super Bowls.
Given that history, the hottest intramural sport at Boston University might be expected to be roller hockey, softball, maybe even flag football.
Wrong on all counts.
The most popular intramural sport at BU—with 80 teams and more than 1,000 students enrolled each season—is one that most people have never even heard of. Welcome to broomball.
For the uninitiated, broomball is much like hockey, but players take to the ice in sneakers, not skates, and it celebrates balance and strategy over pure athletic ability. The sport's other defining hallmark is that squads are coed.
"I believe for many students here, broomball is now seen as a rite of passage," says Scott Nalette (SED'07), the manager of intramural and club sports at BU. "Incoming freshman hear about this game they've never seen before, and they see 1,000 other students doing it and having a great time."
What accounts for the game's enormous popularity? Nalette says that because most students are new to the game, the playing field is level for everyone. "The fact that no one comes in with any experience makes it less intimidating to come out and try," he says.
According to USA Broomball, a nonprofit devoted to promoting the game in the United States, broomball began in Canada in the early 1900s with streetcar workers who played with small soccer balls and corn brooms. The game first made its way to America via Minnesota in the 1930s. But leagues didn't start to develop until the 1960s, and Minnesota didn't hold its first state tournament until 1966. Not surprisingly, given its cold winters, Minnesota has the most broomball teams in the country, but the game is also popular in places like Wisconsin, Iowa, North Dakota, and Nebraska.
Nalette says broomball was first played at BU in the 1970s, but beyond that, not much is known about its origins here.
At first glance, the rules for playing broomball seem simple and intuitive. The game has three 15-minute periods, with one minute between each segment. Six players take the ice for each team (it used to be 10) and create a formation similar to that of ice hockey: three forwards, two defensemen, and a goalie.
But here's where the game as it's played at BU becomes unique: each team must maintain an equal number of male and female players at all times (except when there's a penalty). Ready for another twist? Each team has to use at least one male goalie for a full period and one female goalie for a full period.
Are all your best goal-scorers males? Better teach a few girls how to shoot. Is your dominant goalie a female? You'll need to find a guy to step up for at least one period between the pipes.
Eli Fredman (CAS'12), a forward for Team Wannahockaloogie, says that building coed mandates into the rules at BU adds to the team atmosphere. "Girls can play, guys can play, and everyone has fun whether you're on the bench or the ice," he says. "I get a lot of enjoyment from seeing everyone think they're contributing."
Many of broomball's rules are designed to level the playing field, ensuring that most games are competitive regardless of the skill level of either team.
Intentional sliding, either to block a shot or slap at the ball, is forbidden, and making contact with the ball while your feet have left the ice draws a two-minute penalty. This prevents defenders from diving in front of the net and puts added pressure on the goalie.
Broomballers must also keep the wedge of their stick below their waist at all times, making slap shots all but impossible to execute. This prevents skilled players from slamming the ball into the net against inexperienced goalies and also prevents defenders from easily clearing the ball down the ice.
"Broomball requires some level of physical ability, and with the right people it can be very competitive. I've seen broomball games get physical," Fredman says. "But it's a sport that everyone is pretty average at, minus a few star players. In many other sports, like football or baseball, it's hard to play if you're just an average player. But in broomball, you can be just average and have a ton of fun."
Occupational therapy major Colleen Young (SAR'12), who plays for the OTEAM squad, says the game's eccentricities are part of its appeal. "This sport is not about grace. My favorite aspect of broomball is how funny everyone looks as they're running on the ice, which is what makes it so unique," she says. "I love seeing people tank it everywhere."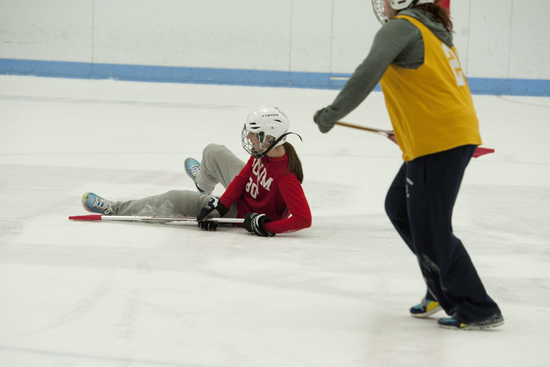 And tank it they do. It may not be as hard to run on ice as you'd think, but it's incredibly hard to stop your momentum or change direction. Most players fall several times a game, but are protected from serious injury by league-mandated helmets, provided by BU's intramural office. Players are also encouraged to wear gloves and knee guards, although they are not provided.
Such equipment can come in handy. Although BU's intramural league rules ensure that sportsmanship is upheld at all times, Fredman says many of the league's better teams play very competitively—especially in the playoffs.
"I take broomball very seriously in a lighthearted way, if that's possible," Fredman says. "I've thrown broomball parties, we've made jerseys, and I've even created lineups and given pregame speeches. It's not something where if I lose, I'm going to be completely destroyed, but I really want to win."
Like with Fredman, the sport brings out Young's competitive nature. "When I get on the ice," she says, "I can't help but become competitive. I have plenty of fun, but I also love to win."
BU's broomball league of 80 teams is organized into 16 divisions of 5 teams each. Each team plays the teams in its division once, for a total of four regular-season games. The regular season runs from mid-February to mid-April, followed by a one week single-elimination playoff tournament.
To make the playoffs, a team must finish in the top two spots in its division. This year's playoffs run from April 23 to May 2, when a new champion will be crowned.
The winning team skates (er, slides) away with no trophy, no ring, no pennant. Nalette says members receive the same "BUIM Champions" T-shirts that every league winner earns.
But Fredman says those T-shirts, plus the chance to celebrate with friends and teammates, makes the effort worth it.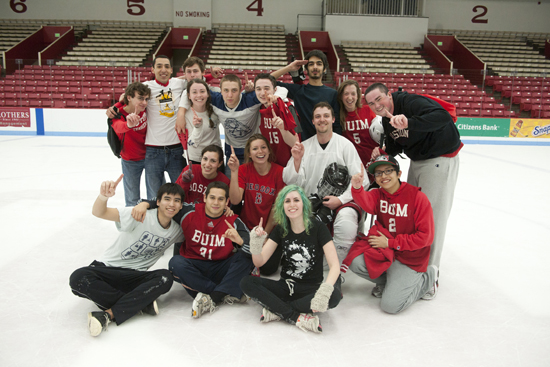 "It's difficult for me to find time to spend with all my friends, and having all of them on the broomball team gives me at least four times a semester I can hang out with all of them," he says.
"Winning in my last year…wow, that would be great."
Find more information about BU's intramural broomball league here. Learn more about broomball leagues around the country here.
Ben Carsley can be reached at bcarsley@bu.edu.