Promoting the Beauty of Natural Hair
Student club BU Naturally fosters community with discussions, hands-on events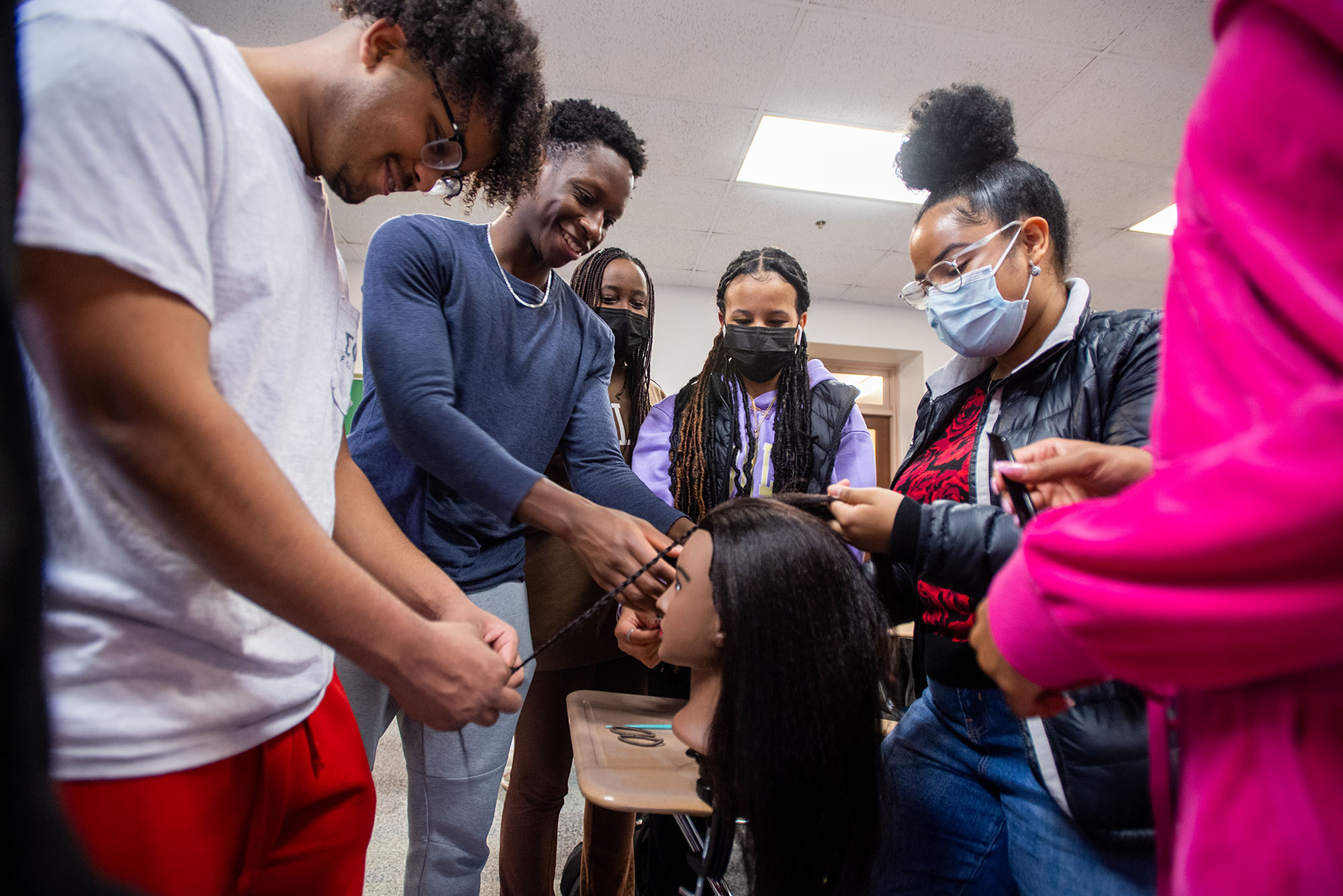 Student Clubs
Promoting the Beauty of Natural Hair
Student club BU Naturally fosters community with discussions, hands-on events
On a recent weeknight, mannequin heads with a variety of curly and kinky hair are clipped to desks in a College of Arts & Sciences classroom. Small clusters of students gather around each head, taking turns grabbing strands of the mannequins' hair, slowly working their way down the heads at the demonstration and class on braiding hair hosted by BU Naturally, a student club devoted to promoting the beauty of natural hair.
Founded in 2019, the club grew out of what had been the Boston University chapter of Campus Curlz, a nationwide natural hair and service-based organization. With the aim of fostering a community that speaks to the growing diversity of culture and hair types on campus, members decided to branch off on their own.
BU Naturally hosts events designed to empower people with curly and coily hair to embrace their natural hair and all the forms it comes in.
During the pandemic, club president Naomi Boye (Questrom'22) kept the organization going by hosting weekly virtual Curl Chats covering a range of topics, which created a space for people to discuss natural hair and its intersection with current events. The chats proved so popular they decided to continue them once in-person meetings resumed. At a recent session, members talked about the impact of the CROWN Act—a bill recently passed by the Massachusetts Legislature—on promoting inclusivity.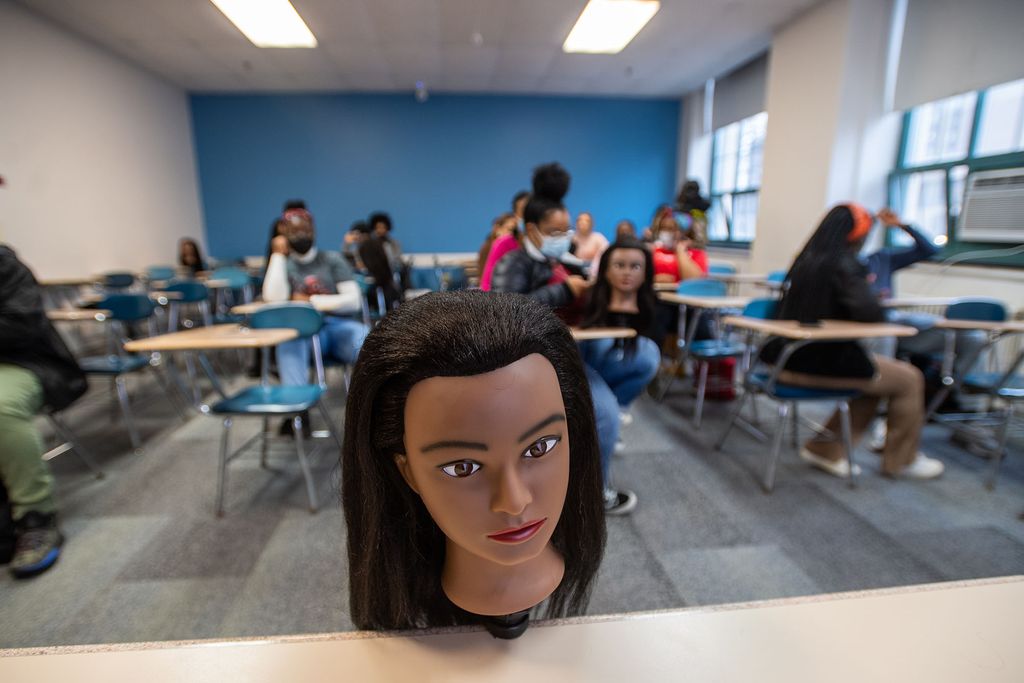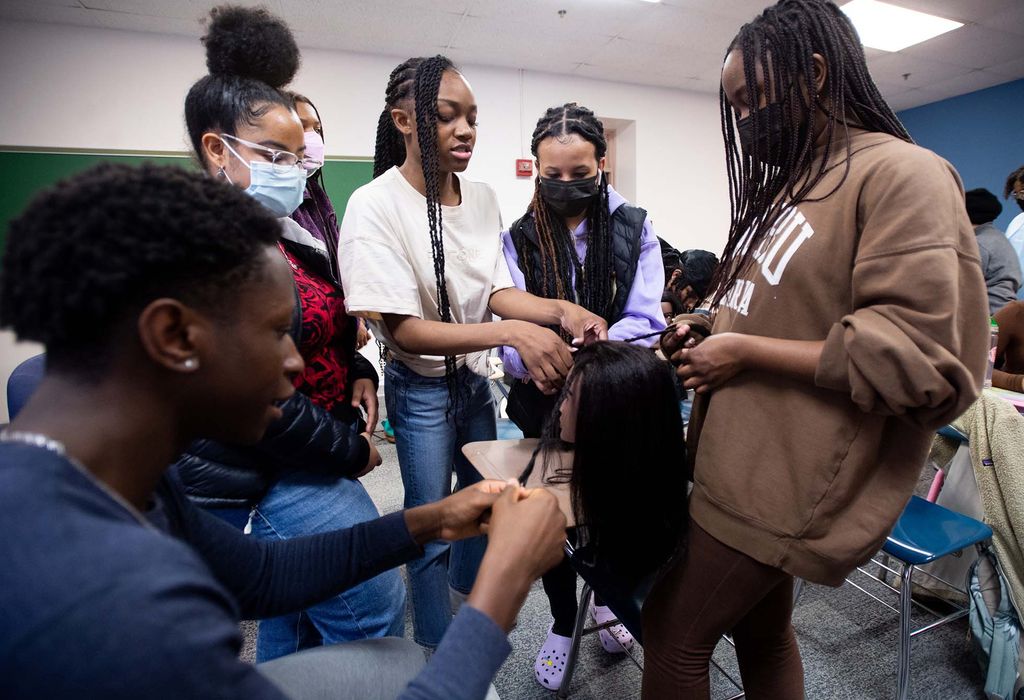 "I think that a big part of BU Naturally is that it's kind of the first place that a lot of Black girls on campus will come to try and make new friends, because there is such a bond over hair within the Black community," Boye says. "We're contributing to the normalization of wearing different natural hairstyles."
In addition to Curl Chats, BU Naturally maintains a blog to keep members abreast of natural hair news and discourse, leads field trips to local beauty supply stores, and hosts hands-on-events, like the live hair braiding 101 demo. Most meetings draw more than a dozen students, though bigger events bring in much larger crowds.
Tatiana Anderson (CAS'22), the demo's hair braiding "pro," wanders the room, stopping to guide anyone who seems to be struggling. She has been braiding hair since she was seven and even ran a small hair business on campus. Anderson wanted to share that knowledge with the club before she graduated. "A lot of people are coming from home, far away, and don't know how to do their hair," she says. "I really feel like it's important that whenever you have knowledge, or something, just to share it because you never know what someone can do with that."
Programming chair Camille Ofulue (CAS'24) says hair styling events like this are important on a campus like BU. "There's a lot of pressure to look a certain way and that's not always achievable in this environment. For example, if you live in a dorm, you can't wash your hair every week in the communal bathroom, but you can get a set of braids that will last you a long time."
---

A big part of BU Naturally is that it's kind of the first place that a lot of Black girls on campus will come to try and make new friends, because there is such a bond over hair within the Black community.

---
The hair braiding 101 class is the first time Tatiana Jose-Santos (CAS'23) attended a BU Naturally meeting. She saw the club's promotion on Instagram and figured it was her chance to learn more. "I can do cornrows [on myself], but I'm really interested in learning how to do different styles, like box braids," she says.
The event even drew several male students, who attended out of curiosity.
"I think as a Black man, it's important for us to develop our knowledge, and I think braiding your own hair, that's really cool," says N'Sikan Keendow (Questrom'25). "If you can [braid] on your own, that's kinda like taking some power for yourself. Not every Black man can braid hair. The fact that I can learn here, with other Black students on campus, I feel like that's really promoting our culture and community on campus."
Mackenzie Bower (CAS'22), one of the few at the meeting without noticeably curly hair, says that her main motivation for joining the club is to gain a better understanding of her friends. Raking her fingers through her mannequin's hair, she says it would be fun to be able to do her friends' hair every now and then.
Boye hopes to see the club grow and continue to be a resource on campus. "A lot of people [with] different backgrounds take interest in our club," she says. "I feel like we're able to provide a place where people can feel accepted, while also marking our space within the wider BU community."