Yes, BU Has an Equestrian Team. And It Just Had a Record Season
The club is sending cocaptain Lizzy Nevins to Nationals in early May
Watch it again
Yes, BU Has an Equestrian Team. And It Just Had a Record Season
Watch Now
Yes, BU Has an Equestrian Team. And It Just Had a Record Season
What has two heads, six legs, and is qualified for Nationals?
Boston University Equestrian Team cocaptain Elizabeth Nevins on any one of the horses she's been riding throughout the BU team's, and her, superb 2021-2022 season.
"We haven't had anyone qualify for Nationals since 2018," Nevins (CAS'23, Sargent'23) says. "I just want to put in a good show and represent for BUET, so that when—fingers crossed—we go next year, I can be there to support and cheer everyone on, too."
Nevins qualified this year by accumulating the highest number of points in her classes throughout the season and postseason. The competition team itself fell just two points short of qualifying for the national championship, which will be held May 5 to 8 in Harrisburg, Pa.
If you didn't know that BU had an equestrian team, you probably aren't alone. Where would you even keep horses in the city? is a question Nevins and cocaptain Sarah Watanabe (CAS'23) say they get asked frequently when students and staffers find out they ride. (The answer: Nevins likes to tell people they're stabled under Agganis, but they're really kept at BU's partner facility, Holly Hill Show Stable in Hanover, Mass.)
Despite its low profile, the Equestrian Team is a well-established part of BU's club sports culture. The team has 21 members, seven of whom are on the official BUET competition team. Those seven compete in zone 1, region 4, of the Intercollegiate Horse Show Association (IHSA), riding against schools like Boston College, Brandeis, Wellesley, and UMass Lowell.
Riders compete in nine different levels of events—three jumping levels and six so-called "flat" levels, which include walk-trot and walk-trot-canter—which they're placed in depending on their past riding experience. Everyone's points count equally toward the team's final score, regardless of their level.
The collegiate equestrian season runs fall to spring, with most competitions held during the fall. Championship meets are considered postseason. Team members typically practice at Holly Hill under the stewardship of head coach Phyllis Cervelli and her in-house coaching staff.
Those on the competition team spend their weekends competing at barns around the state. Some weekends involve doubleheaders, where riders spend back-to-back 12-hour days at competitions. The horses, at least, get plenty of rest: in lieu of each school bringing their own horses to a meet, IHSA requires that the host barn provide the horses for a match. Riders draw lottery numbers to determine who takes what horse for an event.
If riding a horse doesn't sound challenging or competitive, think again.
"A lot of people love to say to us, 'The horse does all the work, blah blah blah,'" Nevins says. "And we respect our horses more than anything in the world; they, too, are athletes. But I guarantee if the average person walking down the street tried to get on a horse and do what we do on a normal basis, they would be shocked by how sore they are the next day—let alone if they hadn't fallen off in the first 15 minutes."
And talk about putting in the work: BU's competition team was the highest scoring in the region, sending its riders to both the regional and the zone championship competitions before the team narrowly missed the cutoff for the national championship.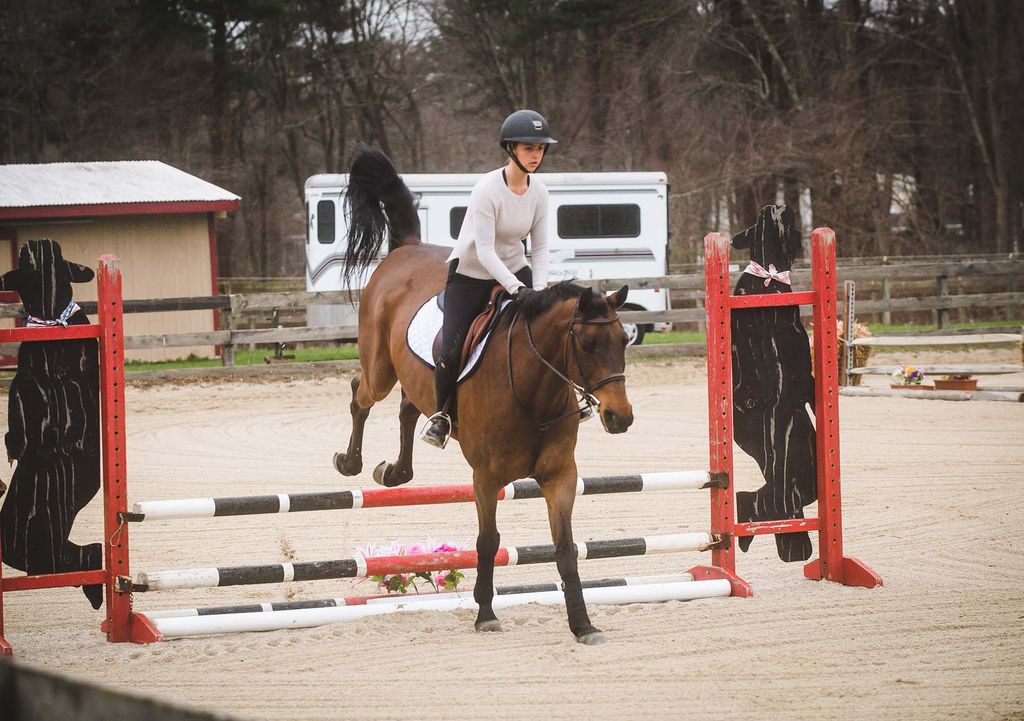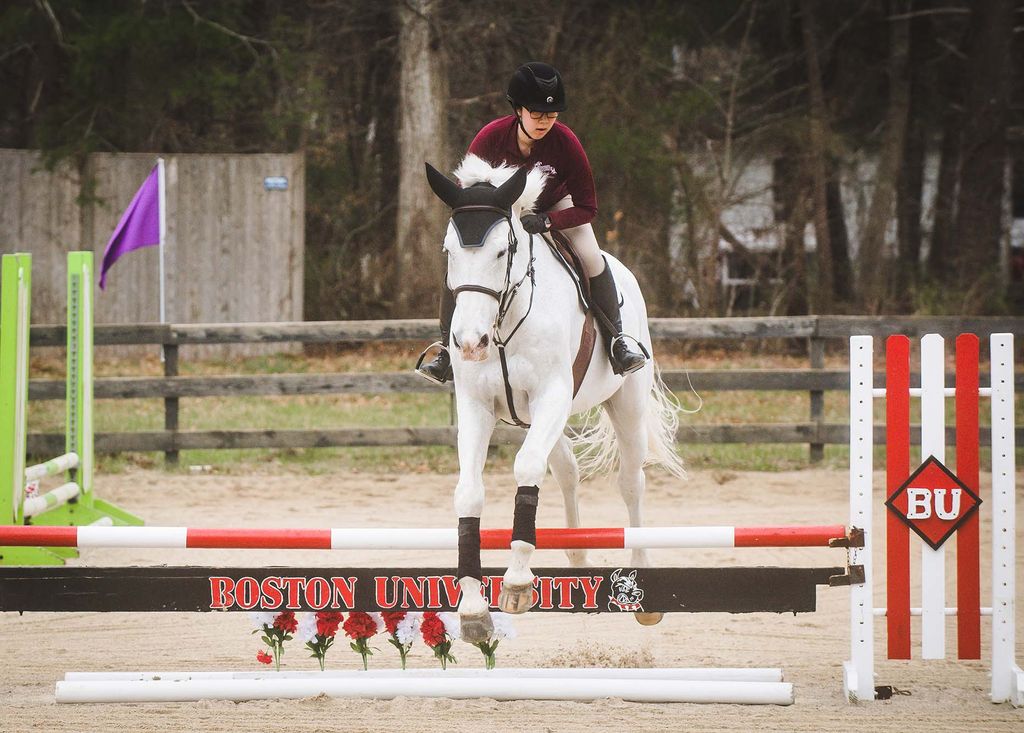 "It was a really big deal that we were able to qualify so many individual riders for Regionals and then have them all qualify for Zones—that's very rare," Watanabe explains. "That was really exciting for all of us."
For longtime rider Bryce Boggio (SAR'23), making it to the postseason competitions was a dream come true. But it's the practices—and the team atmosphere surrounding them—that stand out as one of the highlights of her time at BU. "Being out at the barn is such a different environment from the city; it's actually really hard to think about school when I'm there," she says. "It's such a good mental break from classes and work."
She's echoed by Emily Lambert (CAS'25), who joined BUET after taking horseback-riding lessons last summer. What started out as a fun hobby, she says, quickly became a treasured outlet once she joined the team and began competing.
"BUET has been such a wonderful experience," Lambert says. "I love getting out of the city to ride because it gives me the chance to de-stress from classes. My teammates are some of the kindest people ever and helped me so much in learning the ropes when it came to competing. I'm very grateful for the opportunities to compete and create bonds with other equestrians."
That team aspect is crucial to the BUET experience, say Nevins and Watanabe, who grew up riding and competing on different coasts (Nevins on the West Coast and Watanabe on the East).
"Normally, riding is such an individual sport—you have barn mates, but it's never that team-based because you're competing against everyone," Watanabe says. "Now, I really love that I get to represent my school in a team sport and share my love of horses with everybody. That's one of my favorite parts of BUET." Even the drives out to Holly Hill—which take 40 minutes to an hour in the red Club Sports vans—are fun, she says: "I love catching up on people's lives!"
For Nevins, even though she'll be heading to Nationals as an individual, it's the team that's buoyed her performance this season.
"BUET completely changed the game for me," she says, adding that burnout and loneliness from her high school career almost led her to quit competing. "In college, you have a team of people who are there to support you and be your best friends and therapists, along with the horses. Being able to be a captain and help people experience that eye-opening happiness that I experienced—it's just completely changed the game."
She'll compete in the highest jumping and flat levels in Harrisburg. Ribboning at the competition would be great, but that's not the point anymore, Nevins says.
"I just want to put in a ride and a performance that I'm proud of, and that my coaches and my teammates would be proud of, too."