A Festival-Filled Friday to Sunday
Third annual Comm Ave Fair, Childish Gambino, and more
Classes may have started and homework begun to pile up, but that's no excuse to stay indoors all weekend. With lots going on both on and off campus, it's a great time to explore the campus and the city. And it all starts with today's third annual Commonwealth Avenue Fair, from 2 to 4 p.m.
Friday, September 7
Commonwealth Avenue Fair
Sponsored by the Dean of Students Office and Events & Conferences, the event transforms Commonwealth Avenue into a mile-long fairground, featuring numerous activities (a putting green, a tie-dyed T-shirt station, temporary tattoos), lots of prizes, free food, and a whole lot of giveaways courtesy of the University's many schools, colleges, departments, and clubs. This is a great way for both new and returning students, faculty, and staff to learn about the many academic, athletic, and extracurricular activities offered at BU.
Following is a list of fair highlights (by address, from west to east), plus some other fun suggestions for the first official weekend of the fall semester.
School of Hospitality Administration, 928 Comm Ave
Don't miss an opportunity to Pie the Professor at SHA. You'll also have a chance to win an iPad 2 and snack on samples from local restaurants.
FitRec, 915 Comm Ave
The Fitness & Recreation Center is bringing back its crowd-favorite "Show us your best dance moves in 5 seconds" contest, along with a corn hole toss, Olympic swimmer trivia, and plenty of prizes. There will also be an information table where you can learn about all things FitRec.
881 Offices, 881 Comm Ave
Complete a fairway challenge (ring toss) and you could win a gift card, movie passes, or dinner coupons. Meet staff members from Admissions, the Registrar's Office, Student Accounting Services, and the University Service Center while enjoying snacks and giveaways. You can also join Student Health Services for The Game of Life at BU, an interactive version of the traditional board game that tests your knowledge of campus resources. All players will receive a prize.
College of General Studies, 871 Comm Ave
Sign a giant beach ball for the Class of 2016, and then get yourself inked with a temporary tattoo. There will be also be a dance party, free cotton candy and key chains, and opportunities to meet with CGS faculty, members of student government, and representatives from other student organizations.
College of Fine Arts, Turnpike Park, 855 Comm Ave
Here's a chance to get your portrait painted, catch a performance by the School of Theatre's improv troupe, SPONtaneous COMbustion, listen to the BU Band, and join a samba parade, all courtesy of CFA.
GSU Plaza, 775 Comm Ave
Get your picture taken as William Shakespeare or Emily Dickinson, sponsored by BU Libraries, relax over coffee and conversation with representatives from the Howard Thurman Center, grab coupons in the GSU's money booth, sample fro-yo from Pinkberry, or join in the Student Activities Office's dodgeball match. There will also be a voter registration booth (remember, the presidential election is November 6!). The GSU Plaza has it all.
College of Communication, 640 Comm Ave
Stop by the COM lawn for an ice cream social (free sundae alert). If you're one of the first 300 attendees, you'll also be able to snag a pair of COM sunglasses. You can also find out what projects COM professors are currently working on.
Sargent College of Health & Rehabilitation Sciences, 635 Comm Ave
Already stressed out over classes? Sargent College faculty and staff will offer lots of great tips for maintaining health and wellness and help you de-stress with canine ambassador Rufus. There will be a SAR flash mob and info about new advances in staying healthy. You can also enter for a chance to win a free iPad 2.
School of Management, Metcalf Science Center Plaza, 590 Comm Ave
SMG is calling all Don Drapers and Peggy Olsons to take part in its advertising competition. You and your team will create a name, logo, and ad for a new area cupcake bakery; winners will get one of three gift cards: $75 to Bertucci's, $50 to Scoozi, and $25 to Starbucks. The contest will be judged by marketing faculty members. SMG also promises plenty of giveaways.
Also at Metcalf Science Center plaza will be members from the deaf studies department at the School of Education. Visitors can learn some sign language, play interactive ASL games, and win prizes.
Center for Student Services, 100 Bay State Road
Take advantage of a scavenger hunt that will take you through BU's newest building, the Center for Student Services, at 100 Bay State Road. The Center for Career Development and the Educational Resource Center will offer a fact-or-fiction game covering topics like interviewing, networking, and academic responsibilities. There will be free ice cream served up by CAS professors and free stuff courtesy of Dining Services.
Boston Arts Festival
Christopher Columbus Waterfront Park, Boston
New to Boston and want to find out about the city's vibrant arts scene? Check out the Boston Arts Festival, a three-day extravaganza featuring many of the Hub's most accomplished visual artists, performing arts groups, and individual performers. The festival is being held at Christopher Columbus Waterfront Park, where visitors will not only get to see the work of more than 60 juried artists in a specially built artists' village, but will be treated to breathtaking views of the waterfront. Two stages will feature some of Boston's best performing arts groups, including the Boston Symphony Orchestra, Sharon Jones and the Dap-Kings, the Boston Tap Company, City Stage Company, and many more.
The Boston Arts Festival is today, Friday, September 7, from 6 to 9 p.m., and Saturday, September 8, and Sunday, September 9, from noon to 6:30 p.m., at Christopher Columbus Waterfront Park, 105 Atlantic Ave., Boston. It is free and open to the public.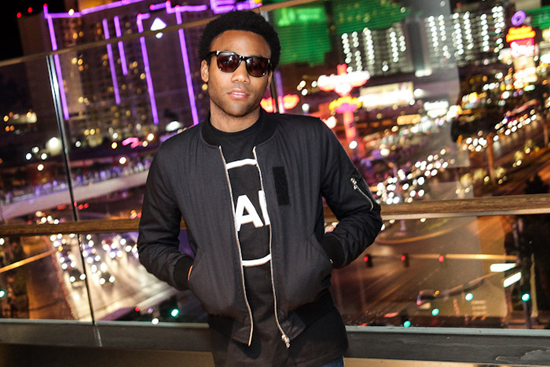 Childish Gambino
George Sherman Union Metcalf Ballroom, 9 p.m.
You may know him best as Troy Barnes on the hit NBC comedy Community, but here's your chance to see actor Donald Glover in another light. The rising actor, writer, and comedian is also a rapper, and tonight he'll appear under his recording name, Childish Gambino. His first studio album, Camp, released last year, earned plaudits for its clever and catchy rhymes. Don't miss Childish when he hits the GSU's Metcalf Ballroom in a concert presented by the BU Programming Council.
Childish Gambino performs tonight, Friday, September 7, at 9 p.m. in the Metcalf Ballroom, George Sherman Union, 775 Commonwealth Ave., second floor. The event is open to BU students only. Tickets are $15 and can be purchased here.
Saturday, September 8
MIXfest 2012
Hatch Shell, Boston's Esplanade, 4 p.m.
Radio station MIX 104.1's annual free concert MIXfest returns to the DCR Memorial Hatch Shell on the Esplanade with an all-star lineup that includes three-time Grammy-winning band Train, singer-songwriter Gavin DeGraw, and Andy Grammer, whose first hit single, "Keep Your Head Up," drew instant acclaim. The popular station sponsors the free concert each year to thank listeners. So enjoy the music and the scenic views of the Charles River. The concert will take place rain or shine.
MIXfest 2012 kicks off at 4 p.m. on Saturday, September 8, and runs approximately four hours. You may want to bring a lawn chair or blanket to sit on. To get to the Hatch Shell, take an MBTA Green Line trolley to the Arlington stop or an outbound Red Line train toward Harvard Square and get off at the Charles/MGH stop. Walk down Arlington Street toward Beacon, cross the Arthur Fiedler Walkway, and the Hatch Shell is on the right.
This weekend is your last chance to catch the Boston Comedy Arts Festival. The six-day festival, hosted by ImprovBoston, ends Sunday, so head over to Central Square in Cambridge to catch one of this weekend's many side-splitting improv, sketch, and stand-up acts. The festival also offers a number of comedy workshops. Find a full schedule of events here.
The Boston Comedy Arts Festival runs Saturday, September 8, from 4 p.m. to about midnight, and Sunday, September 9, from 7 to about 11 p.m. at ImprovBoston, 40 Prospect St., Central Square, Cambridge. Tickets range from $14 to $20 for students and can be purchased here. To get to ImprovBoston by public transportation, take any MBTA Green Line trolley to Park Street, switch to an outbound Red Line train toward Harvard Square, and get off at the Central Square stop.
Not Your Grandma's Bingo
George Sherman Union Metcalf Ballroom, 10 p.m.
No, really, this is not your grandma's bingo. Play a faster, more challenging version of the game for a chance to win thousands of dollars in prizes from Coach, Apple, and more. Sponsored by the Student Activities Office.
Not Your Grandma's Bingo is Saturday, September 8, at 10 p.m., in the Metcalf Ballroom, George Sherman Union, 775 Commonwealth Ave., second floor. The event is free and open to BU students only.
Sunday, September 9
Grandstand to Gallery
Museum of Fine Arts, Boston
The Boston Red Sox may have had a far from stellar season, but that's no reason not to catch a fascinating new show at the Museum of Fine Arts (MFA). The museum partnered with the Red Sox to celebrate the centennial of Fenway Park in a special exhibition titled Grandstand to Gallery. Fans submitted their favorite Fenway photos from the last 100 years to three virtual galleries: portrait, landscape, and "curveball." After sorting through 700 submissions, six MVPs (most valuable photos) made the grade—three chosen by MFA director Malcolm Rogers and Red Sox VP and historian Dick Bresciani and three voted on by fans. Don't miss the chance to view the magic of America's most beloved ballpark through these unforgettable images.
Grandstand to Gallery is on display at the Museum of Fine Arts, 465 Huntington Ave., Boston, until October 3. The museum is open Monday and Tuesday from 10 a.m. to 4:45 p.m., Wednesday through Friday from 10 a.m. to 9:45 p.m., and Saturday and Sunday from 10 a.m. to 4:45 p.m. Admission is $25 for adults, $23 for seniors and students 18+, and free on Wednesday evenings and for BU students with a valid school ID. By public transportation, take an MBTA Green Line E trolley or 39 bus to the Museum of Fine Arts stop or an Orange Line train or bus routes 8, 47, or C2 to the Ruggles stop.
Apple Cider Harvest Fest
McLaughlin Playground, Boston, 4 p.m.
The thermostat may still be hovering around 80, but you can get an early taste of fall at the Apple Cider Harvest Fest, held at the McLaughlin Playground in the city's Mission Hill neighborhood. Make and taste freshly pressed apple cider from organic apples harvested from the on-site historic orchard on Parker Hill. There will be plenty of activities for all ages, a woodlands tour, and a bake sale that benefits the playground.
The Apple Cider Harvest Fest is on Sunday, September 9, from 4 to 6 p.m. at McLaughlin Playground, at the corner of Parker Hill Avenue and Fisher Avenue in Boston. The event is free and open to the public. To get to McLaughlin Playground by public transportation, take a MBTA Green Line E trolley to Heath Street, walk up Estey Street, and go right on Fisher Avenue (approximately a 10-minute walk).
Tom Vellner can be reached at tvellner@bu.edu; follow him on Twitter at @tomgvellner.