Lunch, Anyone? Addis Red Sea
An Ethiopian oasis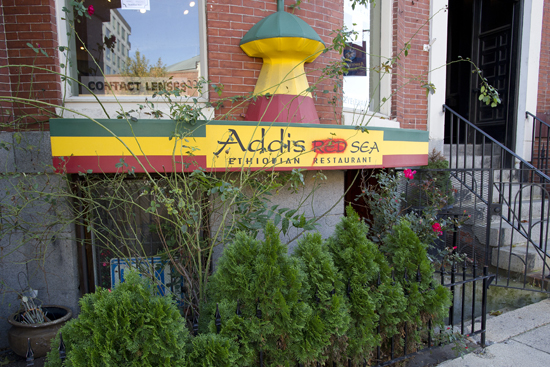 Walk off the Tremont Street sidewalk into Addis Red Sea and leave behind the quaint, historical South End and enter the exotic world of Ethiopia.
The restaurant's walls are covered with indigenous musical instruments and artwork, and patrons sit on short wooden stools at round woven wicker tables. Established in 1987, Addis Red Sea is one of the few Ethiopian eateries in Boston.
And then there's the food.
A recent visit to the restaurant was our first introduction to Ethiopian cuisine. The staff was incredibly patient, helping us choose dishes that weren't too spicy. Typical of the culture, diners eat with their hands, not with utensils. A waiter brought us washcloths to clean our hands after we ordered. We couldn't wait to dig in.
All of the restaurant's entrees are served over injera, a spongy bread similar in texture to a crepe. The bread's crispy edges give it a pleasant crunch and additional bread is provided for sopping up the delicious morsels.
At least two thirds of the menu comprises meat dishes. We started with doro tibs ($14.95), herb grilled chicken, tossed with garlic, red peppers, white wine, and ginger. The chicken was tender and juicy, and was served with a warm lentil salad, which although a bit salty, balanced the chicken's spiciness. We also tried yesega alcha (11.95), beef cubes in a sauce of butter, onion, ginger, and turmeric. Although milder than the doro tibs, the sauce recalled the creaminess—and bite—of French onion soup.
The vegetarian menu is strictly vegan—no dairy or animal products are used. We ordered atakilt ($10.95), sautéed green beans, potatoes, carrots, and onion seasoned with garlic and ginger. The dish was accompanied by a spicy but tasty lentil sauce, which gave the vegetables a bit of a kick.
Portions are small, but are in fact filling. Still, we managed to leave room for dessert, which is not traditional in Ethiopian cuisine. But Addis Red Sea offers a few sweet after-meal options, including chocolate cake ($7), which was enjoyable but not extraordinary. Ethiopians typically drink coffee or tea after a meal, so we ordered harrar, an Ethiopian coffee ($2.75), and Ethiopian tea ($2.75). The coffee, rich and darkly roasted, was similar to espresso and was served in a small pitcher with a miniature teacup. The herbal tea was the opposite—very light, with a subtle floral flavor.
Addis Red Sea's small, cozy interior is a good refuge on a cold day. Red candles illuminate each table. Extra seating and a bar are available downstairs. The restaurant attracts people of all ages.
A word about the service. While the staff is friendly, they are also slow. Addis Red Sea is not for people on a schedule—the meal is meant to be experienced in a relaxed, leisurely atmosphere. Our lunch took two hours and at several points, we were left searching in vain for a waiter. But if you've got the time, this is a wonderful place to enjoy authentic Ethiopian cuisine in a warm and inviting environment.
Addis Red Sea has two locations: 544 Tremont St., Boston, 617-426-8727, and 1755 Massachusetts Ave., Cambridge, 617-441-8727; both are open Monday through Friday from 5 to 11 p.m. and Saturday and Sunday from noon to 11 p.m. To get to the Boston location by public transportation, take the MBTA Orange Line to the Back Bay Station stop or the MBTA Green Line trolley to the Copley stop. To get to the Cambridge location, take the MBTA Red Line to Porter Square Station. All major credit cards are accepted, except Discover. A menu can be found here.
Allison Thomasseau can be reached at althoma@bu.edu.
This is part of a weekly series featuring Boston lunch spots of interest to the BU community. If you have any suggestions for places we should feature, leave them in the comments section below. Check out our list of lunchtime tips on Foursquare.
This Series
Also in
April 18, 2018

April 11, 2018

March 29, 2018