Alternative Spring Breaks: Washington, D.C.
Volunteers discover the passion behind nonprofits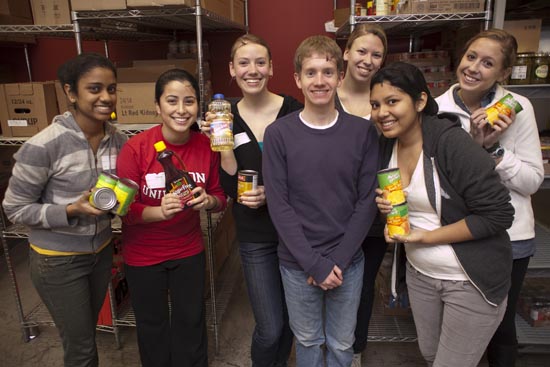 More than 300 students volunteered in this year's BU Community Service Center Alternative Spring Breaks program. Now in its 24th year, ASB pairs students with 36 organizations around the country, rebuilding homes, assisting at animal shelters, and working at food banks, among other projects. Over the next week, we are bringing you first-person accounts of some of those trips, described by both students and coordinators as unforgettable. Read more.
We had just gotten into our 12-person van for the eight-hour drive to Washington, D.C., where we were headed for Alternative Spring Breaks, when program coordinator Julie Frey exclaimed, "YOLO!"
Not wanting to admit my ignorance of the phrase, I waited for Sam Smith (COM'13), the other program coordinator, to ask what the phrase meant.
"It stands for you only live once—YOLO," said Frey (COM'11, CAS'11).
YOLO became the unofficial theme of our week volunteering with two nonprofits in Washington. The people we met and worked with were so passionate about helping people that by the end of our trip, a few people in our group found themselves wanting to pursue a career in the nonprofit sector. After all, really, you only live once.
I had originally picked the DC ASB trip because I had never ventured to our nation's capital, and I wanted to see all the monuments. And while we did get a chance to gawk at the sights and take photos like any tourist, I came away from the experience truly in awe of how the nonprofits we worked with operated.
There were 11 of us making the trip: 8 volunteers, 2 coordinators, and a chaperone. During our week, we volunteered with two different organizations. In the mornings, we worked with Food and Friends and in the afternoons we worked at the Capital Area Food Bank. Both organizations are well established in the DC metro area and have a partnership with each other.
Food and Friends was founded in 1988 and currently provides food to over 1,450 individuals suffering from AIDS, cancer, or other life-challenging illnesses. The organization prepares and distributes meals to clients and their families. All the food is prepared by four chefs and can be tailored for specific diet restrictions. Additionally, clients can receive free nutritional counseling to ensure they continue to eat healthily even after they no longer need the service.
Donning hairnets and plastic aprons, our group delved into work at various workstations in the building: groceries-to-go, food preparation, and meal delivery. No detail was overlooked by the staff, no special diet request ignored or meal forgotten. While all this was impressive, what made our entire group fall in love with the people at Food and Friends was how passionate they were about their work.
My favorite department to work in was groceries-to-go, mainly because it meant I got to work with Charles, a gregarious man in his 40s. In groceries-to-go, we bagged nonperishable food and "protein packs" of meat that clients could prepare themselves. Charles has been with Food and Friends for over 20 years, and he always greeted us with enthusiasm for what we were going to accomplish that day. He got to know his volunteers, and he invited each group to sign his apron at the end of the week. I felt a sense of achievement knowing that our carefully wrapped turkey burgers would complete a dinner for someone the next evening.
Although we were not directly interacting with clients at the food bank, we could physically see the impact we were making. Our main activities involved sorting and packing food. Within two days, we had packed over 200 boxes of food and sorted almost 21,000 pounds of goods. Needless to say, we were very proud of what just 11 people could do in a few hours.
We also served as inspectors to ensure food quality. Our site contact instructed us to put any food items we wouldn't buy or consume ourselves into the trash. As one of my fellow volunteers pointed out, it does not matter how desperate someone is for food, they still deserve the respect of a quality meal.
Our week wasn't all work, though. On our first two afternoons in Washington, we got a chance to see the monuments and a few museums. The National Museum of American History was one of my favorites, containing things like Julia Child's kitchen and the ruby slippers worn by Judy Garland in The Wizard of Oz. We had dinner each evening at the homes of BU alumni and parents of BU students in the DC area. After a long day, we arrived back at our home base, Christ Our Shepherd Church on Capitol Hill. We slept in a room off the sacristy, using pew cushions for bedding, which were surprisingly comfortable. Even though we were exhausted, we managed to stay up longer than we should have, chatting and reflecting on the day. Because the church did not have shower facilities, a local aquatic center let us use the showers there.
Despite the excitement of seeing the capital for the first time, the one thing that stuck with me was the impact these two organizations I was volunteering with had on their clients. Many people may not understand the impact a nonprofit with limited funding can have, but I found that impact to be tremendous. After seeing how these organizations improve the quality of life for thousands of people, I have a newfound appreciation for nonprofit work. I was proud to join in and help accomplish something.
YOLO. You only live once.
Allison Thomasseau can be reached at althoma@bu.edu.
This Series
Also in
March 19, 2014

March 18, 2014

March 17, 2014